Car Guide Winner: 1st Place
Large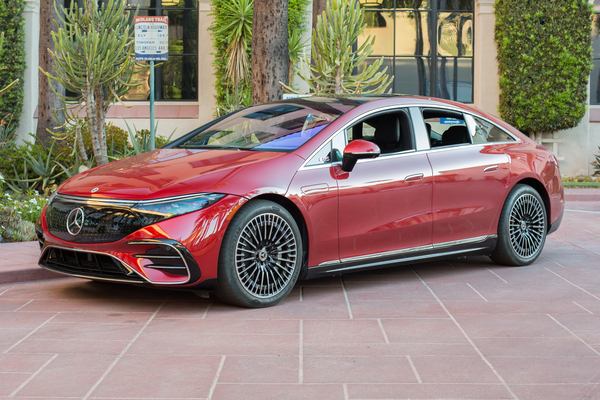 2022 Mercedes-Benz EQS 580 4MATIC Sedan
Vehicle Type:
Large Electric
Vehicle Price
Price as Tested:
$140,800
Fuel Information
120V Charge Time:
4.1 miles per hour
240V Charge Time:
27.2 miles per hour
DC Fast Charger:
10% to 80% in 31 minutes
EPA-Est. Electric Range (mi):
340
Advanced Safety Features
Adaptive Cruise Control [S]

Advanced Headlights [S]

Automatic Emergency Braking [S]

Blind-Spot Warning [S]

Driver Monitoring [S]

Forward-Collision Warning [S]

Lane-Departure Warning [S]

Lane-Keeping Assistance [S]

Rear Cross-Traffic Warning [S]

Reverse Automatic Emergency Braking [S]

[S] Standard, [O] Optional
Overall Observations
The EQS 580, the electric equivalent of Mercedes- Benz's iconic S-Class sedan, is an impressive car that demonstrates the automaker's level of commitment to an EV future. The EQS is Mercedes' first model from its all-electric EQ sub brand. The 580, with 2 electric motors and all-wheel drive, sits in the middle of the EQS lineup, above the 450+ single-motor version and below the AMG EQS. It overflows with all the luxurious appointments, in-car tech, and ADAS features typical of the brand and that any buyer shelling out $140,000 has a right to expect. Not everyone is on board with the EQS exterior styling, but there's no disagreement about its performance capabilities. Its efficient drivetrain produces excellent acceleration and power, with lots of low-end torque, although overall handling and drivability fall below that of the S-Class sedan. The ride quality is comfortable, smooth, and silent; hardly any road noise enters the cabin. MPGe ratings are good, and the overall EV range is a strong 340 miles.
For more information on AAA Car Guide licensing:
Click Here
Want to buy this car?
Strengths and Weaknesses
Strong Points
• Efficient drivetrain, excellent overall EV range
• Futuristic, distinctively M-B interior design
• Smooth, quiet ride
• Excellent power, low-end torque
Weak Points
• Overall handling, drivability, braking, and interior space are not up to S-Class standards
• Odd, disconcerting brake-pedal feel
• Glare from MBUX Hyperscreen and passenger touch screens
• Potential driver distraction from wide range of infotainment features
Vehicle Specifications
Number of passengers (F/R):
2/3
Curb weight (lbs):
6000.0
Exterior L / W / H (in):
207.3 / 75.8 / 59.6
Warranty (months/miles):
48/50,000
Tire manufacturer and model:
Goodyear Eagle F1
Front and rear tire size:
265/40 R21
Max towing capacity (lbs):
1,500
Transmission type:
Auto 1-speed
Drivetrain type:
All wheel
Engine/motor:
Dual electric motors
Electric motor horsepower:
516
Test Data
Test Vehicle Scores
Advanced Safety Features:
10.00
EPA Emissions Score:
10.00
Quality and Drivability:
8.29
Easy of Entry and Exit:
7.14
Car Search Results:

Car Guide Winner: 1st Place

SUV

More Details

SUV

Electric

86/85

$102,070

102

2022

Rivian

R1S Launch Edition

More Details

SUV

Electric

73/65

$101,050

99

2022

Rivian

R1T Adventure

Car Guide Winner: 1st Place

Pickup

More Details

Pickup

Electric

73/65

$97,800

100

2022

Hyundai

Ioniq 5 Limited AWD

More Details

SUV

Electric

110/87

$55,920

98

2022

Mercedes-Benz

EQS 580 4MATIC Sedan

Car Guide Winner: 1st Place

Large

More Details

Large

Electric

91/98

$140,800

102
IIHS Top Safety Pick Vehicles: