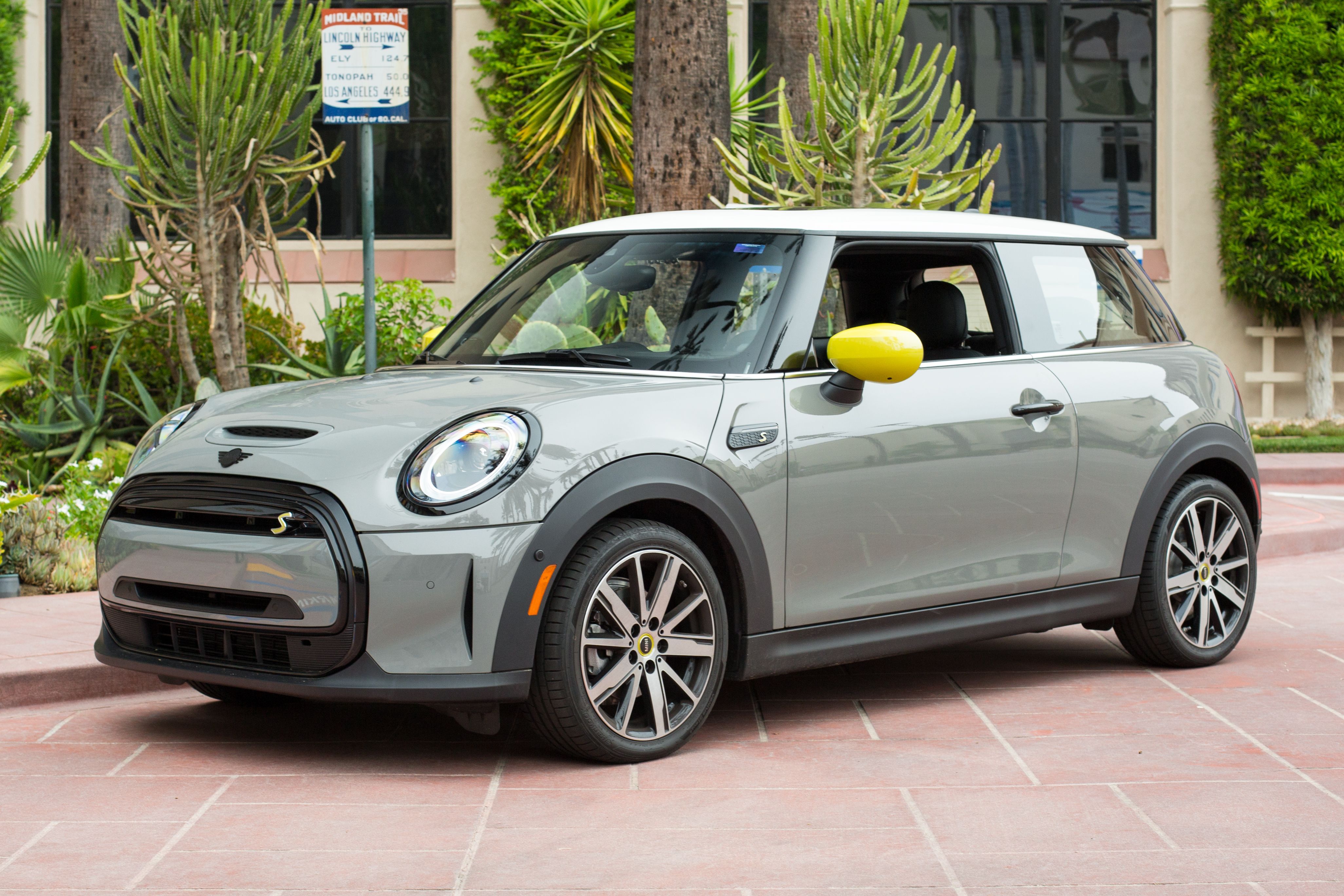 2022 Mini Cooper SE Hardtop 2 Door
Vehicle Type:
Small Electric
Fuel Information
120V Charge Time:
5.5 miles per hour
240V Charge Time:
28.5 miles per hour
DC Fast Charger:
80% in 35 minutes
EPA-Est. Electric Range (mi):
114
Advanced Safety Features
Adaptive Cruise Control [O]

Advanced Headlights [S]

Automatic Emergency Braking [S]

Forward-Collision Warning [S]

Lane-Departure Warning [S]

[S] Standard, [O] Optional
Overall Observations
Driving an electric car can be fun—if it's the Mini Cooper SE, that is. At the heart of this subcompact coupe is an electric powertrain (181 hp) that produces zippy acceleration. Its small battery pack is good for just an EPA-estimated 110-mile range, but DC fast-charging capability makes replenishing electrons a relatively quick procedure. Apart from its powertrain, the SE is pure Mini, which is to say that it's notably enjoyable to drive, especially on curvy stretches of road that play to its lively handling. As you might expect from its sporty suspension, though, the ride quality can be a bit firm. The Cooper SE offers sufficient room up front, but the backseat is cramped, and cargo room is also limited. The extensive standardfeatures list includes a 9-inch touch screen and LED headlights and cornering lights; the infotainment system, however, is difficult to use. However, the Mini SE is affordable for an EV, with a base price just under $30K, and that's before any federal or state tax credits
Want to buy this car?
Strengths and Weaknesses
Strong Points
Zippy, quick acceleration
Tight, sporty handling
LED headlights withcornering lights
Weak Points
Short EV range
Limited interior space forpassengers and cargo
Bumpy, overly firm ride
Vehicle Specifications
Number of passengers (F/R):
2/2
Curb weight (lbs):
3100.0
Exterior L / W / H (in):
151.7 / 68.0 / 56.4
Warranty (months/miles):
48/50,000
Tire manufacturer and model:
Hankook Ventus S1 evo3
Front and rear tire size:
205/45 R17
Max towing capacity (lbs):
Not recommended
Transmission type:
Auto 1-speed
Drivetrain type:
Front wheel
Engine/motor:
AC perm-magnet synchronous
Electric motor horsepower:
181
Test Data
Test Vehicle Scores
Advanced Safety Features:
4.70
EPA Emissions Score:
10.00
Easy of Entry and Exit:
5.62
Car Search Results:

2021

Volkswagen

ID.4 1st Edition

More Details

SUV/Minivan

Electric

104/89

$45,190

82

2021

Ford

Mustang Mach-E Premium AWD

Car Guide Winner: 1st Place

SUV/Minivan

More Details

SUV/Minivan

Electric

96/84

$56,200

89

2021

Volvo

XC40 Recharge P8 AWD

More Details

SUV/Minivan

Electric

85/72

$59,630

86

2021

Audi

e-tron Sportback quattro

More Details

SUV/Minivan

Electric

76/78

$90,640

85

2021

Lincoln

Aviator Grand Touring AWD

More Details

SUV/Minivan

Hybrid

22/25

$89,600

81
IIHS Top Safety Pick Vehicles: