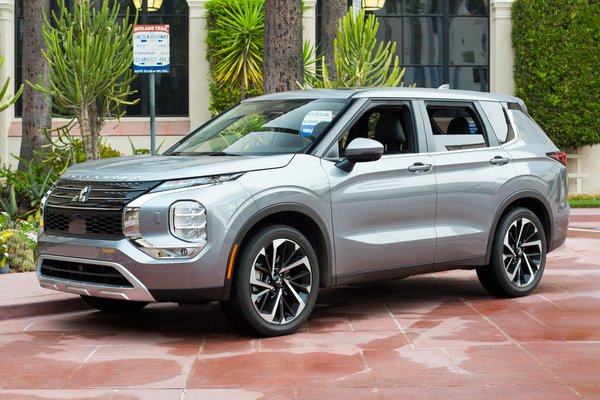 2022 Mitsubishi Outlander SE 2.5 S-AWC
Vehicle Type:
SUV Gasoline
Fuel Information
Fuel Capacity (gal):
14.5

Advanced Safety Features
Adaptive Cruise Control [O]

Advanced Headlights [S]

Automatic Emergency Braking [S]

Blind-Spot Warning [S]

Driver Monitoring [S]

Forward-Collision Warning [S]

Lane-Departure Warning [S]

Lane-Keeping Assistance [O]

Rear Cross-Traffic Warning [S]

Reverse Automatic Emergency Braking [S]

[S] Standard, [O] Optional
Overall Observations
Mitsubishi's compact crossover, the Outlander, was completely for 2023 and is improved in many ways. Unfortunately, its powertrain feels anemic - the CVT feels sluggish, and excessive road, tire, and drivetrain noise and vibration permeate the cabin. Fuel-economy ratings, too, are unremarkable. Front-wheel drive is standard; allwheel drive is an option. The cabin provides decent room in the first 2 rows, and the seats are comfortable. The third-row is all but unusable, however, even for pint-size passengers. The cargo hold offers a generous 80 cubic feet of space with the rear seats folded. The Outlander's handling in everyday driving is responsive, although its ride is a bit firm. If road conditions turn dicey, you can choose from a half-dozen drive modes designed to handle everything from snow to mud. Added useful features include LED headlights, Apple CarPlay/Android Auto smartphone integration, a full suite of standard advanced safety features, plus a 5-year/60,000-mile bumper-to-bumper warranty and a 10-year/100,000-mile powertrain warranty
For more information on AAA Car Guide licensing:
Click Here
Want to buy this car?
Strengths and Weaknesses
Strong Points
• Lots of room for passengers and cargo
• Long list of standard safety features
• Generous basic and powertrain warranty
Weak Points
• Underpowered engine
• Poor fuel-economy ratings
• Excessive noise and vibration from the road and drivetrain
Vehicle Specifications
Number of passengers (F/R):
2/5
Curb weight (lbs):
3860.0
Exterior L / W / H (in):
185.4 / 74.7 / 68.8
Warranty (months/miles):
60/60,000
Tire manufacturer and model:
Bridgestone Ecopia
Front and rear tire size:
255/45 R20
Max towing capacity (lbs):
2,000
Drivetrain type:
All wheel
Engine/motor:
2.5L I4 DOHC GDI
Engine horsepower @ RPM:
181 @ 6,000
Test Data
Test Vehicle Scores
Advanced Safety Features:
9.40
EPA Emissions Score:
6.00
Quality and Drivability:
6.09
Easy of Entry and Exit:
7.03
Car Search Results:

2022

Hyundai

Ioniq 5 Limited AWD

More Details

SUV

Electric

110/87

$55,920

98

2022

Rivian

R1S Launch Edition

More Details

SUV

Electric

73/65

$101,050

99

Car Guide Winner: 1st Place

SUV

More Details

SUV

Electric

86/85

$102,070

102

2022

Rivian

R1T Adventure

Car Guide Winner: 1st Place

Pickup

More Details

Pickup

Electric

73/65

$97,800

100

2022

Mercedes-Benz

EQS 580 4MATIC Sedan

Car Guide Winner: 1st Place

Large

More Details

Large

Electric

91/98

$140,800

102
IIHS Top Safety Pick Vehicles: