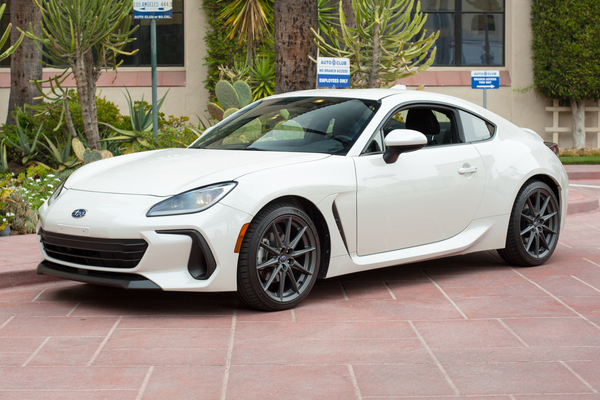 Vehicle Type:
Small Gasoline
Fuel Information
Fuel Capacity (gal):
13.2

with optional front crash prevention
Advanced Safety Features
Adaptive Cruise Control [O]

Advanced Headlights [O]

Automatic Emergency Braking [O]

Blind-Spot Warning [O]

Forward-Collision Warning [O]

Lane-Departure Warning [O]

Lane-Keeping Assistance [O]

Rear Cross-Traffic Warning [O]

Reverse Automatic Emergency Braking [O]

[S] Standard, [O] Optional
Overall Observations
Thanks to Subaru, the affordable sports car is alive and well, in the form of a second-generation BRZ, which was redesigned for 2022. In collaboration with Subaru, Toyota produces the nearly identical GR86 (see page 112). Noteworthy improvements include new sheet metal, a new engine, and tweaks to the chassis and suspension. The BRZ offers only 1 engine, a flat 4-cylinder that churns out 228 hp, up 23 hp from the previous model. Rear-wheel drive is standard, as is a 6-speed manual transmission. A 6-speed automatic is optional. A good argument for choosing the automatic, though, is that you also get adaptive cruise control, automatic emergency braking, and auto high beams—they're not available with stick shift. LED headlights and dual-zone automatic climate control also are standard. The BRZ's pros are pretty much de rigueur for a sports car: bold exterior styling, sharp handling, and a responsive drivetrain. And the cons? Also what you'd expect: a noisy cabin, limited storage and cargo space, and a rough, bouncy ride. Additionally, fuel economy is less than stellar (premium fuel is required). Nonetheless, if you're looking to buy a sports car without breaking the bank, the BRZ is a solid choice.
For more information on AAA Car Guide licensing:
Click Here
Want to buy this car?
Strengths and Weaknesses
Strong Points
• Sporty handling
• Sleek styling
• Responsive drivetrain
Weak Points
• Rough ride, bordering on harsh
• Lots of engine and road noise
• Limited cargo and storage space
Vehicle Specifications
Number of passengers (F/R):
2/2
Curb weight (lbs):
2900.0
Exterior L / W / H (in):
167.9 / 69.9 / 51.6
Warranty (months/miles):
36/36,000
Tire manufacturer and model:
Michelin Pilot Sport 4
Front and rear tire size:
215/40 R18
Max towing capacity (lbs):
Not recommended
Transmission type:
Auto 6-speed
Drivetrain type:
Rear wheel
Engine/motor:
2.4L 4-cylinder boxer
Engine horsepower @ RPM:
228 @ 7,000
Test Data
Test Vehicle Scores
Advanced Safety Features:
6.30
EPA Emissions Score:
3.00
Quality and Drivability:
7.42
Easy of Entry and Exit:
4.03
Car Search Results:

2022

Rivian

R1T Adventure

Car Guide Winner: 1st Place

Pickup

More Details

Pickup

Electric

73/65

$97,800

100

2022

Hyundai

Ioniq 5 Limited AWD

More Details

SUV

Electric

110/87

$55,920

98

2022

Rivian

R1S Launch Edition

More Details

SUV

Electric

73/65

$101,050

99

Car Guide Winner: 1st Place

SUV

More Details

SUV

Electric

86/85

$102,070

102

2022

Mercedes-Benz

EQS 580 4MATIC Sedan

Car Guide Winner: 1st Place

Large

More Details

Large

Electric

91/98

$140,800

102
IIHS Top Safety Pick Vehicles: