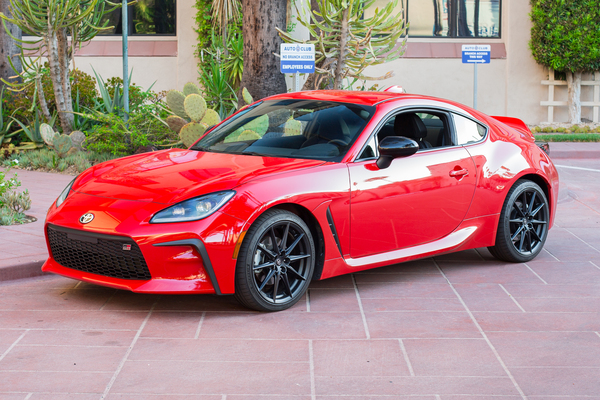 Vehicle Type:
Small Gasoline
Fuel Information
Fuel Capacity (gal):
12.4

with optional front crash prevention
Advanced Safety Features
Adaptive Cruise Control [O]

Advanced Headlights [O]

Automatic Emergency Braking [O]

Blind-Spot Warning [O]

Forward-Collision Warning [O]

Lane-Departure Warning [O]

Rear Cross-Traffic Warning [O]

Reverse Automatic Emergency Braking [O]

[S] Standard, [O] Optional
Overall Observations
The GR86 is a back-to-basics sports car that began as a joint venture between Toyota and Subaru a decade ago; Subaru's version is the BRZ (see page 111). Both cars were redesigned for 2022. Looks-wise, the GR86 makes a good first impression. It's sleek and low slung, with a long hood and swoopy roofline—it looks like it's moving when it's standing still. As with any good sports car, it's sporty and engaging to drive, with agile handling, well-weighted steering, and solid-feeling brakes. Among the GR86's virtues is that it makes no compromises - as a sports car. Sure, it's hard to get in and out of and the backseat is unsuitable for adults, but that comes with the territory. It's also inexpensive. The base model with stick shift and no accessories lists for under $30,000. Unfortunately, no ADAS features are available for G86s equipped with a manual transmission. Opting for an automatic gets you automatic emergency braking, adaptive cruise control, and lanedeparture warning. The Premium trim (with an automatic) adds blind-spot warning and adaptive LED headlights. Nits to pick: The engine is noisy, with lots of vibration; the automatic transmission feels a little busy at times; and fuel efficiency is middling (25 mpg; premium fuel required). And although the new engine has 23 more horsepower, it wouldn't hurt if the G86 had a bit more power.
For more information on AAA Car Guide licensing:
Click Here
Want to buy this car?
Strengths and Weaknesses
Strong Points
• Responsive, agile handling
• Stylish exterior
• Good value for money spent
• Good brake feeling
Weak Points
• Difficult to get in and out of
• Lots of noise and vibration from the engine
• Outdated instrument cluster and infotainment system
• Cramped rear seating
Vehicle Specifications
Number of passengers (F/R):
2/2
Curb weight (lbs):
2880.0
Exterior L / W / H (in):
167.9 / 69.9 / 51.6
Warranty (months/miles):
36/36,000
Tire manufacturer and model:
Michelin Pilot Sport 4
Front and rear tire size:
215/40 R18
Max towing capacity (lbs):
Not recommended
Transmission type:
Auto 6-speed
Drivetrain type:
Rear wheel
Engine/motor:
2.4L 4-cylinder boxer
Engine horsepower @ RPM:
228 @ 7,000
Test Data
Test Vehicle Scores
Advanced Safety Features:
5.60
EPA Emissions Score:
3.00
Quality and Drivability:
7.88
Easy of Entry and Exit:
4.31
Car Search Results:

2022

Rivian

R1T Adventure

Car Guide Winner: 1st Place

Pickup

More Details

Pickup

Electric

73/65

$97,800

100

2022

Hyundai

Ioniq 5 Limited AWD

More Details

SUV

Electric

110/87

$55,920

98

2022

Rivian

R1S Launch Edition

More Details

SUV

Electric

73/65

$101,050

99

Car Guide Winner: 1st Place

SUV

More Details

SUV

Electric

86/85

$102,070

102

2022

Mercedes-Benz

EQS 580 4MATIC Sedan

Car Guide Winner: 1st Place

Large

More Details

Large

Electric

91/98

$140,800

102
IIHS Top Safety Pick Vehicles: