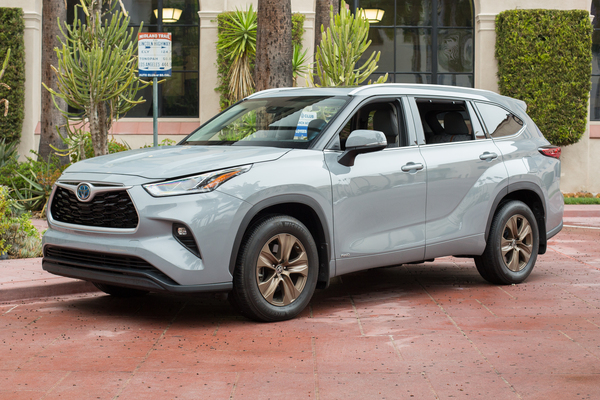 2022 Toyota Highlander Hybrid Bronze Edition
Fuel Information
Fuel Capacity (gal):
17.1

Advanced Safety Features
Adaptive Cruise Control [S]

Advanced Headlights [S]

Automatic Emergency Braking [S]

Blind-Spot Warning [S]

Driver Monitoring [S]

Forward-Collision Warning [S]

Lane-Departure Warning [S]

Lane-Keeping Assistance [S]

Rear Cross-Traffic Warning [S]

[S] Standard, [O] Optional
Overall Observations
The midsize, 3-row Toyota Highlander qualifies as an elder in the SUV tribe, dating back to 2000; the Hybrid version came on the scene in 2006. But it's still going strong - regularly in the list of top 20 best-selling vehicles. We tested the Bronze Edition, which builds off the midlevel XLE trim and adds some cosmetic and convenience features. For starters, the Highlander Hybrid delivers a smooth, comfortable ride. There's plenty of passenger room in the first 2 rows, and getting in and out is easy. The cramped third row works best for kids. Cargo space is plentiful - 48 cubic feet with the second-row seats folded. The Highlander's efficient hybrid drivetrain adds to its value, bumping mpg from 23 to 35 compared to the nonhybrid Highlander. Overall range between fill-ups is also impressive: nearly 600 miles. Toyota's Safety Sense 2.5+ complete suite of advanced safety features is standard on all trim levels. We found a few items to critique, though. Even with 243 hp on tap, acceleration is sluggish and the engine is noisy. The Highlander's interior design and materials are uninteresting and a bit downmarket. The infotainment system could use updating, and the rearview camera's image isn't sharp. Probably less important for most buyers - this is a largish SUV, after all - is that the Highlander Hybrid isn't at all engaging to drive.
For more information on AAA Car Guide licensing:
Click Here
Want to buy this car?
Strengths and Weaknesses
Strong Points
• Hybrid drivetrain and ADADS features makes for good overall value
• Efficient drivetrain; good mpg and range
• Plenty of passenger room in the first two rows
• Smooth, comfortable ride
Weak Points
• Noisy, underpowered engine
• Interior could use an upgrading
• Outdated infotainment system
• Plain, bland driving experience
Vehicle Specifications
Number of passengers (F/R):
2/3
Curb weight (lbs):
4500.0
Exterior L / W / H (in):
194.9 / 76.0 / 68.1
Warranty (months/miles):
36/36,000
Tire manufacturer and model:
Michelin Premier LTX
Front and rear tire size:
235/65 R18
Max towing capacity (lbs):
3,500
Transmission type:
Hybrid drive
Drivetrain type:
Front wheel
Engine/motor:
2.5L I4 DOHC
Engine horsepower @ RPM:
186 @ 6,000
Combined system horsepower:
243
Test Data
Test Vehicle Scores
Advanced Safety Features:
9.30
EPA Emissions Score:
7.00
Quality and Drivability:
6.28
Easy of Entry and Exit:
7.53
Car Search Results:

2022

Hyundai

Ioniq 5 Limited AWD

More Details

SUV

Electric

110/87

$55,920

98

2022

Rivian

R1S Launch Edition

More Details

SUV

Electric

73/65

$101,050

99

Car Guide Winner: 1st Place

SUV

More Details

SUV

Electric

86/85

$102,070

102

2022

Rivian

R1T Adventure

Car Guide Winner: 1st Place

Pickup

More Details

Pickup

Electric

73/65

$97,800

100

2022

Mercedes-Benz

EQS 580 4MATIC Sedan

Car Guide Winner: 1st Place

Large

More Details

Large

Electric

91/98

$140,800

102
IIHS Top Safety Pick Vehicles: