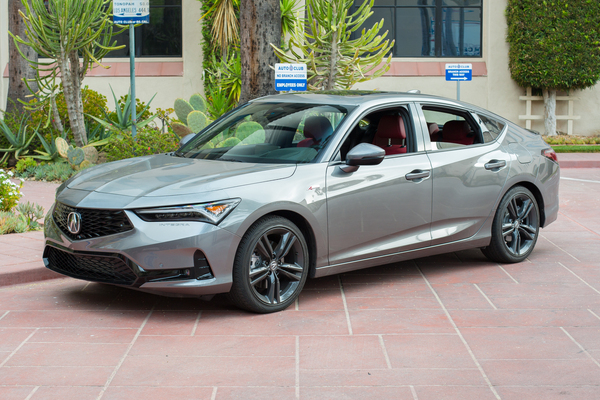 2023 Acura Integra A-Spec Tech
Vehicle Type:
Small Gasoline
Fuel Information
Fuel Capacity (gal):
12.4

Advanced Safety Features
Adaptive Cruise Control [S]

Advanced Headlights [S]

Automatic Emergency Braking [S]

Blind-Spot Warning [S]

Driver Monitoring [S]

Forward-Collision Warning [S]

Lane-Departure Warning [S]

Lane-Keeping Assistance [S]

Rear Cross-Traffic Warning [S]

Reverse Automatic Emergency Braking [O]

[S] Standard, [O] Optional
Overall Observations
The much-anticipated Integra, new for 2023, replaces the long-inthe- tooth ILX compact sedan. On many counts, the Integra lives up to the promise of its storied name, which revives memories of the sporty hot hatch from the 1980s through the early 2000s. The Integra is fun to drive, with agile handling and good steering feedback. The seats are comfortable, and the optional adaptive-damper-system suspension delivers a comfortable, composed ride. The brakes have a solid feel, with good stopping power. Most Integras come with a CVT; a 6-speed manual is available only on the top trim level. The Integra's exterior sheet metal is nicely styled, and the hatchback design optimizes access to cargo. However, the sloping roofline restricts rear visibility and impedes entry and exit from the backseat. A full complement of ADAS features is standard, and gas mileage is good: 30 mpg in combined city/highway driving with the CVT. But the Integra also falls short in several important ways. The drivetrain, identical to the Honda Civic Si's, feels underpowered. A 1.5-liter turbo 4 (200 hp) is the only available engine. The interior doesn't live up to the Integra's entry-level luxury car aspirations, either. Too much - the steering wheel, climate controls, and touch screen, for example - is borrowed from the Civic. Finally, the infotainment system could use some updating, and the image quality on the rearview camera is poor.
For more information on AAA Car Guide licensing:
Click Here
Want to buy this car?
Strengths and Weaknesses
Strong Points
• Fun to drive, with agile, responsive handling
• Sporty exterior styling
• Strong suite of ADAS features
• Good fuel-efficiency ratings
Weak Points
• Interior not up to luxury standards
• Underpowered drivetrain
• Sloping roofline restricts rear visibility
• Difficult backseat entry and exit
Vehicle Specifications
Number of passengers (F/R):
2/3
Curb weight (lbs):
3060.0
Exterior L / W / H (in):
185.8 / 72.0 / 55.5
Warranty (months/miles):
48/50,000
Tire manufacturer and model:
Continental ContiProContact
Front and rear tire size:
235/40 R18
Max towing capacity (lbs):
Not recommended
Transmission type:
Manual 6-speed
Drivetrain type:
Front wheel
Engine/motor:
1.5L I4 turbo VTEC
Engine horsepower @ RPM:
200 @ 6,000
Test Data
Test Vehicle Scores
Advanced Safety Features:
9.70
EPA Emissions Score:
6.00
Quality and Drivability:
7.69
Easy of Entry and Exit:
6.55
Car Search Results:

2022

Hyundai

Ioniq 5 Limited AWD

More Details

SUV

Electric

110/87

$55,920

98

2022

Rivian

R1S Launch Edition

More Details

SUV

Electric

73/65

$101,050

99

Car Guide Winner: 1st Place

SUV

More Details

SUV

Electric

86/85

$102,070

102

2022

Rivian

R1T Adventure

Car Guide Winner: 1st Place

Pickup

More Details

Pickup

Electric

73/65

$97,800

100

2022

Mercedes-Benz

EQS 580 4MATIC Sedan

Car Guide Winner: 1st Place

Large

More Details

Large

Electric

91/98

$140,800

102
IIHS Top Safety Pick Vehicles: