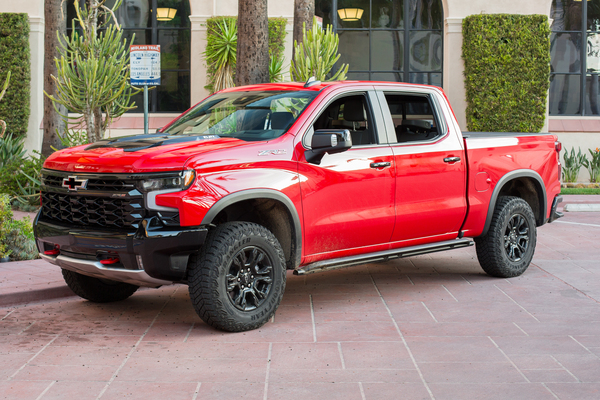 2023 Chevrolet Silverado 1500 Crew ZR2 4WD
Vehicle Type:
Pickup Gasoline
Advanced Safety Features
Adaptive Cruise Control [O]

Advanced Headlights [S]

Automatic Emergency Braking [S]

Blind-Spot Warning [S]

Forward-Collision Warning [S]

Lane-Departure Warning [S]

Lane-Keeping Assistance [S]

Rear Cross-Traffic Warning [S]

Reverse Automatic Emergency Braking [S]

[S] Standard, [O] Optional
Overall Observations
The ZR2 is the Chevy Silverado's most extreme variant. With a 6.2-liter V8, 33-inch all-terrain tires, increased ride height, locking front and rear differentials, and special suspension dampers, it's a serious off-roader, designed to go almost anywhere. The ZR2's responsive V8 engine (the only option) delivers strong acceleration, its 10-speed automatic transmission shifts smoothly, and ride quality is good overall. With its crew cab, large bed, and standard 4-wheel drive, the ZR2 is definitely a functional work truck. This is no bare-bones pickup, however. The cabin provides plenty of room for passengers and cargo, and fit and finish inside and out are excellent. Standard features include a heated steering wheel and front seats; paddle shifters; a power-adjustable driver's seat; and dual-zone automatic climate control. The intuitive infotainment system is easy to use, with a 13.4-inch color touch screen and an easily accessible layout and controls. The ZR2 is equipped with Chevy's Safety Assist package, plus advanced standard safety features specific to the ZR2. Some of the ZR2's downsides come with pickup territory: Fuel economy, at just 15 mpg in combined driving, is dismal. Getting in and out is difficult because the ZR2 lacks side steps, and the turning radius and steering ratio are large.
For more information on AAA Car Guide licensing:
Click Here
Want to buy this car?
Strengths and Weaknesses
Strong Points
• The optional multi-hinged tailgate, tonneau cover, and large cargo area make it a useful work truck
• Lots of room for passengers and cargo
• Powerful V8 acceleration and responsiveness
• Good ride quality and off-road capability
• Intuitive, easy-to-use infotainment system
Weak Points
• Poor fuel economy
• Difficult entry/exit because of increased ride height/lack of built-in steps
• Large turning radius, high steering ratio
• Long brake pedal travel
Vehicle Specifications
Number of passengers (F/R):
2/3
Curb weight (lbs):
5960.0
Exterior L / W / H (in):
232.8 / 81.2 / 78.7
Warranty (months/miles):
36/36,000
Tire manufacturer and model:
Goodyear Wrangler Territory MT
Front and rear tire size:
275/70 R18
Max towing capacity (lbs):
8,800
Transmission type:
Auto 10-speed
Drivetrain type:
Four wheel
Engine/motor:
6.2L V8 Ecotec3
Engine horsepower @ RPM:
420 @ 5,600
Test Data
Test Vehicle Scores
Advanced Safety Features:
8.70
EPA Emissions Score:
6.00
Quality and Drivability:
7.47
Easy of Entry and Exit:
7.04
Car Search Results:

2022

Rivian

R1T Adventure

Car Guide Winner: 1st Place

Pickup

More Details

Pickup

Electric

73/65

$97,800

100

2022

Rivian

R1S Launch Edition

More Details

SUV

Electric

73/65

$101,050

99

Car Guide Winner: 1st Place

SUV

More Details

SUV

Electric

86/85

$102,070

102

2022

Hyundai

Ioniq 5 Limited AWD

More Details

SUV

Electric

110/87

$55,920

98

2022

Mercedes-Benz

EQS 580 4MATIC Sedan

Car Guide Winner: 1st Place

Large

More Details

Large

Electric

91/98

$140,800

102
IIHS Top Safety Pick Vehicles: