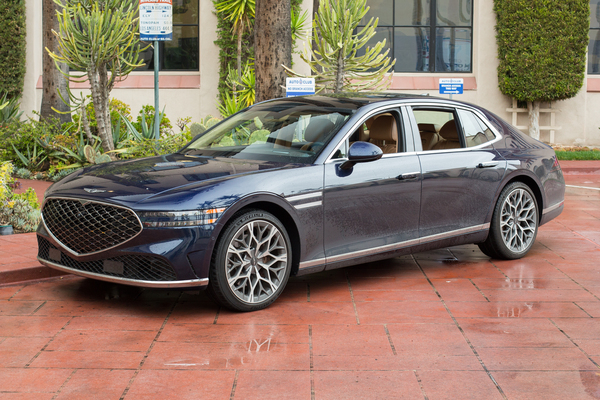 2023 Genesis G90 3.5T E-Supercharger AWD
Vehicle Type:
Large Gasoline
Vehicle Price
Price as Tested:
$100,370
Fuel Information
Fuel Capacity (gal):
19.3

Advanced Safety Features
Adaptive Cruise Control [S]

Advanced Headlights [S]

Automatic Emergency Braking [S]

Blind-Spot Warning [S]

Driver Monitoring [S]

Forward-Collision Warning [S]

Lane-Departure Warning [S]

Lane-Keeping Assistance [S]

Rear Cross-Traffic Warning [S]

Reverse Automatic Emergency Braking [S]

[S] Standard, [O] Optional
Overall Observations
The Genesis G90, the automaker's flagship sedan, has been completely redesigned for 2023. But its primary mission remains unchanged: to provide occupants with a luxurious ride and pamper them with a host of comfort and convenience features, virtually all of which come standard. The G90's new engine - our test vehicle had the turbocharged, supercharged version - is smooth, responsive, and powerful. The 8-speed transmission shifts smoothly and the air suspension (standard on the supercharged edition) delivers a calm, comfortable ride. All-wheel drive is standard. The spacious interior has good headroom and legroom for all passengers. It's brimming with plush, high-end materials as well, including creature comforts you might not know you needed - or even existed - such as a Mood Curator that adjusts climate, interior lighting, seat massage, and air fragrance to suit its occupants' different moods. The G90's tech is top-notch too. Sophisticated ADAS systems include features such as blind-spot intervention, which automatically steers a car back into its lane if the driver tries to change lanes with a car in the G90's blind spot. Criticisms include limited rear visibility due to wide rear roof pillars and rear head restraints; potentially confusing shifter and infotainment knobs, which are located next to each other; an exterior design not special or distinctive enough for a flagship sedan; and an overemphasis on chauffeur-type features for rear passengers.
For more information on AAA Car Guide licensing:
Click Here
Want to buy this car?
Strengths and Weaknesses
Strong Points
• Smooth, powerful drivetrain
• Excellent ride quality from air suspension
• Luxurious materials used throughout
• Lots of tech, including sophisticated ADAS features
Weak Points
• Poor rear visibility
• Overemphasis on chauffeur-type features for rear passengers
• Exterior styling not especially distinctive or special
• Rear-wheel steering takes getting used to
Vehicle Specifications
Number of passengers (F/R):
2/3
Curb weight (lbs):
5160.0
Exterior L / W / H (in):
207.7 / 76.0 / 58.7
Warranty (months/miles):
60/60,000
Tire manufacturer and model:
Michelin Primacy Tour A/S
Front and rear tire size:
245/40 R21
Max towing capacity (lbs):
Not recommended
Transmission type:
Auto 8-speed
Drivetrain type:
All wheel
Engine/motor:
3.5L V6 twin-turbo/supercharger
Engine horsepower @ RPM:
409 @ 5,800
Test Data
Test Vehicle Scores
Advanced Safety Features:
10.00
EPA Emissions Score:
5.00
Quality and Drivability:
7.58
Easy of Entry and Exit:
7.29
Car Search Results:

2022

Mercedes-Benz

EQS 580 4MATIC Sedan

Car Guide Winner: 1st Place

Large

More Details

Large

Electric

91/98

$140,800

102

Car Guide Winner: 1st Place

SUV

More Details

SUV

Electric

86/85

$102,070

102

2022

Rivian

R1S Launch Edition

More Details

SUV

Electric

73/65

$101,050

99

2022

Rivian

R1T Adventure

Car Guide Winner: 1st Place

Pickup

More Details

Pickup

Electric

73/65

$97,800

100

2022

Hyundai

Ioniq 5 Limited AWD

More Details

SUV

Electric

110/87

$55,920

98
IIHS Top Safety Pick Vehicles: