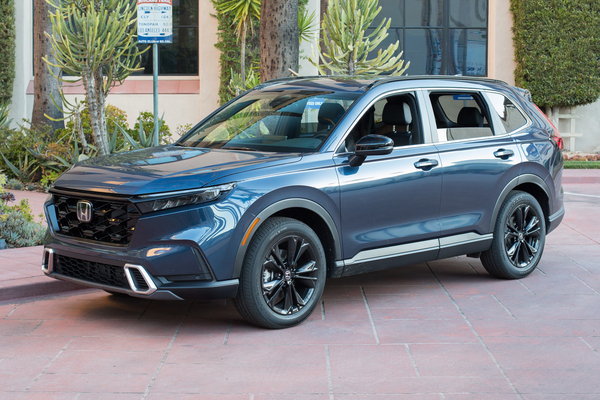 2023 Honda CR-V Hybrid Sport Touring
Vehicle Type:
SUV Gasoline

Advanced Safety Features
Adaptive Cruise Control [S]

Advanced Headlights [S]

Automatic Emergency Braking [S]

Blind-Spot Warning [S]

Driver Monitoring [S]

Forward-Collision Warning [S]

Lane-Departure Warning [S]

Lane-Keeping Assistance [S]

Rear Cross-Traffic Warning [S]

Reverse Automatic Emergency Braking [S]

[S] Standard, [O] Optional
Overall Observations
The compact CR-V crossover SUV was introduced in 1997. Honda's best-selling vehicle in the U.S., it consistently places in the top 10 vehicles sold. The Hybrid, introduced in 2020, could be considered icing on the cake. The sixth-generation, new-for-2023 CR-V delivers excellent value. It's just the right size for many motorists, and it provides a comfortable ride, with a solid-feeling suspension. Its spacious cabin offers plenty of room for passengers and cargo, lots of storage cubbies, incline-adjustable rear seats, and good visibility all around. Additionally, all CR-Vs come with a solid lineup of ADAS features, including traffic-jam assist. Want more? The CR-V's exterior styling is improved over previous generations, and, in the all-wheel-drive version, its smooth drivetrain delivers both adequate power and an EPA-estimated 37 mpg in combined city/highway driving (higher for the front-wheeldrive version). And all for an MSRP that starts, in Sport Hybrid trim, around $33,000. But the CR-V doesn't get off scot-free - although complaints are relatively minor. The infotainment system and rearview camera's image quality, perennial CR-V weak points, need updating and improving. The quality of the interior's fit and finish is good, but the styling remains on the bland side. And the hybrid powertrain can be a bit noisy under load.
For more information on AAA Car Guide licensing:
Click Here
Want to buy this car?
Strengths and Weaknesses
Strong Points
• Good value—useful size, good mpg, good purchase price
• Comfortable ride
• Smooth drivetrain, sufficient power
• Improved styling
Weak Points
• Outdated infotainment system
• Poor rearview camera image quality
• Somewhat noisy powertrain under load
Vehicle Specifications
Number of passengers (F/R):
2/3
Curb weight (lbs):
3880.0
Exterior L / W / H (in):
184.8 / 73.5 / 66.5
Warranty (months/miles):
36/36,000
Tire manufacturer and model:
Continental CrossContact LX Sport
Front and rear tire size:
235/55 R19
Max towing capacity (lbs):
1,000
Drivetrain type:
All wheel
Engine/motor:
2.0L I4 i-VTEC
Engine horsepower @ RPM:
145 @ 6,100
Electric motor horsepower:
181 traction/161 generator
Combined system horsepower:
204
Test Data
Test Vehicle Scores
Advanced Safety Features:
10.00
EPA Emissions Score:
7.00
Quality and Drivability:
7.17
Easy of Entry and Exit:
7.80
Car Search Results:

2022

Hyundai

Ioniq 5 Limited AWD

More Details

SUV

Electric

110/87

$55,920

98

2022

Rivian

R1S Launch Edition

More Details

SUV

Electric

73/65

$101,050

99

Car Guide Winner: 1st Place

SUV

More Details

SUV

Electric

86/85

$102,070

102

2022

Rivian

R1T Adventure

Car Guide Winner: 1st Place

Pickup

More Details

Pickup

Electric

73/65

$97,800

100

2022

Mercedes-Benz

EQS 580 4MATIC Sedan

Car Guide Winner: 1st Place

Large

More Details

Large

Electric

91/98

$140,800

102
IIHS Top Safety Pick Vehicles: