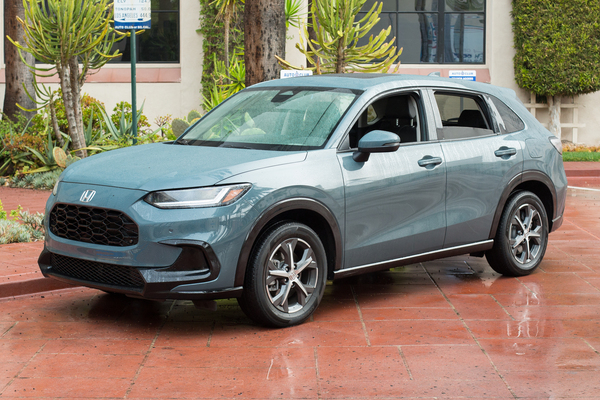 Vehicle Type:
SUV Gasoline

Advanced Safety Features
Adaptive Cruise Control [S]

Advanced Headlights [S]

Automatic Emergency Braking [S]

Blind-Spot Warning [O]

Driver Monitoring [S]

Forward-Collision Warning [S]

Lane-Departure Warning [S]

Lane-Keeping Assistance [S]

Rear Cross-Traffic Warning [O]

Reverse Automatic Emergency Braking [O]

[S] Standard, [O] Optional
Overall Observations
Now in its second generation, Honda's small SUV is basic transportation . . . plus. That is, the HR-V not only gets you where you're going, it does so with proficiency and verve. For example, the cabin is spacious, with plenty of room for passengers and cargo and lots of storage options. And the interior fit and finish is quite good, especially on the EX-L trim. The HR-V is also engaging to drive, with nimble handling and good steering-wheel and braking feedback - that's more than you can say for many entry-level SUVs. It also has a nice complement of standard advanced safety features, including traffic-jam assist and trafficsign recognition. Only blind-spot warning and parking sensors are optional. Wireless Apple CarPlay and Android Auto are standard. But, unfortunately, some of the HR-V's qualities make for an unpleasant driving experience. For example, the drivetrain is underpowered and noisy, and a lot of that racket (abetted by road noise) makes it into the cabin. And although the infotainment is easy to use, it feels outdated. The front seats afford easy access, but intrusive wheel wells make getting into a backseat a bit difficult. As a counterpoint, however, it's more than worth mentioning that the HR-V is a very good value: The top EX-L trim's base price comes in under $30,000.
For more information on AAA Car Guide licensing:
Click Here
Want to buy this car?
Strengths and Weaknesses
Strong Points
• Good value (starting price under $30K)
• Plenty of room for passengers and cargo
• Nimble, responsive handing and feedback
• Good set of ADAS features
Weak Points
• Underpowered drivetrain
• Noisy cabin (drivetrain and road noise)
• No power liftgate
• Instruments lack customization options
Vehicle Specifications
Number of passengers (F/R):
2/3
Curb weight (lbs):
3300.0
Exterior L / W / H (in):
179.8 / 72.4 / 63.4
Warranty (months/miles):
36/36,000
Tire manufacturer and model:
Hankook Kinergy GT
Front and rear tire size:
215/60 R17
Max towing capacity (lbs):
Not recommended
Drivetrain type:
All wheel
Engine/motor:
2.0L I4 DOHC VTEC
Engine horsepower @ RPM:
158 @ 6,500
Test Data
Test Vehicle Scores
Advanced Safety Features:
9.10
EPA Emissions Score:
7.00
Quality and Drivability:
6.75
Easy of Entry and Exit:
6.97
Car Search Results:

2022

Hyundai

Ioniq 5 Limited AWD

More Details

SUV

Electric

110/87

$55,920

98

2022

Rivian

R1S Launch Edition

More Details

SUV

Electric

73/65

$101,050

99

Car Guide Winner: 1st Place

SUV

More Details

SUV

Electric

86/85

$102,070

102

2022

Rivian

R1T Adventure

Car Guide Winner: 1st Place

Pickup

More Details

Pickup

Electric

73/65

$97,800

100

2022

Mercedes-Benz

EQS 580 4MATIC Sedan

Car Guide Winner: 1st Place

Large

More Details

Large

Electric

91/98

$140,800

102
IIHS Top Safety Pick Vehicles: