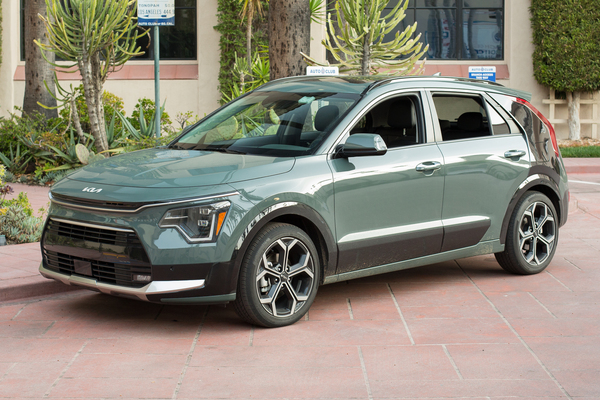 Fuel Information
Fuel Capacity (gal):
11.1
Advanced Safety Features
Adaptive Cruise Control [O]

Advanced Headlights [S]

Automatic Emergency Braking [S]

Blind-Spot Warning [S]

Driver Monitoring [S]

Forward-Collision Warning [S]

Lane-Departure Warning [S]

Lane-Keeping Assistance [S]

Rear Cross-Traffic Warning [S]

Reverse Automatic Emergency Braking [S]

[S] Standard, [O] Optional
Overall Observations
The Kia Niro small SUV comes in 3 environmentally conscious versions: a hybrid (reviewed here), PHEV, and EV. All were completely redesigned for 2023. The Niro hybrid offers good value, with a reasonable MSRP and a number of noteworthy qualities to recommend it. First and foremost are its highly efficient drivetrain and excellent fuel-economy numbers (up to 53 mpg in combined driving for some trim levels). Close behind is the number of standard ADAS features, including a few surprises, such as rear automatic emergency braking, driver-attention warning, and safe-exit assist - features usually found on higher-end vehicles. The Niro also has plenty of interior space for passengers and cargo, and it's easy to get in and out of. Unfortunately, many of the qualities that make a car enjoyable to drive are in short supply. The Niro's ride quality is uncomfortable (verging on rough), handling is uncommunicative, and ride control is skittery - the Niro never feels solidly planted. Also, the infotainment system is awkward to use - the infotainment and HVAC systems use the same physical controls, and you have to toggle back and forth between them. In addition, the engine is underpowered, the transmission feels unrefined, and lots of tire, road, and engine noise invades the cabin. And although the Niro's interior styling is improved, the materials quality feels cheap and the fit and finish is subpar.
For more information on AAA Car Guide licensing:
Click Here
Want to buy this car?
Strengths and Weaknesses
Strong Points
• Fuel-efficient drivetrain, excellent mpg
• Strong list of convenience and ADAS features
• Plenty of room for passengers and cargo
• Improved interior styling
Weak Points
• Poor-quality handling, ride, and ride control
• Underpowered engine, unrefined transmission
• Excessive tire, road, and engine noise
• Distracting, hard-to-use infotainment system
Vehicle Specifications
Number of passengers (F/R):
2/3
Curb weight (lbs):
3220.0
Exterior L / W / H (in):
174.0 / 71.8 / 60.8
Warranty (months/miles):
60/60,000
Tire manufacturer and model:
Continental ProContact RX
Front and rear tire size:
225/45 R18
Max towing capacity (lbs):
Not recommended
Transmission type:
Hybrid drive
Drivetrain type:
Front wheel
Engine/motor:
1.6L I4 GDI
Engine horsepower @ RPM:
105 @ 5,700
Electric motor horsepower:
43
Combined system horsepower:
139
Test Data
Test Vehicle Scores
Advanced Safety Features:
9.70
EPA Emissions Score:
7.00
Quality and Drivability:
6.00
Easy of Entry and Exit:
7.11
Car Search Results:

2022

Hyundai

Ioniq 5 Limited AWD

More Details

SUV

Electric

110/87

$55,920

98

2022

Rivian

R1S Launch Edition

More Details

SUV

Electric

73/65

$101,050

99

Car Guide Winner: 1st Place

SUV

More Details

SUV

Electric

86/85

$102,070

102

2022

Rivian

R1T Adventure

Car Guide Winner: 1st Place

Pickup

More Details

Pickup

Electric

73/65

$97,800

100

2022

Mercedes-Benz

EQS 580 4MATIC Sedan

Car Guide Winner: 1st Place

Large

More Details

Large

Electric

91/98

$140,800

102
IIHS Top Safety Pick Vehicles: