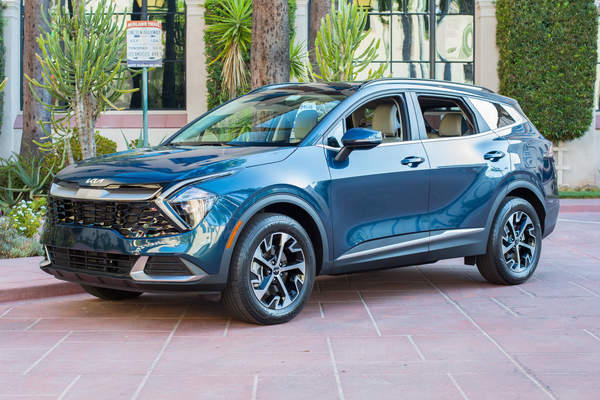 2023 Kia Sportage Hybrid EX AWD
Fuel Information
Fuel Capacity (gal):
13.7

Advanced Safety Features
Advanced Headlights [S]

Automatic Emergency Braking [S]

Blind-Spot Warning [O]

Driver Monitoring [S]

Forward-Collision Warning [S]

Lane-Departure Warning [S]

Lane-Keeping Assistance [S]

Rear Cross-Traffic Warning [O]

Reverse Automatic Emergency Braking [O]

[S] Standard, [O] Optional
Overall Observations
The Kia Sportage, now in its fifth generation, has been completely redesigned for 2023. The changes from the previous version are immediately noticeable - a bolder and more aggressive-looking exterior design, verging on futuristic. This year, for the first time, the Sportage is available in the hybrid version reviewed here and as a PHEV. The hybrid's gas-electric powertrain bumps the Sportage's overall mpg a sizable 13 mpg, to 38 mpg in combined driving for the all-wheel-drive version. Because it does so many things well at a reasonable price, the Sportage stands out as an excellent value in its class. Its many desirable features include a smooth throttle response that translates into a refined driving experience, excellent fuel efficiency, plenty of space for passengers and cargo, easy entry and exit, and LED headlights with auto high beams. High-tech features include blindspot collision-avoidance assist, which can actively change the vehicle's path to avoid a collision. Sportage downsides are relatively minor and not likely to be deal-breakers: a noisy engine during hybrid transitions; an unsettled ride over rough pavement, with some body roll in the corners; a noticeably weak AC system; some cheap interior materials (albeit with generally good fit and finish); and a tinny feel and sound when closing the doors.
For more information on AAA Car Guide licensing:
Click Here
Want to buy this car?
Strengths and Weaknesses
Strong Points
• Excellent value for the money
• Smooth, responsive throttle; refined driving experience
• Plenty of space for passengers and cargo
• Strong mpg ratings
• Advanced ADAS features
Weak Points
• Engine is a bit noisy in gas-electric transitions
• Suspension feels unsettled over bumps; excess body roll in corners
• Some interior plastic trim looks cheap
• Weak A/C
• Door-closing sound and feel lacks solidity
Vehicle Specifications
Number of passengers (F/R):
2/3
Curb weight (lbs):
3860.0
Exterior L / W / H (in):
183.5 / 73.4 / 66.3
Warranty (months/miles):
60/60,000
Tire manufacturer and model:
Goodyear Assurance
Front and rear tire size:
235/60 R18
Max towing capacity (lbs):
2,000
Transmission type:
Hybrid drive
Drivetrain type:
All wheel
Engine/motor:
1.6L I4 turbo
Engine horsepower @ RPM:
177 @ 5,500
Electric motor horsepower:
59.3 & 17.4
Combined system horsepower:
227
Test Data
Test Vehicle Scores
Advanced Safety Features:
8.40
EPA Emissions Score:
7.00
Quality and Drivability:
6.72
Easy of Entry and Exit:
7.31
Car Search Results:

2022

Hyundai

Ioniq 5 Limited AWD

More Details

SUV

Electric

110/87

$55,920

98

2022

Rivian

R1S Launch Edition

More Details

SUV

Electric

73/65

$101,050

99

Car Guide Winner: 1st Place

SUV

More Details

SUV

Electric

86/85

$102,070

102

2022

Rivian

R1T Adventure

Car Guide Winner: 1st Place

Pickup

More Details

Pickup

Electric

73/65

$97,800

100

2022

Mercedes-Benz

EQS 580 4MATIC Sedan

Car Guide Winner: 1st Place

Large

More Details

Large

Electric

91/98

$140,800

102
IIHS Top Safety Pick Vehicles: