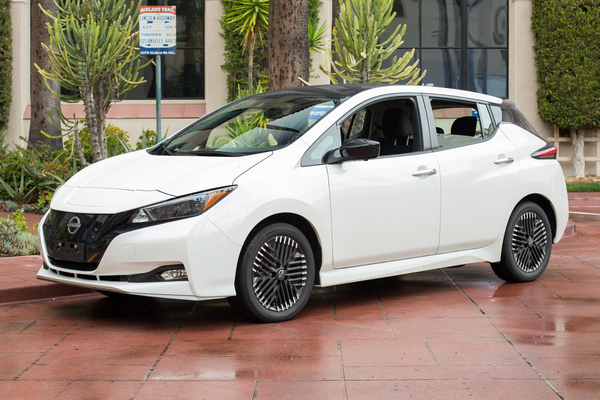 Vehicle Type:
Small Electric
Fuel Information
120V Charge Time:
4.2 miles per hour
240V Charge Time:
19.3 miles per hour
DC Fast Charger:
60 minutes to 80%
EPA-Est. Electric Range (mi):
212
Advanced Safety Features
Adaptive Cruise Control [O]

Advanced Headlights [S]

Automatic Emergency Braking [S]

Blind-Spot Warning [S]

Driver Monitoring [O]

Forward-Collision Warning [S]

Lane-Departure Warning [S]

Lane-Keeping Assistance [S]

Rear Cross-Traffic Warning [S]

Reverse Automatic Emergency Braking [S]

[S] Standard, [O] Optional
Overall Observations
In a number of ways, the EV world has passed the Nissan Leaf by. One of the original EVs—its first generation debuted in 2011—the Leaf retains some of its virtues, but other qualities keep it from being a serious competitor. The Leaf has a smooth, quiet drivetrain with decent acceleration and easy drivability and maneuverability. The drivetrain is efficient (109 MPGe combined), and all Leafs come with a complete set of ADAS features, including several sophisticated features such as blind-spot intervention. It also has standard onepedal driving. But that's about where the good news ends. Yes, you can buy a Leaf with a base price under $30,000 before tax credits. But that Leaf has a 147-hp engine and a range of just 149 miles. The Leaf SV Plus, with its 214-hp motor and 212-mile range—still low by 2023 standards—starts around $36,000. Even worse news is the Leaf's driving experience. The ride quality is poor, the rear seats are uncomfortable, the steering is too loose and light, the brake pedal feels spongy, and torque steer is evident. On top of that, the interior fit and finish feels cheap, and the infotainment system is outdated. Finally, the Leaf also uses a lessavailable CHAdeMO charging protocol, and the large rear roof pillars create a blind spot that hampers rear visibility.
For more information on AAA Car Guide licensing:
Click Here
Want to buy this car?
Strengths and Weaknesses
Strong Points
• Smooth, quiet drivetrain, decent acceleration
• Good MPGe efficiency
• Complete set of ADAS features
• Easy maneuverability
Weak Points
• Extremely uncomfortable ride
• Limited range, even in the SV Plus trim
• Outdated infotainment system
• Cheap-looking, plain interior
Vehicle Specifications
Number of passengers (F/R):
2/3
Curb weight (lbs):
3900.0
Exterior L / W / H (in):
176.4 / 70.5 / 61.7
Warranty (months/miles):
36/36,000
Tire manufacturer and model:
Michelin Energy Saver A/S
Front and rear tire size:
215/50 R17
Max towing capacity (lbs):
Not recommended
Transmission type:
Auto 1-speed
Drivetrain type:
Front wheel
Engine/motor:
Single electric motor
Electric motor horsepower:
214
Test Data
Test Vehicle Scores
Advanced Safety Features:
9.40
EPA Emissions Score:
10.00
Quality and Drivability:
6.06
Easy of Entry and Exit:
7.04
Car Search Results:

2022

Hyundai

Ioniq 5 Limited AWD

More Details

SUV

Electric

110/87

$55,920

98

2022

Rivian

R1T Adventure

Car Guide Winner: 1st Place

Pickup

More Details

Pickup

Electric

73/65

$97,800

100

2022

Rivian

R1S Launch Edition

More Details

SUV

Electric

73/65

$101,050

99

Car Guide Winner: 1st Place

SUV

More Details

SUV

Electric

86/85

$102,070

102

2022

Mercedes-Benz

EQS 580 4MATIC Sedan

Car Guide Winner: 1st Place

Large

More Details

Large

Electric

91/98

$140,800

102
IIHS Top Safety Pick Vehicles: