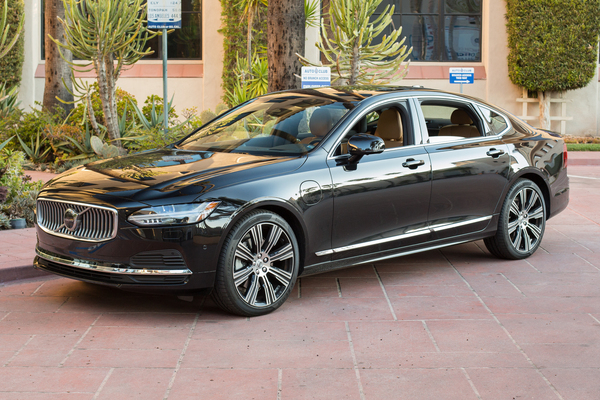 2023 Volvo S90 Recharge AWD Ultimate
Vehicle Type:
Large Hybrid
Fuel Information
Fuel Type:
Electricity/premium
Fuel Capacity (gal):
15.9
120V Charge Time:
3 miles per hour
240V Charge Time:
7.6 miles per hour
EPA-Est. Electric Range (mi):
38

Advanced Safety Features
Adaptive Cruise Control [S]

Advanced Headlights [S]

Automatic Emergency Braking [S]

Blind-Spot Warning [S]

Driver Monitoring [S]

Forward-Collision Warning [S]

Lane-Departure Warning [S]

Lane-Keeping Assistance [S]

Rear Cross-Traffic Warning [S]

Reverse Automatic Emergency Braking [S]

[S] Standard, [O] Optional
Overall Observations
On its way to an all-electric future, Volvo is electrifying most of its cars and SUVs; 7 of its 9 current models are either pure electric or have plug-in hybrid variants. Its handsome flagship S90 luxury sedan has had a plug-in option since 2018. The S90's powerful drivetrain (455 hp) delivers both quick acceleration and decent gas mileage (30 mpg combined). Its adaptive air suspension soaks up bumps well, providing a compliant, comfortable ride. Transmission shifts are smooth, as are gas-electric transitions. The S90's 18.8-kWh battery provides an estimated 38 miles of all-electric driving, nearly twice as much as earlier versions. The S90's minimalist Scandinavian interior is clean, understated, and uncluttered, with premium materials and excellent fit and finish. There's plenty of headroom and legroom for all passengers and enough room in the trunk for their gear. And the optional Bowers and Wilkins stereo provides audiophile sound quality. Being a Volvo, the S90 puts a premium on safety; a complete list of advanced safety features is standard on all S90s - including a surround-view camera and rear automatic emergency braking. Negatives are minimal. The plug-in hybrid battery takes a long time to charge; the rearview camera view lacks sharpness; the high rear deck and rear head restraints impede rear visibility; and the infotainment screen is small. Finally, not everyone loved the bare, minimalist interior.
For more information on AAA Car Guide licensing:
Click Here
Want to buy this car?
Strengths and Weaknesses
Strong Points
• Powerful drivetrain, quick acceleration
• Adaptive air suspension provides a comfortable ride
• Good EV-only range (up to 38 miles)
• Plenty of room for passengers and cargo
• Excellent fit and finish inside and out
Weak Points
• Long charging times (5 hours)
• High rear deck and rear head rests restrict visibility
• No wireless charging for smart devices
• Interior storage spaces are lacking
Vehicle Specifications
Number of passengers (F/R):
2/3
Curb weight (lbs):
4720.0
Exterior L / W / H (in):
195.6 / 74.0 / 56.7
Warranty (months/miles):
48/50,000
Tire manufacturer and model:
Pirelli P Zero
Front and rear tire size:
245/40 R20
Max towing capacity (lbs):
2,000
Transmission type:
Hybrid drive
Drivetrain type:
All wheel
Engine/motor:
2.0L I4 turbo
Engine horsepower @ RPM:
317 @ 6,000
Electric motor horsepower:
143
Combined system horsepower:
460
Test Data
Test Vehicle Scores
Advanced Safety Features:
10.00
EPA Emissions Score:
7.00
Quality and Drivability:
7.62
Easy of Entry and Exit:
6.89
Car Search Results:

2022

Rivian

R1T Adventure

Car Guide Winner: 1st Place

Pickup

More Details

Pickup

Electric

73/65

$97,800

100

2022

Mercedes-Benz

EQS 580 4MATIC Sedan

Car Guide Winner: 1st Place

Large

More Details

Large

Electric

91/98

$140,800

102

2022

Rivian

R1S Launch Edition

More Details

SUV

Electric

73/65

$101,050

99

Car Guide Winner: 1st Place

SUV

More Details

SUV

Electric

86/85

$102,070

102

2022

Hyundai

Ioniq 5 Limited AWD

More Details

SUV

Electric

110/87

$55,920

98
IIHS Top Safety Pick Vehicles: