Distracted driving kills an average of 9 people and injures over 1,000 every day in America. 1

Put down your phone. Lives depend on it.
This Was No Accident
Distracted driving has the same deadly consequences as drinking and driving. Randall Siddens, husband and father of three, lost his life because a driver was on a video call while behind the wheel. New data shows traffic fatalities increased nationwide during the pandemic even though there were less cars on the road, in part, due to motorists engaging in riskier behaviors like distracted driving. AAA is committed to making our roads safer with an anti-distracted driving campaign: You wouldn't drink and drive, so why would you text and drive? Both actions put your life-and the lives of others-at risk. Put down your phones. Lives depend on it. Don't drive intoxicated. Don't drive intexticated. A sobering message from AAA.
Read His Story
Other Articles

TX documentary 'Sidetracked'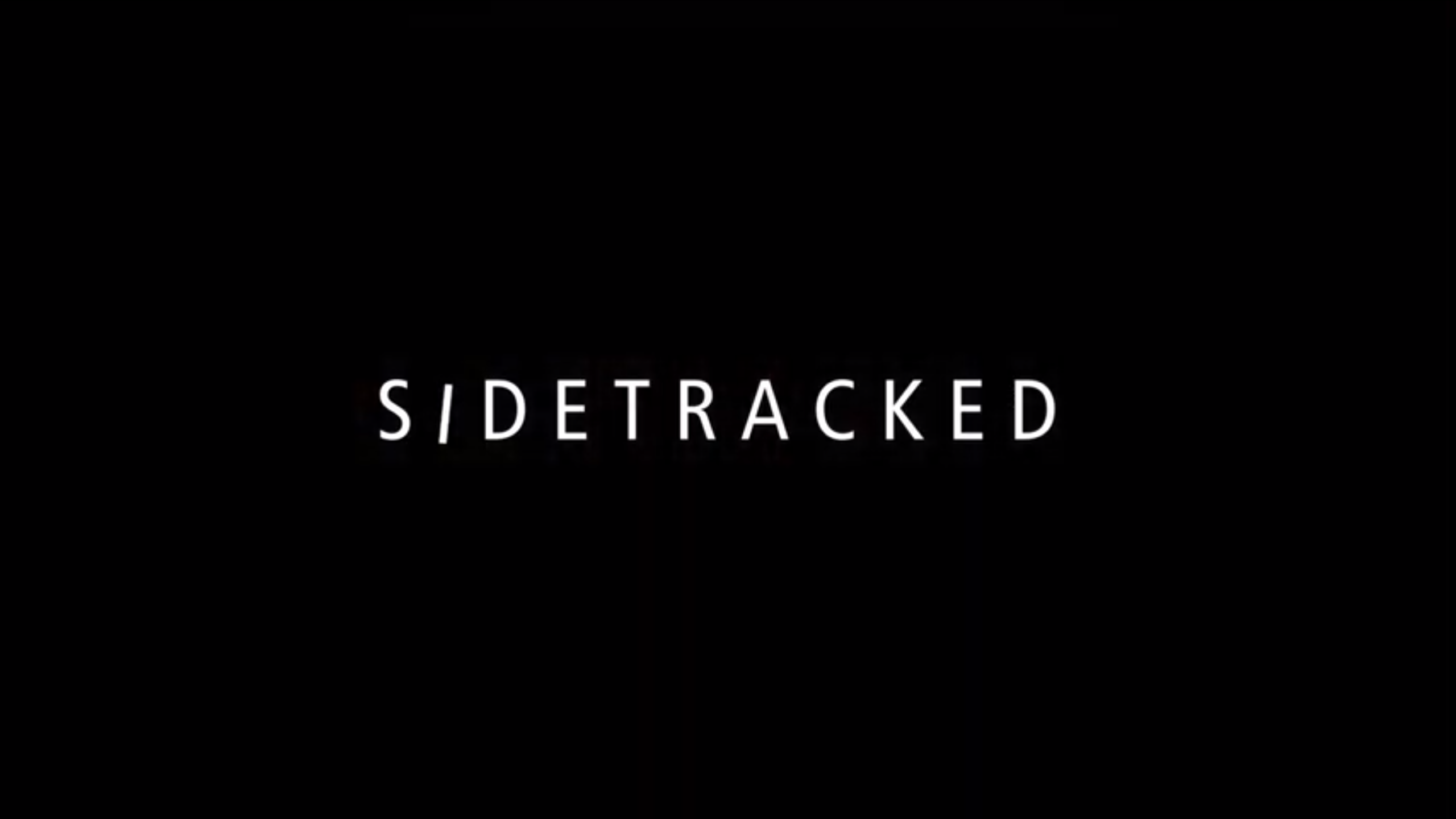 'Sidetracked': A Documentary on the Brutal Realities of Distracted Driving
Distracted driving can lead to lives forever changed and lives forever lost. Watch the powerful documentary 'Sidetracked' produced by Houston Police and sponsored by AAA Texas to better understand how distracted drivers changed the lives of four families. This nearly 23-minute film is meant to encourage drivers to think twice while behind the wheel – because research shows that taking your eyes off of the road for just two seconds doubles your chance of getting into a crash, leading to possible injuries or, worse, death. The odds are even higher when using a smartphone while driving. The documentary is a resource AAA has made available as part of AAA's multi-year initiative called, 'Don't Drive Intoxicated. Don't Drive Intexticated.' The goal is to increase the social stigma around texting while driving like the stigma that exists with impaired driving. Put your Phone Down. Lives Depend on it. .
WATCH VIDEO
Watch Our Videos

Your browser does not support this video format.

Your browser does not support this video format.

Your browser does not support this video format.

Your browser does not support this video format.

Your browser does not support this video format.
5 seconds of reading an email is like driving the entire length of a football field blindfolded
Drivers can experience what's known as the "Hangover Effect" – a lasting mental distraction that can last up to 27 seconds after a driver uses their mobile device – even while stopped at a red light, stop sign, or while their vehicle is parked.
Tips to Help You Prevent Driving Intexticated
Put it Away

Place your mobile device out of sight to prevent temptation.

Know Where You're Going

If using a navigation system, program your destination before driving.

Pull Over

If you have to call or text while driving, pull off the road safely and stop first.

Ask Passengers for Help

If riding with someone, seek their help to navigate, make a call or send a message.

Be a Good Passenger

Speak out if the driver of your vehicle is distracted.

Don't be a Distraction

Avoid calling or texting others when you know they are driving.

Use the Driving Focus Feature While Driving

For iPhone:

1. Go to Settings and select Focus.
2. Tap Driving or the + icon if Driving isn't listed.
3. Select Driving, then Customize Focus.
4. Scroll to Turn on Automatically.
5. Tap While Driving.
6. Select Automatically.

For Android:

1. Go to Settings.
2. Tap Google, then Personal Safety.
3. Select Silence notifications while driving, then toggle the option on.

Instructions may vary based on your device manufacturer and operating system version.

All logos, brands and trademarks are the property of their respective owners.
Preventing Texting and Driving is
Important to Us
Traffic safety is a fundamental part of our mission to be an advocate for motorists and to make driving safer for everyone on the road. In this priority initiative, we are committed to changing attitudes and behaviors surrounding the deadly problem of drivers who use their smartphones behind the wheel.
Despite texting bans in 48 states, smartphone use behind the wheel is a common problem. New research released by the AAA Foundation for Traffic Safety finds that even though 96 percent of drivers say texting/emailing while driving is a serious or very serious threat to their safety, 39 percent admit to having read a text or email while driving in the past month, and 29 percent admit to typing one.
To combat this dangerous trend, we've launched a multi-year traffic safety education campaign starting in April 2018. Our campaign centers around the theme - Don't Drive Intoxicated – Don't Drive Intexticated. It is designed to help audiences understand the consequences of using a smartphone while driving can be the same as drinking and driving – both can result in crashes, injuries and deaths. The campaign targets drivers who would never consider drinking a beer behind the wheel, and yet, regularly engage with mobile devices that dangerously take their eyes, hands and minds off the road. The ultimate goal of the campaign is to make smartphone use while driving as socially unacceptable as drinking and driving.
1Daily claims are based on annual accidents involving distracted drivers from 2019 data collected by the National Highway Traffic Safety Administration. Distracted driving is any activity (including texting) that diverts attention from the task of safe driving.
Partner with AAA to Save Lives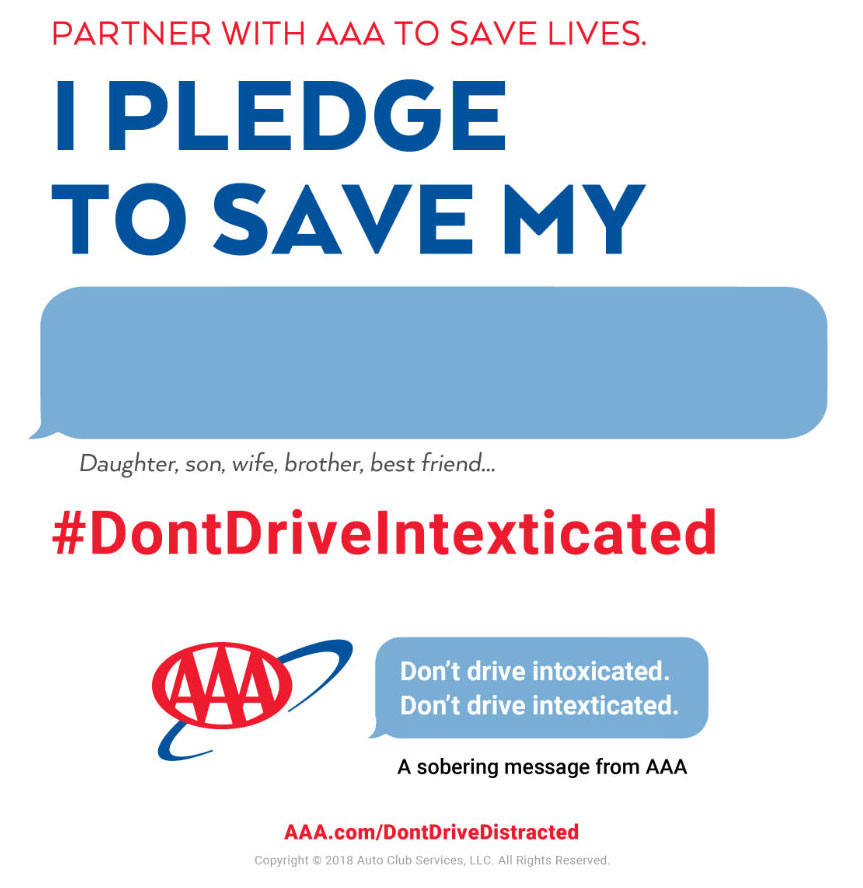 Help spread awareness of the dangers of distracted driving by taking the pledge to put down your phone while driving.
Tell your family and friends why you #DontDriveIntexticated by creating a personalized pledge card that you can download and share on social media.
Take and share your digital pledge.