Let Atlanta Show You Some Southern Hospitality
Atlanta is the capital of Georgia and the epicenter of the New South. While the city retains some of its small-town atmosphere in many ways—such homey neighborhoods as Virginia-Highland and Little Five Points, blooming dogwoods and azaleas that politely announce springtime and the genteel hospitality practiced by true Southerners—it is far from the sleepy Southern destination that Gen. Sherman burned to ashes in his 1864 March to the Sea.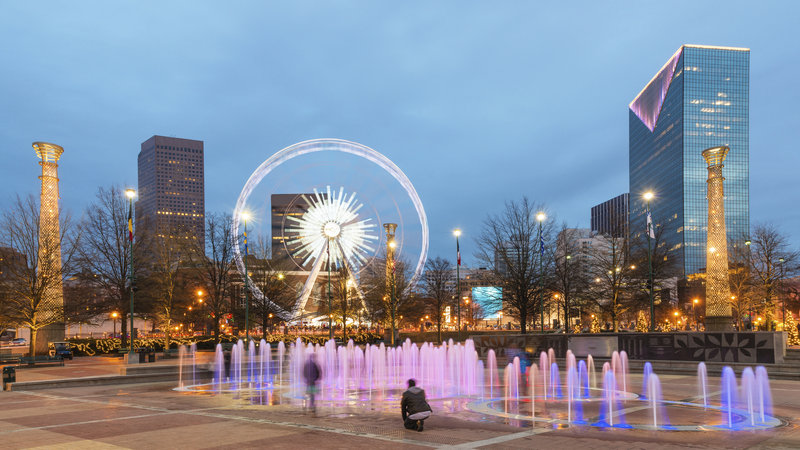 RobHainer/iStockphoto.com
Sleek skyscrapers house headquarters to some of the country's biggest business names, and traffic rivals the professional gridlock found in other major metropolitan areas, but the atmosphere is pleasant. Perhaps it's all the sweet tea, but Atlanta is one big city that retains its Southern charm. The host for the Centennial Olympic Games, Atlanta is home to several professional sports teams whose fans are (dare we say) well-mannered. And one of the city's best preserved sites, the historic Fox Theatre, was saved from destruction by the goodwill of gracious Atlantans.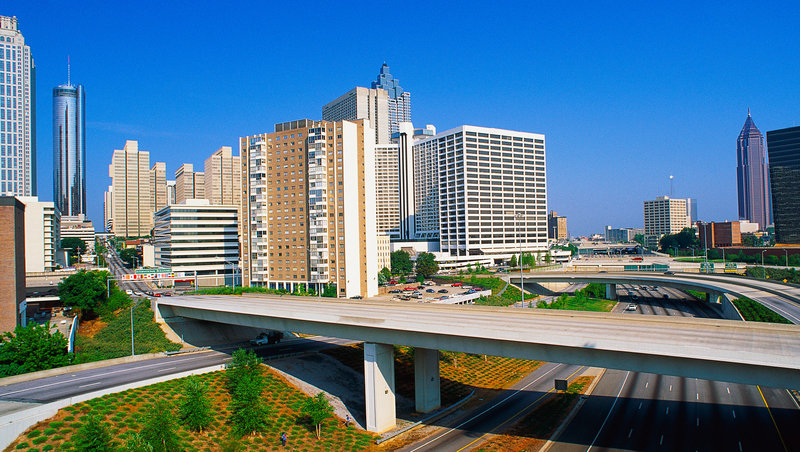 Getty Images
Even though driven Northerners count for more than half of the city's ever-growing population, you'll still encounter a slow pace if you look. Hints of the Old South can be found at historic sites, and heard—in the slow drawl of a "yes, ma'am."
Getting There
By CarMajor highways provide speedy access to Atlanta from nearly all directions. Three interstate highways cross the Perimeter (I-285), which circles the city. I-75 (the Northwest Expressway) joins I-85 (the Northeast Expressway) just north of downtown to become the Downtown Connector (I-75/85), which passes to the east of downtown.
From the southeast I-75 becomes the South Expressway to the point south of downtown near the Georgia State Capitol, where it meets I-20 from the east (the East Expressway) and the west (the West Expressway).
Other roads also run from I-285 toward downtown. I-85 approaches the city from the southwest, joining the South Expressway within I-285. The Arthur Langford Parkway (SR 166) also connects the southwest portion of I-285 with the South Expressway. US 78 from the east passes Stone Mountain before crossing I-285, after which it runs into Scott Boulevard and Ponce de Leon Avenue.
Additional highways that approach the city include SR 400 from the north, which crosses I-285 and ends on I-85 just north of the I-85 and I-75 connector; US 41 from the northwest, which runs into the Northside Parkway inside I-285; and US 19, which becomes Roswell Road, Peachtree Street and finally Spring Street as it moves south. Because of the profusion of expressways, be sure to use a detailed map of the city.
Getting AroundTry to time your arrival in Atlanta after rush hours when it is easier to navigate the high-speed expressways and meandering main streets. Rush hours in general are from 6:30 to 10 a.m. and from 3:30 to 7 p.m. during which expressway traffic in both the city and the suburbs is often bumper-to-bumper. Observe posted speed limit signs to keep your trip safe.
Interstate traffic in the Metro Atlanta area is monitored and managed by NAVIGATOR, the Georgia Department of Transportation's Intelligent Transportation System (ITS). NAVIGATOR's Traffic Management Center provides 24/7 information and alerts on traffic delays, incidents and road construction.
Street SystemThe center of the downtown area is the Five Points Intersection, where Peachtree, Marietta, Decatur, Edgewood and Whitehall converge near the site of the original surveyor's stake. It also is where the city's four geographical divisions—N.E., N.W., S.E. and S.W.—merge.
Atlanta is not laid out in the traditional grid, so there are few rectangular blocks and square intersections. The main street is Peachtree, extending north and south through the center of the city; North and Ponce de Leon avenues are the principal east-west links. The Downtown Connector (I-75/85) skirts the business district. The East and West expressways (I-20) carry traffic from the city center.
Though Peachtree Street is the main thoroughfare through the city, there are more than 65 other streets, avenues and lanes in the metro area that include the name "Peachtree." Do not be misled by West Peachtree Street, Peachtree Memorial Drive, Peachtree View, Peachtree Circle, Peachtree Heights, Peachtree Place, Peachtree Battle Avenue, Peachtree Hills Avenue or a similar name. Also pay close attention to the directional indicators of streets. Peachtree Street N.E. and Peachtree Street N.W. may be the same road, but if you head to the wrong one, you will find yourself on the opposite side of town from your intended location.
ParkingOn-street parking in the downtown business district is virtually nonexistent. One option is group travel, which can reduce parking costs and save some money for your trip. If you must park in Atlanta, garages and lots are plentiful throughout the city, with rates usually $3-$5 for the first hour or $10-$20 per day. Rates downtown, especially near the CNN Center, the Georgia World Congress Center and the State Farm Arena, may be higher. Many parking lots and decks now offer "early bird specials": Drivers parking before 9 or 10 a.m. and leaving after 2 or 3 p.m. pay about $5 per day. Metered parking is available in other areas, but it is usually strictly enforced during business hours and violators' cars are often towed.
Public TransportationAtlanta's Metropolitan Atlanta Rapid Transit Authority (MARTA) has a 47-mile Rapid Rail transit system and extensive connector bus routes. Buses are available to Six Flags Over Georgia. Minimum fare is $2.50; $1 (ages 65+, Medicare card holders, and the physically and mentally impaired); free (under 46 inches). For information contact the route information center Mon.-Fri. 7 a.m.-7 p.m., Sat.-Sun. and most holidays 8 a.m.-5 p.m.; phone (404) 848-5000.
The Peach, or MARTA Route 110, offers bus service with frequent stops, many at some of the city's most historic and popular locations. The fare is $2.50; $1 (ages 65+, Medicare card holders, and the physically and mentally impaired); free (under 46 inches). It includes transfers to other MARTA bus and rail services. The Peach is available daily 6 a.m.-1 a.m. and departs every 30 minutes.
The Buckhead Uptown Connection (BUC), a free weekday shuttle service, transports passengers to popular business destinations. The Lenox Park Shuttle departs from MARTA's Lenox station and runs every 10-15 minutes from 6:30 a.m.-8 p.m., traveling northeast on E. Paces Ferry Road and circling the AT&T/Lenox Park campus via Lake and Lenox Park boulevards. A lunchtime extension to the Lenox Square food court runs every 20 minutes 11:30-2:30. The Piedmont-Lenox Shuttle departs from the northern concourse of MARTA's Buckhead station. It departs every 10 minutes from 6:30-9:30 a.m. and 3:30-7 p.m., serving businesses along Tower Place Drive and Lenox and Piedmont roads, including the Piedmont Center. Phone (404) 812-7433 to confirm route, schedule and fare information.
The Atlanta Streetcar provides another convenient way to reach downtown destinations between Centennial Olympic Park and Martin Luther King Jr. National Historic Site; phone (404) 848-5000 for schedule information.
Tech Trolley bus service is provided by the Georgia Institute of Technology and offers access to Technology Square, the Midtown MARTA station and the institute's campus. The trolley runs Mon.-Fri. 5:45 a.m.-10:30 p.m., Sat. 10-6:30, Sun. 3-9:45, fall-spring. Schedule is reduced in summer; phone for details. Phone (404) 385-7275 to confirm the schedule.
Megabus, departing from W. Peachtree Street N.W. and Pine Street N.E., offers daily departures to such cities as Birmingham, Charlotte, Chattanooga, Memphis, Nashville and Orlando; phone (877) 462-6342.