About Badlands National Park Badlands National Park is reached by the Badlands Loop (SR 240). The scenic loop meets I-90 at exit 110 at Wall and exit 131 at Cactus Flat. On SR 44 from Rapid City, continue to Interior and take SR 377 to Cedar Pass.
Beneath the Badlands lies one of the world's finest Oligocene fossil beds of mammals that flourished 27 to 34 million years ago. Between the White and Cheyenne rivers in southwestern South Dakota, the area also contains spectacular examples of weathering and erosion. Irregular ravines, fantastic ridges, low hills and cliffs display variegated color alternating with grayish-white sediment.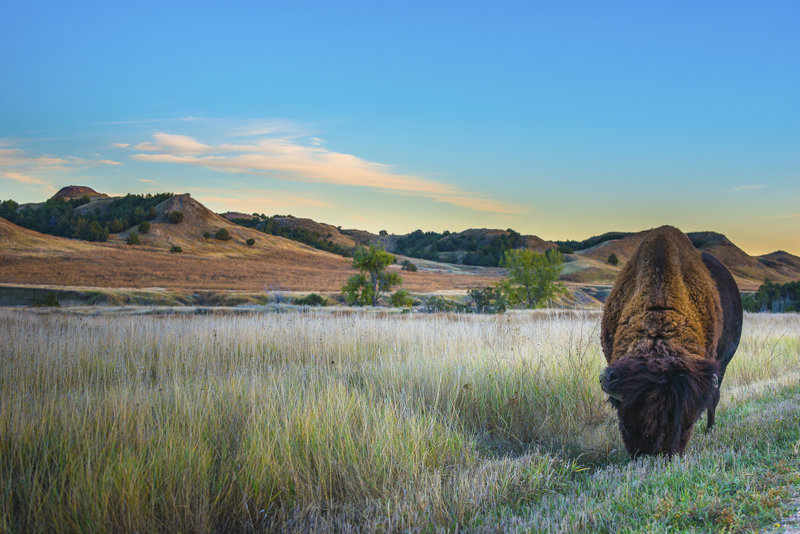 kwiktor/iStockphoto.com
The present bison population is about 800. Other wildlife inhabiting the park includes coyotes, bighorn sheep, deer, golden eagles, pronghorns and prairie dogs. Roberts Prairie Dog Town can be seen along the Sage Creek Rim Road, 5 miles west of the Pinnacles.
General InformationThe park is open daily 24 hours. Excellent views of the Badlands are found along the Badlands Loop Road. For the more adventurous, spectacular views can be seen from the top of Sheep Mountain Table, 4 miles south of Scenic; however, the rough 7-mile road to the top of the plateau is impassable when wet.
All areas are open for hiking; several trails are in the vicinity of Cedar Pass at the park's eastern end. The Badlands Wilderness Area, covering 64,000 acres of the park's north unit, is open for hiking, backpacking and other outdoor activities. Since bison paths are the only trails in the area, hikers should use a topographic map. Check with a ranger before camping in the wilderness area.
Ranger-guided tours, given daily from June to mid-August, include nature walks, fossil talks and evening amphitheater programs.
Picnicking is permitted throughout the park. Tables are available at the Ben Reifel Visitor Center; Cedar Pass Campground; at the Conata Picnic Area, 19 miles northwest of park headquarters on the Loop (SR 240); and at Big Foot Pass Overlook. Food and lodging are available at Cedar Pass Lodge from mid-April to mid-October.
Note: As in any park area, precautions must be taken to protect visitors as well as park land and animals. Climbing on formations can be dangerous, since slopes are steep and can easily give way underfoot. Hunting as well as rock and fossil collecting are prohibited. Keep in mind that bison are potentially dangerous if approached or provoked.
Weather is variable and often unpredictable. Due to dry conditions—the average annual precipitation is only 16.35 inches—campfires are not permitted. Sudden weather changes can occur at any time of year; those planning extended hikes should be prepared and should inform a park ranger of their destination. Hikers also must beware of prairie rattlesnakes.
ADMISSIONADMISSION to the park, valid for 7 days, is $30 per private vehicle, $25 for motorcycles or $15 for hikers and bicyclists. A Badlands National Park Annual Pass is $55.
PETSPETS are permitted in developed areas of the park but must be physically restrained on a leash no longer than 6 feet. Pets are not allowed in buildings, on trails or in the wilderness areas.
ADDRESSADDRESS inquiries to the Division of Resource Education, Badlands National Park, P.O. Box 6, Interior, SD 57750; phone (605) 433-5361.
Things to Do Ben Reifel Visitor Center