About BerkeleyEclectic, inquiring and experimental are all words that apply to Berkeley—and it's no surprise, given the city's reputation as one of the nation's leading academic enclaves. The David Brower Center, downtown at 2150 Allston Way, epitomizes this progressive atmosphere. The LEED Platinum mixed-use building utilizes the latest in energy-saving technologies, and more than half of the materials used in its construction were recycled. There are usually thought-provoking art installations on display in the building's public areas.
Like San Francisco, Berkeley spreads over a series of hills that are called, not surprisingly, the Berkeley Hills. Residential neighborhoods cover their western slopes, which overlook San Francisco, the Golden Gate Bridge and the northeastern portion of San Francisco Bay. Streets twist and turn according to the contours of the land, and the higher you ascend the more impressive the views become.
Grizzly Peak Boulevard, which can be reached from the head of Spruce Street or from other points along the city's northeastern edge, winds along the crest of the hills. This scenic drive provides access to Tilden Regional Park and offers panoramic views of the bay, bridges and San Francisco.
And also like San Francisco, Berkeley has a network of pedestrian paths and stairways. Some of these "pathways" are simply steps built into the sidewalk that make it easier to climb a steep section of hill; others are public paths in between houses. And fortunately for walkers and urban explorers, most of them are located in lovely old neighborhoods full of trees, gardens, architecturally diverse homes and frequently glorious vistas.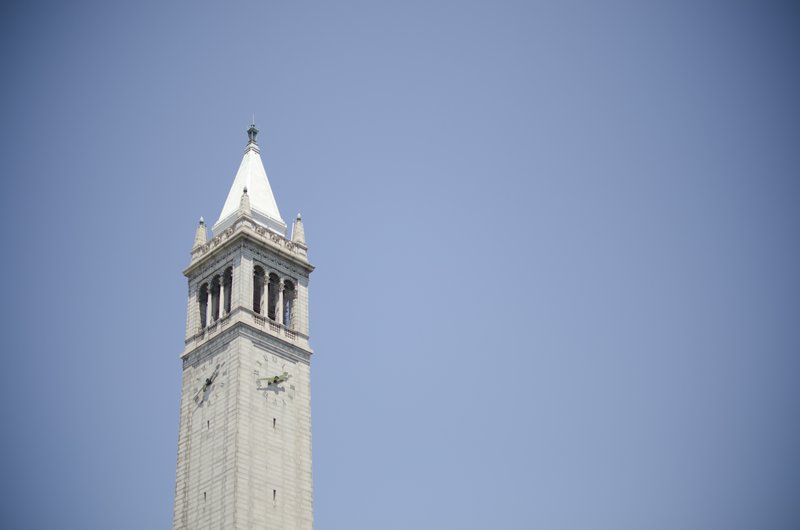 ehblake/iStockphoto.com
One of the most picturesque of these stairways is Orchard Lane. (To get to Orchard Lane from the UC campus, walk east on Bancroft Way to the Bancroft Steps, take the Bancroft Steps up to Prospect Street, continue to Panoramic Way, turn right and watch for the sign on the left-hand side of the street.) The formal pedestrian residence to the Panoramic Hill residential neighborhood, it was built in 1909 in the grand classical style, linking houses near and along it with the university and downtown Berkeley. The stone steps, pillars, balustrades and benches all have a weathered beauty, heightened by an overhanging bower of trees. At the top of the stairway you can catch a glimpse of San Francisco Bay in the distance.
Short Cut Path is another attractive stone stairway that begins at a parking lot on the grounds of the Claremont Club & Spa. This sprawling complex is situated on a hillside and looks every inch the handsomely appointed resort. Built in 1915, the Claremont has long been a favorite honeymoon destination as well as a weekend getaway for well-heeled Bay Area residents. If you're not a guest, you can still stroll around the attractively landscaped grounds.
Many of Berkeley's paths and stairways are hard to find, even if you're a resident, and while they're all named, some of them are not signed. If you intend to do a little exploring, it's well worth obtaining the detailed map produced by the Berkeley Path Wanderers Association. The map can be purchased online or by mail for $12; write the Berkeley Path Wanderers Association, 1442A Walnut St., Box 269, Berkeley, CA 94709.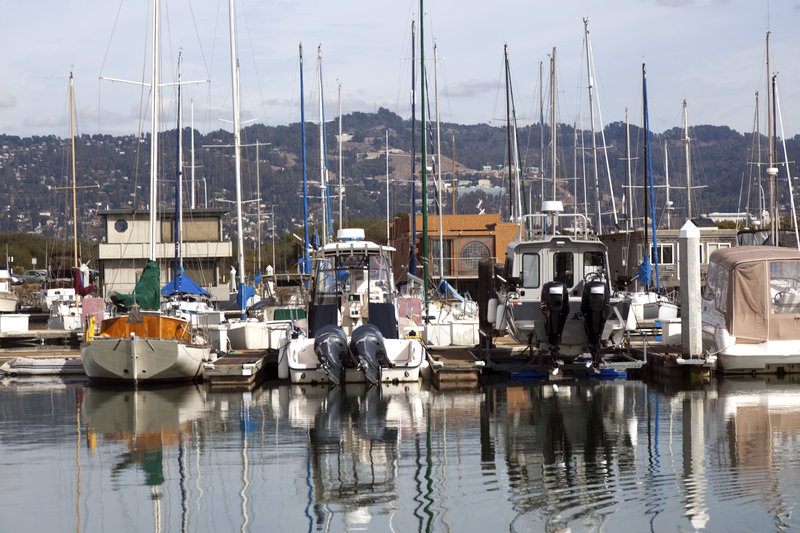 Joe_Potat/iStockphoto.com
Berkeley Marina, at the foot of University Avenue, is a base for a small charter boat fleet. Off Spinnaker Way, north of the west end of University Avenue, is César Chávez Park, built on the site of a former landfill. The park's bayfront walking trail traverses shoreline and wetland areas while offering spectacular views of the Golden Gate, San Francisco-Oakland and Richmond bay bridges as well as Alcatraz and Angel islands.
The Tilden Park Golf Course, off Golf Course Road within Tilden Regional Park, is nestled in the Berkeley Hills above the UC-Berkeley campus. The championship layout features rolling fairways in a peacefully wooded setting. To book a tee time phone (510) 848-7373.
The sidewalks along North Shattuck Avenue, 6 blocks north of downtown Berkeley in the "Gourmet Ghetto" district, are open to artists young and old, professional and amateur, with a cash prize awarded to the best drawing. Food booths offer such concoctions as habañero chocolate gelato and Caribbean chocolate soup, and activities for kids include face painters and street performers. For event information phone (510) 548-5335.
Visitor Centers Visit Berkeley 2030 Addison St., Suite 102 Berkeley, CA 94704. Phone:(510)549-7040 or (800)847-4823
ShoppingFor those who prefer an afternoon shopping excursion to be an experience—strolling outdoors in an attractive setting, places to stop for coffee or a bite to eat—Fourth Street is where it's at. The tree-lined blocks between Virginia Street and Hearst Avenue offer chain retailers beloved by the upwardly mobile (Apple Store, Anthropologie, Nike Store and Sur La Table) as well as specialty boutiques.
Creative types will dig the collection of stationery, craft supplies, pens and paperweights at Castle in the Air. The store also sells puppets, masks and unusual toys. The furniture at CB2 is more expensive than IKEA but similar in its utilitarian yet hip aesthetic. The Gardener is somewhat of a misnomer, since the emphasis at this artsy store is more on quirky home accessories (think Indian prayer bells, decorative baskets and candles). The merchandise is pricey, but it's a fun spot to browse.
The blocks of Telegraph Avenue extending south from the University of California Berkeley campus are filled with head shops, funky boutiques and cheap eateries catering to cash-strapped students. Vendors set up at street corners selling incense and jewelry. The street exudes energy and authenticity; in addition to visitors, vagabonds and street performers you may also run into a Nobel Prize-winning professor.
Stop by Amoeba Music (2455 Telegraph Ave.) for a taste of Berkeley's counterculture heyday. This branch isn't nearly as big as the one on Haight Street in San Francisco, but the selection of CDs and vinyl is just as wide-ranging. Be sure and check out the awesome exterior wall murals. Moe's Books (2476 Telegraph Ave.) is a Berkeley institution, one of the Bay Area's few remaining independent bookstores. Another institution is Top Dog (just off Telegraph at 2534 Durant Ave.), which has long gotten raves for its frankfurters, sausages and extra-spicy Russian mustard. And as befits a joint frequented by students, it stays open late (until 3 a.m. on Friday and Saturday).
Shattuck and University avenues are lined with mostly everyday-essential shops and stores, although a few distinctive ones stand out. Downtown Berkeley is, however, in the midst of a major transformation, with the relocation of the Berkeley Art Museum and Pacific Film Archive, new transit-centric condo development and tech start-ups run by graduates of UC Berkeley graduate schools.
The stretch of Shattuck Avenue in North Berkeley is known for its eclectic eateries and bakeries. The best-known restaurant—and one that pioneered California's local and sustainable food movement when it opened in 1971—is Chez Panisse, co-founded by restaurateur, chef and author Alice Waters.
The Cheese Board Collective (1504 and 1512 Shattuck Ave.) is very Berkeley, both in its offerings (gourmet cheeses, hand-crafted breads, rolls, muffins, scones and fruit tarts) and the fact that it's a worker-owned business. And fans of mocha lattes and other caffeinated concoctions should pay a visit to the original outpost of Bay Area institution Peet's Coffee & Tea (2124 Vine St., between Shattuck and Walnut Street).
The Elmwood Shopping District, centered at the intersection of College and Ashby avenues (several blocks south of the university), is a neighborhood conglomeration of eateries along with a scattering of clothing and specialty stores.
And if you need a quick sugar and carb fix, the glazed apple fritters at Dream Fluff Donuts (2637 Ashby Ave.) absolutely rule. This friendly, family-run shop also dishes up good, diner-style breakfasts.
NightlifeBerkeley has always nurtured creative juices, and an evening at the theater is a rewarding way to experience the flow. The Tony award-winning Berkeley Repertory Theatre (2025 Addison St.) presents a season of seven productions on two stages; works are a mix of modern classics and more recent plays. In recent years Berkeley Rep has premiered such high-profile events as the first stage adaptation of "American Idiot," Green Day's punk rock musical. Phone (510) 647-2949 for the box office.
The Aurora Theatre Company stages seven thought-provoking productions annually at the Aurora Theatre (2081 Addison St.), an intimate black box space that immerses the audience in what's happening on stage. Phone (510) 843-4822 for ticket information.
The 1,400-seat UC Theatre (2036 University Ave.) was long downtown Berkeley's pride and joy. Opened in 1917, it was known for presenting revivals of classic old films and for late-night showings of the 1970s cult favorite "The Rocky Horror Picture Show" before closing for good in 2001. Renovated and refurbished, it reopened in January 2016. For schedule and performance information phone (510) 356-4000.
Traditional roots music takes the stage at the Freight & Salvage Coffeehouse (2020 Addison St.), an all-ages venue that presents live entertainment most nights of the year. The Freight also offers live-streaming access to their shows. Phone (510) 644-2020, ext. 120, for schedule and ticket information.
Everything from zydeco and blues to Afro-Brazilian funk and Grateful Dead cover bands can be heard at the Ashkenaz Music & Dance Community Center (1317 San Pablo Ave.). This family-friendly venue has a big dance floor and a very NorCal free-spirited vibe. Phone (510) 525-5054.
Things to Do Badè Museum of Biblical Archaeology
Lacis Museum of Lace and Textiles
University of California Berkeley
Berkeley Art Museum and Pacific Film Archive (BAMPFA)
Phoebe A. Hearst Museum of Anthropology