Home to Mount Rushmore and More In the Black Hills, bison nibble at golden prairie grass that fades into dense, pungent pine forests. Mother Nature's rocky skyline becomes a canvas for man-made wonders; below the earth's surface, water creates such sculptures as stalagmites and calcite crystals. The Grand Entry, borrowed from western rodeos, reveals regal dancers at Lakota powwows, while Black Elk Wilderness is one of the many sites named after the land's original inhabitants.
Such unions abound in South Dakota's southwestern corner, considered to be the center of the world by the Lakota. About 65 miles wide and 125 miles long, the Black Hills encompasses Belle Fourche, Custer City, Deadwood, Hill City, Hot Springs, Keystone, Lead, Nemo, Oelrichs, Piedmont, Rapid City, Spearfish and Sturgis. With many peaks rising over 7,000 feet, the mountains are home to Mount Rushmore National Memorial and Crazy Horse Memorial. The area attracts species common to neighboring regions, with whitetail deer, prairie dogs, pronghorn antelope and wild turkeys mingling in a common habitat. This is where such legendary gunfighters as Wild Bill Hickok and Calamity Jane acquired fame along with their tombstones. Gold sparked the Black Hills' rapid growth, but this destination also boasts an ample share of ecological treasures, including Wind Cave National Park, Jewel Cave National Monument and Black Hills National Forest.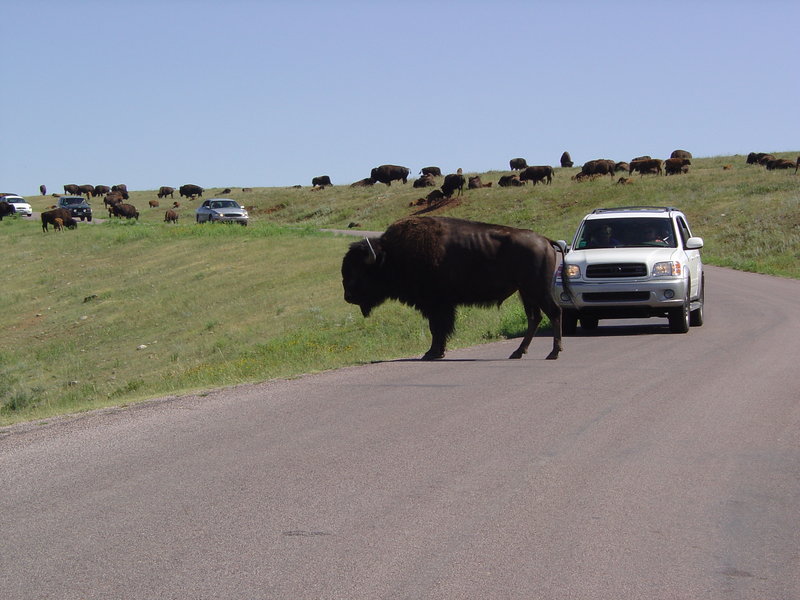 Custer State Park/Brian Madetzke
As a melting pot of landscapes, customs and eras, the Black Hills certainly live up to the Lakota's exalted description. Dramatic rock formations, bronc-riding cowboys and herds of shaggy, snorting bison fulfill first-time visitors' expectations of the West. Setting the destination apart are the unexpected, mysterious and majestic qualities found beneath the twinkling purple skies of the Black Hills' sacred expanse.