Branson Travel with Kids
Under 13 The indoor-outdoor water park Splash Country (1945 SR 76W) offers something for both thrill seekers and those just wanting to chill out. The complex at the Grand Country Resort offers 40,000 square feet of waterslides, several play areas (including one that dumps 1,000 gallons of water on kids at a time), lazy rivers, an infant splash zone and hot tubs—one is reserved for adults.
The Butterfly Palace & Rainforest Adventure (4106 SR 76W) features flowers and animals in a climate controlled room—and, of course, 1,000 butterflies at any given time. Check the schedule so you can watch the butterfly releases.
No matter what you choose, you'll be hungry at the end of the day. Solve that with a spread for foragers of all sizes at the Grand Country Buffet in the Grand Country Inn (1945 W. 76 Country Blvd.). It specializes in serving picky eaters with many kinds of meats and sides in its "scatter bars." If all else fails, there's a pizza buffet and a self-serve ice cream station.
Teens When the main exhibit room is called the "odditorium," it's no surprise that inside Ripley's Believe it or Not! (3326 SR 76W) you'll find a vampire killing kit. The museum features some of the 25,000 strange and interesting items collected by anthropologist Robert Leroy Ripley.
Branson's IMAX Entertainment Complex (3562 Shepherd of the Hills Expwy.) offers standing adventure features such as "Tornado Alley 3D" and "Ozarks Legacy & Legend." New films shot in this large-format, immersive film technology are also played here.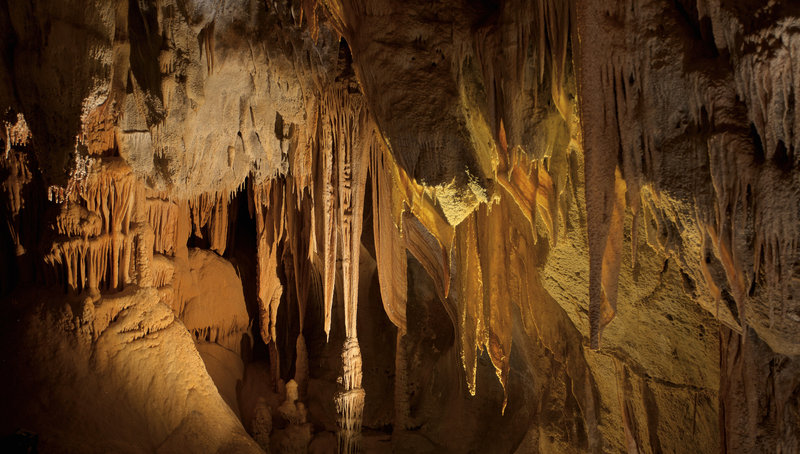 simonkr/iStockphoto.com
Adventurous and outdoorsy teens will be lured by Marvel Cave (399 Silver Dollar City Pkwy.). No, it's not a place where superheroes retire for the night, but after exploring the 3 miles of passageways and climbing more than 600 stairs, you'll feel like one for keeping up. This strenuous 1-hour tour is worth the work as you get to see the underground cathedral room. And good news: there's a cable railway car to take you back.
There are many quality, family-friendly shows that are a major draw of this Ozark town. But what sets Dolly Parton's Stampede Dinner Attraction (1525 SR 76W) apart is simple: those other shows don't have ostrich racing, stunt riding or a buffalo stampede.
What to Do for All Ages If ever there was a more unlikely theme for a theme park than an 1880s-era Ozark pioneer village, we can't think of it. But Silver Dollar City (399 Silver Dollar City Pkwy.) manages to blend all of the charm of the heritage of the past with the rides of the future. And there's an event for every season. Bluegrass & BBQ , the Southern Gospel Picnic , the Harvest Festival and An Old Time Christmas feature food, activities and music appropriate for each occasion.
It would be a shame to be in the area and not take advantage of the many outdoor recreation opportunities in southwestern Missouri. You can boat, fish, camp, picnic or bike through the oak and hickory trees at Table Rock State Park (5272 SR 165).
You can't come back from vacation without a couple of souvenirs, and the shopping village of Branson Landing (100 Branson Landing) offers plenty at both local specialty stores like Branson Quilts and Cardinals Clubhouse Shops, and nationally known stores like Bass Pro Shops, Chico's and Tervis. There are also plenty of local restaurants when you're ready to grab a bite to eat.