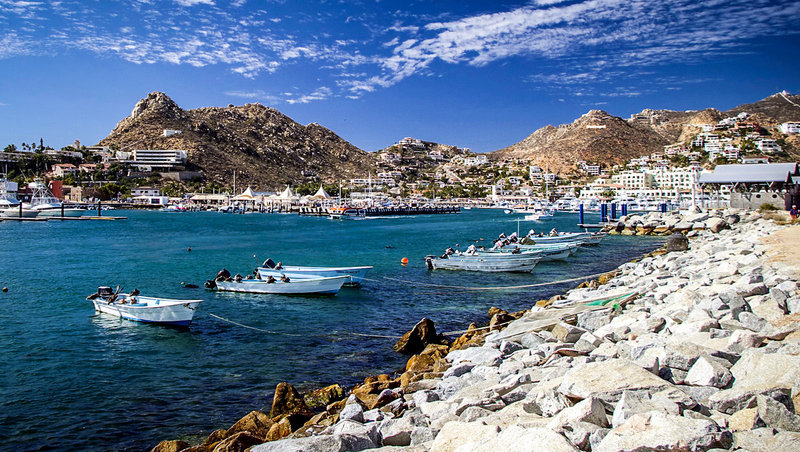 From Sleepy Village to Tourist Destination
Prior to the 1970s, Cabo San Lucas was an isolated community known mostly to sport fishermen, and nearby San José del Cabo was a sleepy provincial village. Then FONATUR (Fondo Nacional de Fomento al Turismo), an agency that promotes Mexican tourism, selected the end of the line of the Baja Peninsula as its next large-scale development project. It was a natural choice: Cabo San Lucas' setting at "Land's End," Baja's very southern tip, is the dramatically scenic spot where the Pacific Ocean meets the Gulf of California, and San José del Cabo had more or less retained the picturesque appeal of an old Mexican town.
Collectively known as "Los Cabos," Cabo San Lucas and San José del Cabo are connected by a 30-kilometer (20-mile), four-lane divided highway locally referred to as "the Corridor." But although united by a common moniker, each has a distinct persona.
Cabo San Lucas, the more populous of the two, still draws anglers eager to land a record catch. But it also caters to golfers ready to tee off at a championship course and partiers with an interest in staying up until the wee hours. Very much a playground packed with fun things to do, Cabo is also more Americanized, especially the area near the marina where malls and stateside fast-food chains are numerous.
Along the Corridor, luxurious waterfront resort hotels are secluded from the view of passersby, and side roads lead to secluded beaches perfect for snorkeling or just lazing in the sun. San José is the quiet sibling: quaint streets lined with art galleries and gift shops, and a classic main square anchored by a cathedral and a gingerbread gazebo.
Cabo San Lucas (KAH-boh sahn LOO-kahs) perches at the southern tip of Baja California, where the waters of the Gulf of California (Sea of Cortez) and the Pacific Ocean converge. Although offering some of Mexico's nicest luxury resorts and a full slate of outdoor-oriented recreational activities, it is still very much a laid-back place where local fishermen go about their daily business. The stark, stunning scenery—rocks, water and big blue sky—is, of course, the stuff of tourist brochure and travel sites' dreams. And Cabo has a well-deserved reputation for attracting those who like to party, if only for a getaway weekend.
Cabo San Lucas and neighboring San José del Cabo (see separate listing within this region)—plus the 20-mile stretch of highway between them—are collectively known as Los Cabos. This is one of Mexico's leading resort areas, rivaling such hotspots as Cancún and Puerto Vallarta, and its popularity shows no sign of slowing down.
Each Cabo has a distinctly different personality. Cabo San Lucas draws golfers and sport-fishing fans as well as Generations X and Y, who come for the surfing, beaches and rowdy nightlife. San José del Cabo is a much more traditional Mexican small town, complete with a central plaza and cathedral. It's quieter and more family-oriented than Cabo San Lucas, but also offers a growing number of sophisticated shops, galleries and restaurants.
Between the two Cabos runs divided four-lane Mex. 1. "The Corridor" has developed into its own destination. The wild, rocky landscapes along the highway once hid only secluded fishing lodges and a few hotels. Now the views of rugged cliffs and the glimpses of steely blue gulf water and white-sand beaches are punctuated by a string of lushly groomed and lavishly appointed resorts. The Corridor also is where you'll find Cabo's championship golf courses. The resort communities of Cabo Real and Cabo del Sol are centers of tourist-oriented development.
Due to geographic isolation from the Mexican mainland and a tourism infrastructure with close ties to California and other Western states, there is a more pronounced "north of the border" sensibility here than at other Mexican resorts. American cars, products and dollars are all highly visible. But Los Cabos also has a by-the-seaside feel that is distinctly Mexican, aided immeasurably by the unspoiled grandeur of its desert setting.
It's a setting that comes at a price, however. If you're in search of a bargain Mexican vacation, you won't find it in Los Cabos. Hotels, restaurants, taxis, shops and tour operators charge some of the steepest prices in Mexico; locals jokingly refer to Cabo San Lucas as "Caro San Lucas" (caro means expensive). That said, prices for goods and services do drop the farther you stray from the main tourist areas.
Practicalities
Los Cabos International Airport is about 13 kilometers (8 miles) north of San José del Cabo and 48 kilometers (30 miles) northeast of Cabo San Lucas. Alaska, American, Southwest and United airlines offer service to the airport from U.S. West Coast cities. American and Delta provide service from U.S. East Coast cities, with most connecting flights via Atlanta, Dallas or Houston. Contact your AAA travel advisor or check the AAA website to find cheap airline flights and affordable vacation packages.
Note: Time share sellers bombard arriving visitors; unless you're really interested in spending 4 hours enduring an aggressive sales pitch for a new condominium development, the lure of free lunches and drinks or so-called discounted activities is definitely not worth it.
A private taxi from the airport to your hotel will be very expensive; a trip to San José del Cabo can cost up to $60 (U.S.), while fares to Cabo San Lucas reach into the $90 stratosphere and beyond. Returning to the airport via private taxi is slightly cheaper. Rates from San José are in the $30 to $35 (U.S.) range; from Cabo San Lucas prepare to shell out $50 to $60.
Services like Los Cabos Express and SuperShuttle provide round-trip private sedan or SUV and shared-ride van transportation between the airport and hotels; rates vary based on the destination. For additional SuperShuttle information or to make reservations, phone (800) 258-3826.
If you arrive at the airport without a reservation, look for the green-and-white Los Cabos Express bus, which is usually parked outside the terminal; buy your ticket from the driver. One-way rates average $16-$18. Another less expensive option than a cab is an airport transfer, which some hotels offer for a fee; inquire about this service when you make your travel reservations.
Because the Los Cabos area is spread out and expensive taxi fares will quickly add up, renting a car is a viable option if you're staying more than a few days or want to explore the surrounding area and fun places to go. If you only want a car for a day or two, consider renting one in town at the end of your trip and dropping it at the airport on your departure day. The car rental company's one-way drop-off fee will usually be cheaper than a taxi ride back to the airport.
If you've rented a car at the airport upon arrival and want to bypass the stoplights and frequently heavy traffic on Mex. 1, take the Los Cabos Airport-San José del Cabo toll road. This four-lane highway departs the airport (watch for signs) and continues about 20 kilometers (12 miles) to San José del Cabo, where it terminates at Mex. 1, just west of the waterfront hotel zone. The toll booth is at the southern end of the road; the toll is around 65 pesos. To reach Cabo San Lucas, just continue southwest on Mex. 1. There are no gas stations along the toll road.
Note: AAA members enjoy discounts through Hertz for vehicles booked in the United States. Consult your local AAA club to add a car rental to your travel packages or phone Hertz, (800) 654-3080. There is a Hertz counter in the airport terminal.
It's a long drive to Los Cabos from the border at Tijuana—some 1,050 miles via Mex. 1 (also called the Carretera Transpeninsular). From La Paz, the quicker and less winding route to Cabo San Lucas is Mex. 1 south to the junction with Mex. 19, then Mex. 19 south through Todos Santos to Cabo San Lucas.
Except for the four-lane Corridor (the stretch of Mex. 1 between San José del Cabo and Cabo San Lucas) and four-lane Mex. 1-D from Tijuana to Ensenada, Mex. 1 is a two-lane road running through frequent desolate stretches. Gas stations and traveler facilities can be few and far between. A temporary vehicle importation permit is not required anywhere on the peninsula, unless the vehicle is put on a ferry bound for the mainland.
Mex. 1 is narrow compared to highways in the United States and Canada, and road shoulders are nonexistent along many stretches. Road quality is generally good, but watch for potholes along some stretches. Avoid driving at an excessive speed (above 50 mph), and do not drive after dark. This and other roads are not lit at night, and livestock standing on the road surface poses an ever-present hazard. Streams (called arroyos) are subject to flash floods during infrequent storms. Flooding, although rare, can make vehicle travel impossible when it occurs. Elevated bridges have solved this problem along the Corridor.
Baja's main overland bus line, Autotransportes de Baja California (ABC), travels from Tijuana to La Paz; the trip (including stops en route) takes about 22 hours. The ABC bus station in Tijuana is adjacent to Plaza Viva Tijuana (a 5- to 10-minute walk from the border).
From La Paz, the Aguila/Peninsular bus line provides regular service to Cabo San Lucas, San José del Cabo and the airport. The fare to Cabo San Lucas or San José del Cabo is 210 pesos; the fare from La Paz to the airport is 262 pesos. The trip takes about 3 hours.
Greyhound buses take passengers from the Greyhound terminal at 120 W. Broadway in downtown San Diego to Tijuana's Central Bus Terminal (Centro de Autobuses) in La Mesa; for fare and schedule information phone (800) 231-2222 (from the United States). You'll need a valid tourist permit in order to cross the border.
Taxis from Cabo San Lucas to San José del Cabo or the Corridor hotels are convenient but expensive, averaging $25-$30 or more depending on destination; the local Suburcabos buses are a much cheaper alternative. The blue-and-red buses run daily between the two Cabos. The main stop in Cabo San Lucas is near the Puerto Paraiso mall, on the same side of the street. In San José del Cabo the main stop is near the turnoff to the airport, in front of the Mega grocery store. The fare for the 45-minute trip is 33 pesos.
The Aguila bus line provides service from Cabo San Lucas to San José del Cabo and also to Todos Santos. The central bus station (Terminal Central Cabo San Lucas Aguila) is near the junction of Avenida Reforma and Boulevard Hidalgo (Mex. 19, the road to Todos Santos).
Currency can be exchanged at banks during normal Mon.-Fri. business hours, but make sure this service is offered before getting in line. Casas de cambio (currency exchange offices) are another option; the exchange rate may not be as favorable, but they're more convenient. ATMs are plentiful, and some dispense dollars in addition to pesos. Avoid using an ATM after dark.
As in other parts of Mexico, making phone calls from your hotel room, calling collect or using a credit card can all end up being prohibitively expensive. If you don't have a cellphone, prepaid Ladatel/Telmex calling cards (available in various denominations at mini markets, pharmacies and other local businesses) offer relatively low per-minute rates and can be used at any public phone marked "Telmex" or "Ladatel." Avoid phones displaying the message "To call long distance to the USA and Canada, simply dial 0"; the charge will be exorbitant.
If you need to use the internet stop by the Cabo Coffee Co., at the corner of Avenida Madero and Calle Hidalgo (across the street from Plaza Amelia Wilkes, the main square). It serves coffee made from organically grown Mexican beans.
In case of emergency dial 066 to reach local police, the fire department or the Red Cross. The AmeriMed Cabo San Lucas Hospital, on Boulevard Lázaro Cárdenas near the Bancomer bank branch and a McDonald's outlet, offers a wide range of routine and emergency services and has a 24-hour pharmacy. Insurance is required for medical emergencies; phone (624) 105-8500.
To contact the municipal police, phone (624) 143-3977. The Red Cross (Cruz Roja) is on Boulevard Hidalgo at Calle Constituyentes/Avenida Reforma (Mex. 19 Km marker 221, on the way to Todos Santos); phone (624) 143-3300. An ability to speak fluent Spanish will come in handy.
Cabo San Lucas is warm all year. Daytime highs are around 80 degrees in winter but can soar to over 100 during the summer months; bring plenty of sunscreen. The Gulf of California waters warm well into the 80s in summer and are close to 80 degrees the rest of the year, making conditions for diving and snorkeling ideal. The Pacific Ocean is about 10 degrees cooler. The high tourist season runs from November through April; bring a sweater for occasional cool evenings if visiting in January or February.
Although the climate is arid, the tip of the Baja Peninsula is not immune from tropical storms or hurricanes. In September 2014 Category 3 Hurricane Odile pummeled the Los Cabos area, causing widespread damage to hotels, buildings and beaches along the Mex. 1 Corridor. Recovery was swift, however, and by spring 2015 most hotels and tourism-related services had resumed normal operations.
City Layout
Despite its popularity as an exclusive resort area, Cabo San Lucas is still a small town at heart. It spreads north and west from Cabo San Lucas Bay (Bahía de Cabo San Lucas). The main street is Avenida Lázaro Cárdenas, the westward extension of Mex. 1. Boulevard Marina branches off it, curves around the harbor and leads to a few beachfront hotels located beyond downtown. Popular things to see are clustered around the harbor; the streets in the vicinity of Plaza Amelia Wilkes, the central square; and along the Mex. 1 Corridor.
Downtown Cabo lends itself to strolling. The shopping centers, restaurants and nightspots along Boulevard Marina and on the surrounding streets can all be easily reached on foot. In addition, a pedestrian walkway (malecón) wraps around the large Cabo San Lucas Marina, packed with everything from humble pangas to luxury yachts. The harbor malecón can be traversed in about an hour and the people-watching is always interesting.
Stop by the sport-fishing docks at the harbor's southern end in late afternoon, when local boats return from a day's fishing, for a firsthand look at the many game varieties found in the surrounding waters. If you're driving in from one of the Corridor hotels, there is a large free parking lot off Boulevard Marina, next to the Plaza Nautica shopping center.
Charter a deep-sea fishing boat and find out for yourself why Cabo San Lucas calls itself the "Marlin Capital of the World." Striped marlin run year-round; the season for the majestic blue marlin is June through mid-November. Sport-fishing enthusiasts often reserve boats up to a year in advance for events like the Bisbee's Black and Blue Marlin Jackpot Tournament; it's one of the top things to do in Cabo San Lucas.
"Do you know the way to San José?" warbled Dionne Warwick on one of her signature '60s hits. She was singing about the California city, but you can just head on up the Corridor—the four-lane divided highway from Cabo San Lucas—to San José del Cabo, Baja California Sur , one of the fun places to go near Cabo San Lucas. Spend some quality time shopping in the galleries, boutiques, jewelry shops and stores featuring items hand-crafted by regional artisans.
Reserve a tee time (and open up your wallet) for 18 holes of championship golf. The Corridor's world-class courses are designed by greats like Jack Nicklaus, Robert Trent Jones, Tom Weiskopf and Roy Dye and offer fun things to do with friends.
Slather on plenty of sunscreen, grab a hat and a pair of sunglasses and flip-flop your way to the beach or pool for a day of sun worshiping.
Dive right in. The waters around Cabo, especially in the vicinity of Land's End, are great for snorkeling and up-close encounters with marine life from octopus to colorful tropical fish. This is one of the fun things to do with kids in Cabo San Lucas.
Knock back some cold cervezas at a legendarily rowdy hangout like the Cabo Wabo Cantina, El Squid Roe or the Giggling Marlin. For a more sedate evening, sip a margarita while watching the sun set from a beachfront palapa or hotel lounge.
Perhaps the best sunset viewing is from the vantage point of a catamaran. Sail away on an evening cruise and behold the rugged rock formations at the tip of the Baja Peninsula loom against a darkening sky. There are a number of cruise options to choose from; your hotel concierge can make suggestions and reservations or you can check with your AAA travel agency.
Shopping in Cabo San Lucas
A one-stop destination for shopping, entertainment and things to do in downtown Cabo is the Puerto Paraiso mall, off Avenida Lázaro Cárdenas between Plaza Bonita Mall and the Marina Fiesta resort. On a par with American malls, Paraiso is a modern, three-level collection of clothing chains (Kenneth Cole, Nautica, Tommy Bahama), boutique-type shops, gift stores, high-end jewelry merchants and local restaurants. The center is designed for open-air strolling along attractively landscaped terraces, as well as window shopping in air-conditioned comfort.
On the lower level, American restaurant chains like Johnny Rockets, Harley-Davidson Restaurant & Bar and Ruth's Chris Steakhouse front the marina. There's also an outpost of San José del Cabo's Baja Brewing Co. here. For kids there is a bowling alley and video arcade, a 10-screen movie theater complex and a fast-food court. Puerto Paraiso is open daily 9-9, with extended hours at major restaurants.
Plaza Bonita, an open-air shopping center next door to Puerto Paraiso, has a few interesting shops, including the Sergio Bustamente Gallery. The famed Guadalajaran artist is known for his whimsical ceramic, wood, bronze and papier-mâché sculptures, which elicit opinions as wildly mixed as his art. Check out the two-level gallery and decide for yourself.
No shopping tour of Cabo is complete without wandering the streets in the vicinity of Plaza Amelia Wilkes, a traditional Mexican square with a gazebo at its center that's one of the fun places to go. Pepita's Magic of the Moon, in the vicinity of the plaza on Avenida Francisco I. Madero (between Vicente Guerrero and Marina Boulevard) sells designer women's fashions—casual, colorful outfits with tropical motifs that fit right in at a beachside resort.
Galerías Zen Mar, near the corner of Avenida Lázaro Cárdenas and Calle Acuario, is a combination art gallery and museum with an outstanding variety of ethnic masks from all over Mexico, including Day of the Dead designs. Ex-votos have facial writings describing why the mask was made for a particular religious ceremony; retablos (small devotional paintings) depict emotions without the use of words. Most of the works are for sale.
Cabo San Lucas Nightlife
Bars and live music—that pretty much sums up the nightlife scene in Cabo San Lucas. The Cabo Wabo Cantina, on Calle Vicente Guerrero just south of Avenida Lázaro Cárdenas, is owned by rocker Sammy Hagar. Young crowds pack the place for regular live shows by a rock cover band and occasional visits from big-name acts, including Hagar himself; hard rock and dance pop blasts from the sound system on other nights. It's open daily until 2 a.m.
The Giggling Marlin, on Boulevard Marina at Calle Matamoros, blasts classic rock and dance hits, has frequent live music and puts on a saucy audience-participation show. The attraction here is a pulley device that dangles patrons upside down—rather like a captured fish—to the great amusement of the masses, which makes this one of the fun things to do with friends. There's also a restaurant on the premises that serves good Mexican and seafood dishes. To find it, look for the beer bottle-toting marlin atop the entrance.
Also high on the see-and-be-seen circuit is El Squid Roe, on Avenida Lázaro Cárdenas at Boulevard Marina (across from Plaza Bonita Mall). This three-level nightclub is loud, raucous and invariably packed. Be forewarned: It's the kind of place where waiters brandishing spray tanks of tequila move through crowds of people dancing on top of tables. An open-air dance floor is on the main level.
Another dance club on the Cabo party scene is Pink Kitty, on Boulevard Marina across from Burger King. The atmosphere is decidedly upscale—Italian blown-glass chandeliers, plush leather seating, an all-female staff and VIP service. The roster of visiting international DJs changes weekly, drawing a young, dressed-to-impress crowd that parties until dawn.
For a mellower evening, the Don Diego Terrace restaurant's bar in the Sandos Finisterra hotel, off Boulevard Marina heading out toward Land's End, is an ideal place to watch the sun slowly drop into the Pacific and is one of the recommended things for couples to do.
Wager on game outcomes at the Caliente Sports Book in the Puerto Paraiso mall. Clean, well-lit, air conditioned and loaded with TVs, Caliente also offers off-track betting in case you've got a hot tip on a horse during your trip. There's a full bar as well.
By AAA Travel Editor
From burgers to haute cuisine, Los Cabos has it. It goes without saying that traditional Mexican fare takes center stage, but you'll also find restaurants with American, Italian, Mediterranean, Asian and international menus in Cabo San Lucas, along the Corridor and in San José del Cabo, Baja California Sur .
Where to Eat in Cabo San Lucas
Where to Eat in the Los Cabos Corridor
The Corridor (Mex. 1) between Cabo San Lucas and San José del Cabo is dotted with nearby restaurants ranging from casual to elegant; many of the latter are located at the posh hotels that line this stretch of highway.
Places to Eat in San José del Cabo
Despite the Los Cabos area's rapid growth, quaint San José del Cabo has managed to retain a semblance of its 18th-century colonial character, especially around Plaza Mijares, the main plaza. The plaza's eateries cover a range of culinary choices.
See all the AAA Diamond Rated restaurants for this travel destination.
Dining in Cabo San Lucas
Restaurants located inside hotels are expensive and, on the whole, predictably good. If you're wondering where to eat more local fare, hit the streets. Cabo is famed for fish tacos, but you'll also find shrimp, pork, chicken and beef varieties. For the most part, the food at the bars and nearby restaurants lining Medano Beach and the marina malecón is very good, but also overpriced. For better comida at more digestible prices, try the open-air restaurants in the downtown area, many run by families. These are good places for late night tacos or a hearty breakfast of huevos rancheros, eggs and black beans drenched in tomato salsa, sprinkled with cheese and served with tortillas.
El Pollo de Oro ("The Golden Chicken"), at the corner of avenidas José María Morelos and 20 de Noviembre, specializes in juicy, fall-off-the-bone Sinaloa-style barbecued chicken. Seating is in a large patio courtyard perpetually packed with locals and a sprinkling of tourists on vacation. In addition to the must-order pollo, the menu is loaded with tempting Mexican dishes—all authentic and affordable.
Torta (sandwich) stands also pop up on downtown street corners after dark and are good places to eat. Ham and cheese is a common and tasty variety. Many stands grill hot dogs and whip up tacos as well. Use the same common sense at these places that applies whenever sampling street food in Mexico—if there's a crowd hovering around a cart and the food looks hot and fresh, it should be fine. Squeezing lots of lime juice over the meat helps kill any lingering bacteria. See the Lodgings & Restaurants section for AAA Rated dining establishments.
Day Trips from Los Cabos
By AAA Travel Editor
It's probably safe to say that most visitors come to Los Cabos to bask in the sunshine, do some deep-sea fishing, play a round or two of golf, drink a few margaritas, maybe snag a silver souvenir at a jewelry store and, in general, just hang out. But if you've got a car, two day trips will show you a different side of Baja, one closer to the "real" Mexico.
La Paz Day Trip
Head north on Mex. 1 from San José del Cabo to the port city of La Paz (about a 3-hour drive). The narrow, two-lane road winds through a harsh landscape of sand, scrubby brush, the occasional cactus and past a few small towns; the Sierra de la Laguna Mountains can be seen in the western distance. La Paz, the capital of the state of Baja California Sur, is a bustling city where the emphasis is more on industry than tourism, but several museums and a university add a touch of culture.
The city faces the Bay of La Paz, which flows into the Gulf of California. Downtown's wide, winding malecón (waterfront esplanade) is accented with benches, statues and palm trees. Small boats bob peacefully on intensely blue water. Across the street are restaurants (many with expansive windows open to the seaside walkway), gift shops, hotels and bars. A favored activity with locals and visitors alike is an evening stroll along the malecón, enjoying the reliably spectacular sunsets.
Since the 1950s La Paz has been a favorite with anglers, scuba divers and snorkelers who appreciate the bountiful waters, warm climate, affordable hotels and the friendliness of the locals. North of town are quiet beaches interspersed with commercial docks and a port where ferries depart for Mazatlán and Topolobampo on the mainland.
Todos Santos Day Trip
About an hour's drive away, but with a totally different vibe from workaday La Paz, is Todos Santos. As you approach town on two-lane Mex. 19 it suddenly appears as an oasis in the midst of a parched desert environment, with welcoming palm trees standing in stark contrast to the arid surroundings.
This charming city is a well-known artists' colony. Restored buildings along the main street and dusty side streets house galleries featuring works by regional artists and shops selling quality hand-crafted items and jewelry. Boutique inns, upscale local restaurants and a good number of expatriates make for a relaxed, bohemian atmosphere. And despite a lingering urban legend and the fact that it's "on a dark desert highway," the Hotel California in town is not the one made famous in the same-named 1976 album and song by the Eagles.
Although it's not on the ocean, Todos Santos is only about 2 miles from the pounding Pacific waves. The most accessible beaches are south of town along Mex. 19, and many of them are prized by surfers. Wide, mostly deserted and usually reached by unmarked dirt roads, these beaches aren't suitable for swimming because of rip currents and rough surf, but you can enjoy their rugged beauty on a nice long walk.
Recreation in Cabo San Lucas
Biking, swimming, backpacking, fishing, hiking—whatever your interest, make sure you experience these recreational highlights and fun places to go, as chosen by AAA editors.
Los Cabos' tropical environment and the year-round warm waters of the Gulf of California and the Pacific Ocean guarantee you'll have plenty of recreational options to choose from. Fishing, golfing, diving and surfing—mainstays that made the area a vacation magnet—are perennially popular, but this ocean playground also ropes in those looking for adventurous things to do with activities like parasailing, ziplining and exploring the desert backcountry on an ATV.
Test the Waters with Deep-Sea Fishing
How could anyone serious about sportfishing not love the self-proclaimed Marlin Capital of the World—a place where landing a 100-pound catch is par for the course? Deep-sea fishing can be enjoyed all year at this destination, although prized marlins generally run from July through December. Other species typically found in offshore waters include wahoo, tuna, sailfish, yellowtail and dorado, the type caught varying with the season.
To reel them in you'll need to charter a boat. Pangas, small motor-powered skiffs used by local fishermen, are the most reasonably priced and can generally accommodate two or three fishermen, or you can go more upscale and reserve a cruiser or yacht with a capacity of up to eight which is perfect for group travel. Regardless, splitting the cost of the rental helps lower the overall price. Charters can last from 5 hours to a whole day and typically head to the bountiful Gordo Banks, offshore from San José del Cabo, or into the Pacific Ocean.
Panga excursions can be arranged at the Cabo San Lucas marina or at the Puerto Los Cabos development just north of San José del Cabo. For larger boats, stick to the Cabo San Lucas marina. It's a good idea to confirm what's included up front; bait, tackle, food, drinks and cleaning are some of the items that might be incorporated into the rental fee. And if you do land a record catch, have a picture taken as documentation, since catch-and-release is the common practice and this will truly be "the one that got away."
Stay on Land and Play a Round of Golf
For landlubbers, golf is the sport of choice in Los Cabos. Challenging championship-quality courses appear as winding ribbons of irrigated green in Cabo's dry, desert landscape. Most of Los Cabos' public courses are along the Corridor—the 20-mile stretch of road connecting Cabo San Lucas and San José del Cabo—and all offer scenic desert, ocean and/or mountain views.
Courses open to the public include the Palmilla Golf Club, at the One&Only Palmilla resort; the Ocean and Desert courses at the Cabo del Sol resort development; the Cabo Real Golf Course at the Las Ventanas al Paraiso resort; and the Cabo San Lucas Country Club. Greens fees can be quite high, especially in season (roughly mid-October to mid-June), although rates are somewhat cheaper in the afternoon. Contact your local AAA travel agency for help with adding golf trips to your vacation packages or travel itinerary.
Make a Splash with Snorkeling or Scuba Diving
Land's End, where the Pacific and the Gulf of California merge, is one of the most accessible and popular scuba diving locations. You can sign up for a reasonably priced tour to snorkeling sites near El Arco, or just take a 15-minute water taxi ride from the Cabo San Lucas marina or Playa el Médano to Lover's Beach, which is near the rock formation.
Once there, be sure and stay on the gulf side of El Arco since the currents and undertow on the ocean side (humorously referred to as Divorce Beach) are not safe for any type of water activity. Snorkelers are likely to spot schools of brightly colored angel, trigger and parrot fish. If you're not part of a tour, don't forget to arrange a time for the water taxi to pick you up for the return trip to Cabo.
Two other snorkeling and scuba spots to consider, both along the Corridor, are Playa Chileno and Playa Santa Maria. Playa Chileno, popular with locals, has clear blue water, palm trees and a coral reef where sea turtles, sea urchins and starfish hang out. Family-friendly Santa Maria, just to the south in a crescent-shaped cove, is a marine sanctuary with plenty of colorful tropical fish. The best time to come to either beach is in the morning before the tour buses arrive.
The primo site for diving and snorkeling, though, is about a 2-hour drive from Cabo San Lucas. Cabo Pulmo National Marine Sanctuary, a UNESCO World Heritage Site, is the only living coral reef on North America's west coast. The area has few amenities, but it's what's underwater here that counts. The best months are June through July.
Seek out Scenic Beaches
Beaches in the Los Cabos area are stunning and dramatic, often rimmed by craggy rock formations. The sand is pristine and the water a beautiful turquoise. Unfortunately, strong waves and undertows on the Pacific Ocean side as well as at many beaches along the Gulf of California make swimming exceedingly dangerous. This, plus the lack of lifeguards, means these scenic beaches should be enjoyed for walks, picnicking, sunbathing, taking photographs or playing volleyball rather than for swimming.
You can swim, however, at 2-mile-long Playa el Médano, the main beach at Cabo San Lucas. You can also rent jet-skis, go parasailing, people watch or chow down at one of the outdoor restaurants along the beach.
If you prefer views of Cabo from above, try parasailing. And for a real adrenaline rush, strap yourself into a zipline harness and fly across a desert canyon. Extreme sports aficionados rate the ziplines at
Wild Canyon Adventures
park the best in the Los Cabos region and one of the fun things to do with friends if you're looking for adventure activities.