Feel Like Royalty in the Queen City
A skyline of gleaming skyscrapers welcomes visitors to Charlotte. While this first impression only serves to underscore the city's status as the second-largest financial center in the nation, dig a little deeper. When you peel back the layers, you'll be pleasantly surprised to find neighborhoods with grand Colonial and Victorian architecture, diverse shopping, and eateries offering both upscale and down-home cuisine. The nickname of "Queen City" also reflects this underlying charm—you'll notice street signs regally adorned with the letter "M" honoring Queen Charlotte of Mecklenburg.
A stop at any one of Charlotte's stellar museums will help round out your sightseeing experience in the "City of Trees," another appropriate moniker. To gain a historical perspective, stop by The Charlotte Museum of History. To learn about what factors shaped Charlotte into a financial tour de force and leading American city, visit the Levine Museum of the New South. If art history piques your curiosity, head to the Mint Museum Randolph. The rich collection of American and European works is in the building that once served as the first branch of the U.S. Mint. For a hands-on learning approach to science and technology, engage in interactive activities at Discovery Place Science. (The Historic Fourth Ward, a revitalized neighborhood with some 75 colorfully painted Victorians, is just a stone's throw away.)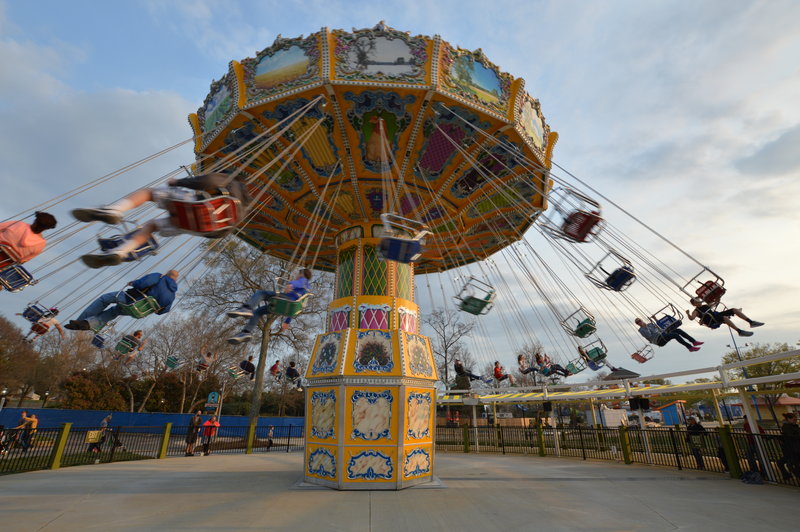 Courtesy of Carowinds Amusement and Water Park
In search of adventure travel or diversions that are more fast-paced? Carowinds Amusement and Water Park delivers, with a daring assortment of coasters and other thrilling fun machines. Or, start your engine and seek out Hendrick Motorsports Museum, where you can view the construction of race cars from start to finish.
Getting There
By CarInterstates 77 and 277 provide access to Center City Charlotte. I-77 traverses north-south through the state, and I-277 circles the city. I-85 is an east-west route that bisects I-77 just north of the city.
From the north or south, I-77 connects directly with West Trade Street, which provides access through Uptown. From the east, US 74 connects with I-277 (John Belk Freeway) to the College Street exit; head northeast on SR 29/49 (Tryon Street) to reach Uptown. From the west, I-85 connects with SR 16 (Brookshire Expressway); head southwest on SR 29/49 to reach Uptown.
I-485 surrounds Charlotte, providing access to neighboring areas.
Charlotte Douglas International Airport is west of downtown and can be reached via I-85, I-77, the Billy Graham Parkway or Wilkinson Boulevard.
Getting Around
Street System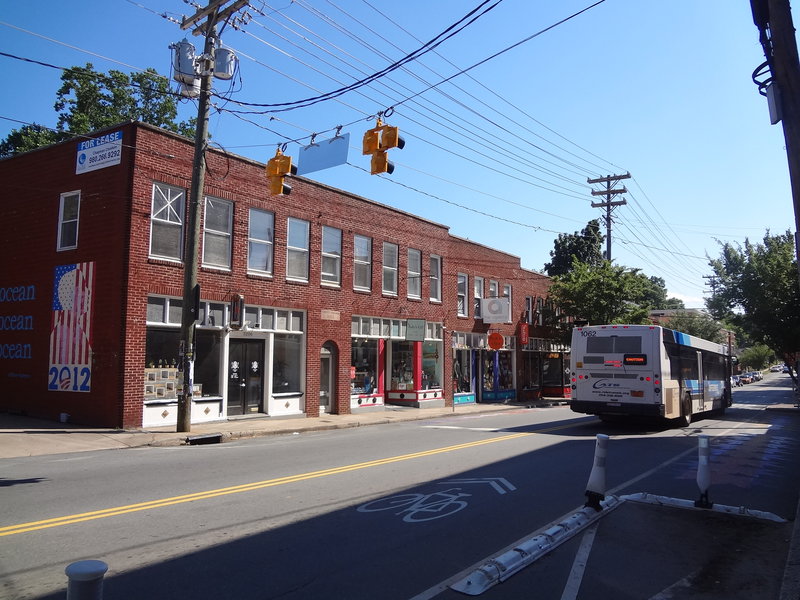 AAA/Inspector 33
Center City Charlotte is encircled by I-277, which provides southern access. Uptown Charlotte is easily maneuverable by public transit, by car and on foot; streets are laid out in a simple grid pattern. Numbered streets run southeast to northwest, with named streets running perpendicular.
Charlotte's history is closely tied to its physical nucleus; the intersection of Trade and Tryon streets forms the main crossroads. Trade Street bisects the city east to west, and Tryon Street provides the north-south dividing line.
ParkingSeveral LYNX Blue Line stations have park-and-ride lots with free parking; using this option will save you the hassle and expense of downtown driving and parking. But if you do need to drive your car, here are some parking details that should help you.
Charlotte has ample metered parking in Center City. Rates vary according to location; most metered spaces in popular areas charge 25c for 15 minutes.
Metered parking is available around the Charlotte-Mecklenburg Government Center on First, Second, Third, Fourth and Davidson streets. Near Center City, metered spots are on College, Trade, Church and Tryon streets. Numerous lots and garages are located in the Charlotte Transportation Center and Spectrum Center vicinity, including parking lots on College Street between Stonewall and Second streets and garages at The Plaza at Two Wells Fargo Center, Discovery Place Science, The NASCAR Hall of Fame and Founder's Hall.