Colorado Springs NightlifeColorado Springs' downtown, especially along lively Tejon Street, is ground zero for fun things to do after hours. Don't overlook one of the district's most popular, The Rabbit Hole (101 N. Tejon St.), which would be easy to do since the door to this underground eatery looks like the stairs to a subway station. A cross between a rustic, stone-walled cellar and a hip rumpus room, this local restaurant dishes up small bites and creative cocktails. Phone (719) 203-5072.
An unpretentious little hangout on Tejon Street, Odyssey Gastropub (311 N. Tejon St.) serves 80 different kinds of beer and an assortment of interesting cocktails. You'll catch the odyssey theme—and maybe get the urge to take a road trip—when you see the maps imbedded within the tabletops. Adding a funky note to the décor is the original artwork and the table lamps suspended upside down from the ceiling. Phone (719) 999-5127.
Also on Tejon Street, Poor Richard's offers things to do downtown to suit a variety of tastes and moods. It's been a local institution since 1975 when Richard Skorman, a 22-year-old senior at Colorado College, first opened a used paperback store nearby. Today the complex includes a bookstore and gift shop, a toy store, a restaurant and Rico's Café & Wine Bar (322 N. Tejon St.), where you can order gourmet iced tea, locally roasted coffee or choose something from their wine list or hefty selection of beers. Come by Thursday, Friday and Saturday evenings to enjoy live music. Phone (719) 578-5549.
Named for a picturesque but off-the-beaten path landmark 40 miles southwest, Phantom Canyon Brewing Co. (2 E. Pikes Peak Ave.), a block off Tejon, was Colorado Springs' first brewpub when it opened in 1993. The folks at Phantom Canyon are dedicated to creating the best beer, and their products often find their way into such tasty menu items as blonde lager and smoked Gouda soup or shepherd's pie with rich beer gravy. Check out the second floor, which has pool tables and other games as well as an outdoor patio with fire pits. Phone (719) 635-2800.
Another one of Colorado Springs' fun places to go feels like a really cool 1980s time warp. SuperNova (111 E. Boulder St.) serves beer and cocktails while offering up retro video arcade game favorites like Pac-Man, Donkey Kong and Centipede, not to mention a nice collection of chiming, flashing pinball machines. Phone (719) 418-3484.
If you're open-minded and ready to try something different on your vacation, then head to Zodiac Venue (230 Pueblo Ave.), just south of the downtown core, where all are welcome and almost anything goes. Live music is the thing here, but check in on any night of the week and it will seem like an entirely different club. Goth night, industrial dance parties and karaoke are just a few of the themes on the spinning roulette wheel of diversity that is Zodiac Venue's event calendar. Phone (719) 632-5059.
Another music venue of note (pardon the pun) lies a few miles south of downtown on the way to Cheyenne Mountain State Park: Motif Jazz Club (182 E. Cheyenne Mountain Blvd.). A performance space designed by jazz lovers for jazz lovers, Motif is all about the music and every table has a view of the stage. The cocktail list here includes new twists on old standards as well as some uncommon drinks with origins in distant countries. If you're jazzed about jazz, you might want to make a reservation, since the club is open only Thursday through Saturday. Phone (719) 645-8000.
School is in session at the Ivywild School (1604 S. Cascade Ave.), but it's definitely not what you remember from childhood because this century-old elementary school is now a gourmet food hall and nighttime destination popular with locals. The gym has been transformed into a music venue and getting sent to The Principal's Office is a treat—it serves artisanal coffee and craft cocktails. There's also a bakery, a deli, a gift shop and art spaces.
Bristol Brewing Company was a local icon for years before it moved into Ivywild. You may find it hard to choose from the dizzying number of microbrews on tap here, but whatever you do, try to get a seat on the patio where you'll have a view of Pike's Peak. And if whiskey is your drink, Axe and the Oak makes their own but also serves craft cocktails with names like Tobacco Old-Fashioned and Dead Man Walking. Phone (719) 368-6100.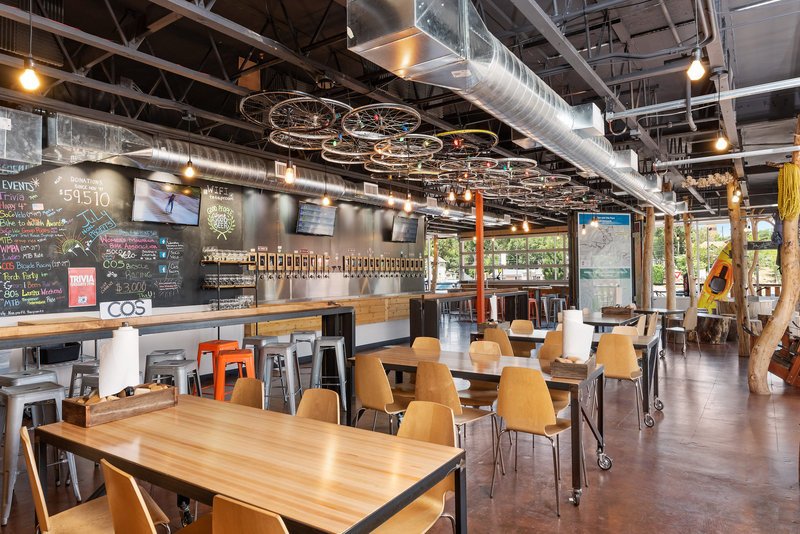 Courtesy of Trails End Taproom
If you're looking for adventurous things to do—at least in terms of sampling new beers—you can't go wrong with Trails End Taproom (3103 W. Colorado Ave.), where you can pour your own beer from any of 40 taps. Taste as many as you like until you find your perfect brew at this casual outdoorsy spot near Old Colorado City and the great hiking/biking trails of Red Rock Canyon Open Space. Phone (719) 428-0080.