One Day in Colorado SpringsAAA editors suggest these activities for a great short vacation experience.
Morning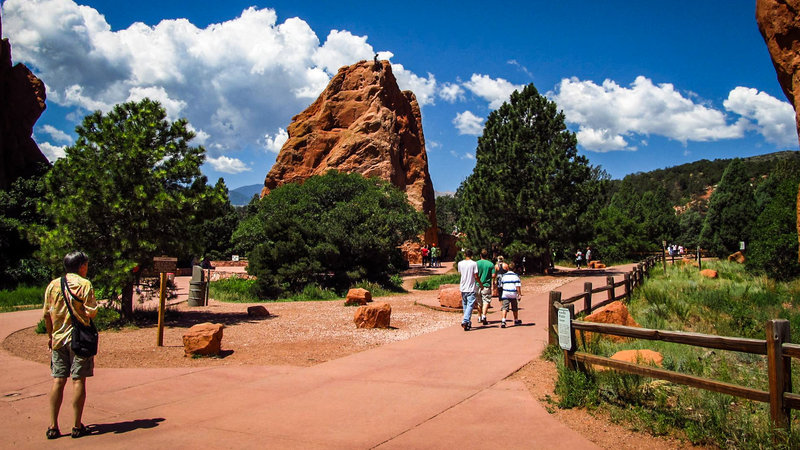 flickr/Jasperdo
You'll be enchanted by the community of Colorado Springs, tucked into a valley with the Front Range looming in the background. The crowning glory of this rugged mountain panorama is Pikes Peak, rising some 8,000 feet above the city. Naturally, those visiting will want to explore the area's striking scenic wonders. With that said, spend the morning at Garden of the Gods Park , at 30th Street and Garden of the Gods Road. Plan to hit the Garden of the Gods Visitor & Nature Center first, where you can view the multimedia show "How Did Those Red Rocks Get There?" You'll also be able to view a topographical map as well as interactive and educational exhibits focusing on the region's ecology and geology.
Ready to enter the park? You can choose to wander the trails on your own, or sign up for a naturalist-led walk; during the summer, van and jeep tours depart from the front of the visitor center. Maps highlighting the terrain will allow you to choose from a variety of easy and moderate routes, from which you will be well-positioned to see stunning sandstone formations that have morphed into otherworldly shapes. One of the most rewarding things to do here is to note how the changing position of the sun throughout the day creates dramatic effects.
If you have time you can also drop by Rock Ledge Ranch Historic Site (30th St. & Gateway Rd.), at the park's east entrance. This living-history farm provides insight into such aspects of early Pikes Peak life as homesteading, farming and managing a country estate.
Afternoon It's probably a good time to stop for lunch. You can grab a bite at Marigold Cafe & Bakery (4605 Centennial Blvd.), just off Garden of the Gods Road. This little bistro offers contemporary cuisine, including sandwiches, salads, pizzas and delectable freshly baked pastries.
Continuing east on Garden of the Gods Road to I-25, travel north less than a mile to exit 148 to reach your next destination, the ProRodeo Hall of Fame and Museum of the American Cowboy (101 ProRodeo Dr.). Through the use of photos and multimedia presentations, the museum pays tribute to great bronco busters, their animals and key contributors to the sport of professional rodeo. You can also spy Western art displays, belt buckles, saddles and other paraphernalia.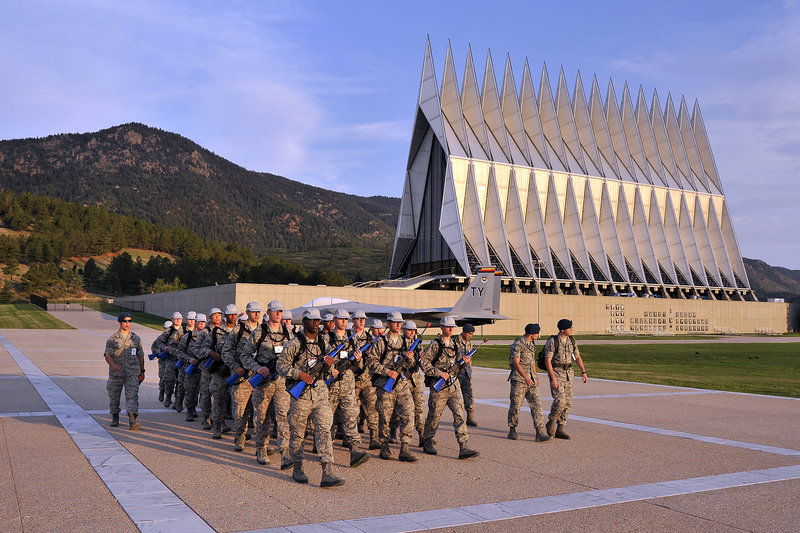 flickr/Courtesy of US Air Force
Backtrack to I-25, where you will travel north to exit 150 to visit the next point of interest, the U.S. Air Force Academy (2306 Academy Dr.). But, do call in advance to ensure that the academy can receive visitors, since fluctuating security levels can impact public access. You can learn about cadet life at The Barry Goldwater Air Force Academy Visitor Center and pick up a brochure outlining a self-guiding tour. An absolute must-see is the Cadet Chapel, which you can access from a nature trail adjacent to the visitor center. This architectural wonder resembles a tight formation of planes ready to take off into the wild blue yonder.
Evening For dinner head to Old Colorado City, just west of downtown. The outlaw-infested saloons that once stood in the notorious 1859 Old West town have been replaced with charming galleries, shops and sidewalk cafés housed in renovated historic structures. For hearty Italian fare in a cozy yet casual setting, try Paravicini's Italian Bistro (2802 W. Colorado Ave.). Families find all the comforts of home at The Mason Jar, (2925 W. Colorado Ave.) with traditional American fare like fried chicken, catfish, buttermilk biscuits and other soul-satisfying dishes.
Locals who want to relax with a libation or listen to some music usually gravitate to Tejon Street, a hubbub of pubs, taverns and lounges in the downtown area. Those with a passion for the performing arts should check the roster at Pikes Peak Center (190 S. Cascade Ave.), which features the Colorado Springs Philharmonic and Opera Theatre of the Rockies in addition to plays and top-name performers.