Explore the Natural Beauty of Colorado
From the moment you step off the plane in the Mile High City, you realize there's something a little different in the air. Well, the air is thinner, of course, and flatlanders notice it's harder to breathe at first. After boarding the shuttle to Denver International's baggage claim, you may recognize the catchy Western musical jingle signifying the tram stops. Or, maybe it's the person beside you wearing the Stetson hat who grabs your attention. The airport in itself is a local destination—the white billowing tent of a roof architecturally interpreting the snowcapped peaks gracefully looming in the distance.
This all adds up to a cosmopolitan city with a hint of the Old West and a healthy dose of awe-inspiring scenery. Colorful neighborhoods like LoDo and Cherry Creek present upscale places to eat, entertainment and shopping choices while world-class attractions include everything from art and cultural offerings to an 80-acre zoological park. And naturally, the majestic Rockies beckon outdoor enthusiasts to come play. Whether you care to hike, bike, climb, ski, kayak, play golf or drive rugged mountain passes, Denver's captivating Alpine splendor sets an impressive stage upon which to indulge in your favorite diversion.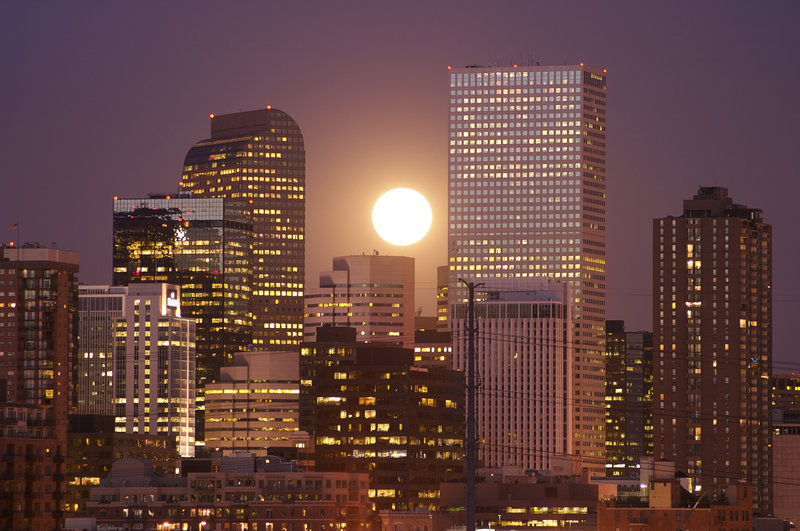 beklaus/iStockphoto.com

Getting There
By CarThe main access to Denver from either the east or west is via I-70 and US 40/287; from the north I-25 (US 87); from the south I-25 (US 87) and US 85 (all three are the same highway in Denver: the Valley Highway); and from the northeast by I-76.
Other major freeways are 6th Avenue (US 6) in west-central Denver; SR 470 south, east and west of Denver; I-270 northeast of Denver; and I-225, connecting I-70 in the east with I-25 south of the city.
Getting Around
Street SystemAll avenues run east-west. Streets generally run north-south except those in the downtown area, where arteries are one-way diagonals with numbered streets running southeast-northwest and named streets, courts and places running southwest-northeast. The Valley Highway (I-25) is the fastest southeast-northwest route, except during rush hours when it is usually congested.
The main east-west arteries are I-70 in north Denver; Colfax Avenue (US 40), 6th Avenue (US 6) and 8th Avenue in central Denver; Alameda and Evans avenues in south Denver; Hampden Avenue (US 285) in the southern suburbs; and Belleview Avenue and Arapahoe Road in the extreme south.
The main north-south highways are Wadsworth (SR 121), Sheridan (SR 95) and Federal (US 287) boulevards in the west; Broadway, from central downtown south to Englewood and Littleton; University Boulevard (which becomes Josephine and York streets, both one-way, north of E. 1st Avenue) in the southeast; Colorado Boulevard and Monaco Parkway in the east; Havana Street in the eastern suburb of Aurora; and Chambers Road in the extreme east.
Diagonal arteries are I-270 northwest to I-76 and US 36 to Boulder from I-25; I-225, east of I-70, from the southeast suburbs to south I-25; Speer Boulevard, from University Boulevard southeast-northwest to Federal Boulevard; and Leetsdale Drive, southeast from Colorado Boulevard and becoming Parker Road (SR 83) to the extreme southeastern suburbs of Denver.
Broadway, which runs north-south through most of the city, is the dividing line for the east and west designations of all cross streets. It is one-way south from the downtown area to I-25. Nearby Lincoln Street is one-way north from I-25 to the downtown area. Ellsworth Avenue, running east-west through most of the city, is the dividing line for the north and south designations of all cross streets.
The speed limit is generally 30 mph in residential districts and 25 mph in business districts. Right turns on red are permitted, unless otherwise posted, as are left turns on red from the extreme left lane of a one-way street into the extreme left lane of another one-way street.
Rush hours are 7 to 9 and 3:30 to 6. Ramp metering signals help control morning rush-hour traffic on the south portion of I-25 (the Valley Highway) in Denver and the south and middle portions of I-225 in Aurora.
ParkingParking is in accordance with posted signs. Downtown on-street parking is metered and limited; the cost is 25c per quarter-hour. Some meters have a "Tow Away Zone" sign; if you park too long, you are subject to a $25 fine. Commercial garages and lots are plentiful downtown, with rates ranging from $1.50 to $5 per hour or $5 to $25 per day.