History of Going-to-the-Sun Road Constructing a two-lane highway up the steep slopes of the Continental Divide over 6,646-foot Logan Pass was not a simple task.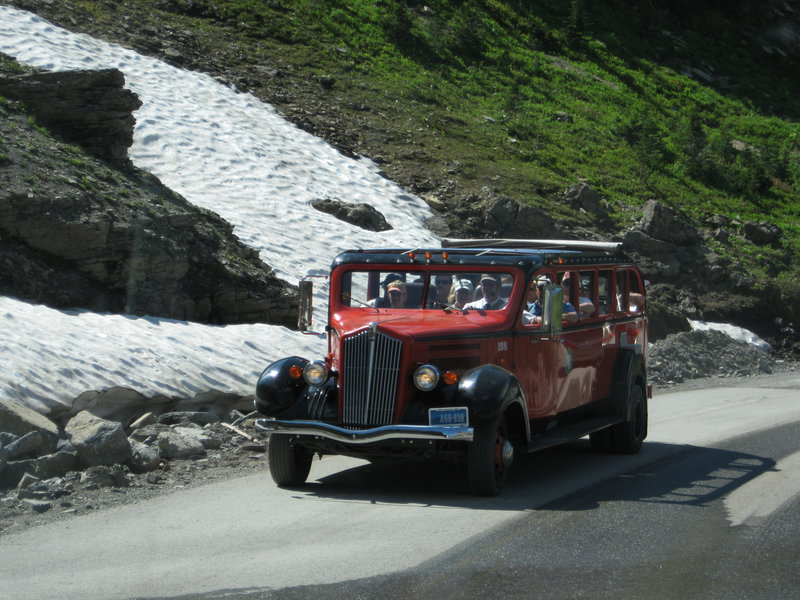 AAA/Frank Swanson
Early tourists came to Glacier National Park in the 1890s by train, taking a stagecoach ride to Lake McDonald and traveling by boat to Lewis Glacier Hotel (now Lake McDonald Lodge). But by 1910, many visitors were arriving by private buggy or auto, and the only roads were rough wagon trails and dirt paths. After the Going-to-the-Sun Road was completed in 1932, a fleet of red buses—nicknamed "jammers" because the drivers constantly jammed the gears on the rough roadways—operated guided tours of the park via these same primitive trails.
Determining that a decent road would allow visitors to access the park's interior (at that time reached only by horseback), the superintendent proposed a new road bisecting the park. Various routes crossing the Continental Divide were suggested, but officials chose the present route in part because it included only one switchback, at The Loop. Surveying the route identified the obstacles of building such a thruway—steep cliffs, short construction seasons, 60-foot snow drifts and tons of solid rock. But once spring arrived, crews went to work building the road, now a National Civil Engineering Landmark.
The most difficult section, the 12-mile stretch from Logan Creek to Logan Pass, was built into almost vertical cliffs using masonry bridges, tunnels and arches made of recycled native materials. Manual labor was essential. Horses assisted in hauling supplies up dusty hiking trails, and workers built cabins to house supplies and food (which often attracted bears). Laborers removed trees, stumps and roots by hand, then used small explosives to break up the rock. In some instances, power shovels cleared debris, placing it on "dinky" railroads (small, gas-powered trains) for disposal, but in more remote locations, supplies were shipped by barge, and workers carried out the rock by hand. Station gangs completed the masonry work.
After more than 20 years of planning and construction, the first car traversed the entire road in the fall of 1932. Taking its name from a nearby mountain, Going-to-the-Sun Road was dedicated on July 15, 1933.
With thousands of cars traveling the road per day for more than 50 years, normal wear and tear and damage caused by rockslides and avalanches, the route is now in serious need of repair. One of the largest road rehabilitations in the National Park Service's history, it aims to mend damaged and deteriorating retaining walls, guard walls, drainage systems, crumbling pavement, tunnels and bridges. With a requirement that the road stay open during construction and a short working season due to heavy snow, the project began in 2007 and is still under way. Construction is occurring in several phases.
Established to help alleviate traffic issues, a free shuttle system offers visitors an alternate way to visit the park and is a convenient option for group travel. The Apgar and St. Mary visitor centers offer parking, and buses stop at various points of interest and overlooks along the roadway.