Outdoor Activities in Glacier National ParkBiking, swimming, backpacking, fishing, hiking—whatever your interest, make sure you experience these recreational highlights and top things to do, as chosen by AAA editors.
While a scenic drive on Going-to-the-Sun Road , a AAA GEM attraction that bisects the park and the Continental Divide, is spectacular, the natural assets of Glacier National Park are best experienced up close. Here are some suggestions as to how to get out of the car and take a trip into the backcountry.
Hit the Trails
Thanks to nearly 150 trails totaling more than 750 miles of exploration paths, hiking is by far the most widespread activity in Glacier National Park and is the best way to get into the depths of the park. Most trails begin at visitor centers, hotels or pull-offs along Going-to-the-Sun Road and terminate at scenic overlooks or gushing waterfalls. Find detailed trail maps in outdoor stores in Whitefish and Kalispell as well as at park visitor centers and ranger stations.
Some of our favorite trails include the Trail of the Cedars, a short, easy amble along a wooden boardwalk with interpretive signs. Once through the huge cedar stands, the trail merges with the Avalanche Lake Trail to take you to picturesque Avalanche Lake. Another favorite, the Hidden Lake Nature Trail climbs 460 feet to an overlook to glimpse Hidden Lake (you might also spot mountain goats). Another top pick is the Iceberg Lake Trail, traversing through flower-strewn meadows to an alpine lake backed by a craggy cliff peppered with mountain goats and bighorn sheep. In West Glacier , you can hire a hiking guide from Glacier Guides .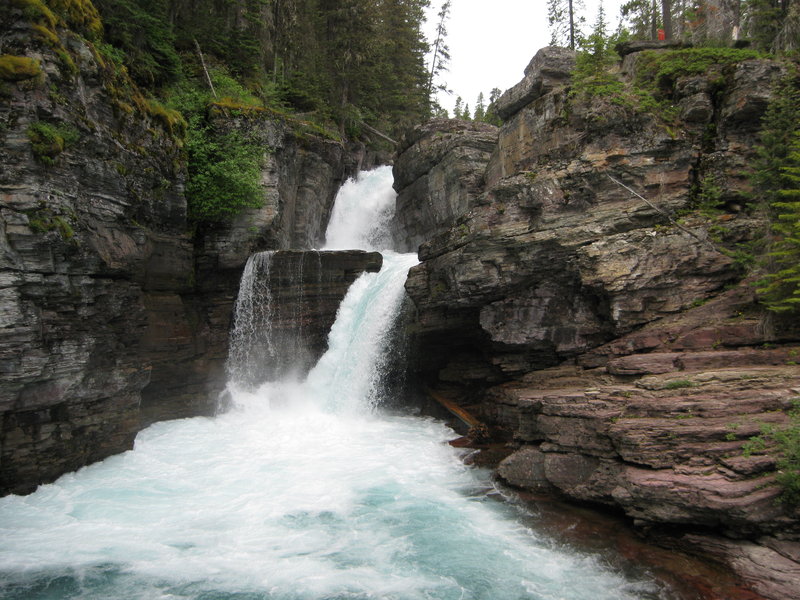 AAA/Frank Swanson
If waterfalls are on your travel itinerary, take the Running Eagle Falls Trail through a deep forest to reach a large, splashing cascade. The Twin Falls Trail is an easy hike to scenic Twin Falls, and the St. Mary Falls Trail arrives at a thundering, two-tier cascade, then continues a half-mile to Virginia Falls.
Many trails accommodate horses, and outfitters offer guided horseback riding tours. A great trail on the western side of the park heads over a bridge to McDonald Falls. In the Many Glacier area in the eastern section of the park, opt for the Piegan Pass, which heads through alpine tundra and meadows to Josephine Lake and Grinnell.
Pitch a Tent
Campers will find a good selection of sites throughout the park in which to pitch their tents. Sleep under the stars at Apgar, Avalanche, Many Glacier, St. Mary or Two Medicine campgrounds, to name a few. Sites at Cut Bank and Logging Creek are more primitive. Camping fees are required for all campgrounds and can be paid for at each campground. Reservations are required. Other lodging options for hikers include Granite Park Chalet and Sperry Chalet , both set in spectacular mountainous settings and reached by trail only.
Get Out on the Water
Glacier has more than 750 lakes as well as some 500 rivers and streams that make for great fishing spots. Hook rainbow trout and brook trout in the park's three larger lakes, Bowman, McDonald and St. Mary, or head to smaller streams to cast for arctic grayling and various types of trout (cutthroat are prevalent). State licenses are not required within the park. Forming the southern and western park boundary, the Flathead River is chock-full of cutthroat and bull trout, and the Middle Fork is also home to some of the best white-water rafting in the state, if you're looking for adventurous things to do. The North Fork has leisurely class II and III rapids, while the waters of the Middle Fork are more rigorous—names like Jaws and Bonecrusher attest to their difficulty. Near the park entrance in West Glacier, Glacier Raft Co. , Great Northern Glacier Park Raft , Montana Raft Co. and Wild River Adventures all offer guided trips.
Canoeing and kayaking on the park's icy waters are other popular diversions—head for Bowman and McDonald lakes in the western section of the park, and St. Mary and Two Medicine lakes near the eastern border. Rent craft at Apgar, Lake McDonald Lodge, Many Glacier and Two Medicine. Paddlers also head for the North Fork of the Flathead River to splash in the currents. If you'd rather sit back and relax, scenic boat cruises ply the waters of Lake McDonald, Two Medicine Lake and St. Mary Lakes courtesy of Glacier Park Boat Co.
Plan for Winter
In winter, Going-to-the-Sun Road is plowed only from the town of West Glacier to Lake McDonald Lodge, making the rest of the road open for cross-country skiing and snowshoeing. Other trails that are better with a dusting of snow are the McDonald Valley and the Autumn Creek Trail near Marias Pass. Downhill skiers head to Whitefish Mountain Resort in Whitefish , just outside of the park boundaries.
Spot Local Wildlife
One of the largest grizzly bear populations in the contiguous United States lives in the park. You'll have the best luck spotting grizzlies and black bears in forests and alpine meadows. But these are dangerous animals deserving both distance and respect. The National Park Service has years of experience to back its tips and safety advisories for humans heading into bear country.
Other wildlife living in the park are several wolf packs as well as lynx and mountain lions, which live in forested areas; mountain goats, found on the highest slopes of the Continental Divide; moose, inhabiting lakes and slow streams; American elk, on the park's eastern prairies; white-tailed deer, in meadows and creek and river bottoms; mule deer, in alpine meadows; and bighorn sheep, in steep, open areas.
Take to the Skies
After you've explored the park by foot, hoof or raft, get an aerial overview from a hot-air balloon. Fantasy Flights in Kalispell takes passengers soaring over the Flathead Valley, with dramatic vistas of glaciers, mountains and lakes.