About Grand Teton National Park A majestic landscape of lakes, glaciers, snowfields and evergreen forests awaits you in Grand Teton National Park. Located in northwestern Wyoming, just south of Yellowstone National Park, the 310,000-acre park encompasses a major portion of the Teton Range and the valley of Jackson Hole.
The mountains of the Teton Range are some of the youngest in North America. Some of the park's major peaks include Grand Teton (13,770 feet), Mount Owen (12,928 feet) and Middle Teton (12,804 feet). Part of the park area lies above the tree line, which is at about 10,000 feet. While mountain climbing and hiking draw many adventurers to the Grand Tetons, there are plenty of activities for non-hikers, too. More than 250 miles of trails provide opportunities for short walks, horseback rides and overnight backcountry trips, while Grand Teton camping sites offer the chance to spend the night surrounded by nature's beauty. Jackson Lake and Jenny Lake are popular fishing spots, and there are numerous places to rent boats and canoes, hire a guide for a fishing excursion or take a scenic float trip.
General Information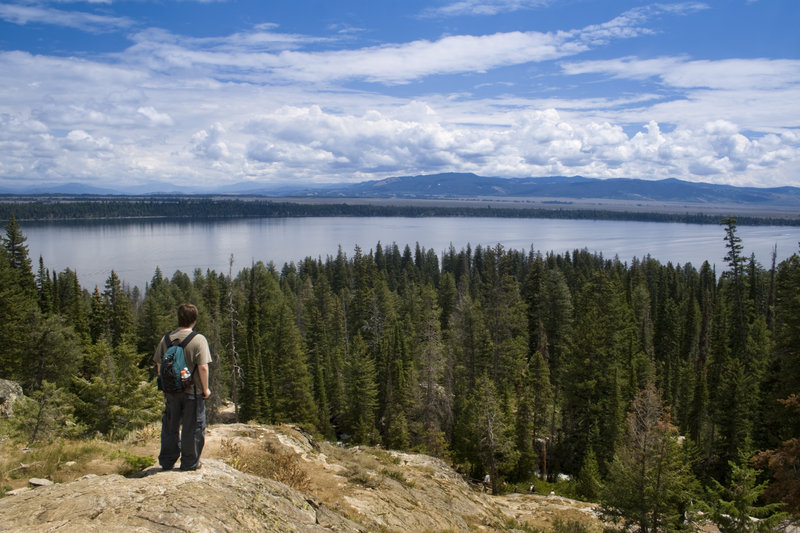 Ricardo Reitmeyer/iStockphoto.com
There are three entrances to Grand Teton National Park. If you're coming up from Jackson, Wyoming, on US 26/89/191, you'll pass through the southern entrance just before reaching Jackson Hole Airport, which lies inside the park boundaries. Traveling from the southwest on Moose-Wilson Road is the Granite Canyon entrance near Teton Village and Jackson Hole Mountain Resort. If you're arriving from the east on US 26/287, you'll enter through the Moran entrance near Moran Junction. You can also enter the park by traveling south from Yellowstone National Park on the John D. Rockefeller, Jr. Memorial Parkway; an entrance sign for Grand Teton National Park is just 7 miles south of Yellowstone's South Entrance.
The park is open year-round, although most facilities operate only from mid-May to mid-October. Several access roads have limited access from November to May.
Visitor information is available at the Flagg Ranch Information Station at the north end of the park, the Colter Bay Visitor Center on Jackson Lake, the Jenny Lake Visitor Center on Jenny Lake, the Craig Thomas Discovery & Visitor Center in Moose and the Laurance S. Rockefeller Preserve Center near the Granite Canyon entrance. The Jenny Lake Ranger Station is the park's climbing information center. Entrance stations and visitor centers distribute a newspaper that lists a full schedule of park activities.
As for touring the park, various outfitters offer guided excursions and rentals. You can explore the mountain trails on a guided horseback ride with Grand Teton Lodge Company; 1- and 2-hour tours depart from horse corrals at Colter Bay Village and Jackson Lake Lodge. Phone (307) 543-2811 for horseback tours.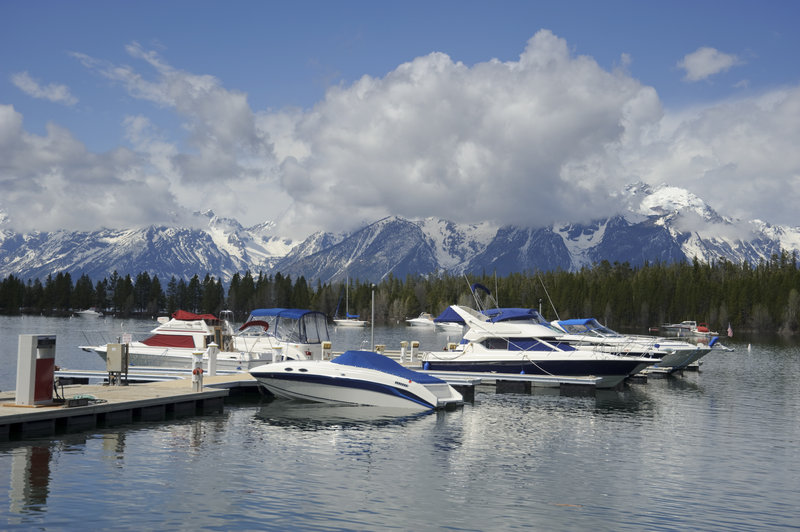 jivz/iStockphoto.com
If water levels allow, boat and canoe rentals, guided fishing trips and scenic boat trips can be arranged at the Colter Bay Marina at Colter Bay Village, the Bridge Bay Marina on Yellowstone Lake and the booking office at Jackson Lake Lodge. Jenny Lake Boating Co. offers 1-hour scenic cruises on Jenny Lake from mid-May to mid-September, and a Jenny Lake ferry that provides shuttle service across the lake.
Several companies offer scenic float trips on the Snake River from May through September. Reservations for these excursions are recommended (and, in some cases, required).
ADMISSIONThe Grand Teton National Park entrance fee is $35 per private vehicle, $30 per motorcyclist or $20 per person arriving on foot or bicycle. The entry fee is good for 7 days from the date of purchase and includes access to the John D. Rockefeller, Jr. Memorial Parkway, which connects Grand Teton and Yellowstone national parks.
PETSPets are not allowed on hiking trails or inside facilities in Grand Teton National Park. Pets are only permitted in picnic areas, front-country campgrounds, parking areas and on roads and road shoulders in Grand Teton National Park. Pets must be leashed, crated or otherwise physically restrained at all times.
ADDRESSGrand Teton National Park Headquarters is located at 103 Headquarters Loop, Moose, WY 83012; phone (307) 739-3399.
Points of Interest
Attractions Amphitheater Lake Trail
Craig Thomas Discovery & Visitor Center
Cunningham Cabin Historic Site
Flagg Ranch Information Station
Hidden Falls and Inspiration Point Trails
Float TripsFloat Trips, on the Snake River through Grand Teton National Park, are conducted by experienced guides who thread rubber rafts down the river. These trips, which offer spectacular mountain scenery and opportunities to view native wildlife, are carefully supervised by the National Park Service.
Note: A minimum weight of 35-40 pounds is required for most float trips.
Barker-Ewing Scenic Float Trips
Dornan's Snake River Scenic Float Trips
Grand Teton Lodge Company Wild and Scenic Rafting Trips
Signal Mountain Lodge Float Trips