Battle of Hampton Roads The Civil War. Imagine the scene on the cold morning of March 9, 1862. During the night, the USS Monitor has arrived in Hampton Roads, sheathed in metal and lumbering under heavy weight. Sailors aboard the untested warship are exhausted after a perilous trip from New York, and many are sick from the rough seas.
The Monitor is the first Union ironclad, constructed in a hurry by Northern shipmakers. The crew isn't certain she's ready for battle. The Confederate CSS Virginia, a scuttled Union ship that the South has refitted in iron, is wreaking havoc. Just hours before the Monitor's arrival, the Virginia has sunk two Union warships and scattered the rest of the blockade. Some 240 Union sailors are dead. The Virginia will surely return to destroy the Minnesota, run aground after yesterday's assault and listing undefended in the sandy shoals.
The Monitor's crewmen know they are the Minnesota's only hope. They grow quiet as their ship approaches the harbor. Burning Union ships light the way. Commanding officer Lt. John L. Worden shouts, "Full steam ahead!" Gunners ready the turret, which has never been fired before.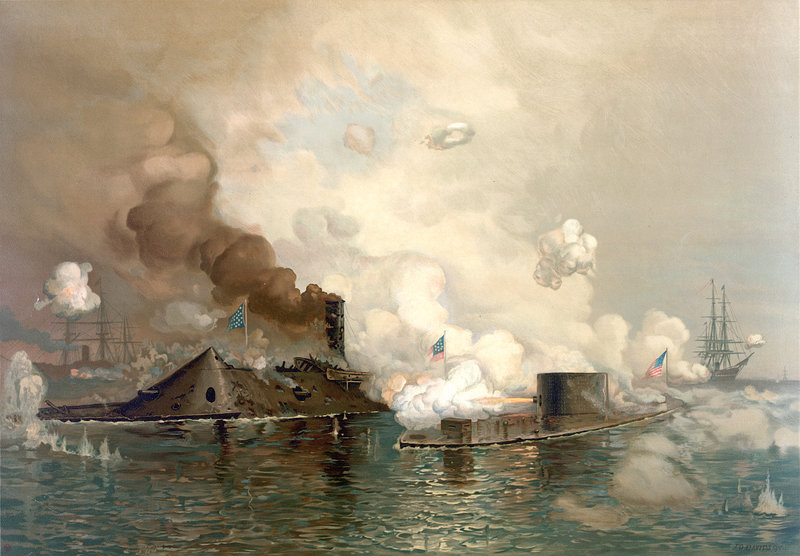 Wikimedia Commons/Jo Davidson
The small ship, a mere hump submerged in the harbor, moves in to block the paralyzed Minnesota. The bigger Virginia steams out to engage her Union targets. All cannons explode at once, a steady percussion hammering at close range. A cat and mouse chase ensues, and the ships ram each other—to no avail. Thick clouds of smoke and steam choke the air. The Monitor removes to shallow water where the bulky Virginia cannot maneuver. The firing continues all morning. Then the Virginia fires a direct hit—the Monitor's pilothouse. Worden is struck and blinded. The Monitor pulls back, and the Virginia leaves enemy waters for its Confederate stronghold, Norfolk.
No one wins. No one loses. The Union blockade remains, and the Minnesota survives.
Nine months later, the celebrated Monitor will be lost in a storm off the coast of North Carolina.