Honolulu in 3 DaysThree days is barely enough time to get to know any major destination. But AAA travel editors suggest these activities to make the most of your time in Honolulu.
Day 1: Morning Pay homage to the 3,581 Americans killed or wounded at Pearl Harbor on Dec. 7, 1941, when the Japanese launched a surprise assault on the U.S. naval base and its Pacific Fleet. After the early morning strike, a dozen U.S. ships were either sunken or beached and more than 300 U.S. aircraft had either suffered damages or been destroyed.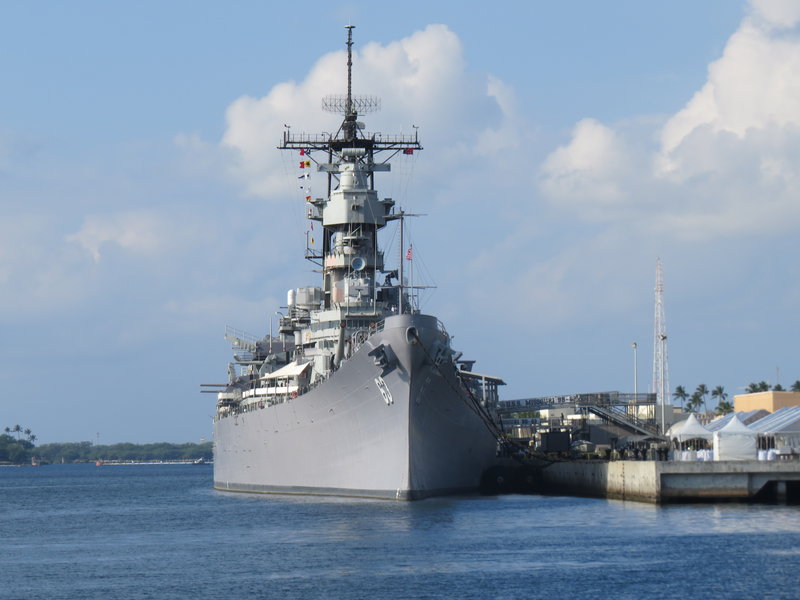 AAA/Inspector 16
Whether you choose to drive or take TheBus (direct routes are Nos. 20 or 42 from Waikīkī) to Pearl Harbor, arrive early—some 5,000 tourists visit the area daily. Several sites present artifacts from the battle, while interpretive programs and multimedia displays and films document the "Day of Infamy." Just offshore is the striking USS Arizona Memorial ; the white linear structure traverses the final resting place for most of the 1,177 crew members who perished after a devastating armor-piercing bomb hit the battleship. At the Battleship Missouri Memorial , you walk the decks of the "Mighty Mo," where, in 1945, Japanese representatives signed a surrender agreement ending World War II. Visitors to the USS Bowfin Submarine Museum & Park discover what life was like for the 80 men stationed on this vessel, launched exactly a year after the Pearl Harbor attack. The park also encompasses a waterfront memorial to World War II's fallen submariners.
Day 1: Afternoon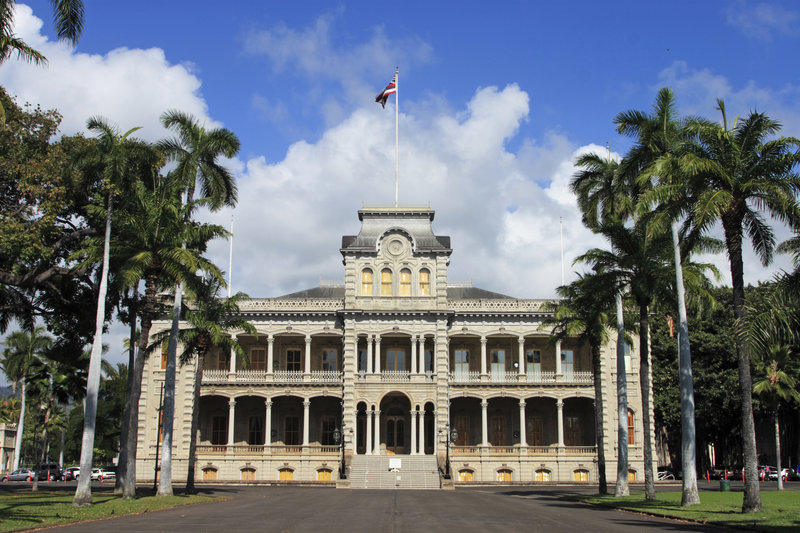 AAA
Grab a bite and explore downtown Honolulu, where cultural and historic sites are clustered together amid gleaming skyscrapers and tall palm trees. Walk through the Cathedral of Our Lady of Peace to admire its vibrant stained-glass windows, or browse the metalwork, oil paintings and crafts displayed at the Hawai'i State Art Museum (HiSAM). At Iolani Palace, docents lead you through the country's only official royal residence; it was here that Queen Lili'uokalani, the last reigning monarch of the Kingdom of Hawai'i, was imprisoned in 1893 after being deposed by those in support of Hawai'i's annexation by the United States. An accomplished musician and songwriter, she composed about 165 songs while confined within an austere room on the second floor of this otherwise opulent palace. Today a bronze statue of the revered queen stands between the palace and another architectural gem, the Hawai'i State Capitol.
Day 1: Evening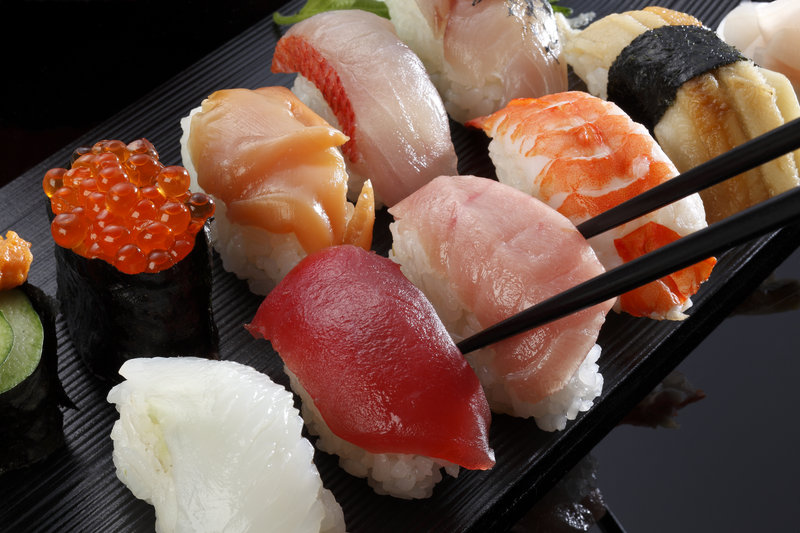 studiocasper/iStockphoto.com
Treat yourself to a memorable dinner at the flagship Roy's. (It's 12 miles from the center of Honolulu, but it's worth the drive.) Chef Roy Yamaguchi has been melding European cooking practices with Asian and Pacific Rim flavors since 1988. Start with dim sum, sushi or another tantalizing appetizer, then bite into the seared scallops, blackened ahi or macadamia nut-encrusted mahi-mahi. Better yet, order off the three-course prix-fixe menu, which pairs with an impressive wine selection. Roy's casually upscale dining room features an open kitchen and gorgeous views of Diamond Head and Maunalua Bay.
Day 2: MorningHead ma kai (toward the ocean) to Nico's Pier 38, a low-key, waterfront eatery where you can savor a hearty, skillfully prepared meal for less than you might expect to pay thanks to the restaurant's proximity to a fish auction. (It's right next door, so whether you come for breakfast or lunch, Nico's is likely to be packed with ravenous auction workers and fishermen.) Hailing from Lyon, France, chef Nico Chaize serves up such Hawaiian staples as the plate lunch, infusing dishes typical to the locale with a dash of French gusto. Early risers might try a three-egg fish omelet or the French toast made with sweet bread from a Honolulu bakery. For a later visit, there's no better choice than the furikake pan-seared ahi, though chef Chaize's juicy, hand-packed double cheeseburger is hard to pass up, even at a place known for its fresh seafood.
Day 2: Afternoon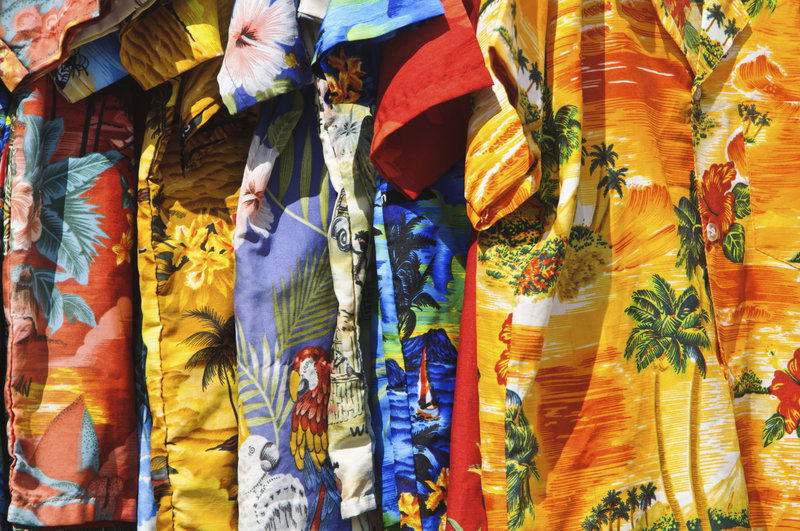 KenWiedemann/iStockphoto.com
Vibrant Hawaiian shirts hang throughout Bailey's Antiques and Aloha Shirts (517 Kapahulu Ave.), with designs showcasing the plants, birds and culture of Hawai'i. While Bailey's boasts a selection of more than 15,000 shirts, from $10 tacky-tourist polyester to sought-after vintage, the crammed store also sells everything from early-20th-century Hawaiian postcards to Elvis Presley collectibles.
Now that you're decked in island attire, head to Waikīkī Beach, a 2-mile stretch of sandy white shores where you can swim, build sand castles or boogie board near the Kapahulu Groin (a walkway extending into the ocean). In Kuhio Beach Park off Kalākaua Avenue, gaze at the "wizard stones" of Kapaemahu and try to unlock ancient secrets said to be hidden inside the four boulders. Just east, across from the Hyatt Regency Waikīkī Beach Resort & Spa, place a lei on a monument steeped in controversy since its dedication in 1990. Honoring Duke Kahanamoku, an Olympic medal-winning swimmer who helped popularize the sport of surfing in the early 1900s, the statue depicts the athlete standing with his back to the waves, which some say a "real" surfer would never do.
Day 2: Evening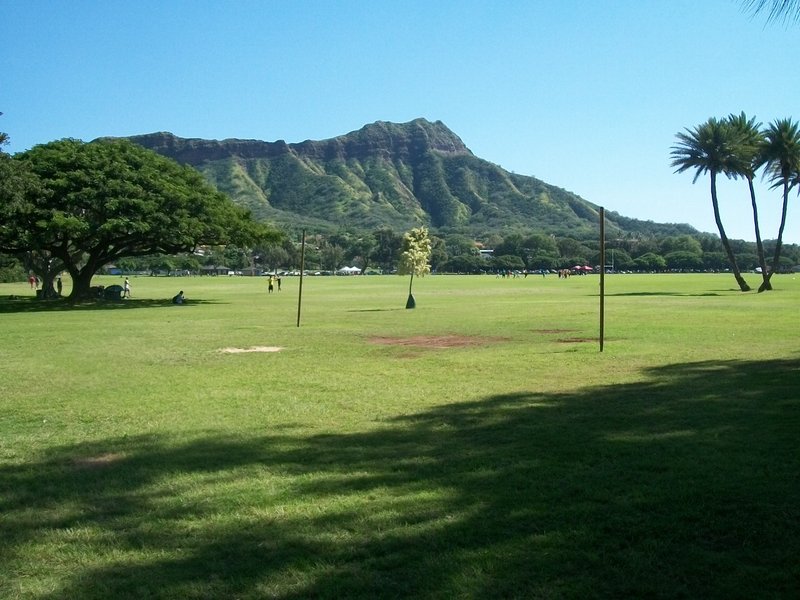 AAA/Inspector 13
Sway in your seat (if you can find one) as strolling musicians pluck 'ukulele and sing old-school Hawaiian songs at Duke's at Outrigger Waikiki Beach Resort . As the sun sets, sip mai tais with your new 'ohana (family) while surveying the colorful, ever-changing twilight mosaic dancing above the sea. In the distance the Diamond Head State Monument volcanic crater looms over twinkling azure waters where the eatery's namesake—Waikīkī's favorite son Duke Kahanamoku—purportedly rode a monstrous 30-foot wave. With its spectacular coastal views and an open-air bar surrounded by tiki torches and rustling palm trees, this oasis of a restaurant caters to tourists and locals alike with delicious island fare.
Day 3: Morning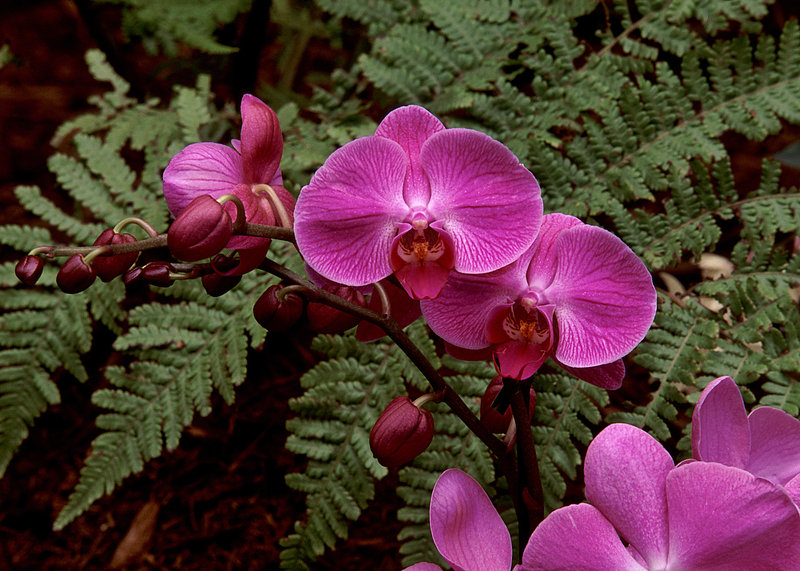 The Zoological Society of San Diego/not available
Immerse yourself in the diverse sights, smells, sounds and flavors of Honolulu's Chinatown, a community that survived two fires and an outbreak of the bubonic plague. You'll notice splashes of other Asian cultures including Filipino, Japanese, Korean and Vietnamese in this district of ornate temples shrouded in musky incense and restaurants bustling with steaming dim sum carts. Stroll the area in the early morning, when its many noodle factories are abuzz manufacturing udon and ramen. You'll also see (and smell) Oahu Market—offering up fresh produce, fish and meats much as it has since 1904—as it springs to life at the corner of N. King and Kekaulike streets. Another market on Maunakea Street is a maze of stalls filled with trinkets and stores proffering fragrant, handmade lei. On a busy day, a lei shop can easily go through several gallons of pikake (a type of jasmine) and tens of thousands of tuberoses, orchids and carnations. Learn insider tidbits about Chinatown's history and architecture by booking a walking tour through the Hawai'i Heritage Center, (808) 521-2749, or the Chinese Chamber of Commerce, (808) 533-3181.
Day 3: Afternoon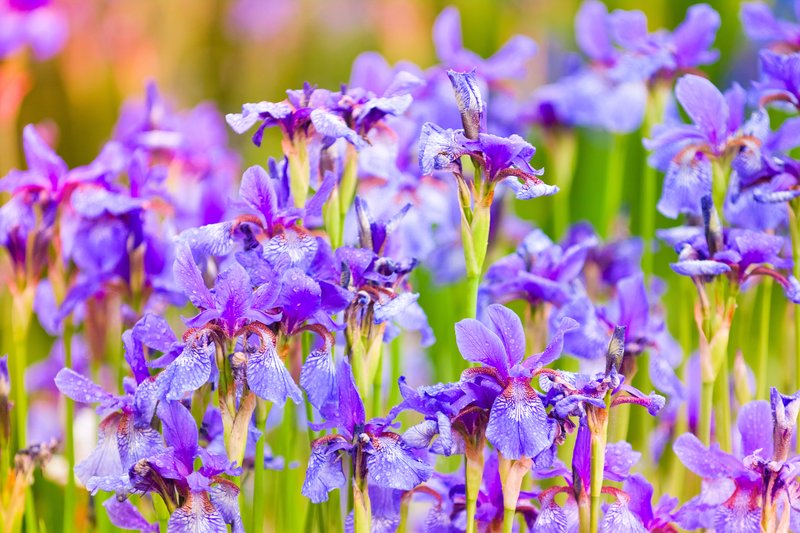 iStockphoto.com / yatigra
"Watch out for falling cannonballs," directs a sign at the Foster Botanical Garden, located about 2 blocks northeast of Chinatown. Similar in size and appearance to a coconut, the fruit of the cannonball tree (Couroupita guianensis) hang from vinelike stalks covering the tree trunk. Unlike the brown, lackluster "cannonballs" that emit an unpleasant smell once their casing is cracked, the species' fragrant flowers are prized and said to resemble a sacred Hindu symbol. German botanist and physician William Hillebrand planted many of the rare trees on the grounds in the mid-1800s. Covering about 14 acres, it also is home to dazzling orchids and primitive plants from around the world.
Day 3: Evening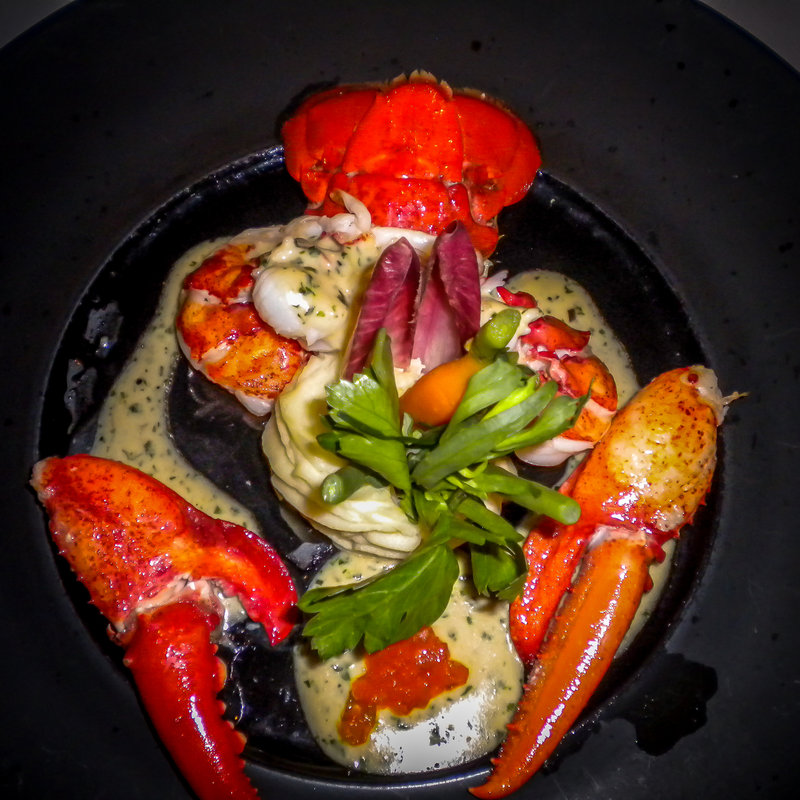 AAA/Inspector 511
Leave the flip-flops behind and indulge yourself in paradise. The top-notch chefs at local restaurants such as Bali Oceanfront , La Mer and Orchids will ensure you're well-fed on your vacation, preparing such dishes as hot and sour eggplant ravioli, steamed Manila clams and Kobe-style beef with bordelaise sauce. No matter where you choose to dine, book early, and, of course, request a table with a view. Refined elegance and heavenly Waikīkī scenery await you at Bali, a AAA Four Diamond restaurant inside the oceanfront Hilton Hawaiian Village Waikīkī Beach Resort. La Mer, a AAA Five Diamond restaurant, and the Four Diamond Orchids present arresting seascapes at the Halekulani hotel. Enjoy a cup of pressed Kona coffee with dessert in one of the chic lodging's distinctive dining rooms, then move to the Lewers Lounge for cocktails and classic tunes.