Introduction
Think of Indianapolis, and you think of car racing. It's that simple. Since AAA established its national driving championship and sanctioned the first Indy 500 in 1911, millions of people around the world have watched the checkered flag come down at the Brickyard. But there's so much more to see—the stately homes of presidents and poets, stunning art collections, one of the largest children's museums in the world. Visitors to Indiana's capital are surprised to find a canal inspired by the waterways of Venice, a Grecian shrine modeled after the ancient mausoleum at Halicarnassus and a spacious urban park often compared to the National Mall in Washington, D.C. In fact, the city was laid out by Alexander Ralston—apprentice to Pierre L'Enfant in designing the federal capital—and his vision of broad avenues radiating out from a central hub gives Indianapolis an Old-World feel.
At night, the downtown sidewalks and the newly built Cultural Trail throng with pedestrians, and music spills from open-air bistros. Another surprise—this third-largest (and fastest-growing) city in the Midwest is consistently ranked one of the country's cleanest and safest. With more than 20 million visitors a year, Indy's no longer a best-kept secret. On your first trip, a tour of Indianapolis Motor Speedway is de rigueur, but be sure to make time for the fine museums and gardens, the zoo, the NCAA Hall of Champions and the Colts and Pacers. Chances are you'll drive here—seven spokes of four national highways converge at the "Crossroads of America"—but we recommend you leave speeding to the professionals.
In Depth
Capital and largest city in the state, Indianapolis pulses with the activity forged by its high-tech industries, governmental and educational sectors and sports and cultural institutions. Progress has been the catalyst behind its growth from a wilderness camp in 1820 to a Midwestern giant today.
Indianapolis owes its start to location. In 1820 state legislators in Corydon asked 10 commissioners to find a new site for the capital. The commissioners headed for the center of the state and decided on Fall Creek, then a swampy little settlement on the shallow White River. Alexander Ralston, assistant to Pierre L'Enfant in the designing of Washington, D.C., mapped the new town, and settlers began to arrive.
In 1825 the state government brought in many jobs and people, and the National Road (US 40) stimulated more growth when it came through in 1834. However, not until the Central Canal was built on the White River in 1836 did industry come to town. The canal provided the transportation link and water power needed to run factories, paper mills and sawmills. But the soft, muddy shores of the White River were too fluid to maintain the canal, and without a water supply, the mills and factories left.
With the arrival of the railroad in 1847 manufacturing concerns that did not have to rely on inexpensive water power or transportation also began to arrive. By the turn of the 20th century Indianapolis had become a sophisticated city with sidewalks, streetlights, streetcars and musical and literary organizations.
A major new industry emerged as entrepreneurs set up factories to produce automobiles. In 1911 the first Indianapolis 500 was held, setting a Memorial Day tradition that has become the largest single-day sporting event in the world. Although it kept its race, Indianapolis eventually lost the automobile industry to areas that could provide steel and coal more economically—by water.
Since the World Wars Indianapolis' industrial progress has been in technology. Eli Lilly and Co., a pharmaceutical giant, more than 100 computer software companies and several enterprises that specialize in automation equipment and robotics are based in Indianapolis. But with all of its technology, Indianapolis is still a Midwestern city, and as such it serves as one of the country's leading grain markets and a major livestock and meat processing center.
As notable as high-tech industries are the many academic institutions, the largest of which is Indiana University-Purdue University at Indianapolis. The Indiana University Medical School is one of the largest in the nation, and Purdue is noted for its research in the areas of computers and automation. Butler University, Marian University and the University of Indianapolis, all private colleges, also are part of the city's educational environment. Martin University was founded by Rev. Boniface Hardin in 1977 to serve minorities and low-income groups.
The effects of industrial growth have not always been positive. Indianapolis was proclaimed one of America's dirtiest cities in the 1960s. A major cleanup and revitalization project resulted, and by the late 1970s Indianapolis was considered one of the nation's cleanest urban centers.
Of the country's 50 largest cities, it has one of the lowest crime rates. Urban blight has been counteracted by an unusual Unigov structure of government, a consolidation of city and county agencies that work cooperatively to continue the city's renaissance.
A resurgence in the arts has accompanied this revitalization project. Home of a nationally acclaimed children's museum and museum of art, Indianapolis also claims a respected symphony orchestra, ballet and opera companies as well as several theater groups. The headquarters of such organizations as the American Legion and Kiwanis International further define the metropolitan atmosphere.
The city also has grown into a major sports center, supporting both professional and amateur teams, and Indianapolis is home to the national governing bodies of seven sports. World-class facilities, combined with a tremendous volunteer commitment, have helped bring success to both national and international sporting events. It is still best known, however, as the home of the Indianapolis 500, the jewel in the automobile racing crown. On that one day in May the city becomes as central to the nation as it has always been to the state.
By Car
Both I-70, a major east-west superhighway spanning two-thirds of the country, and I-65, the Lake Michigan-Gulf of Mexico link, pass directly through downtown, enabling travelers to reach the city's center from the suburbs in 15 to 20 minutes.
I-74, connecting several important highways, angles toward Indianapolis from Cincinnati to the southeast and from the Quad Cities area to the northwest; it merges with part of the Indianapolis bypass route, I-465. I-69 brings in traffic from central and southern Michigan.
Approaches serving local traffic include east-west routes US 40 (which closely parallels I-70), US 36 and US 52, and north-south highways US 31, US 421 and SRs 37 and 67. The beltway, I-465, encircles the city and provides direct access to all main approaches and to all parts of Indianapolis.
Street System
The Indianapolis street system is a grid with four broad avenues branching at angles from a central circle. Meridian Street runs in a north-south direction and divides the city into east and west. Washington Street runs in an east-west direction and divides the city into north and south. Street addresses emanate from the junction of Washington and Meridian, beginning at 0/0. Numbered streets are generally found north of Washington Street, with the numbers corresponding to the distance in blocks from Washington Street.
Most north-south routes are named avenues, roads or boulevards. The four angled avenues—Virginia, Massachusetts, Indiana and Kentucky—can be disconcerting to first-time visitors, who might find the I-70/I-65 inner beltway more convenient. The city has several one-way streets, and during rush hour many left turns are prohibited. Consult a good city map and plan to avoid rush hours, 6-9 a.m. and 3-6 p.m. Speed limits generally range from 25 to 45 mph.
Parking
On-street metered parking is often difficult to find. Rates begin at $2 for 1 hour. There are many parking lots and garages in the city, and most hotels provide parking for their guests. Lots and garages cost between $1.50 and $8 per hour, with a maximum of $6 to $28 per day. The Pan American Plaza next to Union Station provides convenient parking.
Sales Tax
Indiana's statewide sales tax is 7 percent. Counties may impose a 1 to 2 percent food and beverage tax. Restaurant tax is 9 percent, lodgings tax is 3 to 10 percent and rental car tax is 6 percent.
Police (non-emergency)
(317) 327-3811
Time and Temperature
(317) 635-5959
Hospitals
Indiana University Hospital, (800) 248-1199; St. Vincent Indianapolis Hospital, (317) 338-2345; and Sidney and Lois Eskenazi Hospital, (317) 880-0000.
City guides, maps and brochures are available at two downtown locations: the Indianapolis Artsgarden at Illinois and Washington streets; and the White River State Park Visitors Center at 801 W. Washington St.
Air Travel
The city is served by Indianapolis International Airport (IND), just outside I-465 on the southwest edge; the drive to downtown is via I-70 and takes about 12 minutes.
Embarque Indiana, (866) 444-2144, offers shared-ride car service to and from downtown; the fare is $30 per passenger. Many hotels also provide limousine service between downtown and the airport. For airport information phone (317) 487-9594.
Rental Cars
Hertz, (317) 243-9321 or (800) 654-3080, offers discounts to AAA members.
Rail Service
Passenger train service is available through Amtrak, which departs from Union Station, 350 S. Illinois St. For details phone (800) 872-7245.
Buses
Greyhound Lines Inc. bus connections can be made at 350 S. Illinois St.; phone (317) 267-3074 or (800) 231-2222.
Taxis
The major cab company is Yellow Cab, (317) 487-7777. The average fare is $3 per pickup and $2 per mile.
Public Transportation
IndyGo operates 29 city bus routes serving downtown and most of Marion County. The fare is $1.75; 85c (ages 0-18 and 65+). A day pass is $4; $2 (ages 0-18 and 65+). Multiday and multi-trip passes also are available.
Schedule and trip planning information is available; phone (317) 635-3344 Mon.-Fri. 7-7, Sat. 9-noon.
flickr/Leandro Neumann Ciuffo
What to Do in Indianapolis
Stroll along the Canal Walk, a 3-mile loop running through the heart of downtown, between 11th Street and the White River. On leisurely tours of the area, gondoliers serenade photo-happy passengers while plying the waters of the 1830s Central Canal. If you're feeling energetic, rent a bike or kayak and do a bit of exploring on your own.
Spend the afternoon at
White River State Park
, one of the focal points of the Central Canal. Here are urban lawns, walking paths, cultural and sports museums, a zoo, a baseball stadium—plenty to entertain the whole family, rain or shine. Don't miss the
Indiana State Museum
, jam-packed with fun exhibits ranging from a hands-on naturalist lab to a re-created pioneer log cabin.
Pay tribute to Indiana's veterans at the
Soldiers' & Sailors' Monument
, the centerpiece of Monument Circle. Check out the Civil War museum on the lower level of this imposing structure completed in 1901, then climb 330 steps (or take the elevator) to the observation deck.
Step into the past at Lockerbie Square, the oldest surviving residential district in downtown. The seven-block district, with its cobblestone streets, brick sidewalks and charming Victorian houses, is a mile northeast of Monument Circle. James Whitcomb Riley, who wrote such poems as "Little Orphant Annie" and "The Raggedy Man," lived here at the height of his career; the
James Whitcomb Riley Museum Home and Visitor Center
is the preserved Italianate-style edifice in which the Indiana-born writer resided for 23 years.
See the city by night on a romantic horse-drawn carriage ride. Companies are stationed along Illinois and Maryland streets, or you can arrange for hotel pickup.
For a shopping bargain, look for fresh produce, flowers, cheese and pastry at the historic City Market, open since 1886. If designer labels are more your style, the glass arcades of Circle Centre enclose department stores, movie theaters, restaurants and the Indianapolis Artsgarden, a showplace for live performances and exhibitions.
Take a grounds tour of
Indianapolis Motor Speedway
. Get your adrenaline pumping on a bus ride around the famed 2.5-mile oval, then make a pit stop at the Hall of Fame Museum, where everything from equipment to winning Formula One cars to racing trophies are displayed. If you won't be in town for the celebrated
Indianapolis 500
—a Memorial Day weekend event first held in 1911—don't rule out that trip to the grandstand yet. Two other exhilarating annual races take place here, too: NASCAR's Brickyard 400 in late July and MotoGP's Red Bull Indianapolis GP in August.
Explore
The Children's Museum of Indianapolis
, the largest of its kind in the world and one of Indy's most fun places to go with kids. Dinosaur bones, a giant water clock and a vintage 19th-century carousel are a few of the highlights at this 400,000-square-foot playground.
Admire the genius of Vincent van Gogh, Georgia O'Keeffe and Louis Comfort Tiffany at the
Indianapolis Museum of Art
, which has a permanent collection of more than 50,000 treasures. Situated on the former estate of J.K. Lilly Jr., a pharmaceutical industrialist whose family started Eli Lilly and Company, the museum complex includes the 100-acre Virginia B. Fairbanks Art & Nature Park as well as Lilly's 22-room mansion, built in the early 20th century.
Find some perspective at Crown Hill Cemetery, where such notables as James Whitcomb Riley, Depression-era gangster John Dillinger, President Benjamin Harrison and three vice presidents—Charles Fairbanks, Thomas Hendricks and Thomas Marshall—are buried.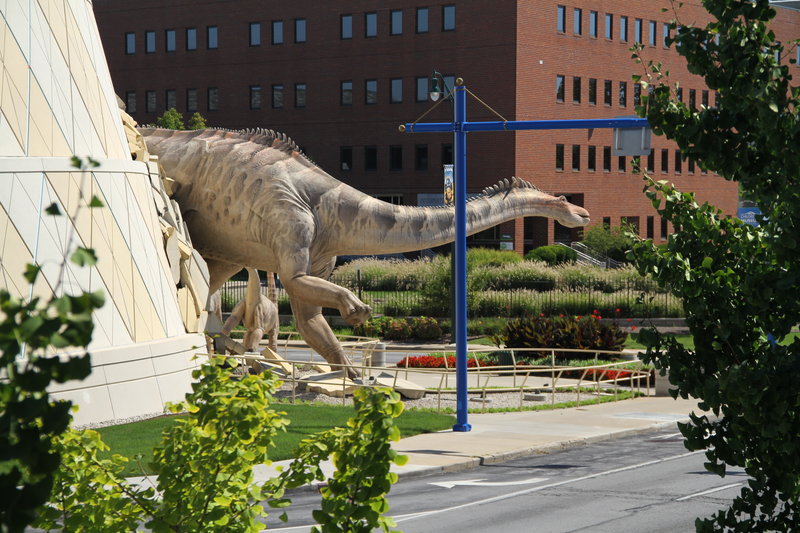 Indianapolis Travel with Kids
Indianapolis Travel with Kids
Indianapolis Travel with Kids
Indianapolis Travel with Kids
Under 13
Indianapolis has lots of fun things to do with kids; here's a list of some of the best. Travel back 65 million years to the world of the dinosaurs, explore the wonders of space or go on a flight adventure at
The Children's Museum of Indianapolis
, the world's largest children's museum. Examine recreations of a pirate's shipwreck site and a mummy's tomb, hop behind the wheel of a real Indy show car or climb aboard a 55-ton steam engine.
Visit the inhabitants of the deserts, forests, oceans and plains at the
Indianapolis Zoo
, where about 250 species of animals and more than 2,000 varieties of plants live together in simulated habitats. Pet a dogfish shark, feed a giraffe or see if you can outrun a cheetah. View the zoo from 50 feet in the air on the Skyline, then catch the dolphin presentation, All Star Dog Challenge or an action-packed show in the 4-D Theater, where surprising special effects add to the 3-D experience.
There's more than mac 'n' cheese on the kid's menu at The Old Spaghetti Factory. Little ones can sit in a railroad car as they eat their favorite pasta dish and garlic bread, and every kid's meal comes with a choice of spumoni, vanilla ice cream or a juice bar.
Youngsters and the young at heart will find aisles full of fun at Mass Ave. Toys, which offers a large selection of unique playthings, educational toys and retro games in an old-fashioned toy store atmosphere.
Teens
Live your dream of being a drummer at the
Rhythm! Discovery Center
. See drum sets from major percussionists in music history and find your own rhythm on one of hundreds of instruments from around the world.
Celebrate college sports at the
NCAA Hall of Champions
. Experience the trials and triumphs of student athletes in an original wide-screen film. See your favorite college team's memorabilia and test your trivia knowledge in the Arena, which houses displays for each of the 23 NCAA sports. In the interactive Play gallery, take a shot at the free-throw line or try a simulated downhill ski run.
Swing like Tarzan and zoom down zip lines at Go Ape in Eagle Creek Park, a 20-minute drive from downtown. This course includes 39 crossings in five sections, each going higher into the forest canopy and finishing with an exciting zip line.
All Ages
Drive a half hour north of downtown to
Conner Prairie Interactive History Park
in Fishers where you can stroll through an 1800s prairie town and play games of the time, learn a trade or see what school was like for Indiana kids in 1836. Soar 350 feet over the park in the 1859 Balloon Experience and cross over a bridge into a Civil War-era town where you can meet the townspeople and learn about Morgan's Raid, take part in military drills or put on a soldier's uniform and plan a battle. Little ones can fire a water cannon aboard the Alice Dean steamboat water play area.
Choose from dozens of gourmet cupcake flavors as well as cookies, bars, and brownies at the Flying Cupcake. Or keep an eye out for Petunia and Penelope, the Flying Cupcake's instantly recognizable pink trucks, which can be found parked downtown at lunchtime.
Take a spin around the track in an Indy car at the
Indianapolis Motor Speedway
and view memorabilia from a century of racing at the Hall of Fame Museum. In May, enjoy the excitement as the world's greatest open-wheel drivers compete in the
Indianapolis 500
, billed as "the Greatest Spectacle in Racing." The
Indianapolis 500 Festival
takes place throughout May and includes a mini-marathon, a Kid's Day and the IPL Festival Parade, where celebrities, costumed characters, floats, giant helium balloons and marching bands fill the streets to celebrate the race.
Mug N' Bun in Speedway is a classic American drive-in where your family can eat together in the car or gather around a picnic table and enjoy burgers, dogs and fries paired with homemade root beer.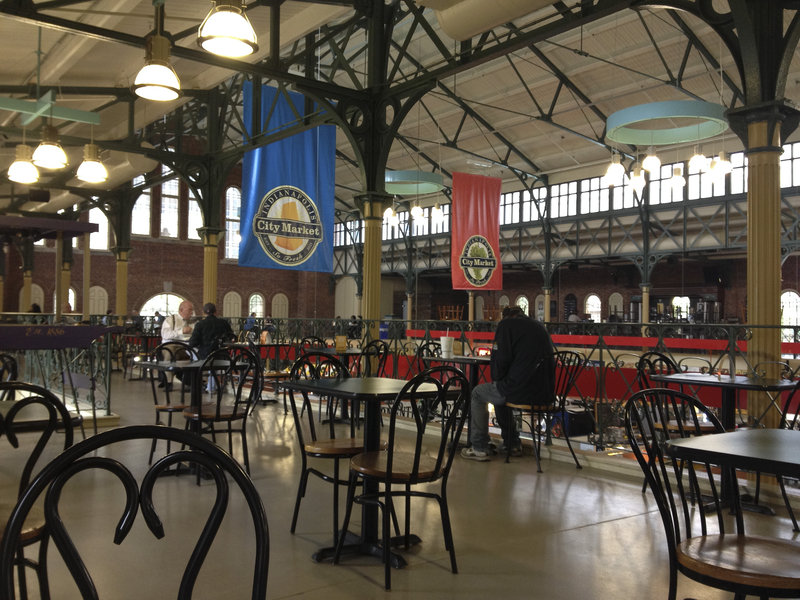 Shopping in Indianapolis
The center of Indy's downtown retail district is Circle Centre Mall (49 W. Maryland St.). Anchored by Carson's, this four-level shopping center has the usual suspects—Express, Gap, Forever 21 and H&M—in addition to specialty stores like Clarks, Eddie Bauer and a Colts Pro Shop. If the weather is less than ideal, this mall is a great place to wander, as it's connected to quite a few hotels, restaurants, a movie theater, the convention center and even Lucas Oil Stadium (via a network of skywalks and underground passageways).
At Hard Rock Cafe (49 S. Meridian St.) those in search of rock 'n' roll merchandise can pick up T-shirts, collectible pins, jewelry and other items with the cafe's logo. If fresh produce and cheeses are more your thing, make your way to City Market (near Monument Circle at 222 E. Market St.), where vendors sell all sorts of fresh goods inside a restored brick building. A weekly farmers market draws crowds on Wednesday mornings.
Just a short walk away is Mass Ave, a fun and funky district located along Massachusetts Avenue. You'll want to spend an afternoon (or more) window shopping and walking around this district; walk northeast from the intersection of Delaware and New York streets so you don't miss the good stuff.
Stout's Footwear has held down its Mass Ave location since 1886; look for the red and green neon sign out front. The shoe retailer measures each customer individually, and a resident parrot greets shoppers on the way in. While strolling the avenue, be sure to check out the repurposed items at Arts A Poppin' (425 Massachusetts Ave.), the quirky gifts (think bacon-flavored lip gloss) at Silver in the City (434 Massachusetts Ave.), and all sorts of games and toys for every age group at Mass Ave Toys (409 Massachusetts Ave.).
A few blocks northeast is another cluster of shops, including trendy women's boutique Boomerang BTQ (845 Massachusetts Ave.) and Chatham Home (517 E. Walnut St.), a two-story showroom featuring furniture, décor, housewares and unusual gifts.
A must-visit for antique-lovers is Midland Arts & Antiques Market (907 E. Michigan St.), housed in a brick warehouse—complete with cracked windows and creaky wood floors. You could easily spend a few hours hunting furniture and other relics from the more than 200 independent vendors inside. (Hint: We recommend visiting Midland on cooler days, as there is no air conditioning—only industrial fans—inside the warehouse.)
The "indie" side of Indy shopping can be found in Fountain Square, about 2 miles southeast of downtown near the intersection of Virginia Avenue and Shelby and Prospect streets. This artsy district is home to a handful of independent retailers selling everything from antiques to vintage clothing to locally made "I-Heart-Indy" items. Grab coffee from Funkyard Coffee Shop & Gallery (1114 Prospect St.), then browse the local offerings.
If you can't go without a trip to the mall (and you don't mind a bit of a drive), put The Fashion Mall at Keystone (8702 Keystone Crossing) on your itinerary. The 95-store complex features Anthropologie, Brooks Brothers, Nordstrom, Restoration Hardware, Saks Fifth Avenue and Williams-Sonoma, among other high-end retailers. Just a few miles away is Castleton Square Mall (6020 E. 82nd St.), another shopping hotspot with JCPenney, Macy's, Von Maur, Sears and more than 100 other stores.
Farther outside the city limits are several plazas and malls worth a stop. Greenwood Park Mall in Greenwood has JCPenney, Macy's, Sears and Von Maur among its more than 120 stores. Clay Terrace in Carmel is a popular outdoor shopping center with Eddie Bauer, Dick's Sporting Goods, Orvis and about 60 additional retailers. In Zionsville, shoppers can browse through fashionable specialty shops in a restored 19th-century village.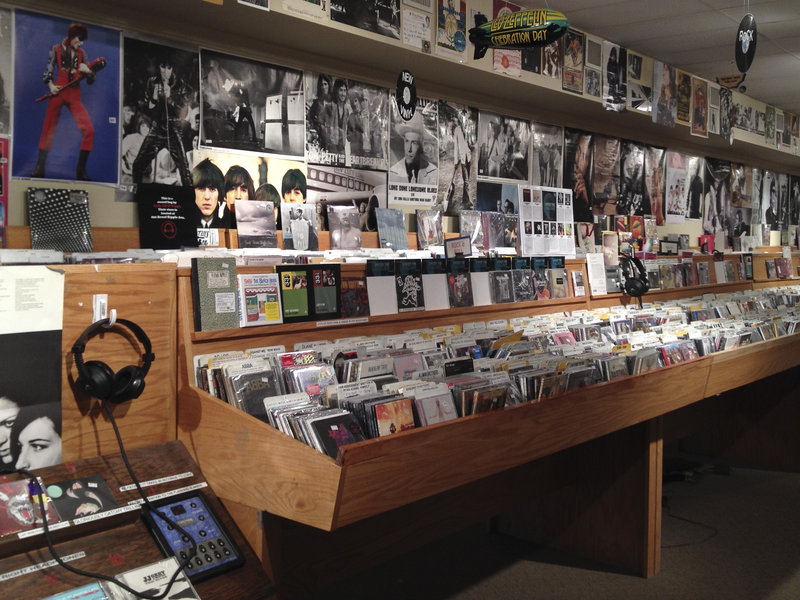 Broad Ripple Village, about 15 minutes from downtown, offers the chic, the unusual and the unexpected. Many of the stores are small boutiques in old restored houses. Rusted Moon Outfitters (across the Central Canal at 6410 Cornell Ave.) specializes in travel gear, hiking boots and other essentials for outdoor activities. Music fiends flock to Indy CD and Vinyl (806 Broad Ripple Ave.) where you can put on headphones and preview the latest hits in indie rock, punk, reggae, classical and blues. Luna Music (just south of Broad Ripple at 5202 N. College Ave.) is another popular independent music store.
Clothing boutiques in Broad Ripple are aplenty. Check out Broad Ripple Vintage (824 E. 64th St.) for dresses, suits and accessories from the 1940s to 1980s at reasonable prices. 8Fifteen (815 E. 65th St.) has designer brands that are sure to please sophisticated fashionistas. Other nearby women's clothing stores to browse: Lucky B Boutique (918 Broad Ripple Ave.); Niche (916 Broad Ripple Ave.); and Pitaya (842 Broad Ripple Ave.).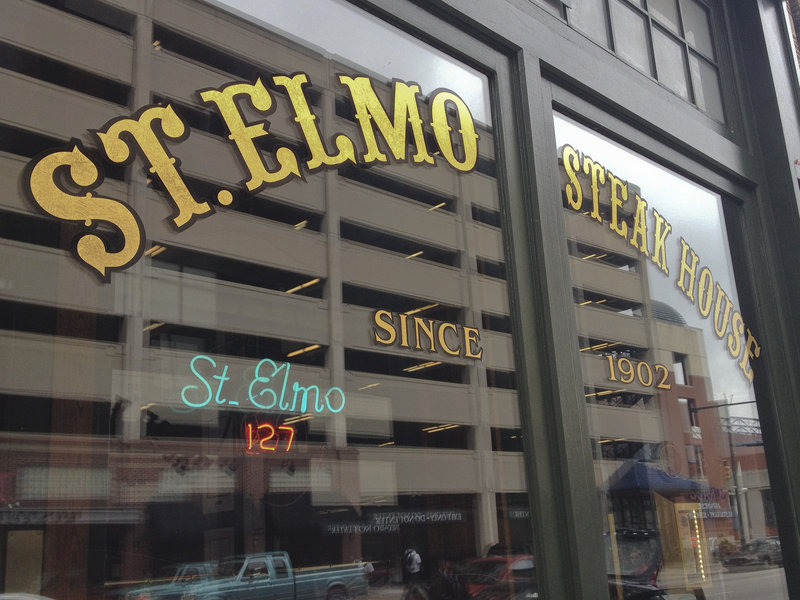 Indianapolis Nightlife
Whether you're in the mood for a local brew or a live performance, Indianapolis offers no shortage of things to do after dark.
Plan to check out a few landmark spots near city center, including the swanky 1933 Lounge, upstairs at
St. Elmo Steak House
, 127 S. Illinois St. The restaurant's famous shrimp cocktail dish (aka the "Patron Saint of Clear Sinuses") will put hair on your chest. Phone (317) 635-0636.
Downtown nightlife is centered on Meridian Street (between Lucas Oil Stadium and Monument Circle) and ramps up on weekends, when the convention crowd comes out in full force. Live blues every night of the week is the standard at Slippery Noodle Inn, 372 S. Meridian St., one of the oldest bars in the state. The historic building has a storied past; it's said to have been a brothel, a speakeasy, a stop on the Underground Railroad and even a spot for target practice for Prohibition-era gangs led by John Dillinger and Al Brady. Today, musicians take the stage nightly at 8:30 for jam sessions; phone (317) 631-6974.
Massachusetts Avenue (called Mass Ave by locals) is a bustling nightlife district located northeast of downtown; it's about a 15-minute walk or a short taxi ride from city center. We recommend a stop at Ball & Biscuit, 331 Massachusetts Ave., where the cocktails are expertly prepared and oh-so-delicious, or
Bakersfield Mass Ave
, 334 Massachusetts Ave., where house margaritas pack a powerful punch. Another option is the speakeasy-themed Libertine Liquor Bar , 608 Massachusetts Ave., where dressed-to-impress bartenders shake up specialty drinks. Phone (317) 636-0539 for Ball & Biscuit, (317) 635-6962 for Bakersfield or (317) 631-3333 for Libertine Liquor Bar.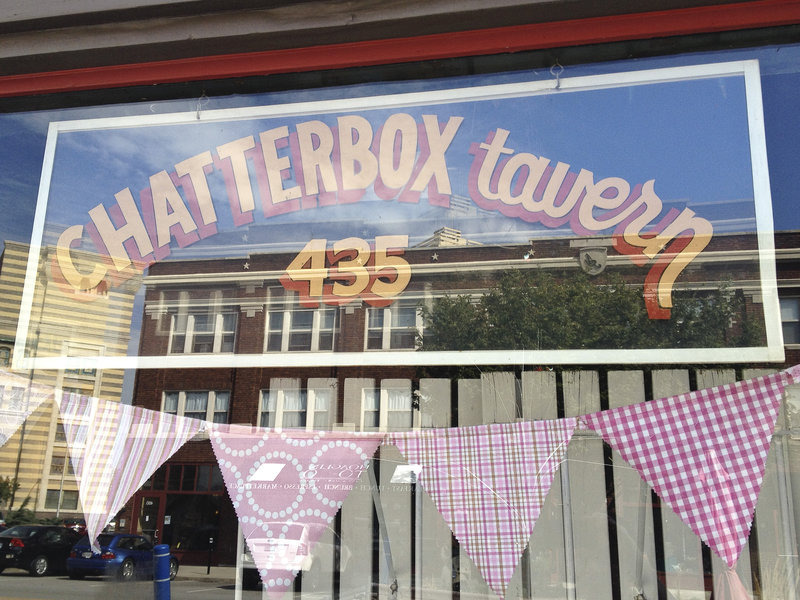 Follow the sounds of saxophones to Chatterbox Jazz Club, 435 Massachusetts Ave., an intimate and divey (in a good way) venue where live jazz has been the thing for more than three decades. The music starts at 8 p.m. and is free Sunday through Thursday, with a $7 cover charge on Friday and Saturday nights; phone (317) 636-0584. All sorts of live music acts—from polka bands to acoustic rock—take the stage at
Rathskeller
, 401 E. Michigan St., which has a lively outdoor area and an extensive beer list; phone (317) 636-0396.
Southeast of downtown is Fountain Square, an up-and-coming cultural district with an artsy, retro vibe. Grab a drink at one of the local watering holes; we recommend hipster hangout The Brass Ring Lounge, 1245 Shelby St., with sophisticated drinks and outdoor bocce courts, or Thunderbird, 1127 Shelby St., a newcomer to the Fountain Square scene with craft cocktails and Southern fare. Phone (317) 635-7464 for the Brass Ring Lounge, or (317) 974-9580 for Thunderbird. Once you're fueled up, check out the latest indie bands at Radio Radio, 1119 Prospect St., or catch a burlesque show at White Rabbit Cabaret, 1116 Prospect St. Phone (317) 955-0995 for Radio Radio, or (317) 686-9550 for White Rabbit Cabaret.
Less than a 20-minute drive north of downtown is Broad Ripple Village, a fun and funky district that's popular with the college-age crowd. Originally opened as a movie theater in 1938, The Vogue, 6259 N. College Ave., is now a nightclub and music venue; phone (317) 259-7029. A little more relaxed is The Jazz Kitchen, 5377 N. College Ave., where live performances entertain an older audience most nights of the week. Reservations are recommended for The Jazz Kitchen, as the venue fills up quickly; phone (317) 253-4900. Enjoy brews on the outdoor patio at Broad Ripple Brewpub, 842 E. 65th St., a cozy neighborhood bar with a family-friendly atmosphere; phone (317) 253-2739.
Note: NUVO, a free alternative newsweekly that comes out on Wednesdays, has extensive arts and entertainment listings and is available all over town.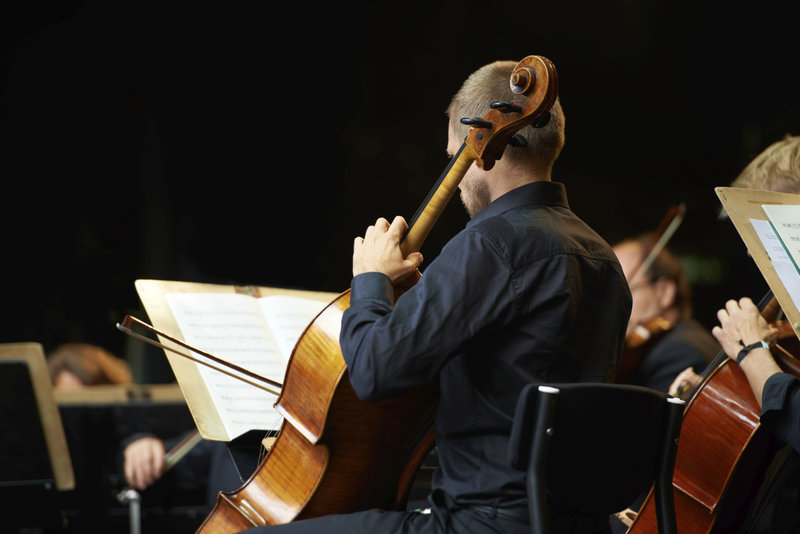 PeopleImages/iStockphoto.com
Indianapolis Performing Arts
The arts are a priority in Indianapolis, as the city continues to undergo a cultural renaissance. The Indianapolis Symphony Orchestra performs in the renovated Hilbert Circle Theatre at 45 Monument Cir. The regular season runs from September through June and includes classical, pop and family series as well as morning coffee and Yuletide concerts; phone (317) 639-4300 or (800) 366-8457.
In the summer the symphony presents its free Concert in the Park programs. Summer also brings the Marsh Symphony on the Prairie series to Conner Prairie Interactive History Park in nearby Fishers, where music is combined with picnics and sunsets. For ticket and performance information phone (317) 639-4300.
Local chamber groups play on a regular basis at Butler University, the Indianapolis Museum of Art and the University of Indianapolis. National and international chamber group performances include the Festival Music Society of Indiana's June and July series at the Indiana History Center; the Ensemble Music Society's concerts at the Indiana History Center, October through April; and the Ronen Chamber Ensemble's season at the Hilbert Circle Theatre and other venues, November through April.
The American Pianists Association presents nationally known jazz pianists throughout the year at various venues; phone (317) 940-9945 for tickets.
The Indianapolis Artsgarden, run by the Arts Council of Indianapolis, has various other performing arts presentations and a celebration of song at Christmas. The Artsgarden, in Circle Center on W. Maryland Street, also has family shows, art exhibits and Art & Soul, a celebration of African-American in the arts from January through February; phone (317) 624-2563.
Concerts regularly take place at Clowes Memorial Hall on the Butler University campus, phone (317) 940-6444; at Klipsch Music Center in Noblesville, phone (317) 776-8181; at the Indiana State Fairgrounds, phone (317) 927-7500; and at Bankers Life Fieldhouse, 125 S. Pennsylvania St., phone (317) 917-2500. Local jazz groups perform frequently at the Madame Walker Theatre Center, 617 Indiana Ave.; phone (317) 236-2099.
Opera buffs can enjoy presentations of the Indianapolis Opera at Clowes Memorial Hall, 4600 Sunset Ave. Phone (317) 283-3531 for information or (800) 745-3000 for tickets.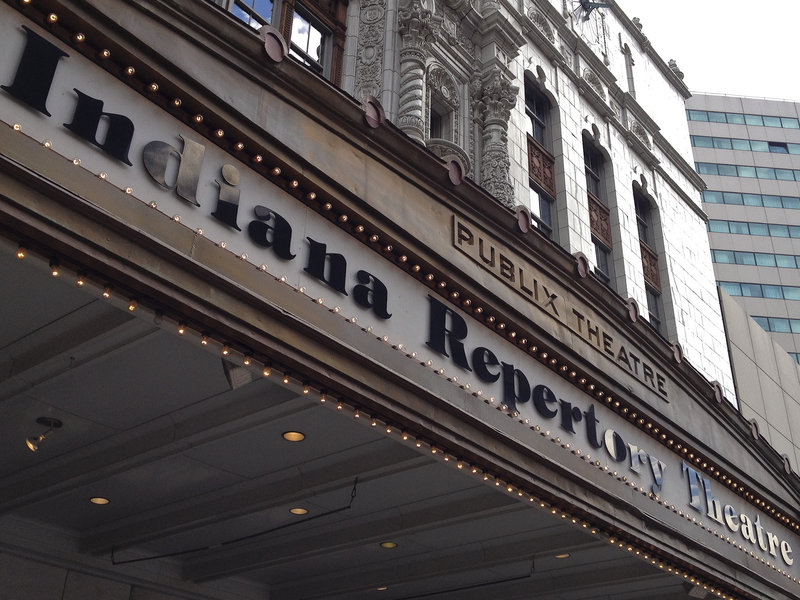 The Indiana Repertory Theatre, housed in the restored Indiana Theater at 140 W. Washington St., presents a variety of comedy and drama plays. Phone (317) 635-5277 for information or (317) 635-5252 for tickets. The Cabaret at the Columbia Club, 121 Monument Cir., offers musical shows throughout the year; phone (317) 275-1169.
The MacAllister Center for the Performing Arts, in Garfield Park, hosts open-air theatrical performances and concerts throughout the summer; phone (317) 327-7066 for information. The Beef & Boards Dinner Theatre, 9301 Michigan Rd., presents well-known entertainers in concert and in Broadway musicals all year; phone (317) 872-9664.
Dance Kaleidoscope offers contemporary dance by nationally known choreographers; most performances are held at the Hilbert Circle Theatre at 45 Monument Cir. Phone (317) 940-6555.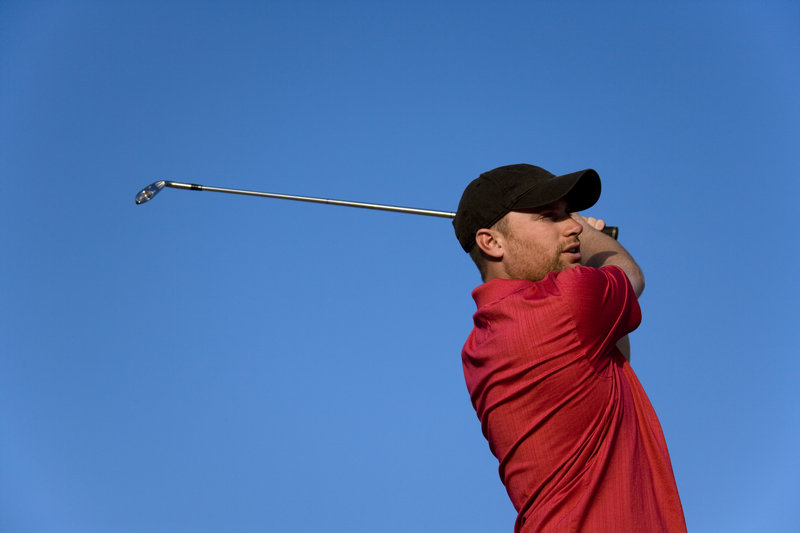 davejkahn/iStockphoto.com
Indianapolis Sports and Recreation
Indianapolis' 206 city parks provide sports-minded visitors and residents with almost every recreational activity imaginable. Eagle Creek Park, 10 miles northwest via 56th and 71st streets, is well equipped for such activities as bicycling, boating, cross-country skiing, fishing, golfing (27 holes), hiking, ice skating, jogging, picnicking and swimming (beach).
Centrally located White River State Park is a diverse urban oasis suitable for hiking, bicycling and roller skating. In addition to museums and the zoo, the park features a sports fitness center, outdoor entertainment venues and picnic areas. Bicycles, tandems and four-wheel surreys are available for rent.
Ice skating facilities are at Carmel Ice Skadium, 1040 3rd Ave. S.W. in Carmel; Pepsi Coliseum Ice Rink at the State Fairgrounds, 1202 E. 38th St.; Pan Am Plaza, 201 S. Capitol Ave.; and Perry Park Ice Arena, 451 E. Stop 11 Rd.
Boating and sailing are available at Geist and Morse reservoirs, both north of the city, and at Eagle Creek Reservoir in Eagle Creek Park; boats can be rented at Eagle Creek. Phone (317) 327-7130. Two- and four-person pedal boats are available for rent on the Central Canal at the corner of West and Ohio streets; phone (317) 767-5072.
Golfing is available at 12 public courses. Some of the most popular are Eagle Creek, 8802 W. 56th St. (nine and 18 holes); Pleasant Run, 601 N. Arlington Ave. (18 holes); Riverside, 3502 N. White River Pkwy. W. Dr. (18 holes); Sahm, 6800 E. 91st St. (18 holes); and South Grove, 1800 W. 18th St. (18 holes).
Fans of swimming, running and bicycling enjoy specially designed facilities in Indianapolis. The IU Natatorium, 901 W. New York St., is one of the most advanced swimming and diving pools in the country; phone (317) 274-3518.
Across the street is Indiana University's Michael A. Carroll Track and Soccer Stadium, available Monday through Friday from dawn to dusk for running, except during official meets; phone (317) 274-8056. The stadium also contains fitness trails. Managed by Marian University, the Major Taylor Velodrome at 3649 Cold Spring Rd. has a concrete surface banked at 28 degrees. It is open to bicyclists on Mondays from April through September, unless it is being used for competitions or training sessions; professional racing is held on Friday nights and is free to spectators. Phone (317) 955-6000 for the Marian University switchboard. Eagle Creek Park has 1,000 acres with bicycle routes.
Automobile racing is another popular pastime. The Indianapolis 500 race, held during Memorial Day weekend, is considered the biggest 1-day sporting event in the world, drawing more than 400,000 fans to the speedway each year. Also at the Indianapolis Motor Speedway is NASCAR's Crown Royal 400, held in late July. Rounding out the summer is the National Hot Rod Association's drag racing championship on Labor Day at Lucas Oil Raceway; phone (317) 291-4090.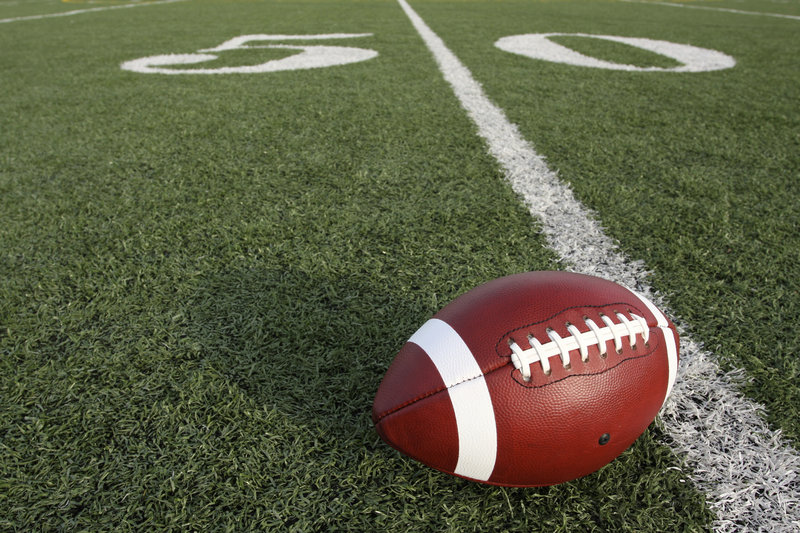 The city also is home to the National Football League's Indianapolis Colts. The team's home games are played at Lucas Oil Stadium, which opened in 2008 and was selected as the Super Bowl XLVI venue; phone (317) 297-8600 or (800) 745-3000 for ticket information. The 18,500-seat Bankers Life Fieldhouse is the showcase for the National Basketball Association's Indiana Pacers and the Women's National Basketball Association's Indiana Fever; phone (317) 917-2727 or (800) 745-3000 for ticket information. The Indianapolis Indians, an affiliate of the Pittsburgh Pirates, plays baseball at Victory Field in White River State Park; phone (317) 269-3545 for ticket information.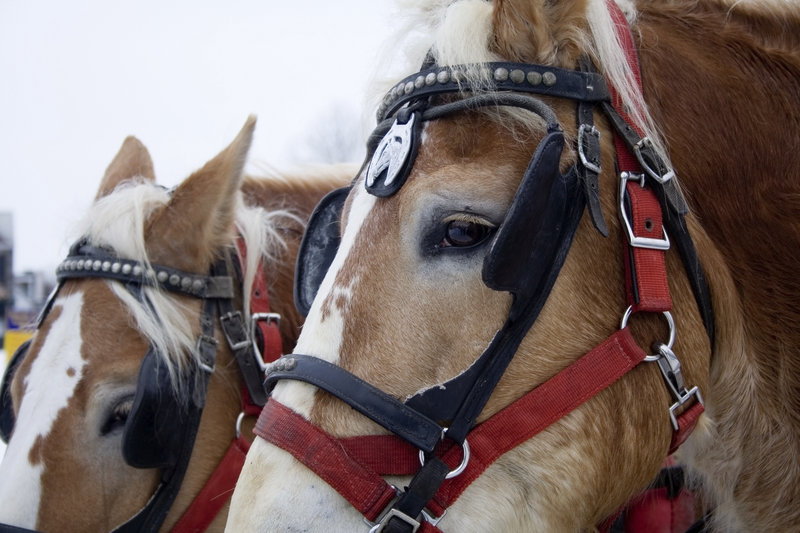 KameleonMedia/iStockphoto.com
Bus and Carriage Tours
A popular way to see the area at night is on a horse-drawn carriage ride offered by companies stationed along Illinois and Maryland streets: Blue Ribbon Carriage Co., (317) 631-4169; or Yellow Rose Carriages, (317) 634-3400. Carriages also pick up passengers on request at hotels in the downtown quadrant bounded by North, South, East and West streets.
Walking Tours
An especially interesting area for a walking tour is Lockerbie Square, a seven-block district bounded by Michigan, New York, Fulton and East streets. Dating to 1847, the city's oldest surviving neighborhood is noted for its Victorian renovations. Italianate, Greek Revival and Federal-style houses and cottages—including the home of James Whitcomb Riley—line the cobblestone streets. Here you can see limestone mounting blocks used for horse-drawn carriages. The neighborhood is about a mile northeast of Monument Circle.
The Old Northside was the place to live for business and civic leaders at the turn of the last century. Bounded by I-65 and 16th, Pennsylvania and Bellefontaine streets, the neighborhood features Victorian mansions and grand homes in Gothic Revival, Second Empire, Queen Anne and other styles. As wealthy residents migrated farther north, the neighborhood became known as the "old" northside; more than half of the houses were demolished before the area could be declared a historic district. Galleries, cafes and coffee shops are on the southern edge.
Another interesting area for a stroll is Broad Ripple Village, a neighborhood north of the downtown area along the White River. The village became the center of commerce in 1839 with the opening of the Central Canal. Similar to New York City's Greenwich Village, this trendy area contains boutiques, art galleries, sidewalk cafes, antique shops and ethnic restaurants. Among the restored cottages and bungalows are several Sears kit homes.
Irvington used to be a country address, but this neighborhood is now considered part of the city's east side. Named after Washington Irving, the historic enclave between 10th, Emerson and Arlington avenues and Brookville Road features cozy Craftsman bungalows and American Foursquares nestled against Tudor, Colonial and Georgian Revival mini-mansions. Ellenberger Park was designed in 1909 by architect and urban planner George Edward Kessler.
A relatively new addition is the Canal Walk, a portion of the historic Central Canal that has been renovated into a pathway popular with walkers, joggers and downtown workers. The junction of Ohio and West streets is a good starting point. At Walnut Street and Senate Avenue is the USS Indianapolis CA-35 National Memorial, a granite memorial to the sailors who died when the USS Indianapolis sank in World War II.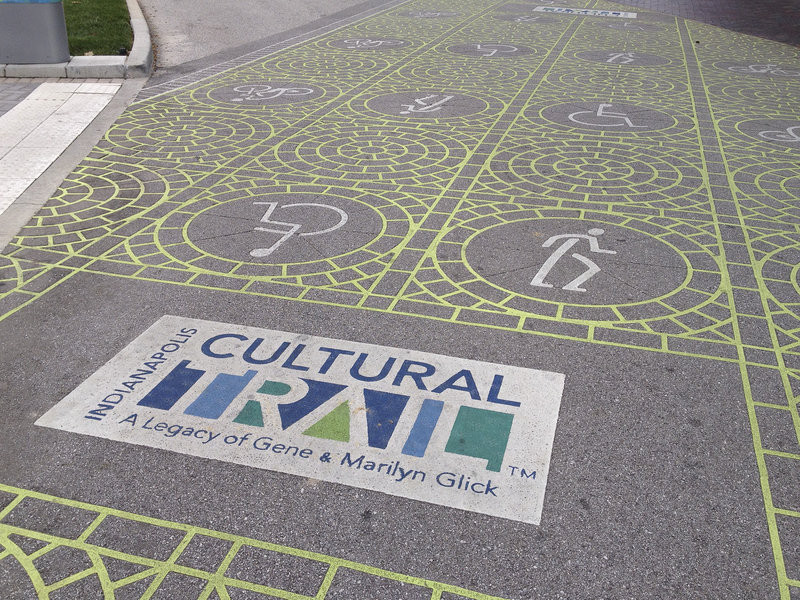 The Indianapolis Cultural Trail, an 8-mile pedestrian and bike path dotted with public art, connects the six downtown cultural districts.
An observation tower atop the City-County Building offers a 360-degree view from more than 300 feet above street level and includes exhibits and binoculars; phone (317) 327-4345. Commemorating Civil War and Spanish-American War veterans, the Soldiers' & Sailors' Monument at Monument Circle also provides a panorama of downtown.
Another good vantage point is Crown Hill Cemetery at 3402 Boulevard Pl., where such notables as James Whitcomb Riley, John Dillinger, President Benjamin Harrison and three vice presidents are buried. Covering 555 wooded acres, the cemetery is one of the largest in the country.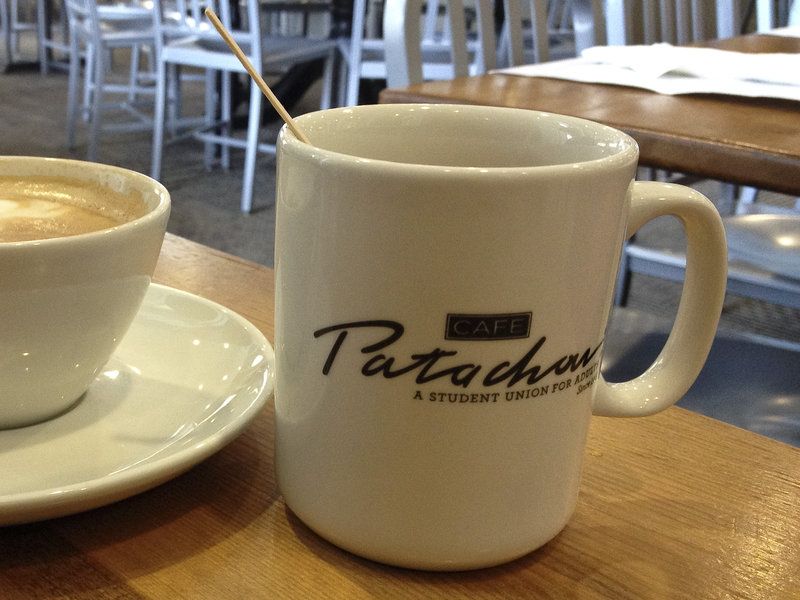 Indianapolis in 3 Days
Three days is barely enough time to get to know any major destination. But AAA travel editors suggest these activities to make the most of your time in Indianapolis.
When cars aren't speeding around the 2.5-mile oval, tour buses provide inside peeks at the track, while grounds tours (available mid-March to late November) give fans the chance to kiss the "Yard of Bricks" at the finish line.
Day 1: Afternoon
For traditional pub grub—sandwiches, fried appetizers and burgers—make a pit stop at
Union Jack Pub
. Packed with automobile-racing memorabilia, the restaurant also serves sandwiches, wraps, Chicago-style pizza and a variety of fresh salads.
Catch a bus to the
Indianapolis Museum of Art
, showcasing everything from Asian sculpture to 12th-century European paintings. Save time to investigate the entire 152-acre site, which also comprises a nature park and the
Oldfields-Lilly House & Gardens
. Within the 22-room French chateau-style dwelling, examine the former owner's collection of books, coins, miniatures and nautical items.
Day 1: Evening
Whether you're craving a Stromboli or tuna tataki, some of Indy's best restaurants abound south of the White River in Broad Ripple Village (see Sightseeing for more neighborhood information). Enjoy Italian specialties at
Bazbeaux Pizza
or Asian cuisine at
Captain Sushi
. The latter also offers an extensive drink menu. Order a ginger cinnamon cooler to go, or sip hot sake at the colorful sushi bar.
After dinner scour the eclectic neighborhood—bounded by Evanston Avenue in the east, Meridian Street in the west and Kessler Boulevard in the south—for vintage fashions, delicious organic treats, and funky art and furniture. As the night wears on, shoot some pool while listening to live music at one of countless hip taverns.
Day 2: Morning
Breathe in an aromatic blend of maple syrup, sizzling bacon and freshly brewed coffee at
Patachou on the Park
, located across from the
Indiana State House
. While their breakfasts are rumored to be among the best in the country, a steady string of local awards certifies the café as a continuing Hoosiers' favorite.
Walk to the
Soldiers' & Sailors' Monument
in Monument Circle. Only 15 feet shorter than the Statue of Liberty, the structure features more than just intricate carvings. Inside, you'll discover relics and photographs detailing Indiana's involvement in the Civil War.
Nearby draws include the South Bend Chocolate Factory, the Hilbert Circle Theatre and the 1857 Christ Church Cathedral. The Military Museum at the
Indiana World War Memorial
, an architecturally striking edifice, is just north on Meridian Street. The memorial includes a grassy five-block stretch incorporating monuments, fountains, sculptures and a 100-foot-tall obelisk.
Day 2: Afternoon
Just south of Monument Circle, browse four levels of shops at Circle Centre. Nearby dining options include
Palomino Restaurant
, a chic bistro known for its Roma-style pizzas smothered in mozzarella and herbs, and
P.F. Chang's China Bistro
, where you can nibble on spicy chicken lettuce wraps and kung pao shrimp. After lunch, check out the Artsgarden, a domed atrium connected to the mall. Positioned 17 feet above the intersection of Washington and Illinois streets, this beautiful steel-and-glass structure regularly presents free art exhibitions, dance performances and concerts. Close by is Lucas Oil Stadium, home of the National Football League's Indianapolis Colts.
Day 2: Evening
Before attending a show in Indianapolis' arts and theater district—branded "Mass Ave" by residents—reserve a table at one of the neighborhood's fashionable restaurants. Enjoying German fare at
Rathskeller
is a tempting option.
Day 3: Morning
Pair a homemade muffin, fresh fruit or an omelet with a steaming cup of espresso at historic City Market. On Wednesdays between 9:30 a.m. and 1:30 p.m., an on-site farmers market also lures bargain hunters (May to October).
If you'd prefer to catch a baseball game (and maybe a few foul balls), also on the grounds is Victory Field, where the minor-league Indianapolis Indians play (April to September). Or, admire outdoor artwork while roaming green spaces and waterfront pedestrian paths.
Day 3: Evening
Traverse Indianapolis in a horse-drawn carriage, glimpsing such city landmarks as the Central Canal or Lockerbie Square's Italianate-, Federal- and Queen Anne-style houses beneath a starry sky.
The race itself is a little like Mardi Gras—a rowdy street party starts on Georgetown Street the night before and lasts into the wee hours. Fans who've waited in line all night are rewarded with a prime parking spot when the gate opens at 4 a.m. From here, it's one big tailgate party in the 224-acre infield—and one of the biggest days in motorsports.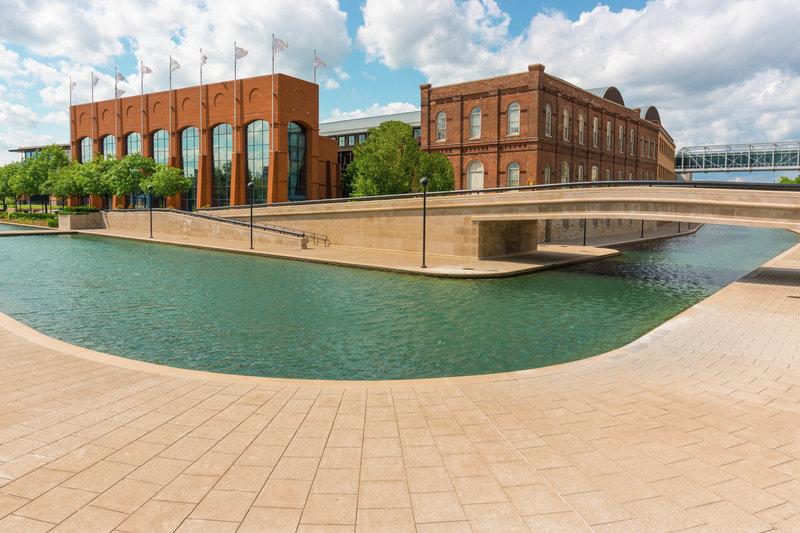 Ron Thomas/iStockphoto.com
Amateur Sports Capital
Although Indianapolis is most often associated with professional sports-car driving, it's fast becoming the Amateur Sports Capital of the World. The Indiana Sports Corporation (ISC) was formed in 1979 to promote the city as a national and international sporting venue. Since then, Indianapolis has hosted more than 400 high-profile events and now serves as the headquarters for more than a dozen governing bodies, including the National Collegiate Athletic Association (NCAA), the American College of Sports Medicine, the Black Coaches Association and the National Institute for Fitness & Sport.
As the base for five USA sports federations—track and field, gymnastics, diving, synchronized swimming and rowing—Indianapolis plays a vital role in American amateur athletics. Olympic trials and national championships here have included diving, gymnastics, judo, kayaking, rowing, swimming, table tennis, track and field and volleyball.
The city boasts a roster of state-of-the-art facilities, from Bankers Life Fieldhouse, Lucas Oil Stadium and Victory Field to the Indiana University Natatorium, Michael A. Carroll Track & Soccer Stadium and Major Taylor Velodrome. When amateur athletes aren't competing, five professional teams take the spotlight: the NFL Colts, the NBA Pacers, the WNBA Fever, the CHL Ice and the AAA Indians (minor-league affiliates of the Pittsburgh Pirates).
The NCAA's move to Indianapolis in 1999—and construction of the NCAA Hall of Champions in White River State Park—was a three-pointer for the city's sports economy. Each year, NCAA events generate an estimated $64 million in revenue.
In 1987, the Pan American Games brought nearly 4,500 athletes from 38 countries to Indianapolis. To commemorate the most important sporting event in its history, the city built the Pan American Plaza on Capitol Avenue. This sports powerhouse now holds the offices of the ISC, the national headquarters of four USA sports governing bodies and the Indiana/World Skating Academy, a training center for amateur and professional athletes in figure skating, hockey and speed skating.
With so many world-class facilities in walking distance, sportscaster Bob Costas called Indianapolis "one of the best sports downtowns anywhere in America." For schedules and tickets, contact the ISC at (317) 237-5000 or (800) 443-4837.