Jackson Hole in 3 DaysThree days is barely enough time to get to know any major destination. But AAA travel editors suggest these activities to make the most of your time in Jackson Hole.
By Suzanne Lemon
It's best to rent a car when visiting Jackson Hole Valley, an area with wide-open spaces and majestic parklands stretching out gracefully toward soaring mountain ranges that serve as natural barriers.
Day 1: MorningSettle in and spend a leisurely morning moseying about Jackson's town square. The downtown area is easy to navigate on foot—businesses line the square, the two main drags (Cache and Broadway), and the side streets.
The square's elk antler arches and wooden walkways contribute to the decidedly Old West vibe. Historic buildings house eclectic shops, and the merchandise is a study in contrasts—you can hunt for the typical tourist souvenirs, the latest adventure gear or cutting-edge fashions. You'll also find a wide variety of watering holes and local restaurants, from the upscale to the down-home.
Majestically looming above Jackson, Snow King Mountain is a great place to spend time, especially if you're traveling with restless kids and wondering what to do. In winter, snow skiing is the activity du jour—you also can choose to ice-skate or snow tube, certain to extract squeals of delight from the kids. If you're in Jackson in the summer, try the Snow King Alpine Slide . Soak up stunning scenery like jagged precipices and meadows dotted with wildflowers as you ride up in the chairlift, then wind down the mountain in a contraption that you steer yourself—the trip can be as tame or exhilarating as you desire.
Day 1: Afternoon
Jackson Hole's vast array of wildlife will inspire you to observe and learn about amazing creatures. To see them captured in timeless images, visit the National Museum of Wildlife Art , tucked in a stunning stone edifice perched on a hillside. View the works of master wildlife artist Carl Rungius and browse a gallery dedicated to the mighty bison. To educate yourself about the rearing of lake and cutthroat trout, take the self-guiding tour over at the Jackson National Fish Hatchery .
An intriguing afternoon awaits you at the National Elk Refuge , home to thousands of grazing elk during the winter months. Sleigh Rides present fantastic photo opportunities as guides transport you across the refuge's snowy landscape within close range of these impressive beasts.
Day 1: EveningImmerse yourself in cowboy culture by carving out a space within the cheering crowd to watch the evening shootout in Jackson Square; the outlaws make their appearance at 6:15 p.m., Monday through Saturday. The balcony at the Snake River Grill is an upscale perch from which to observe these staged gunfights while you savor fare with a Western flair, like elk chops or buffalo pot roast.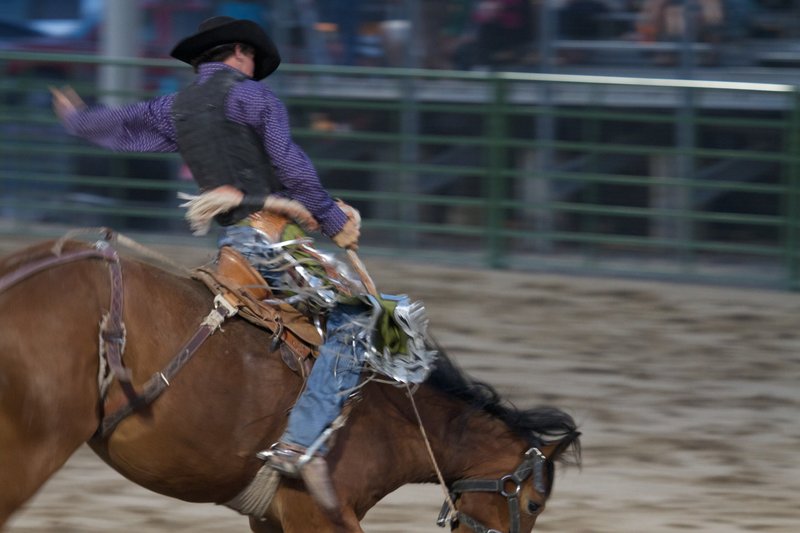 flickr/Brian Gratwicke
The Jackson Hole Rodeo is another evening entertainment option—romping, stomping antics include calf roping, bull riding and barrel racing. Shows occur on Wednesday and Saturday evenings (and select Fridays) in summer at the rodeo grounds on Snow King Avenue.
Day 2: MorningSpend the day basking in the grandeur of Grand Teton National Park . Start out with a relaxing float trip down the Snake River—some operators will pick you up at your hotel, while others designate a rendezvous point in the park. Knowledgeable guides discuss park wildlife and point out birds and other animals during this pleasant diversion. During the summer months, try to make the first departure (generally about 8 a.m.) to increase your chances of spotting animals, since they are more active during cooler temperatures.
While there are no guarantees, the creatures you might sight on these excursions include beavers, otters, marmots, elk, moose, deer, coyotes, bald eagles and blue heron. Bring along binoculars to get an up-close look at your subjects, and a camera to capture images framed by magnificent Teton peaks. Consider current weather conditions when planning your gear choice, and pack a visor and sunscreen.
Day 2: AfternoonAssuming you've worked up an appetite during your river float, head to the rustically elegant The Dining Room at Jenny Lake Lodge . Don't let the park location fool you—the restaurant touts an impressive wine list and creative à la carte selections in an oh-so-cozy setting. While lunch is more relaxed and informal, dinner is a more expensive, prix fixe affair.
Since you're nearby, spend the afternoon taking a scenic cruise across gorgeous Jenny Lake (purchase your tickets at the lake's south end near the ranger station). The boat also serves as a shuttle to the lake's west shore, where hikers depart to tackle the Hidden Falls and Inspiration Point Trails . The Hidden Falls portion is a moderate route that climbs along a rushing stream winding toward the falls—the well-shaded uphill journey rewards you with a close-range view of thundering torrents of water crashing against craggy boulders. From here, it's another half-mile to Inspiration Point, but it's a steep slog, so make sure you reserved some energy before attempting the arduous trek. The birds-eye panorama of glacial-blue Jenny Lake is worth the hard work.
Day 3: MorningSpend the day experiencing some of the wonderful recreational things to do near Jackson Hole. Ease into the morning by exploring Teton Village , at the base of Jackson Hole Mountain Resort . If you haven't had breakfast, you can grab a bagel or pastry at a snack shop or indulge in a heartier "skier's breakfast" at one of the eateries.
You'll soon discover that Teton Village is all about the great outdoors. The village buzzes with energy during winter—Jackson Hole's challenging terrain attracts skiers from throughout the world. Naturally, if you're a skier or boarder and it's the season, you'll want to explore the mountain's expert terrain, or take a lesson or two if you're not quite up to speed. Snowboarding kids love the resort's terrain park.
In summer, things are quiet and laid-back. This is the time of year to browse the shops displaying the latest and greatest recreational gear and take advantage of off-season deals on skis and other snow-related equipment (while you shop, kids will quickly discover the bungee trampoline behind the complex). Both kids and adults gravitate toward the aerial tram—board at the mountain's base and enjoy a graceful ascent affording prize-winning vistas of the Jackson Hole Valley. Once you've arrived up top, take one of the trails and hike amid the splendor of the lofty Tetons. If you just feel like hanging out and gazing at the scenery, there's a small café where you can sit on the terrace and have a snack or beverage.
Day 3: AfternoonWhile it's obvious that downhill skiing is the main game in town, there's lots of other winter diversions to choose from—dog sledding, snowmobiling, sleigh rides, cross-country skiing and ice-skating to name a few.
If it's solitude you seek, then Jackson Hole Iditarod Sled Dog Tours is for you. You can either steer the sled or just ride along as the dog team travels past snowy drifts in a winter wonderland. Half-day jaunts usually take in Granite Creek Canyon.
The village also is a good spot from which to coordinate horseback rides, wildlife tours and other summer excursions with local outfitters. No matter what your ability level, you will feel comfortable biking with Teton Mountain Bike Tours . Half-day trips include the Antelope Flats and Snake River areas, where you have a decent chance of seeing such wildlife as roaming antelopes, buffalo, elk and moose—all amid a backdrop of grandiose Teton peaks.
Day 3: EveningHow you spend your final evening in Jackson Hole is entirely up to you—choose an old-fashioned hoedown or bask in luxury. If you want one last dose of cowboy culture before your departure, opt for Bar-T-5 Covered Wagon Cookout & Show . A covered wagon transports you to an outdoor dining site, where you'll feast on barbecue chicken and home-style sides as characters from the Old West entertain you.
The use of wood, soft lighting and exposed beams contributes to the understated elegance at Westbank Grill in the Four Seasons Resort & Residences Jackson Hole . Guests sample expertly prepared regional game, while savoring such cozy comforts as leather chairs, a massive stone fireplace and a heated outdoor patio.