Recreation in Jackson HoleBiking, swimming, backpacking, fishing, hiking—whatever your interest, make sure you experience these recreational highlights and adventurous things to do in Jackson Hole, as chosen by AAA editors.
By Suzanne Lemon
Float or Raft Down a River
A relaxing way to appreciate area wildlife and scenery is to take a scenic float trip—the vessel meanders down the Snake River as a guide steers it and calls attention to birds and other animals. Operators include Barker-Ewing Scenic Float Trips , Dornan's Snake River Scenic Float Trips , Grand Teton Lodge Company Wild and Scenic Rafting Trips , Signal Mountain Lodge Float Trips , Solitude Float Trips , Teton Expeditions Scenic Floats and Triangle X Ranch Float Trips .
A number of area outfitters also provide a more intense, action-packed white-water experience where you participate in the paddling as you shoot through the rapids. Barker-Ewing River Trips, Whitewater and Scenic Floats , Sands Whitewater and Scenic River Trips , Dave Hansen Whitewater and Scenic River Trips , Jackson Hole Whitewater , Lewis & Clark River Expeditions , Mad River Boat Trips and Snake River Park Whitewater are among the guides you can choose for your exciting outing.
Explore Grand Teton National Park on Foot or on Horseback
Horseback riding is a great way to gape at glorious mountain scenery while your horse does the walking. Don't fret—these tame animals are accustomed to following the guides and are comfortable with the routes. In the park, head to corrals at Jackson Lake Lodge and Colter Bay for a guided tour organized by Grand Teton Lodge Co. In addition, several Jackson Hole area resorts and guest ranches offer trail rides.
If your wish is to spot anything from a yellow-bellied marmot to an elk with an intimidating rack of antlers, Jackson Hole does not disappoint. The Snake River presents terrific wildlife-viewing opportunities—you might see a moose munching on some vegetation along the banks, or elk and bison grazing in adjacent meadows. Moose crave water plants, so also look for them nibbling on specimens around marshy areas, ponds and in the area around Jackson Lake Lodge. Pronghorn antelope roam around Mormon Row and Timbered Island in the park.
Coyotes wander in the grassy flats and near park roads, so your odds of seeing them are quite good. Bighorn sheep perform their balancing act on the jagged precipices of the western Tetons, while wolves den in the Gros Ventre Valley. For a sure-fire way to view elk, visit the National Elk Refuge . Thousands of these beautiful creatures travel here in winter to feed, courtesy of the Forest Service. Local officials say your chances of crossing paths with a grizzly bear are slim to none—they reside deep within the backcountry. During spring, you may catch sight of a black bear searching for food to feed its cubs.
Jackson Hole also is a birder's paradise. Watch for bald eagles and osprey around the Snake River—you might spy a golden eagle, too (it's a little smaller than a bald eagle and doesn't have a white head). Blue heron frequent the marshes around Jackson Lake, while the park's Cygnet Pond, Swan Lake and Christian Pond behold the trumpeter swan. Park areas known for attracting a variety of bird life include Blacktail Ponds Overlook, Oxbow Bend and Menor's Ferry. Information about birding and other wildlife in Grand Teton National Park is available at visitor centers and from park rangers.
Bike Tours of the Park
If you're looking for a muscle-pumping endeavor, you can exercise amid a backdrop of splendid Teton crests by hopping on a mountain bike. Teton Mountain Bike Tours caters to all ability levels, and they supply the bikes, helmets and transportation—their tours explore the Antelope Flats and Snake River areas. If you want to go it alone, try these unpaved park roads, as they are suitable for fat-tired mountain bikes: River Road along the Snake River; Grassy Lake Road; and Two-Ocean Lake Road. A paved, multi-use pathway open to non-motorized users from dawn to dusk, heads north from Jackson paralleling US 26/89/191 to Moose Junction; then follows the Teton Park Road to South Jenny Lake. The section of the pathway from Jackson to Gros Ventre Junction is closed from October 1 to April 30. Although the park allows bikes on its paved roads, traffic can be a bit intimidating and shoulders are generally narrow (riding on trails is taboo). Park personnel suggest Teton Park Road due to its wider shoulders, or the secondary roads around the Antelope Flats/Kelly area. Wear a helmet, keep to the right and bring a water bottle.
Climbing in the Tetons
Only those experienced in mountain climbing should attempt to summit the Tetons, and even so, it's wise to hire a professional guide due to the difficulty level—even in summer, you can encounter snow and ice. The Jenny Lake Ranger Information Station is the place for climbers to obtain details about equipment, conditions, guide services and routes. Climbers who plan overnight excursions must acquire a free permit and carry approved bear-resistant canisters. If you're interested in learning the ropes, enroll in a class taught by area operators.
Beginners Should Try the Alpine Slide
A less risky way to make your way down the mountain is aboard the Snow King Alpine Slide . You control the speed of the mechanism, so your experience will be as wild or mild as you wish. Guests are ushered to the top of the run via chairlift and then glide past the woods of Snow King Mountain on the descent.
Fishing and Water Activities
Anglers have plenty of fishing spots to choose from within Grand Teton National Park. You'll pull mackinaw, cutthroat, rainbow and brown trout out of lakes, streams and the Snake River. Hire a guide to lead you to prime locations; area lodgings and guest ranches also provide guided trips. Signal Mountain Lodge hosts a trip that supplies you with gear and highlights the best fishing holes on Jackson Lake. You'll need a Wyoming fishing permit if you plan to cast a line in Grand Teton National Park; one-day and seasonal licenses are available for non-residents. You can purchase them at sporting goods outlets and other retail establishments.
Swimmers should avoid the Snake River and stick to the easily accessible park lakes. Boaters may use park lakes as well—craft must be nonmotorized, with the exception of Jackson and Jenny lakes (check with park personnel about horsepower limits on motors). Kayakers also enjoy rowing through the clear waters of Jackson Lake and savoring the vista of soaring alpine pinnacles, while the Snake River offers them the challenge of navigating the "holes." All boats must display an Aquatic Invasive Species (AIS) decal; phone (307) 777-4600. You can rent watercraft (including canoes) at Grand Teton Lodge Co., Signal Mountain Marina and other park concessionaires.
Camp in the Great Outdoors
If you prefer to "tent it" rather than stay at an area hotel, consider one of these Grand Teton National Park campgrounds: Colter Bay Campground , Gros Ventre Campground , Headwaters Lodge & Cabins at Flagg Ranch , Lizard Creek Campground and Signal Mountain Campground . Those who yearn to sleep under the stars should know that campsites are available on a first-come, first-served basis.
Golfing and Hiking Opportunities
Duffers will find happiness at the Jackson Hole Golf and Tennis Club. The challenging 18-hole wonder, designed by Robert Trent Jones, is reputed to be one of the country's best courses and presents outstanding panoramas of snowcapped peaks. Another option is 18-hole Teton Pines Country Club and Resort, also spectacularly enhanced by gorgeous mountain scenery.
With a trail system of some 250 miles, Grand Teton National Park is a hiking mecca. Be sure to bring plenty of water and layer your clothing, as weather can change rapidly. The article "Grand Tetons Hikes" describes trails in more detail.
What to Do in Jackson Hole in Winter
In winter, all those phenomenal hiking trails turn into cross-country ski and snowshoe routes—with all the variety, you can choose flat or hilly terrain. Colter Bay trails are relatively easy, and their location around Jackson Lake affords good opportunities to sight wildlife. The Teton Park Road area has trails with varying difficulty levels: flat, scenic Jenny Lake Trail supplies an easy jaunt; Signal Mountain Summit Road is a moderate trip; and Taggart Lake-Beaver Creek is a difficult loop with ice and steep terrain on the return. The Polecat Creek Loop (in the Flagg Ranch area) and Moose-Wilson Road trails are considered easy, while Phelps Lake Overlook, about 3 miles south of Moose, is moderately challenging.
Ski the Jackson Hole Mountain Resort or the Snow King Resort for exhilarating downhill fun. Those in search of extreme steeps will find them at Jackson Hole Mountain, and though Snow King is smaller, it boasts challenging terrain as well. Although skiers flock here for the black-diamond thrills, both areas have ski schools as well as runs catering to intermediate ability levels. In nearby Alta, Grand Targhee Resort has the reputation of being the powder capital of the world, with more than 500 inches of snowfall a year. Powder hounds travel here for the knee-deep snow, uncrowded slopes and snowcat skiing.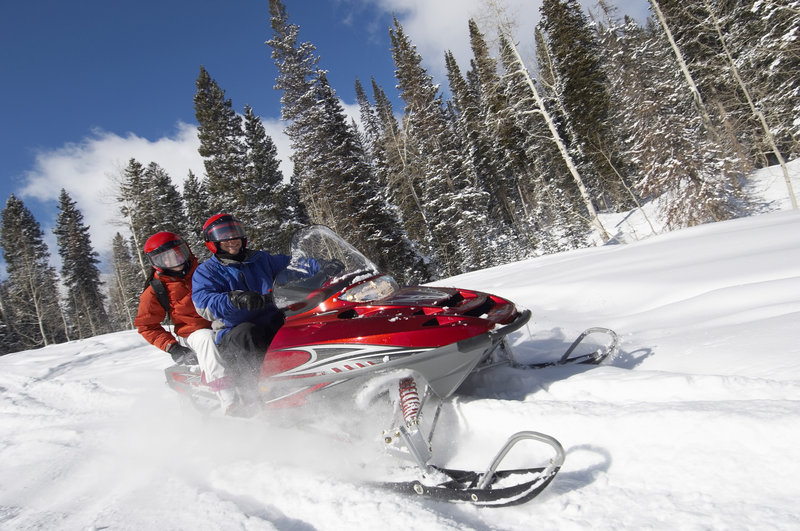 Shutterstock.com/bikeriderlondon

If you'd rather drive than glide through the snow, sign up for an adventure with outfitters in Jackson who rent snowmobiles and can supply guides. Grand Teton National Park allows snowmobiles only on Grassy Lake Road. You can ride or mush as you immerse yourself in snowy splendor during a dog-sledding expedition with Jackson Hole Iditarod Sled Dog Tours . The guide points out wildlife along the way as you and your sled companions take turns steering and relish the peaceful high-country wilderness. It's one of the many fun things to do with friends and family in the park.