One Day in Jackson HoleAAA editors suggest these things to do in Jackson Hole for a great short vacation experience. Those staying in the area for a longer trip can access a 3-day itinerary at AAA.com/TravelGuides.
Morning Settle in and spend a leisurely morning moseying about Jackson's town square. The downtown area is easy to navigate on foot—businesses line the square, the two main drags (Cache and Broadway) and the side streets. The square's elk antler arches and wooden walkways contribute to the decidedly Old West vibe. Historic buildings house eclectic shops, and the merchandise is a study in contrasts—you can hunt for the typical tourist souvenirs, the latest adventure gear or cutting-edge fashions. You'll also find a wide variety of watering holes and local restaurants, from the upscale to the down-home.
Majestically looming above Jackson, Snow King Mountain is a great place to spend time, especially if you're traveling with restless kids. In winter, snow skiing is the activity du jour—you also can choose to ice-skate or snow tube, certain to extract squeals of delight from the kids. If you're in Jackson for a summer visit, try the Snow King Alpine Slide . Relish stunning scenery like jagged precipices and meadows dotted with wildflowers as you ride up in the chairlift, then wind down the mountain in a contraption that you steer yourself—the trip can be as tame or exhilarating as you desire.
Afternoon Lunch options are plentiful in Jackson's downtown. You'll probably want to eat light at The Bunnery Bakery & Restaurant so that you can sample one of their mammoth desserts—you can't go wrong with the sinfully sweet carrot cake or "very berry" pie á la mode, a local treasure.
Jackson Hole's vast array of wildlife will inspire you to observe and learn about amazing creatures. To see them captured in timeless images, visit the National Museum of Wildlife Art , tucked in a stunning stone edifice perched on a hillside. View the works of master wildlife artist Carl Rungius and browse a gallery dedicated to the mighty bison. To educate yourself about the rearing of lake and cutthroat trout, take the self-guiding tour over at the Jackson National Fish Hatchery .
An intriguing afternoon awaits you at the National Elk Refuge , home to thousands of grazing elk during the winter months. Sleigh Rides present fantastic photo opportunities as guides transport you across the refuge's snowy landscape within close range of these impressive beasts.
Evening Immerse yourself in cowboy culture by carving out a space within the cheering crowd to watch the evening shootout in Jackson Square; the outlaws make their appearance at 6:15 p.m., Monday through Saturday. The balcony at the Snake River Grill is an upscale perch from which to observe these staged gunfights while you savor fare with a Western flair, like elk chops or buffalo pot roast. If you're in the mood for something more laid-back, locals rave about the "Q" at Bubba's Bar-B-Que Restaurant . Sidle over to a picnic table and order up succulent hickory-smoked beef, chicken or pork along with fixings good enough to stand on their own merit.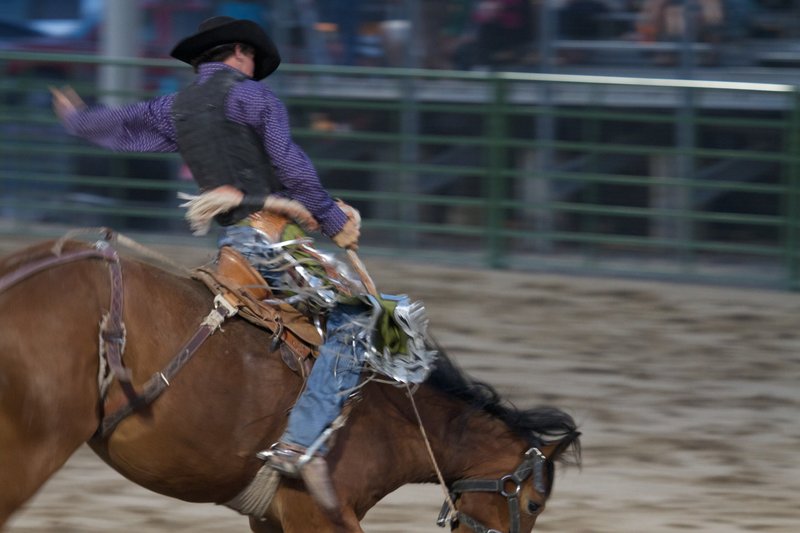 flickr/Brian Gratwicke
The Jackson Hole Rodeo is another evening entertainment option—romping, stomping antics include calf roping, bull riding and barrel racing. Shows occur on Wednesday and Saturday evenings (and select Fridays) in summer at the rodeo grounds on Snow King Avenue.