About Key West To its rocky shores, sandy beaches and weathered homes reminiscent of a coastal New England town, Key West adds another feature: its subtropical climate, which nourishes lush vegetation, especially palm trees, hibiscus and bougainvillea. Ship carpenters, using wooden pegs instead of nails, built many of the older houses, which are predominantly Bahamian in architecture.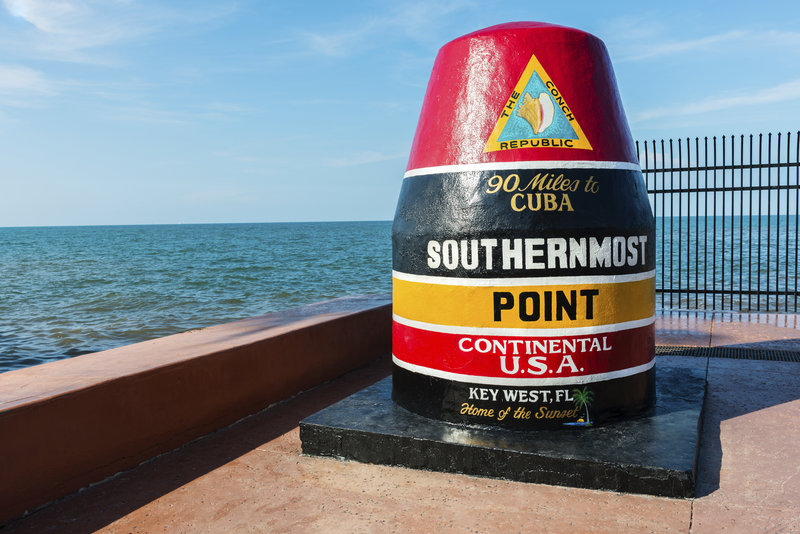 no_limit_pictures/iStockphoto.com
The southernmost city in the continental United States, Key West once served as a base of operation against pirates; today it is the southern terminus of the scenic Overseas Highway (US 1). The prosperity of mid-19th century Key West was based on the thriving salvage business. At one time these enterprises provided the town with the highest per capita income in the nation.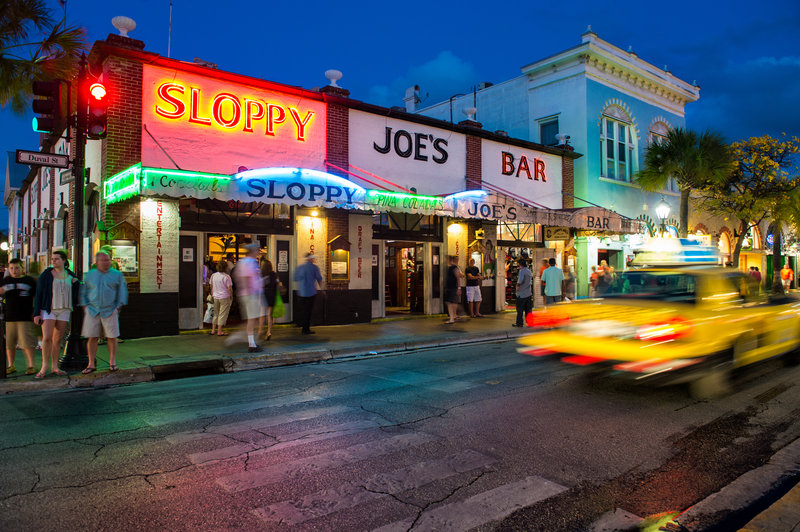 Shutterstock.com/Daniel Korzeniewski
Because of its proximity to Havana, about 90 miles south, the town was later a haven for Cuban political exiles. San Carlos Institute on Duval Street dates from the late 19th century, when it was used as a meeting place for the local Cuban community. City Cemetery on Margaret Street is the gravesite of the victims of the USS Maine, whose sinking precipitated the Spanish-American War.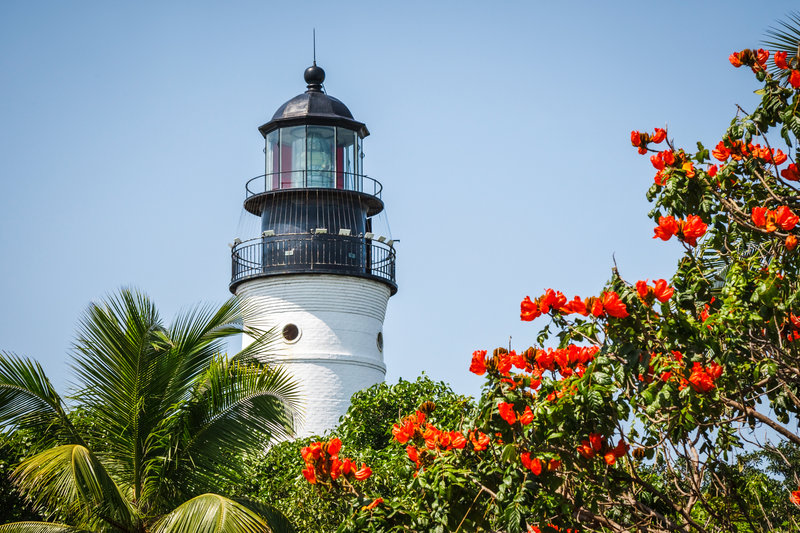 deeone/iStockphoto.com
Home at various times to Ernest Hemingway, Tennessee Williams and Robert Frost, Key West remains a popular retreat for artists and writers.
Although turtle hunting was once a major industry, federal laws protecting the endangered reptiles were enacted in the 1970s. The remains of a turtle-canning factory stand behind Turtle Kraals Restaurant & Bar on the harborfront at the north end of Margaret Street.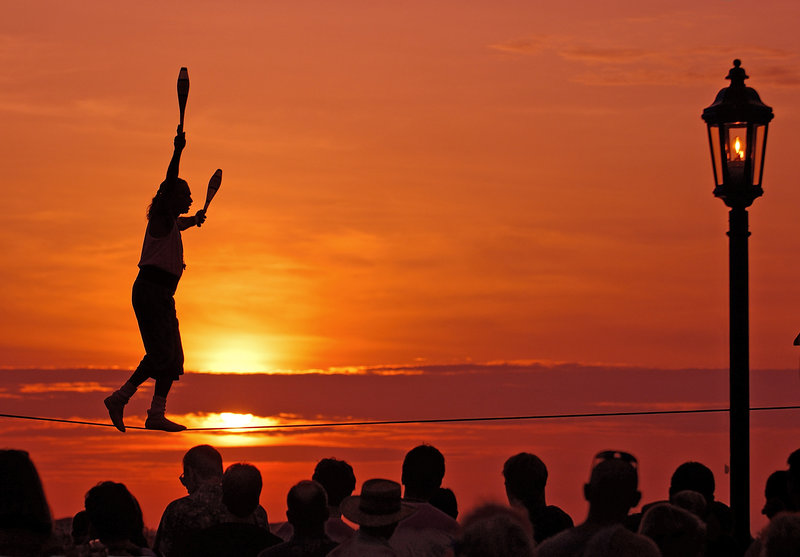 Florida Keys News Bureau/Bob Krist
Of Key West's many natural attractions, its sunsets are among the most popular. Every night, weather permitting, more than two dozen street vendors and performers gather at Mallory Square Dock in Old Town off Duval Street. Jugglers, palm readers, contortionists, musicians and other entertainers vie for the attention and donations of the many spectators who begin gathering about an hour before sunset.
Nature also puts on a daily show in the shady confines of Nancy Forrester's Secret Garden, 518 Elizabeth St., where a small garden creates a junglelike atmosphere and sanctuary for orphaned parrots. Parrot 101—a presentation about parrot intelligence—is given daily at 10. The garden is open daily 10-3; phone (305) 294-0015.
The Caribbean influence extends to the town's cuisine. Along Duval Street and its side streets, imaginative cafes and open-air restaurants serve foods ranging from gourmet specialties to ethnic snacks.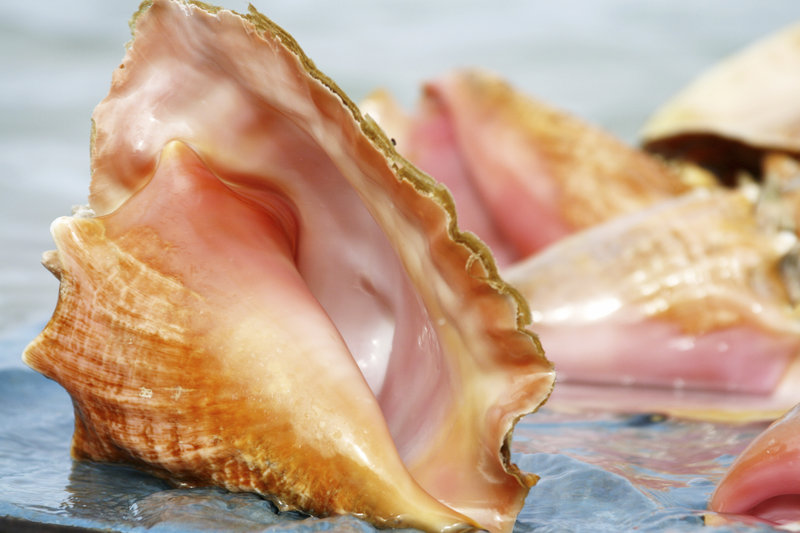 xyzphoto/iStockphoto.com
Various types of cruises, including those offering underwater viewing of the denizens of the deep, sailing, snorkeling and reef diving, depart from several private and city marinas. Deep-sea fishing trips leave from City Marina on Garrison Bight off N. Roosevelt Boulevard. Contact the chamber of commerce for more information or phone (800) 352-5397.
Note: Parking regulations are strictly enforced throughout the city. Motor scooters should be parked in the areas designated for that purpose. There is no street parking available for recreational vehicles; follow signs to designated RV parking areas. Key West Park N' Ride service is available at Old Town Garage, jct. Grinnell and Caroline sts.
Visitor Centers Key West Chamber of Commerce 510 Greene St. 1st Floor Key West, FL 33040. Phone:(305)294-2587 or (800)527-8539
Self-guiding ToursPelican Path—a route marked with pelican signs—leads visitors through historic Key West. A descriptive brochure outlining the tour and its sights can be picked up at the chamber of commerce.
ShoppingKey West's Duval Street, along with the surrounding side streets, is really the only shopping district in the Keys, with a multitude of art galleries, sidewalk cafés, souvenir shops, open-air bars, jewelry stores and boutiques stretching more than a dozen blocks, from Mallory Square to the southernmost point in the U.S. Several nationally known companies have set up shop on this street, including Banana Republic, Birkenstock, Chico's and Coach, but most of the emporiums are owned by locals and are infused with a salty-sweet Key West flavor you won't find elsewhere.
Although the Keys are sorely lacking in shopping malls, Key West does have one department store: Fast Bucks at Home (726 Caroline St.) which sells home décor and gifts; locals called its original store the Southernmost Bloomingdales.
Fresh Produce (400A Duval St.) is a chain store but its fashions are imbued with the fun-loving spirit of Key West with a rainbow array of basics in cool shades of pink, blue, green and yellow, as well as matching mother/daughter styles.
Chic urbanites who might feel like a fish out of water in the Keys will feel right at home at an assortment of up-to-the-minute boutiques on Duval Street. To satisfy your thirst for high style, there's Express (431 Duval St.) and Banana Republic Factory Store (501 Duval St.) for the hippest fashions and accessories.
Mambo on over to the Funky Chicken Store (814 Duval St.) for a selection of all things chicken, including paintings by Key West artists, home furnishings and T-shirts. Then hark back to the late 1800s, when stogies were hand-rolled in Key West's 100 or so Cuban cigar shops. Today, you can still find a few tobacconists who roll 'em like they did in the old days, including Key West Cigar Club & Smoke Shop (335 Duval St.) and Cigar City USA (410 Wall St.).
Dress yourself, your digs and your dogs with purchases from the Margaritaville Store (500 Duval St.), which caters to Jimmy Buffett fans and margarita lovers with such pieces as a "Margaritaville Mutt" dog collar, a clock emblazoned with the saying "It's 5:00 Somewhere" and Adirondack chairs painted with images representing Buffett songs, along with the expected T-shirts, hats and CDs. You'll even find that lost shaker of salt here. For more rock-inspired gear, head over to Hard Rock Cafe (313 Duval St.) for T-shirts, collectible pins and other items emblazoned with the cafe's logo. Tucker's Provisions (611 Duval St.) offers more apparel and accessories, while The Green Pineapple Wellness Center (1130 Duval St.) sells desserts and fine wines.
You'll discover a plethora of art galleries in Key West, which probably boasts the highest concentration of artists in all of the Keys. Many are located at the upper end of Duval Street from the 600 to 1200 blocks. Beginning at the 1200 block and working your way down, you'll be treated to a museum's worth of art in a wide variety of mediums, including photography, oil and watercolor paintings, sculpture, metalwork, woodwork, jewelry and hand-blown glass. Subjects go way beyond the expected paintings of dolphins, sunsets and the Hemingway House, though even the treatments of these subjects will pleasantly surprise shoppers.
At the Alan S. Maltz Gallery (1210 Duval St.), you'll find beautiful nature photography on display by the eponymous fine art photographer; his work is inspired by Florida and includes fiery sunrises and Florida wildlife. Archeo Gallery (1208 Duval St.) brings the tribal art of Africa to Key West, including masks, sculpture, pottery and metal works, along with teak Indonesian furniture and gabbeh rugs made by Iranian nomads.
Dig through the ultra-cool collection of original vintage Art Deco posters at South Pointe Gallery (1201 Duval St.). 7 Artists & Friends (122 Duval St.) features fun art by locals; the selection includes beaded jewelry, vibrant tropical paintings and whimsical sculptures.
There are many other high-caliber galleries on Duval Street; all are worth a visit. Among them are Gingerbread Square Gallery (1207 Duval St.), Glass Reunions (825 Duval St.), Island Style Gallery (512 Duval St.), Key West Gallery (601 Duval St.), Wild Side Gallery (1000 Duval St.) and Wyland Galleries (623 Duval St.).
Do take the time to explore the side streets off Duval Street; you'll happen upon even more galleries and shops deserving of your time. Art covers every square inch of the walls at Gallery on Greene (606 Greene St.); see pieces by Jeff MacNelly, known for the comic strip "Shoe," playwright Tennessee Williams and Cuban artist Mario Sanchez. Lucky Street Gallery is at 1204 White St.
Step through the doors at Besame Mucho (315 Petronia St.) and you'll swear you've been transported to France. Housed in an adorable little cottage in Bahama Village, the shop showcases an artfully arranged mix of treasures including delicate jewelry, Diptyque candles, design books, stationery, Dr. Hauschka and Kiehl's skin care products, and Tocca fragrances. Then stop at Gildea Contemporary Gallery (522 Southard St.) where you'll find more artwork, sculptures and terra cotta works.
Wander among the stacks at Key West Island Books (513 Fleming St.) and uncover tomes by Hemingway and Tennessee Williams, Cuban literature and signed editions by local writers amidst a conglomeration of new, used and rare books. At Books & Books (533 Eaton St.), you'll find everything from magazines to best sellers. Drink to Hemingway's memory with some fruit wines from Key West Winery (103 Simonton St.) including surprising flavors such as mango, watermelon, Key lime, orange and blueberry. Or honor the author of "The Old Man and the Sea" with a trip to The Saltwater Angler (243 Front St. at the Westin Key West Resort & Marina) for fishing supplies on the fly. The avid angler will find lures, fly rods and fly reels, men's and women's clothing, caps and visors and marine art.
Should you forget to pack a pair of sandals (and you will need some in the Keys), get a brand-new handmade pair at Kino Sandal Shop and Factory (107 Fitzpatrick St. near Mallory Square), open since 1966. You can watch while sandaleros make a pair to your specifications; they're very inexpensive to boot. To complete your island look, check out Assortment Inc. (514 Fleming St.) for the latest in quality men's attire, including Peter Millar and Martin Dingman.
NightlifeIn Key West, you can drink like Hemingway, carouse like a frat boy and sing along loudly to Jimmy Buffett songs, and you'll fit right in with the crowds who fill the Old Town clubs. The scene caters to those who like to party day and night; bars open between 10 a.m. and 11 a.m. and close between 2 a.m. and 4 a.m. Do the Duval Crawl and check out as many bars as you can, but don't ignore the clubs that are off Duval Street's well-beaten path; they're some of the most legendary in town.
Key West is rife with open-air bars, all the better to take advantage of the year-round balmy climate. The Bull & Whistle (224 Duval St.) has three levels: an open-air bar with live bands on the first floor, a pool hall with balcony (the better to watch the crowds below) on the second floor and the clothing-optional Garden of Eden on the roof. Phone (305) 296-4565.
Your prototypical Key West cantina, the Hog's Breath Saloon (400 Front St.) is a great place to pull up a barstool and ogle the tourists while chugging an icy brewski and chasing it with a Key lime shooter, or while slurping oysters on the half-shell from the raw bar and being filmed on the web cams. Schooner Wharf Bar (202 William St.) sits by the dock of the bay with a scenic view of the historic seaport. This place is downright magical, literally—a house magician performs most Wednesday through Sunday nights. At night, the party gets started with live music and dancing. Phone (305) 296-4222 or (305) 292-3302, respectively.
Continue your hunt for local music at Smokin' Tuna Saloon (4 Charles St.), which is a hub for songwriters. Phone (305) 517-6350.
Island Dogs Bar (505 Front St.) transforms itself from a sports bar to a live music venue or trivia ring as easily as the breezes that blow through the open air space near Duval St. Pull up a chair and people watch as the servers bring you a cold beer or creative cocktail, like their signature Key Lime Martini. They'll even quench your four-legged friend's thirst with his own water bowl. Try the shrimp BLT or Baha fish tacos if you're hungry. Phone (305) 509-7136.
At Capt. Tony's Saloon (428 Greene St.), you'll find an odd assortment of curiosities: Bras, business cards and license plates are tacked to the walls, a live tree pierces the roof, a gravestone is imbedded in the floor and a skeleton hangs behind the bar. Past habitués at the site of Hemingway's favorite haunt, the original Sloppy Joe's, include Truman Capote, Jimmy Buffett, Tennessee Williams and Elizabeth Taylor; if only the walls could talk. Try the Pirate's Punch, the house specialty, and catch local musicians most nights at Key West's oldest bar, open since 1851. Phone (305) 294-1838.
Sloppy Joe's bar was moved to 201 Duval St. after a dispute with the landlord over a rent increase, so while the current location isn't the original Hemingway hangout, the literary legend spent plenty of time there. Imbibe in a generously poured cocktail just like Papa did in the good old days. The bar serves up tasty sandwiches, pizzas, salads and snacks, too, and there's a large stage that's almost never devoid of a rockin' band. Phone (305) 294-5717.
Hang out with the locals at the Green Parrot Bar (601 Whitehead St.) which some say has the world's coolest jukebox; artists range from B.B. King and the Velvet Underground to Koko Taylor and the Rolling Stones. But don't start crying into your beer when the sad songs play—a sign on the wall says "No snivelling." Note that things get rowdy as the evening progresses and when bands play most nights. Phone (305) 294-6133. The Porch, 429 Caroline St., serves craft beer and wine; phone (305) 517-6358. And you can find more beer taps at The Waterfront Brewery, 201 William St.; phone (305) 440-2270.
Let your inhibitions run wild at Bourbon St. Pub (724 Duval St.) and 801 Bourbon Bar (801 Duval St.), a duo of gay dance clubs with drag shows, male go-go dancers and high-energy dance music. Phone (305) 293-9800 or (305) 294-4737, respectively. Shake your groove thang at Aqua (711 Duval St.), a gay nightclub with live musicians, karaoke, drag shows featuring the Aquanettes, and DJs spinning tunes from the 1950s to the present; phone (305) 294-0555. Come taste the wine and hear the music play at The Cabaret at La Te Da (1125 Duval St.). This classy supper club attracts national drag acts of the highest caliber doing spot-on impersonations of celebrities like Cher, Marilyn Monroe and Madonna. Phone (305) 296-6706.
Party people get raucous around the clock at Rick's/Durty Harry's entertainment complex (202 Duval St.). The venue comprises eight clubs, including a dance club, rock and roll and sports bar, and the Red Garter Saloon, a strip club. If you're looking for music that breaks the sound barrier, wet T-shirt contests and cheap drinks, this is the place for you. Phone (305) 296-5513.
For those who might get the impression that nightlife in the Keys is all grit, no glamour, well, guess again. There are a few boîtes with urban flair tucked in among the multitude of beer joints. Sophisticates can smoke a stogie and have a tipple (a single-malt scotch or a crème de menthe, perhaps?) at Berlin's Cocktail and Cigar Bar in the A & B Lobster House (700 Front St.). Check out the well-stocked humidor and backgammon tables, and tap your feet to Sinatra-era tunes as a pianist tickles the ivories on the baby grand; phone (305) 294-5880. Mix locals and tourists, swinging bands, a loungey vibe and great martini specials, then shake, and you have Virgilio's Key West Martini Bar (524 Duval St.); phone (305) 296-1075.
Things to Do Audubon House and Tropical Gardens
Dry Tortugas National Park Ferry
Ernest Hemingway Home and Museum
Florida Keys Eco-Discovery Center
Fort Zachary Taylor Historic State Park
Harry S. Truman Little White House
Key West Butterfly & Nature Conservatory
Key West Shipwreck Treasures Museum
Key West Tropical Forest & Botanical Garden
Key West Garden Club and Joe Allen Garden
Recreational Activities
Kayaking Lazy Dog Adventures