Las Vegas Nightlife "The City That Never Sleeps" lives up to its nickname. There's no shortage of things to do thanks to the velvet rope nightclubs and ultra-sleek lounges that are a fixture in nearly every hotel-casino on the Strip. The Vegas club scene is littered with celebrity names—tabloid and otherwise—but the insanely long lines outside the hippest hot spots means there are still lots of regular folks who want to boogie with the beautiful people and are willing to pay a $30 (and up) cover charge to do so.
If you're itchin' to hit the clubs during your trip, here are a few tips on getting past the bouncers. Ladies, dress to impress. The higher the heel and the shorter the skirt, the better your chance of getting inside before 2 a.m. Gentlemen, no backwards baseball caps, baggy pants or sneaks; the standard nightclub uniform is a button-down shirt (usually expensive, and always one size too small) and either dress pants or a $150 pair of jeans. Most clubs don't heat up until 11 p.m. or midnight. If you're not on "the list," line up by 10 p.m.
Many clubs set aside tables for the extortionate practice known as "bottle service." Reserving a table usually requires that you buy several bottles of booze at sky-high mark-ups. If your wallet's fat, this is the fast track into nearly every club. Call your destination ahead of time or talk to the doorman when you arrive. Note: It's not a good idea to purchase so-called "VIP" nightclub passes from freelance hawkers on the Strip. Though the passes are usually legit, the promise of VIP treatment is almost always a scam. At the club you'll wait in line just like everyone else.
Luxury High-Energy Nightclubs
The chic indoor/outdoor poolside patio and top-drawer DJs at XS (in the Encore Las Vegas, 3131 Las Vegas Blvd. S.) draw an exclusive A-list crowd that doesn't sweat the stratospheric bar tabs; phone (702) 770-7300. Celeb sightings abound at Tao (in The Venetian, 3377 Las Vegas Blvd. S.), an Asian temple-themed swankatorium with high-energy dance floors, VIP sky boxes and an outdoor terrace overlooking the Strip; phone (702) 388-8588.
Omnia (in Caesars Palace, 3570 Las Vegas Blvd. S.) occupies the three-level venue formerly inhabited by the infamous PURE nightclub. Under the main room's massive, UFO-like chandelier, a mass of sweaty bodies grooves to EDM beats spun by big-name DJs; phone (702) 785-6200.
Marquee Nightclub (in The Cosmopolitan, 3708 Las Vegas Blvd. S.) offers the requisite luxury atmosphere (with eye-popping drink prices to match) and is one of the Strip's foremost miniskirt magnets; phone (702) 333-9000.
Chill Clubs and Live Music
Five-level Hakkasan (in MGM Grand, 3799 Las Vegas Blvd. S.) has a high-end restaurant, chill-out lounge and massive, state-of-the-art nightclub boasting superstar DJs; phone (702) 891-3838. Down the street at Mandalay Bay (3950 Las Vegas Blvd. S.), LIGHT Nightclub features aerialists performing above the gyrating crowd; phone (702) 632-4700 for table reservations.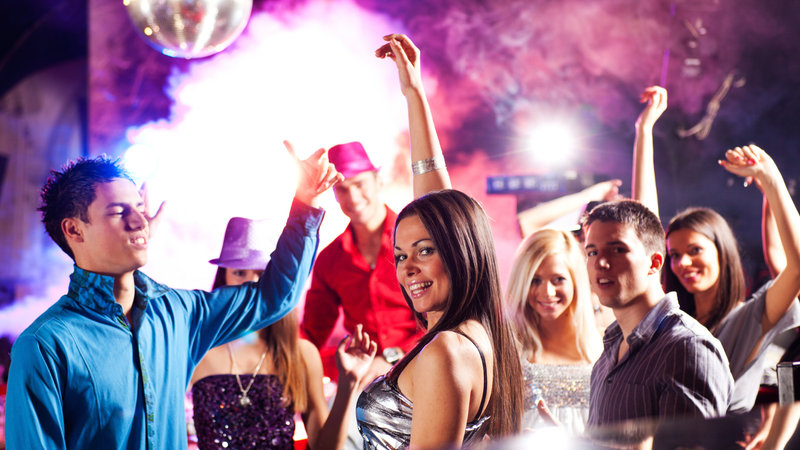 skynesher/iStockphoto.com

For years, rock and pop bands scratched Vegas off their tour itinerary because the city lacked decent mid-size concert halls. That has changed with the opening of more intimate live music venues. Rocker dudes and chicks pack the high-tech Hard Rock Cafe on the Strip (at 3771 S. Las Vegas Blvd., in the Showcase Mall); phone (702) 733-7625. There's a House of Blues at Mandalay Bay (3950 Las Vegas Blvd. S.); phone (702) 632-7600. Mega-successful musician Carlos Santana performs as the venue's resident headliner. Pearl Concert Theater (in Palms Casino Resort, 4321 W. Flamingo Rd.) features top-notch touring acts; phone (702) 944-3200. The Chelsea (in The Cosmopolitan, 3708 Las Vegas Blvd. S.) has a capacity of about 3,000 and regularly books big names; phone (702) 698-7000.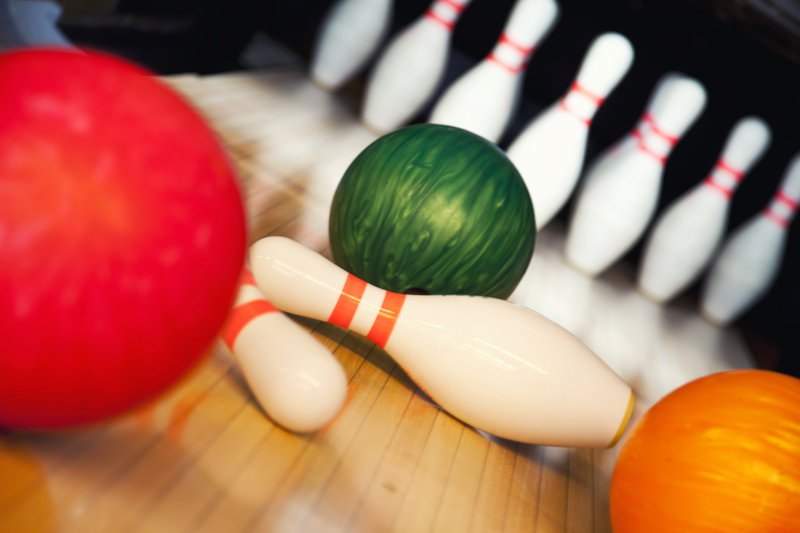 ozgurcankaya/iStockphoto.com
One of the Strip's newer live music hot spots, Brooklyn Bowl (in The LINQ complex, 3545 Las Vegas Blvd. S.) rolls an intimate concert venue, a bowling alley and an excellent restaurant/bar into one cavernous space that can only be described as carnival sideshow meets industrial-chic bordello. If you don't have tickets for the evening's show, drop by the bar for a late afternoon drink and chances are good you'll see and hear the night's headliner performing their pre-gig sound check; phone (702) 862-2695.
Cocktails With a Relaxed Vibe
Napoleon's (in Paris Las Vegas, 3655 Las Vegas Blvd. S.) ditches thumping dance beats and Jägermeister shots in favor of champagne toasts, live jazz and dueling piano performances; phone (702) 946-7000.
CityCenter's ARIA Resort (3730 Las Vegas Blvd. S.) has a nice mix of refined bars and lounges. Two worth checking out are Lift Bar and the super-swank ALIBI Cocktail Lounge . Enjoy the posh ambience of the Baccarat Lounge at the edge of the Baccarat Room. Phone (702) 590-7111 for general ARIA Resort information.
Ring-a-ding-ding. Old-school Vegas lives at the Fireside Lounge at the Peppermill (inside the Peppermill coffee shop, 2985 Las Vegas Blvd. S.), a dimly lit early '70s throwback decked out with velvety couches, pink neon, mirrored ceilings and a magic water-and-fire pit. Some of the vintage cool has been spoiled by the addition of flat-screen TVs, but after downing a few of the seriously stiff tropical cocktails it doesn't really matter. Phone (702) 735-4177.
Fun Places to Go for Country Music
If all this sounds too highfalutin, pull on the Tony Lamas and go to town at Toby Keith's I Love This Bar & Grill (in Harrah's, 3475 Las Vegas Blvd. S.). The bartenders are jovial, the pours generous, and live country music kicks off every night at 9 p.m.; phone (702) 369-5000.
Gilley's BBQ (in Treasure Island, 3300 Las Vegas Blvd. S.) has live country bands (or DJs), line dancing, Southern barbecue and of course a mechanical bull ($10 per ride). Try not to let the high drink prices get you riled; phone (702) 894-7111.
Another fave with the Stetson set is PBR Rock Bar and Grill (at Planet Hollywood's Miracle Mile Shops, 3663 Las Vegas Blvd. S., #730), where you can tip back an ice-cold Bud on the Strip-side patio, or hang inside and laugh at booze-emboldened daredevils getting thrown by the mechanical bull (FYI, city slickers: PBR stands for Professional Bull Riding); phone (702) 750-1685.
Tired and thirsty from wandering the Strip? Beer Park offers an impressive selection of other frosty brews. This rooftop covered patio at Paris Las Vegas (3655 S. Las Vegas Blvd.) is a great spot to kick back and people-watch or catch a game on one of the big screens; phone (702) 444-4500. Tip: If you haven't made it to the Bellagio yet to view the fountain show, grab one of the terrace tables for a prime position from which to observe the dancing waters.
In front of Harrah's (3475 Las Vegas Blvd. S.), the outdoor Carnaval Court Bar & Grill has "flair" bartenders (think Tom Cruise in "Cocktail") and rock and funk cover bands that play to raucous crowds not interested in the velvet rope scene. There's usually a cover charge on weekends; phone (702) 693-6138.
Places to Eat
Several establishments add grub to the partying. Margaritaville (in the Flamingo Hotel, 3555 Las Vegas Blvd. S.) is the Vegas outpost of Jimmy Buffett's wildly successful restaurant/bar chain. There's plenty of tequila on hand for thirsty Parrotheads. The "Cheeseburger in Paradise" and fries will set you back $15 or so; Buffett tunes and classic rock blast from the sound system. Phone (702) 733-3302.
The Park is new on the scene of local restaurants. This outdoor space connects New York-New York, Park MGM and the T-Mobile Arena, so it's great for pre-event mingling. Enjoy patio seating at casual restaurants and take pictures by a water wall and massive shade structures that look more like works of art. Along with brews, the Beerhaus (3782 S. Las Vegas Blvd.) serves up entertainment in the form of bar games. The giant Jenga set is impressive. Phone (702) 692-2337.
It always feels like St. Paddy's Day at Nine Fine Irishmen (in New York-New York, 3790 Las Vegas Blvd. S.), where bangers and mash, Jameson shots and a wide selection of stouts fuel the party. Sip a pint on the casual Strip-front patio that has a view of the faux Brooklyn Bridge. Live Irish music begins nightly at 9; phone (702) 740-6463.
Fabulous Clubs in the Fremont
Fremont Street nightlife revolves around the popular overhead light show, people watching in between shows, casino gambling and the comp drinks that come with it. If it's live music you're after, rock bands and Elvis impersonators perform most nights on Fremont's outdoor stages. At Binion's (128 E. Fremont St.), the open-air, street-front Whiskey Licker Bar is a fun spot to rock out and knock back a few cold ones. Across the way, watch the Fremont freak show from the Golden Nugget's Bar 46 , a street-side lounge with low-pro couches arranged around a crackling fire pit. Note: Many casinos now have free plastic cup dispensers posted at their exits. Use them for your drink while walking Fremont Street, or risk a pricey citation.
Nearby, anything goes at Hogs & Heifers Saloon (201 N. 3rd St.), a self-styled dive bar with boisterous, sexy cowgirl bartenders and live music some nights; phone (702) 676-1457. Hells Angels bonus: There's free motorcycle parking directly out front.
Hops hounds head for Banger Brewing (at the east end of the Fremont Street Experience at 450 Fremont St., #135), a craft brewery and relaxed bar that offers its tasty beers by the pint, growler or in tasting flights (be sure to sample the jalapeno-infused Hefeweizen). Free brewery tours are given several times daily; phone (702) 456-2739.
A crop of hipster-geared cocktail bars inhabits the Fremont East District. At the Downtown Cocktail Room (a few steps south of Fremont at 111 Las Vegas Blvd. S.) you can sip retro cocktails in a dark, speakeasy-meets-bohemia atmosphere; phone (702) 880-3696. The Griffin (511 Fremont St.), a very un-Vegas lounge, draws a young crowd with red leather booths, cozy fireplaces and a jukebox heavy on indie rock; phone (702) 382-0577.
Commonwealth bar (525 E. Fremont St.) sports a 1920s Jazz Age decor and has a rooftop patio (live DJs on weekends) overlooking the Fremont East action below; phone (702) 445-6400. Across the street, catch a live band or DJ while channeling your inner Minnesota Fats at Backstage Bar & Billiards (601 E. Fremont St.). Pool tables run $10 per hour. There's a cover charge for live music; phone (702) 382-2227.
A blast from the past, Atomic Liquors (917 Fremont St.) opened in 1945 as Virginia's Cafe but for most of its history has been a bar, saucing everyone from movie stars (the Rat Pack and Barbra Streisand were regulars) to destitute drunks. In the '50s, crowds gathered here to watch nuclear bomb tests in the distant Nevada desert. Nowadays the only thing getting bombed is you, thanks to a nice list of specialty cocktails and draft beers. Have a drink inside the bar (complete with vintage jukebox, pressed-tin ceilings and old-school "Danger: Radiation" signs), or chill on the patio fronting Fremont; phone (702) 982-3000. Note: Though the bar is only three walkable blocks from the Fremont East District, after dark it is best to take a cab.
Travel the South Pacific Without Leaving Vegas
Staying downtown? Want to go on a South Seas liquid vacation? Take a quick cab ride to Frankie's Tiki Room (1712 W. Charleston Blvd., just west of I-15) or The Golden Tiki (3939 Spring Mountain Rd., in Chinatown). These are must-visits for fans of classic tiki-bar kitsch and rum-loaded tropical drinks; phone (702) 385-3110 or (702) 222-3196, respectively.
Off-Strip, party like it's Oktoberfest at Hofbrauhaus Las Vegas (4510 Paradise Rd.), a boisterous German beer hall/restaurant specializing in the requisite schnitzel, steins of brew and live oompah bands; phone (702) 853-2337.