Shopping in Las VegasFor decades, Sin City shopping meant shot glasses, ashtrays, snow globes, dice clocks, back scratchers and "I Lost My A** in Las Vegas" T-shirts. Fear not, tacky souvenir fans. You can still find toy slot machines and fuzzy dice just about any place in town. But over the past few decades the resorts wised up and realized that high-end designer shops could rake in any leftover cash not left behind at the high-stakes Pai Gao table. Today nearly every major hotel casino on the Strip has an upscale shopping arcade with tenants like Dior, Manolo Blahnik, Jimmy Choo and Ralph Lauren. Not only does Vegas re-create New York and Paris; the shopping opportunities for this destination now rival what you'll find in the real cities.
If you've come to Vegas expecting to find unique independent shops and boutiques they're certainly out there, although not on the Strip. To reach the burgeoning downtown Arts District and points east and west of Las Vegas Boulevard you'll need to drive or hail a cab.
Finally, if you forgot to pack the sunblock, avoid resort gift shops like the outrageously overpriced plague they are. Travel just a few blocks from the Strip, in any direction, and you'll find plenty of grocery and convenience stores just like the ones back home. On the Strip, there's a CVS Pharmacy between the CityCenter and Park MGM resorts.
Malls to Hit on Your Trip Fashion Show , in the heart of the Strip at 3200 Las Vegas Blvd. S., is Las Vegas' flagship mall. An impressive set of anchors—Dillard's, Forever 21, Macy's, Macy's Men's Store, Neiman Marcus, Nordstrom, Saks Fifth Avenue—is accompanied by a 5,400-square-foot Disney Store selling exclusive Vegas-themed items, a super-busy Apple Store (if your iPhone's on the fritz, definitely make a service appointment), smaller national chains like Lucky Brand Jeans, a sprinkling of upscale retailers and a fine selection of nearby restaurants. If you need more fun things to do, keep in mind that some weekends in the mall's center court, models strut the latest fashions during Live Runway Shows; phone (702) 369-8382 for show schedule.
The Boulevard , at 3528 S. Maryland Pkwy., a few blocks east of the Strip, is the city's oldest mall and has shops ranging from Old Navy to Victoria's Secret.
Town Square Las Vegas , just south of the Strip near the I-15/I-215 freeway interchange at 6605 Las Vegas Blvd. S., is an outdoor mall that counts Abercrombie & Fitch, Apple Store and a GameWorks arcade among its tenants. When the desert heat doesn't confine you to air-conditioned indoor spaces, take your tykes to Children's Park at Town Square (in the center of the mall), where you'll find a playground, a pint-size hedge maze and a treehouse. Kids and grown-ups are welcome to cool off in the 35-jet fountain.
Opened in early 2015, Downtown Summerlin mall at the intersection of Sahara Ave. and the CR-215 beltway (behind the Red Rock Casino Resort & Spa) is most convenient to those staying in the West Vegas area. Anchored by Macy's and Dillard's, the open-air center includes more than 125 retailers and eateries, a luxe cinema and a Saturday farmers market.
OutletsThe Las Vegas South Premium Outlets , 7400 Las Vegas Blvd. S., is an indoor mall a few miles past the south end of the Strip. It offers more than 145 outlets, including Aeropostale, Coach, DKNY and True Religion.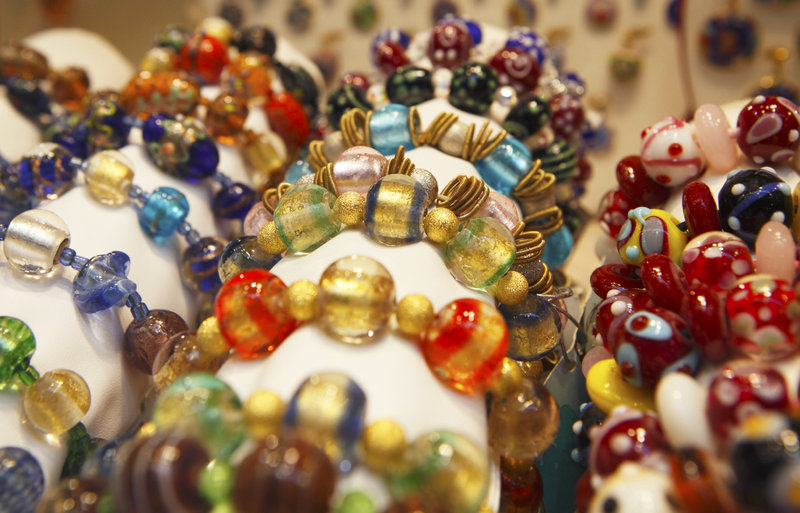 narvikk/iStockphoto.com
Explore the shops at Las Vegas North Premium Outlets , 875 S. Grand Central Pkwy. (west of downtown near the I-15 Charleston Boulevard exit). This open-air mall is hugely popular with locals and visitors alike, so if possible avoid going on weekend afternoons when the place is a madhouse and parking headaches abound. Shoppers can land deals at more than 175 outlet stores, including Dolce & Gabbana, Dooney & Bourke, Polo Ralph Lauren and Tommy Hilfiger.
Specialty Districts: The LINQ and Grand Bazaar The LINQ outdoor entertainment/shopping/dining complex, 3545 Las Vegas Blvd. S., sits just off the Strip between the Flamingo and LINQ hotels. Backed by the soaring High Roller observation wheel, this tree-lined promenade makes for a pleasant enough detour off the crowded boulevard. Among the handful of shopping spots you can browse are ladies' shoes purveyor Bella Scarpa and high-end hat shop Goorin Bros.
The open-air Grand Bazaar Shops , the newest major arrival on the Strip shopping scene, front the Bally's hotel, 3635 Las Vegas Blvd. S. The 2-acre mall hosts nearly 70 retailers and eateries occupying lengthy rows of tiny, uniformly industrial-type storefronts. And if you're expecting the usual line-up of high-end, brand-name boutiques like Prada and Louis Vuitton, think again. The bazaar is more akin to an upscale swap meet; think cellphone accessories, cosmetics, temporary tattoos, sunglasses and pro sports caps. The Swarovski boutique is gone, but the giant crystal starburst sculpture still displays a 3-minute light-and-sound show nightly at 9 p.m. and midnight.
The Forum Shops at Caesars Palace , 3500 Las Vegas Blvd. S., is an upscale complex with more than 160 specialty shops and restaurants meant to evoke a winding street in Italy. Fronting the Strip, a three-level entryway building decked out with marbled pillars and statues ushers you into this Roman-themed retail realm. In the Forum Shops proper, boutiques like Versace sell $200 sunglasses under a cloud-flecked, domed ceiling that gradually changes from cerulean blue to deep twilight and back again, giving the mall its own version of night and day.
Storefronts are clustered under portals and arches. Among the tony names at the Forum are Alfred Dunhill, Christian Dior, Fendi, Gucci and Louis Vuitton. There also are clothing, jewelry and specialty gift shops, art galleries and stores catering to kids. A central piazza is dominated by the dramatic Fountain of the Gods, which has statues of Neptune, winged stallions and two spear-bearing warriors.
Anchoring the mall's west wing, the enormous Fall of Atlantis fountain features creepily lifelike animatronic figures who star in a 10-minute, pyrotechnics-packed show about the mythical island city. Shows begin on the hour from 11 a.m. to 11 p.m. daily; admission is free. The fountain stands in the Roman Great Hall, a rotunda that also touts a wraparound video screen and a 50,000-gallon aquarium filled with tropical fish and rays. Need to kill time before the Atlantis show? Browse the hall's Martin Lawrence Galleries, where you'll covet Dalí lithographs, Warhol screen prints and plenty of other fine art you can't afford.
Also within Caesars Palace are the Appian Way Shops , a much smaller but no less exclusive arcade of shops and galleries that includes King Baby and Olive & Beauty, reliable spots to score a gift for friends or just yourself. They carry clothes, items for the home and gourmet products.
The Shoppes at Mandalay Place , on a sky bridge connecting Mandalay Bay and the Luxor, offers restaurants and an assortment of shops. Fans of pop culture memorabilia will love browsing The Art of Music gallery, which deals in autographed movie posters, album covers and sports collectibles. The store has a branch at The Mirage as well.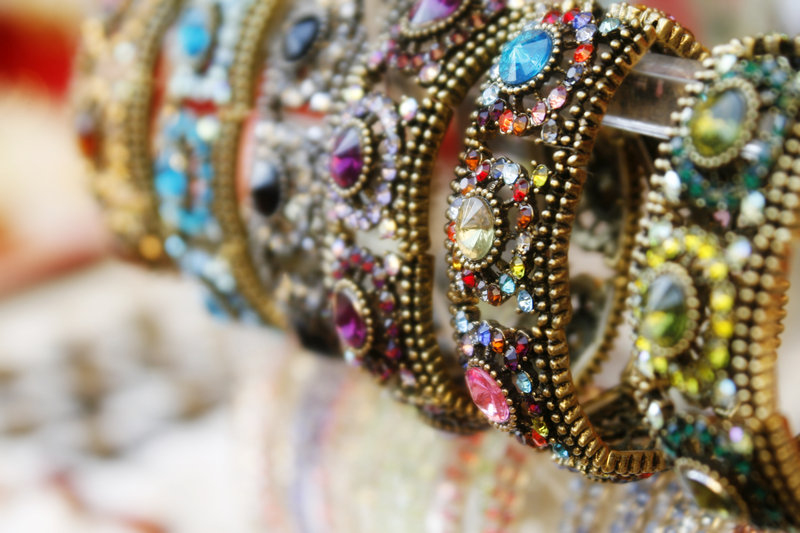 iStockphoto.com/zelg
Under a faux blue sky, more than 70 specialty stores and restaurants line a replica of a Venetian canal at the Grand Canal Shoppes of The Venetian (3377 Las Vegas Blvd. S.). "Streetmosphere" singers, actors and musicians, in addition to the Venetian Living Statues and The Venetian Trio, perform daily. Next door at the Venetian's sister hotel, The Palazzo (3325 Las Vegas Blvd. S.), The Shoppes at the Palazzo are home to Bottega Veneta, Christian Louboutin and Barneys New York.
Linking Wynn Las Vegas with Encore Las Vegas, the Wynn and Encore Esplanades are the go-to places if you have the money for exclusive boutiques like Alexander McQueen, Chanel and Wynn & Co. Watches. The rest of us will have to settle for window-shopping while sipping a $5 bottled water (from the Encore hotel gift shop).
You say you want a shopping revolution? Across the Strip and south of the Wynn are the shops at The Mirage, among them the LOVE Boutique , a groovy Beatles-themed gift shop next to the Cirque du Soleil show celebrating the Fab Four. Looking for a Sgt. Pepper lunchbox or a Yellow Submarine necktie? This is the place. Money can't buy you love, but it can buy a whole lotta "Beatles LOVE" swag.
The Bellagio (3600 Las Vegas Blvd. S.) has a handful of ritzy shopping promenades. The largest is Via Bellagio , located at the north entrance near the corner of Las Vegas Boulevard and Flamingo Road. If you enter Bellagio from either the Caesars' or Bally's pedestrian bridges, you'll cruise directly into an air-conditioned, marble-columned arcade marked by names like Prada, Armani, Tiffany and Fendi.
Across the street at Paris Las Vegas (3665 Las Vegas Blvd. S.), high-end fashion boutiques and fancy wine and cheese shops line Le Boulevard , a modest-size shopping promenade that's easily navigable when compared to the maze next door at Planet Hollywood.
The Miracle Mile Shops at the Planet Hollywood Resort & Casino (3663 Las Vegas Blvd. S.) is an extensive shopping promenade (more than 200 stores and nearly 20 restaurants at last count) named for the famed "Miracle Mile" stretch of L.A.'s Wilshire Blvd. As you stroll and stroll and stroll past stores like French Connection, H&M, Sephora and Urban Outfitters, you'll wonder why they didn't pluralize the word "Mile." Some cool Middle Eastern theme elements are visible here and there (leftovers from the mall's defunct Aladdin Hotel-adjacent days), and the setting is quite nice—people movers, crystal chandeliers and a backlit sidewalk water feature, along with a laser show, an indoor rainstorm and dancing water fountains (all shows are free and scheduled throughout the day). But when all is said and done it's still a mall.
At CityCenter, The Shops at Crystals mall (3720 Las Vegas Blvd. S.) has computer touch-screen directories that point you toward A-list stores like Prada, Louis Vuitton, Fendi and Tiffany & Co. Serving as the Strip-front gateway to CityCenter, the Crystals' exterior is a modernist, metal-clad jumble of geometric shapes. Inside the mall, a restaurant housed in an intriguing three-story, 70-foot-high "abstract tree house" is an eye-catcher.
The Cosmopolitan of Las Vegas (3708 Las Vegas Blvd. S.) has an eclectic collection of a dozen or so trendy shops, including the CRSVR Sneaker Boutique, vintage eyewear dealer RetroSpecs & Co. and the quirky Kidrobot, featuring artist-designed toys for kids and grown-ups. For apparel with hipster appeal check out the Vegas outpost of British clothing label AllSaints Spitalfields or DNA2050, purveyors of premium designer denim.
You'll find more retail areas, all interchangeable, at Excalibur, the Flamingo, the MGM Grand, the Luxor, the Park MGM, The STRAT Hotel, Casino & SkyPod and the Rio hotel's Masquerade Village.
Downtown at the Fremont Street Experience (Fremont Street between Main Street and Las Vegas Boulevard) vendors set up carts in the middle of the pedestrian-only casino promenade. Novelty gifts, cheap souvenirs and T-shirts are the norm, but look closely and you may spot quality merch. If not, there are plenty of caricature artists, henna tattoo booths and street performers ready to divest you of a few bucks.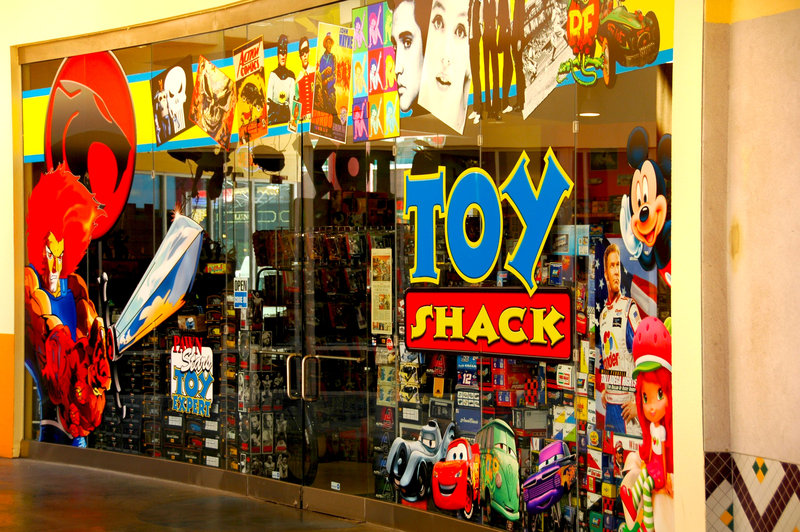 Eli Ellison
At Fremont Street's open-air Neonopolis mall, Toy Shack (450 Fremont St., #117) is a trip down childhood memory lane for those old enough to remember Rock'Em Sock'Em Robots and Beanie Babies. Wandering the collectible-packed aisles, yelling "I used to have that!," you'll covet bobbleheads galore, a huge selection of Hot Wheels (vintage and new) and a whole galaxy of play sets and action figures—from old-school "Star Wars" to the latest Marvel heroes. Also in the mall, a few doors away, Ultimate Sports Cards & Memorabilia (#183) deals in autographed jerseys, balls, bats and helmets, plus other rare sports collectibles. Fans of TV's "Pawn Stars," take note: The owners of both shops appear on the show as expert appraisers.
The Fremont East District is home to Emergency Arts (across from the El Cortez casino at 520 Fremont St.), an artists' co-op housed in an old medical building.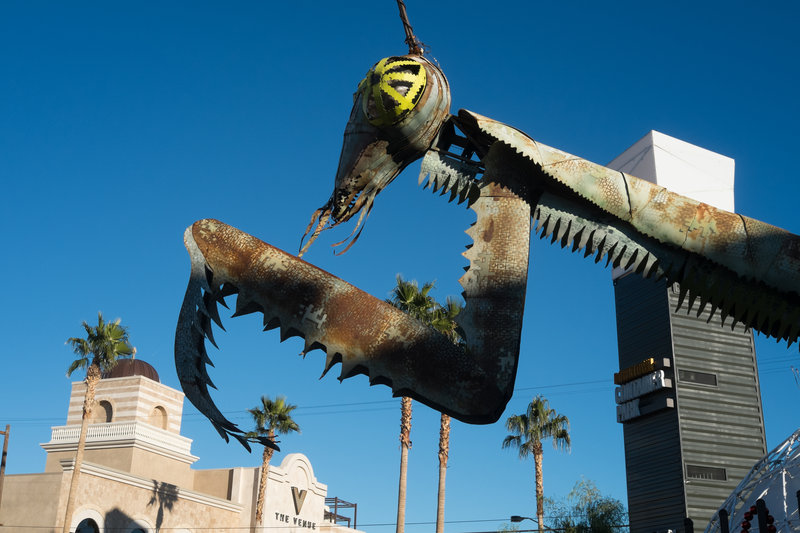 flickr/Paul Sableman
The Fremont East District's latest revitalization project, the Downtown Container Park , is an open-air shopping/dining/entertainment complex located at the corner of Fremont and 7th streets (707 Fremont St.). A 40-foot-tall, fire-spewing praying mantis welcomes you to this funky park, where independent boutiques, galleries and cafés are housed in metal cargo-shipping containers, some of them stacked three stories high. Among the more intriguing shops, BluMarble repurposes beer and liquor bottles into ingenious items; San Miguel Collection deals in Latin American art and crafts; 702DTLV traffics in trendy accessories and gifts; and Kappa Toys has play things that range from kitschy to educational.
The Container Park also hosts a handful of eateries and bars; try the cozy Bin 702 for pricey yet potent craft cocktails. Backing the complex is an outdoor live music stage. The central children's play area—boasting a climbable treehouse and 33-foot-high slide—buzzes with happy kids as long as the Vegas heat's not pushing 110-degrees. Note: Only ages 21 and older are permitted in the park after 9 p.m.; security guards at the entrance check everyone's I.D.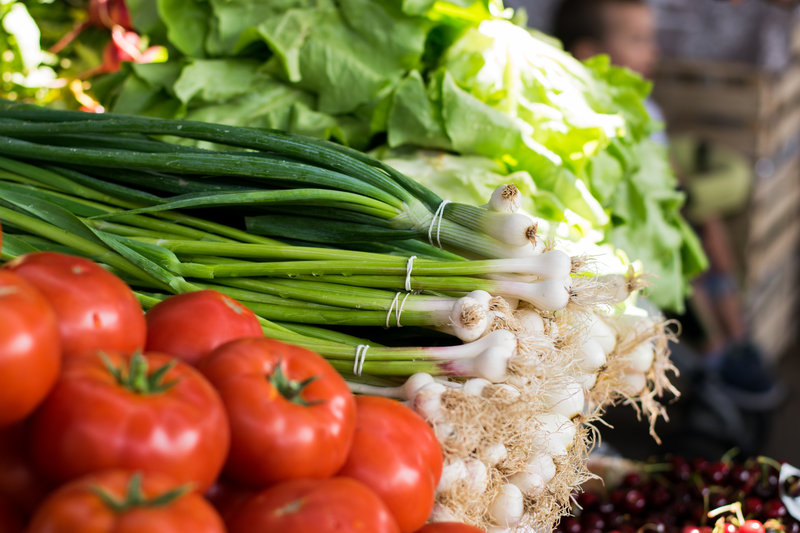 iStockphoto.com/Nevena Ristic
Near the park is The Market (611 Fremont St.), a small gourmet grocery store offering fresh produce, a deli counter, a Stumptown coffee bar and a decent selection of craft beer. If you're looking to pick up snacks and drinks for the hotel room, it certainly beats Budweiser and Cheetos from the Fremont Street liquor stores.
Just south of downtown, the Arts District (also known as "18B") is bounded by Commerce Street, Hoover Avenue, Las Vegas Boulevard and Colorado Avenue, encompassing some 18 blocks. Art galleries, antique dealers and one-of-a-kind boutiques are sprinkled among run-of-the-mill furniture stores, auto parts shops and bail bondsmen.
One way to explore the Arts District is to visit on First Fridays (held the first Friday of every month). Closed to vehicular traffic those evenings, the monthly street festival with live music, street performers, art and craft booths and food vendors makes the area one of the fun places to go in Vegas. Parking ($3) is available at Symphony Park (intersection of W. Park Avenue and Promenade Place, next to the Smith Center for the Performing Arts), where a free shuttle departs for two stops near shops and galleries that stay open late. Recently, the First Fridays event expanded to include the Fremont East District. A free shuttle runs between the two districts and can be boarded in front of the Downtown Container Park.
If you do the Arts District on your own, check out these worthwhile destinations. A hot pink storefront announces Retro Vegas (1131 S. Main St.), an intriguing antiques emporium filled with kitschy furniture (think amoeba-shaped coffee tables and retro dinette sets), artwork and all sorts of vintage odds and ends. You'll find a similar inventory and slightly cheaper prices down the street at Vintage Vegas Antiques (1227 S. Main St.). The Funk House (1228 S. Casino Center Blvd.) is covered in murals and loaded with 1950s and '60s antiques, art glass, old advertising signs and folk art.
Specialty StoresNo Vegas visit is complete without a spin through the mother of all junk souvenir emporiums, Bonanza Gift & Souvenir Shops (2440 Las Vegas Blvd. S.). The Elvis aviator shades and fake sideburns you've been searching for? They're here. So is the classic green dealer's visor, the highly sought-after dice clock and the miniature "Welcome to Fabulous Las Vegas" light-up sign for your mantle. Need a water-squirting slot machine or a rubber tomahawk? Welcome to a 40,000-square-foot paradise perpetually packed with fellow kitsch-lovers.
Roulette wheels. Craps tables. Slot machines. Dice. Chips. Cards. You could open your very own casino with the merchandise for sale at the Gamblers General Store (800 S. Main St.), which also carries a nice selection of books and gambling-themed souvenirs.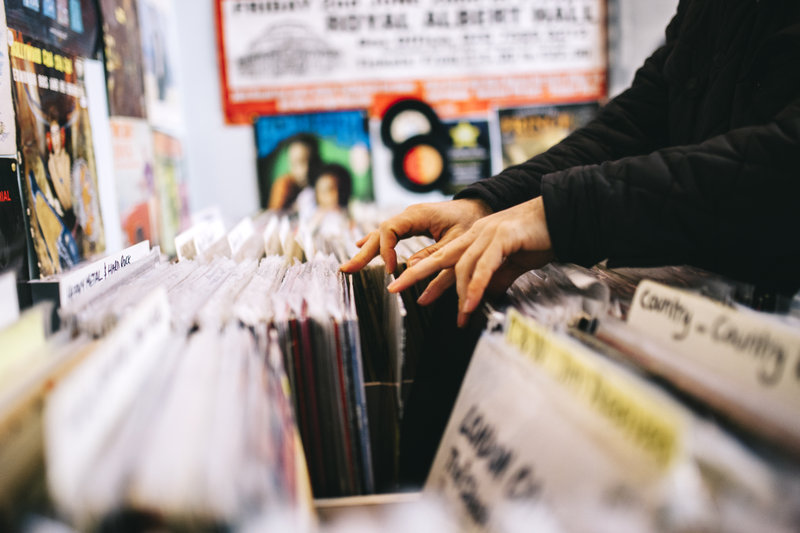 urbancow/iStockphoto.com
Digital downloads and iPods are all well and good, but for those who love album cover art, liner notes and the crackle 'n pop of vinyl there's Record City (300 E. Sahara Ave.), a used record and CD treasure trove housed in a purple brick-and-mortar bunker near the north end of the Strip. Even better, though a bit out of the way, is Zia Records (4225 S. Eastern Ave.). A new magnet for turntable nerds, tidy 11th Street Records (1023 Fremont St., between 10th and 11th streets) carries a nice, well-organized selection of used vinyl purveyed by a knowledgeable staff.
Ambling down the Strip, odds are excellent you'll spy fellow tourists toting bright yellow shopping bags from M&M's World (near MGM, fronting the Showcase Mall, 3785 Las Vegas Blvd. S.). Who among us can resist gobbling obscene amounts of the melt-in-your-mouth, not-in-your-hand treats? Judging by the crowd swarming all four floors of this super store, the answer is no one. Logo-emblazoned clothing, toys, housewares, souvenirs of every kind—they're all here. So are self-serve candy-by-the-pound dispensers and a free, 3-D animated movie that screens every 30 minutes.
Want more sugar? Your dentist will be horrified to learn that a few doors away you can wash down that chocolate with a soda from the Coca-Cola Store (fronting the Showcase Mall, 3785 Las Vegas Blvd. S.). All things branded Coke—from coffee mugs to Christmas ornaments—occupy two floors of retail space. You can even belly-up to a full-service soda fountain counter on the second level.
Fresh on the sweets superstore scene, Hershey's Chocolate World (in front of New York-New York, 3790 Las Vegas Blvd. S.) tests the willpower of Hershey's and Reese's fans with two floors full of temptations ranging from mammoth peanut butter cups to fresh-baked treats (think chocolate chip scones and Reese's cookie sandwiches). Be sure to check out the Statue of Liberty replica carved from 800-pounds of milk chocolate. The sight of it alone is enough to trigger a toothache.
The once-anonymous Gold & Silver Pawn Shop (713 Las Vegas Blvd. is a must-visit for fans of the wildly popular "Pawn Stars" reality TV series. When the show is filming (typically on weekday afternoons), there's often a long line to get in. On average the shop sees an astounding 3,000 visitors per day. That's sufficient traffic to justify installing a hot dog stand in the parking lot. Once inside you'll shuffle past the pawn counters, where fans will recognize for-sale items procured by Rick Harrison, "Big Hoss" and the gang. Doing brisk business is a gift shop section selling an array of show-related souvenirs, including "I ♥ Chumlee" bumper stickers.
Adjacent to the pawn shop's south parking lot is Pawn Plaza . A small complex of metal "cube" modules reminiscent of Vegas' Downtown Container Park, the 12,000-square-foot plaza houses several retailers, plus a few eateries to feed hungry "Pawn Stars" pilgrims.
Those seeking more places to eat should swing by Luv-it Frozen Custard (505 E. Oakley Blvd., just off the Strip near The STRAT Hotel, Casino & SkyPod). Since 1973 this tiny family-run stand has been cooling off overheated Las Vegans with frozen custard fabulousness. Try the Western Special, covered in hot fudge and caramel and topped with salted pecans.