Best Attractions in Las Vegas
In a city with dozens of attractions, restaurants and fun things to do with friends, you may have trouble deciding where to spend your time. Here are the highlights for this destination, as chosen by AAA editors. GEMs are "Great Experiences for Members."
More Than Just a Place to Stay During Your Trip
AAA/Diana Beyer
In most cities hotels are where you get some shut-eye after a day of visiting attractions. In Vegas, the hotels are attractions and contain everything from shark aquariums to wax museums. So in addition to gambling (Sin City's primary reason for being) you'll find plenty to keep you busy while away from the slots, and all under one roof. Have fun sightseeing, but do hurry back to the casino. Oh, and management thanks you.
In this town, highbrow culture is about as popular as a blackjack dealer on a hot streak. That didn't deter Steve Wynn from opening the Bellagio Gallery of Fine Art in 1998. The Vegas mogul took his art collection with him when he sold the hotel in 2000. But the museum marches on, drawing surprisingly big crowds with top-notch rotating exhibits that feature masters from Pierre-Auguste Renoir to Roy Lichtenstein, so be sure to ask your travel advisor what's on display.
AAA/Diana Beyer
If you're not into 19th-century impressionism, head on over to The Venetian Las Vegas and take a gander at the incredibly lifelike wax figures of George Clooney, J.Lo, Rihanna and more than 100 other celebrities at Madame Tussauds Las Vegas. The art of wax sculpture is taken above and beyond the usual "Who is that supposed to be?" mannequins at this highly entertaining museum.
No Need to Do the Crime or the Time
AAA/Diana Beyer
Revisit the city's organized crime days—from whackings and FBI wiretaps to the casino "skim" and all sorts of racketeering fun—at downtown's The Mob Museum, National Museum of Organized Crime & Law Enforcement. Capone, Luciano, Giancana, Gotti—all the East Coast heavies are here, too, on three levels of exhibits. See a section of the actual St. Valentine's Day Massacre brick wall, recoil at the sight of gruesome crime scene photos (aka "The Mob's Greatest Hits"), then spend the rest of the day doing your terrible Joe Pesci impression. "Funny, how?"
AAA/Diana Beyer
Those who miss the Vegas of the '60s and '70s (when the Mob pulled the strings and the valet remembered your name) often lament that the town has turned into Disneyland. They're largely right, of course. And if you live for thrill rides and roller coasters, you're in luck. The roller coaster cars at New York-New York are painted to look like Manhattan taxi cabs. The ride isn't as hair-raising as a mad dash through Midtown, but a 144-foot drop at 67 mph comes close.
Thrill Rides of the Ages for All Ages
AAA/Diana Beyer
Circus Circus Las Vegas Hotel and Casino gets a bad rap for its stuck-in-1982 casino and aging midway games (think Skee-Ball and ring toss). But behind the hotel is Adventuredome, a 5-acre indoor amusement park encased in pink-tinted glass. There are loads of up-to-date rides and games here to keep the kiddies busy. The co-starring attractions are the Canyon Blaster and El Loco roller coasters. The latter, opened in 2014, features a 90-degree "beyond vertical" drop that will make those with weak stomachs want to double back to the casino…and maybe skip local restaurants for a few hours.
AAA/Diana Beyer
A short-track, teeter totter-style coaster sounds tame, but place it atop the 1,149-foot-high The STRAT Hotel, Casino & SkyPod and you've suddenly got a doozy. X-Scream launches riders 27 feet past the edge of the tower's observation deck, headfirst. Dangling that high above the Strip will earn you daredevil points for sure. But why stop there? Strap on a harness and SkyJump off the edge of the hotel for an 855-foot controlled free fall. Those who don't have nerves of steel (that would be most of us) can enjoy panoramic views of the Strip from the comfort of this AAA GEM attraction's indoor observation deck.
AAA/Diana Beyer
Things are decidedly more tranquille at Paris Las Vegas and its half-scale replica of the Eiffel Tower. The Eiffel Tower Viewing Deck whisks you up to a caged observation deck offering a nice bird's-eye view of Caesars Palace, Bellagio, The Cosmopolitan and CityCenter. Nighttime is the right time to take in views of the Strip's neon light show. Be aware that the price for an elevator ticket goes up after 7:15 p.m.
Aiming for an even higher vantage point? Take a spin on the world's tallest observation wheel, the 550-foot tall High Roller. Opened in 2014 at the Strip's LINQ shopping/entertainment promenade, this mega Ferris wheel offers a smooth, 30-minute ride (one complete wheel revolution) aboard glass-walled passenger pods. At the wheel's apex, feast your eyes on a fantastic 360-degree panorama that's best after dark when the city lights are ablaze.
All Fun & Games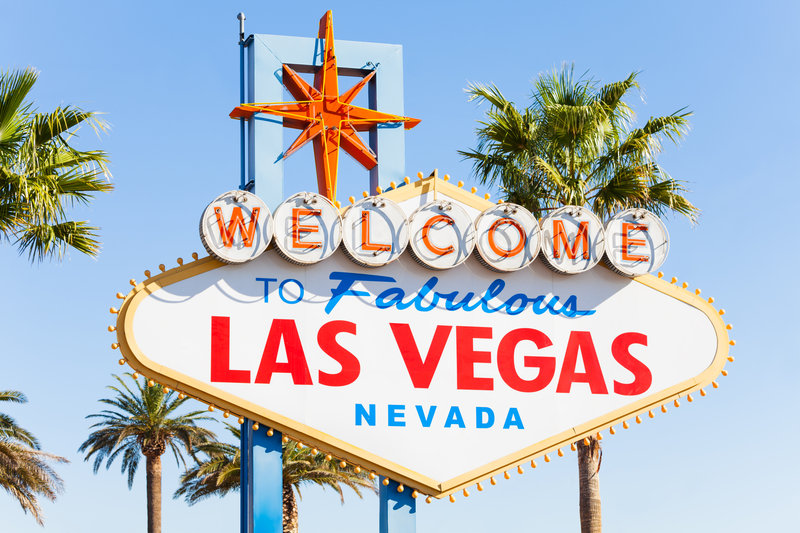 SerrNovik/iStockphoto.com
From this new Vegas landmark, head to one that's been burning bright since 1959. At the south end of the Strip, the neon Googie-style "Welcome to Fabulous Las Vegas" Sign has served as a backdrop for countless photos of giddy newlyweds, tipsy conventioneers and generations of tourists.
Downtown, fly like a superhero over the Fremont Street Experience masses on the SlotZilla zipline, which launches you from a mammoth, 12-story-high slot machine.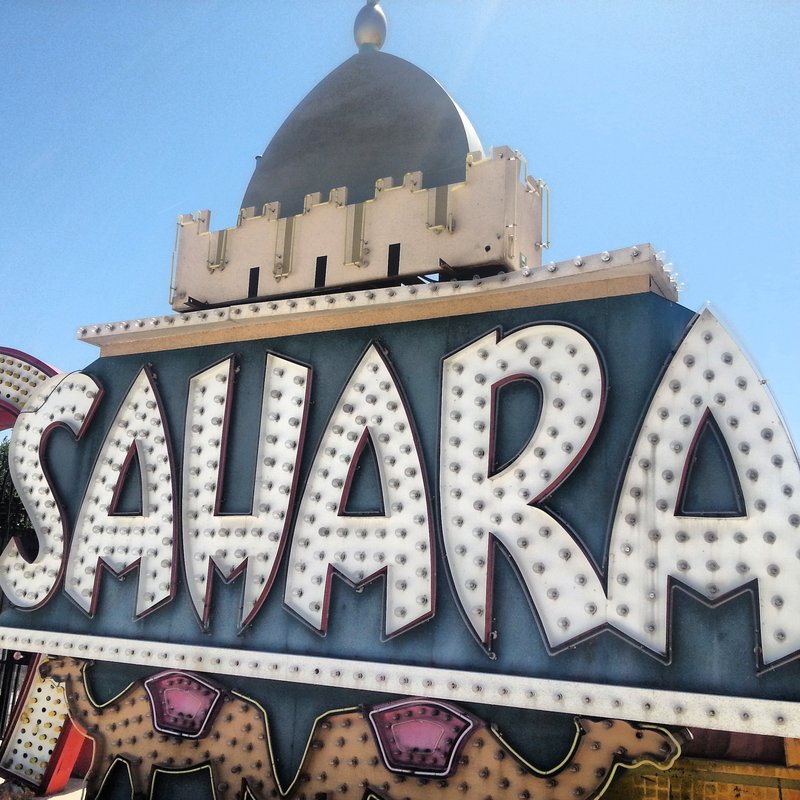 AAA/Inspector 39
There also are several vintage neon signs, fully restored and functional, between 3rd Street and Las Vegas Boulevard. The glittery Hacienda horse and rider sign is especially evocative of old Vegas.
Want more history? AAA GEM attraction The Springs Preserve has you covered with a pair of impressive museums. Geared toward kids, the interactive Origen Museum relates the area's natural history in imaginative ways. Meanwhile, the GEM Rated Nevada State Museum, Las Vegas, traces the story of the Silver State—from the prehistoric age to modern Las Vegas—using hands-on exhibits, audio stations, computer touch screens and even holograms. Your head full of knowledge, hit the preserve's 3.65-mile network of desert nature trails.
Gills, Thrills & Frills
The cougars prowling swanky Vegas cocktail lounges have nothing on the genuine man-eaters at the Shark Reef Aquarium at Mandalay Bay, billed as North America's only predator-based aquarium. From fearsomely toothed piranhas and barracuda to Komodo dragons and 15 species of shark, view more than 2,000 animals in tanks and habitats amid a setting reminiscent of an ancient jungle temple.
Relive the days of mushroom clouds and duck-and-cover drills at the National Atomic Testing Museum. It has fascinating exhibits detailing the history of the Nevada Test Site, a swath of desert north of Las Vegas used to test nuclear bombs from 1951 until 1992.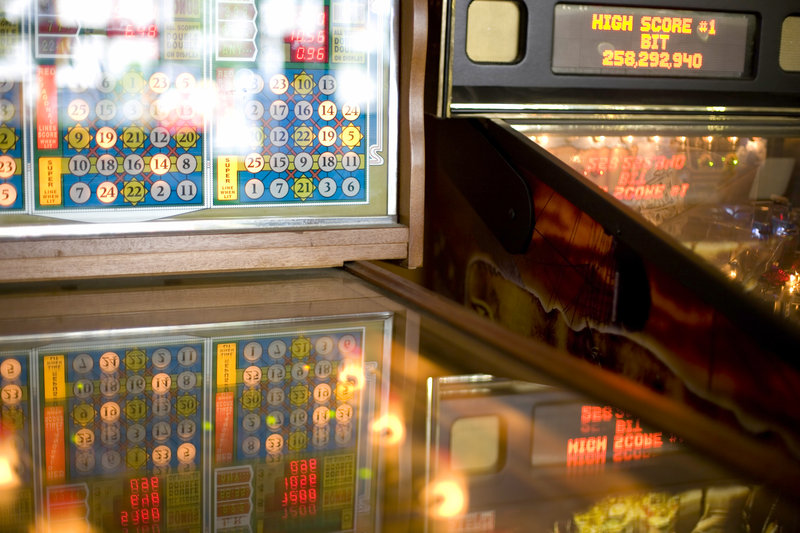 naphtalina/iStockphoto.com
The Atomic Age inspired the kitschy artwork on several of the vintage 1950s and '60s pinball machines at the Pinball Hall of Fame. The collection includes classic video games and plenty of old favorites as well as many you've probably never seen. All the machines are playable; carry plenty of coin.
Want to hear the song "Rock and Roll All Nite" for the thousandth time while putt-putting an 18-hole round at a glow-in-the-dark, KISS-themed miniature golf course? Of course you do. Par for cheesy good fun is KISS By Monster Mini Golf, located at 3700 W. Flamingo Rd. in Rio All-Suite Hotel & Casino .
Reconnect With Nature
AAA/Diana Beyer
Suffering from Vegas sensory overload? Get away from it all on a peaceful hike at Red Rock Canyon National Conservation Area, only a 30-minute drive from the Strip. The park's trails wind past outstanding red rock formations, a geological result of the Keystone Thrust Fault, and through starkly beautiful desert landscapes. To attain the aforementioned peace, avoid visiting this AAA GEM attraction on busy weekends or during school holiday weeks.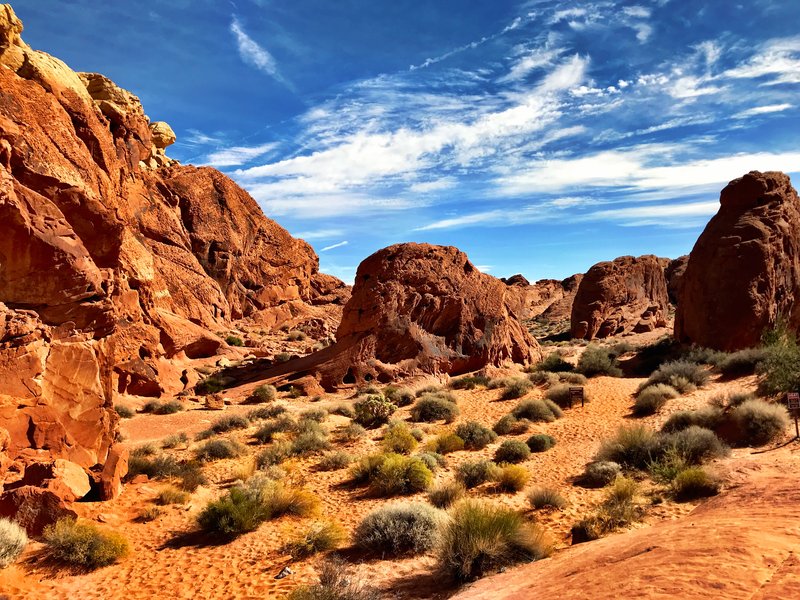 AAA/Jennifer Broome
Farther away (about a 1-hour drive) but arguably more impressive is Valley of Fire State Park. At this AAA GEM attraction, the fiery-hued rocks are more abundant, and you'll also encounter other geological wonders—a handful of small arches, beehive formations, some well-preserved petroglyphs and an oft-photographed park icon, Elephant Rock.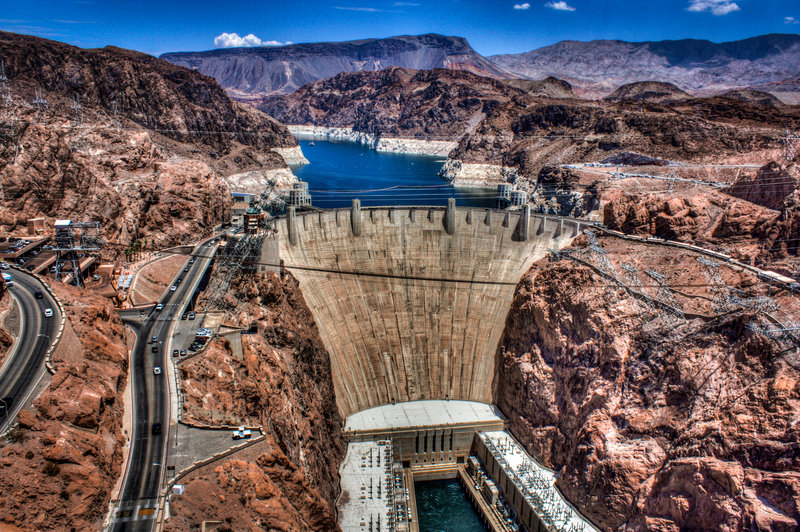 Wikimedia Commons/Shawn Hartley
It takes an estimated 5,600 megawatts (an enormous amount of electricity) to juice Las Vegas on a typical day. To see where some of that power is generated, drive 45 minutes southeast to Hoover Dam, a AAA GEM attraction. The 726-foot-high engineering marvel was built during the Great Depression. Allow time to take either the 30-minute or 1-hour guided tour of the dam's power plant.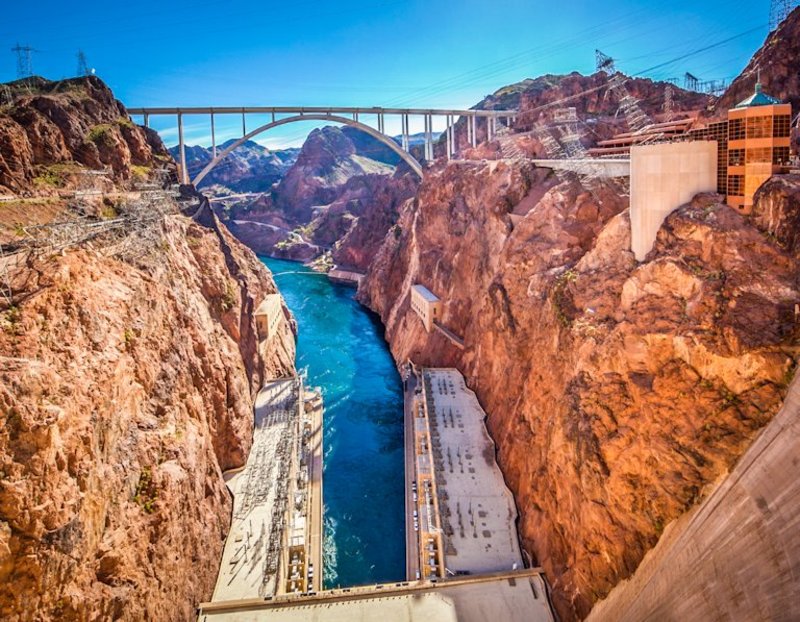 Missing35mm/iStockphoto.com
Even non-acrophobes may get stomach butterflies while strolling across the Mike O'Callaghan-Pat Tillman Memorial Bridge , the highest (840 feet) and longest (1,900 feet) arched, concrete-steel composite span in the Western Hemisphere. Located about a quarter-mile downstream from Hoover Dam, and linking Nevada with Arizona, this bypass bridge, which opened in 2010, eliminates the traffic congestion that used to be an often-unavoidable part of a dam visit. From the span's Nevada side, you'll climb a short switchback trail to the bridge walkway, where you're treated to lofty views of rugged Black Canyon, the dam and the turquoise Colorado River far below.
See all the AAA recommended attractions for this destination.