GamblingThe rattle of the "bones," then a sigh of disappointment or a cry of exultation—such are the sounds of Vegas, where gambling is by no means limited to the craps table. Slot machines, "21" or blackjack, keno, bingo, poker, baccarat, roulette and more all await the hopeful who travel to Sin City.
Gambling is easier than buying toothpaste, since casinos never close and most drugstores do. Rows of slots stand like sentries in most establishments—restaurants, gas station mini-marts, supermarkets, even Laundromats. From the airport baggage carousel area to your hotel lobby, the lure of potential fortune is omnipresent.
Tips for Beginners
Visitors who resist the temptation to gamble are rare. If you decide to take a chance during your vacation but aren't a seasoned veteran, buy a how-to book (available in most gift shops) or do some Googling beforehand and bone up. Generally speaking, beginners should never approach any gaming table without at least some knowledge of the game to be played. Many casinos provide pamphlets and some even give classes for novice players.
One downtown destination, the Golden Nugget, offers plenty of fun things to do including free daily craps, poker, roulette and blackjack lessons. For the current schedule check the casino's website, or phone (702) 385-7111. Whatever you play, keep in mind that although the state regulates casinos and gambling, odds ultimately do favor the house. We're betting you already knew that.
Poker in Vegas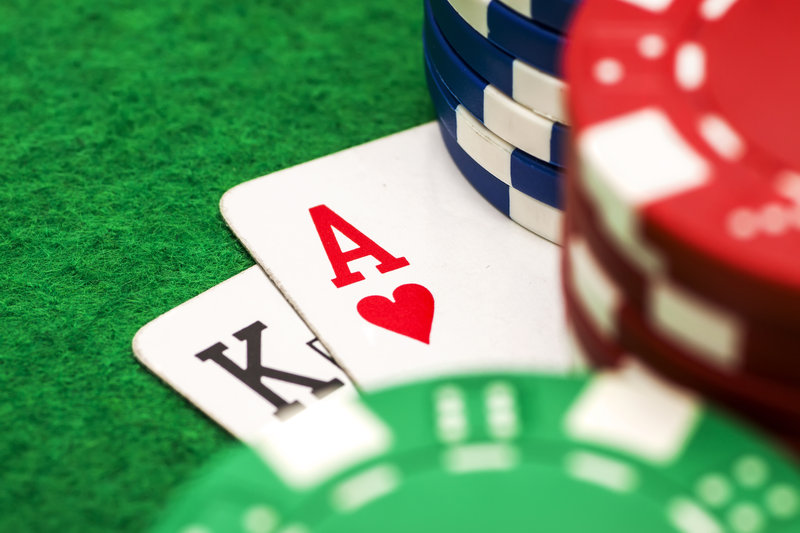 Shutterstock.com/Marques
In terms of betting and playing strategies, poker in all its permutations is the most complex. Baccarat requires a high stake to be successful, though "mini-baccarat," in which the dealer keeps the bank, provides cheaper play. The many ways of playing number combinations, the difficulty in understanding the payoffs and the speed at which it's played make craps the most challenging game of all. It also is difficult for dealers to learn. But while not for novice players, craps can be mesmerizing to watch as a spectator.
Almost every casino has a race and sportsbook. If you're looking for things to do, you can wager on practically any horse race, boxing or UFC match, or professional or collegiate event. Currently popular at the sportsbooks is "In-Running" wagering, betting on sporting events already in progress. Among the sportsbooks offering the service are those at The Cosmopolitan, the Tropicana and The Venetian.
Hitting the Slots on Your Trip
If you're a first-timer or haven't been to Vegas in ages, get your feet wet with slots or video poker machines. Though a few antiquated slots at a couple of the older downtown casinos still deal in coins, today's machines traffic in paper only. Instead of the sweet clang-clang-clang sound of your jackpot coins dropping into the metal tray, you'll feed bills into the machine's maw. When it's time to "cash out," the machine will spit out a little paper ticket with your winnings (hopefully) printed on it. You can either take the bar-coded ticket to the cashier's window ("the cage") or use one of the casino's ATM-style redemption kiosks.
Picking a potentially lucky poker machine can be tricky business. The most common machines are named "Game King" or something similar, and they let you choose from a variety of poker games (Jacks or Better, Double Bonus Poker, etc.), all with varying strategies. Before putting your money on the line, a video poker vet would advise taking a look at the machine's pay-out schedules, as some machines offer better returns than others. Complimentary cocktail in hand, we like Deuces Wild Poker. At a 25-cent machine, always bet the maximum per hand—$1.25—and always go for four or five of a kind or a royal flush. If the machine's not dealing a lot of deuces (wild), get up and walk away, fast.
Virtual Reality Gambling
Aware that some gamblers are shy and intimidated by surly dealers or fellow blackjack players behaving boorishly, the video gaming companies have rolled out machines that provide a virtual reality table game experience. Players sit around a big console similar to a regular 21 table, only the dealer is likely to be a buxom beauty projected on a video screen. Also gaining popularity are virtual craps tables, where you'll place bets on a personal touch screen and press a button to shoot jumbo-sized dice housed in a plexiglass-domed hopper. The best part? You can typically bet as little as $1 per hand. If you need ideas for fun things to do with friends, virtual reality gambling is one group travel activity to consider.