Best Attractions in Los Angeles
In a city with no shortage of fun places to go, you may have trouble deciding where to spend your time. Here are the highlights for this destination, as chosen by AAA editors. GEMs are "Great Experiences for Members."
Go Behind the Scenes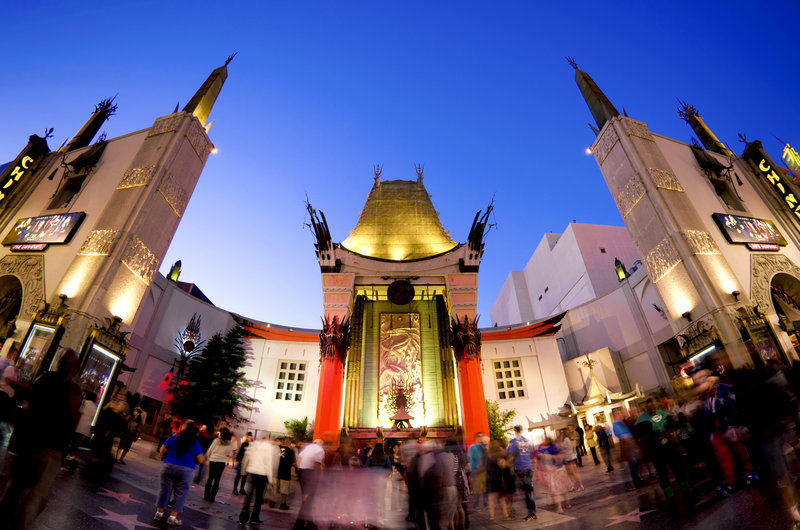 gregobagel/iStockphoto.com
Much of the "Action!" in Los Angeles revolves around the filmmaking industry. When big-screen siren Norma Talmadge stepped in wet cement on the sidewalk around TCL Chinese Theatre, a AAA GEM attraction in Hollywood, a tradition was born, even if the landmark has gone through a few name changes along the way. Since that 1927 event, nearly 200 celebrities, including Marilyn Monroe, Bob Hope and Arnold Schwarzenegger, have imprinted their palms and soles, while others have left impressions of their trademarks, such as a cigar from Groucho Marx, a fist from John Wayne and braids from Whoopi Goldberg. Tour behind the scenes of a major movie studio at Universal Studios Hollywood, a AAA GEM attraction that also thrills and chills with such hair-raising rides as Revenge of the Mummy—The Ride and Jurassic Park—The Ride, as well as entertaining shows, including Shrek 4-D and WaterWorld.
Scream Your Head Off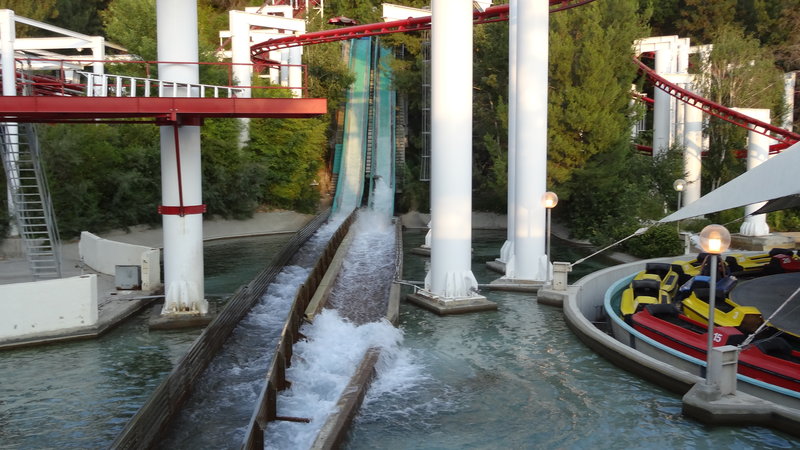 Wikimedia Commons/METRO96
Six Flags Magic Mountain, a AAA GEM attraction in Valencia, jostles you with plenty of shakes, rattles and rolls of its own. Eighteen roller coasters—including the floorless Scream!, the wooden Apocalypse, the suspended BATMAN the Ride, the stand-up Riddler's Revenge and the fourth dimensional X2—put your stomach to the test. There also fun things to do with the entire family. Your little ones will love the Canyon Blaster and Road Runner Express junior coasters; and the rides and attractions in Bugs Bunny World.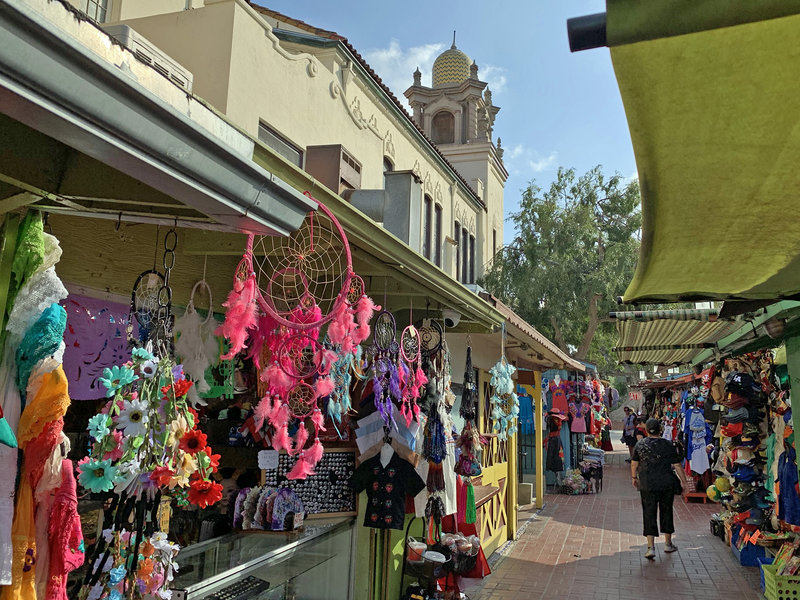 AAA/Frank Swanson
Ethnic diversity punches up the city's metropolitan flavor. Olvera Street, one of L.A.'s oldest streets, radiates Hispanic character. Peek inside the AAA GEM attraction's sidewalk shops, teeming with colorful handicrafts, or take a break for Mexican food at one of the festive local restaurants. If you're interested in a deeper exploration of the history of this area, drop in the visitor center at Sepulveda House. The hub of the city's Japanese American community is Little Tokyo, a AAA GEM attraction where you'll find the Japanese American Cultural and Community Center and the Japanese American National Museum. Shopping and places to eat abound in the perimeter defined by First, Alameda, Third and Los Angeles streets.
Trace the state's Catholic heritage at Mission San Fernando Rey de España, a AAA GEM attraction in Mission Hills. Explore the Madonna Room's statues, paintings and plaques inside the 243-foot-long colonnaded convento, said to be the state's largest two-story adobe building. The mission's church was rebuilt after a 1971 earthquake. From 9 a.m. to 5 p.m. daily, you can hear the peal of the 35-bell carillon.
A Destination for the Arts
Courtesy of Los Angeles County Museum of Art
The arts thrive in the city's museums and galleries. Explore paintings, sculpture, textiles and decorative pieces dating from ancient times to the present at the Los Angeles County Museum of Art (LACMA), a AAA GEM attraction. More than 30 exhibitions rotate through the space annually, and lectures, programs and other events complement the displays.
AAA/Sonya Hester
The striking Getty Center, a AAA GEM attraction, is as known for its exquisite collections as for the graceful feng shui influence of its design. If the creativity of such modern artists as Roy Lichtenstein, Mark Rothko, Jackson Pollock and Willem de Kooning grabs your interest, don't miss the Museum of Contemporary Art, or MOCA Grand Avenue, and its two satellite facilities: Geffen Contemporary at MOCA and West Hollywood's MOCA Pacific Design Center. Want even more modern art? Visit The Broad , which opened in late 2015. The Norton Simon Museum, a AAA GEM attraction in Pasadena, lets you ponder paintings by Claude Monet, Vincent van Gogh and Edgar Degas, among many others.
Although you can gaze into the eyes of Thomas Gainsborough's "The Blue Boy" at the Huntington Library, Art Collections and Botanical Gardens, a AAA GEM attraction in San Marino, the bigger draw here remains the awe-inspiring collection of more than 4 million library pieces. In addition to one of the world's best collections of early editions from William Shakespeare, the library possesses the handwritten draft of Benjamin Franklin's "Autobiography," a 1455 Gutenberg Bible, William Blake's "Songs of Innocence and Experience" and the "Ellesmere Chaucer," an illuminated draft of the "Canterbury Tales." You won't regret taking the time to tour the botanical gardens, particularly the Desert Garden and Japanese Garden, a Zen-centric (and aesthetically magnificent) haven of rocks and bonsai trees.
Stunning Architecture
From an architectural standpoint, you'd be hard pressed to find a more impressive representative of the Arts and Crafts movement than Pasadena's The Gamble House. In designing the winter getaway for David and Mary Gamble, brothers Charles and Henry Greene fretted over every detail in the 1908 bungalow, from the stained-glass front door and exquisite cabinetry to the hand-shaped beams and original furnishings. The University of California, Los Angeles (UCLA) campus also serves as a testimony to the impact of great design. Many buildings reflect the influence of Italian Romanesque architecture. You'll also feel a tug from the verdant paths, which encourage casual strolls, and the many cultural offerings.
Hands-On Science
Several spots give you insight into science and history. Learn about physics, space, technology and the environment at California Science Center, a AAA GEM attraction. In addition to kid-friendly, hands-on exhibits and an IMAX theater, the center is the permanent home of retired space shuttle Endeavour.
Discover Natural History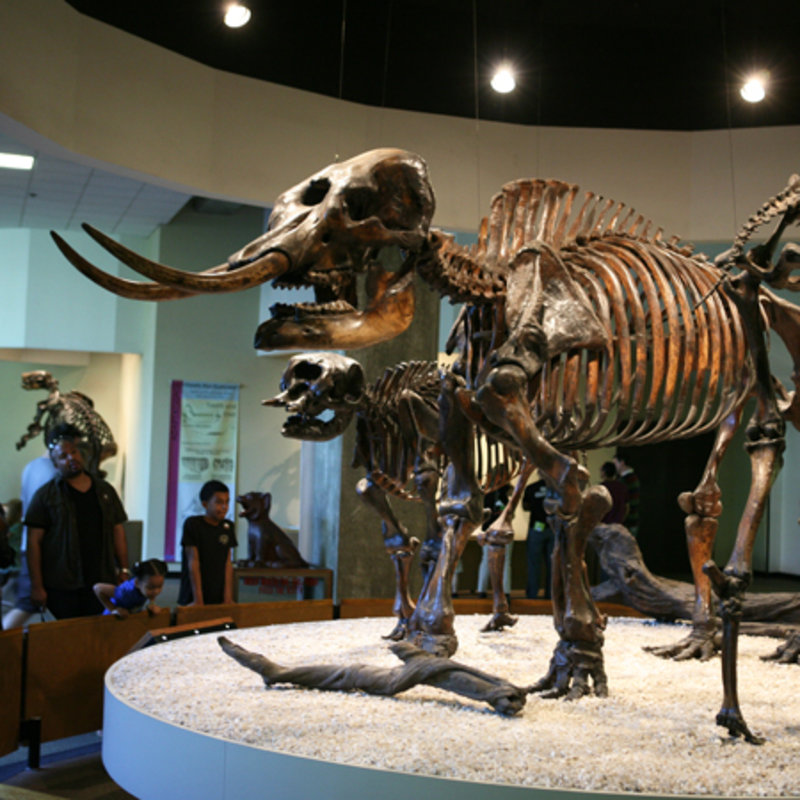 Courtesy of Page Museum at La Brea Tar Pits
At the AAA GEM La Brea Tar Pits & Museum, reconstructed skeletons of mammoths, birds of prey and saber-toothed cats give you an idea of how the landscape looked in prehistoric times. Stop to watch the paleontologists busily cleaning, identifying and cataloguing fossils in the paleontology laboratory. This focus continues in the Natural History Museum of Los Angeles County, a AAA GEM attraction that pits replicas of a Tyrannosaurus rex and a Triceratops against each other in the main foyer. The museum further branches out into exhibits of birds and marine life; collections of minerals and cut gemstones; a hall devoted to Native American culture; the beautifully landscaped Pavilion of Wings, where hundreds of butterflies flutter freely; and the Ralph M. Parsons Insect Zoo, which curbs your appetite with a daunting spread of six-legged "Fear Factor"-esque delicacies on refrigerator shelves.
Things to Do Outdoors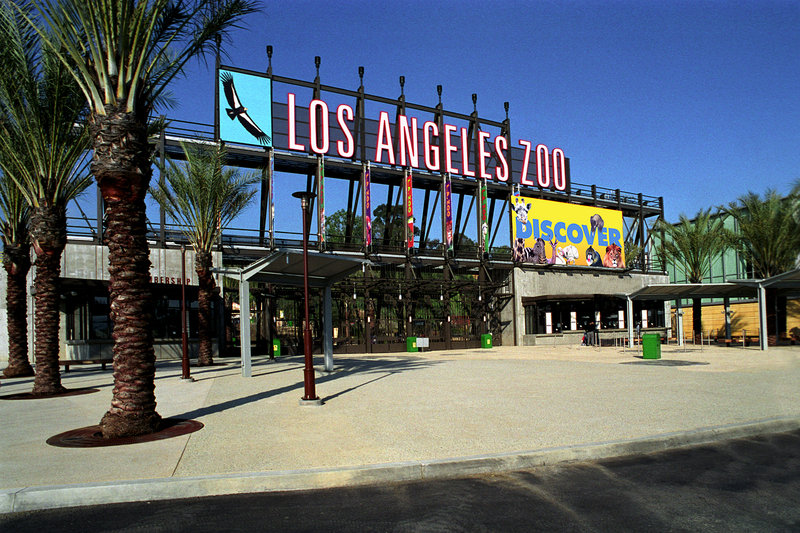 Courtesy of Los Angeles Zoo
Wide, open spaces are prized in congested, sprawling Los Angeles. AAA GEM attraction Griffith Park ambles over more than 4,200 acres, with wilderness areas and hiking trails throughout. Educational and cultural institutions, including the Greek Theatre amphitheater and Griffith Observatory, also reside in the park, as do a merry-go-round with nearly 70 elaborately detailed horses and the Griffith Park & Southern Railroad miniature train. In the northeast corner of the park, the Los Angeles Zoo and Botanical Gardens shelters more than 1,200 mammals, birds and reptiles in such exhibits as Red Ape Rain Forest, Elephants of Asia and the Winnick Family Children's Zoo. L.A. County Arboretum and Botanic Garden, a AAA GEM attraction in Arcadia, lets you wander amid 127 acres of greenery in continent-specific arrangements. Bring a picnic meal to enjoy during your self-guiding horticulture lesson.
Under the Sea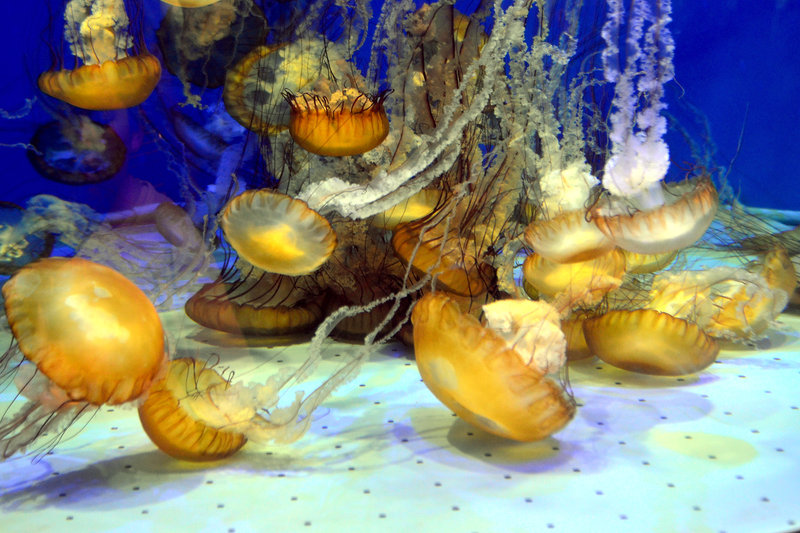 flickr / CC BY/Gnawme
Marine animals from three Pacific Ocean regions—Southern California/Baja, Tropical Pacific and Northern Pacific—swim at Aquarium of the Pacific, a AAA GEM attraction in Long Beach. Interact with the ocean's ultimate predators in the 10,000-square-foot Shark Lagoon; discover harbor seals, sea lions, sea otters and vaquita, a type of porpoise; or amble through the Lorikeet Forest aviary.
Disneyland® Day Trips and Vacation Packages
If you don't mind venturing a bit farther afield, you'll have opportunities aplenty to reconnect with your inner child at Disneyland® Resort, a AAA GEM attraction located in Anaheim that encompasses Disneyland® Park , Disney California Adventure™ Park , Downtown Disney® District and three hotels. Speak with your local AAA travel agency for more information.
See all the AAA recommended attractions for this destination.