Los Angeles in 3 DaysThree days is barely enough time to get to know any major destination. But AAA travel editors suggest these activities to make the most of your vacation time in Los Angeles.
Los Angeles and its vicinity includes Pasadena, Long Beach, Hollywood, Beverly Hills, Santa Monica and dozens of towns and beach communities. You'll need an automobile to conveniently travel around most parts of the city and its environs, but you can use public transportation to reach many of the points of interest highlighted in this itinerary.
If you're starstruck, add a fourth day to your agenda to visit Hollywood. If art floats your boat plan a fifth day to take in the city's major art museums: the centrally located Los Angeles County Museum of Art (LACMA) and its latest addition, the Broad Contemporary Art Museum, or the Getty Center on Los Angeles' west side.
Day 1: MorningBegin near the site where the City of the Angels began at El Pueblo de Los Angeles Historical Monument, a celebration of the town's multi-ethnic heritage. Join one of the guided walking tours of the complex, or visit the 1818 Avila Adobe —a replica of the oldest house in the city—along with the Chinese American Museum, the "History of Water" exhibit and other landmarks at your own pace.
A re-creation of a colorful Mexican marketplace in the midst of El Pueblo, Olvera Street is a perennial favorite with visitors. Here you'll find sidewalk shops and stalls crammed with silver, turquoise and leather handicrafts, sombreros, pottery, candles and piñatas.
Day 1: Afternoon After a busy morning, it's time to try some delicious local restaurants for lunch. You can get the whole enchilada on Olvera Street—not to mention burritos and tamales. Or hop the Metro Red Line to Pershing Square and grab a bite in the nearby Grand Central Market, a colorful mosaic of cultures with a wide variety of food choices.
From the indoor market—a great spot for people watching—walk across Broadway to The Bradbury Building , one of the city's architectural gems. Peek inside the lobby for views of the five-story, sky-lit atrium complete with wrought-iron railings, oak paneling and open-cage elevators. Or meander over to Maguire Gardens, the front lawn of the Richard J. Riordan Central Library , at the intersection of 5th and Flower streets. You don't have to be a literary type to enjoy this wonderfully imaginative and inviting greenspace and its eye-catching fountains, pools and sculptures.
There's still time to enjoy another of Downtown's highlights. Hop the DASH minibus, Route F, and zip down to Exposition Park , this city's version of Manhattan's Central Park. Take your pick of three major museums here: the California African American Museum , which offers exhibits in art, culture, and history; the kid-friendly California Science Center , with its wealth of high-tech interactive displays and hands-on labs; and the Natural History Museum of Los Angeles County , which houses everything from dinosaur bones and insect specimens to Gold Rush mementos and vintage Hollywood artifacts.
Day 1: Evening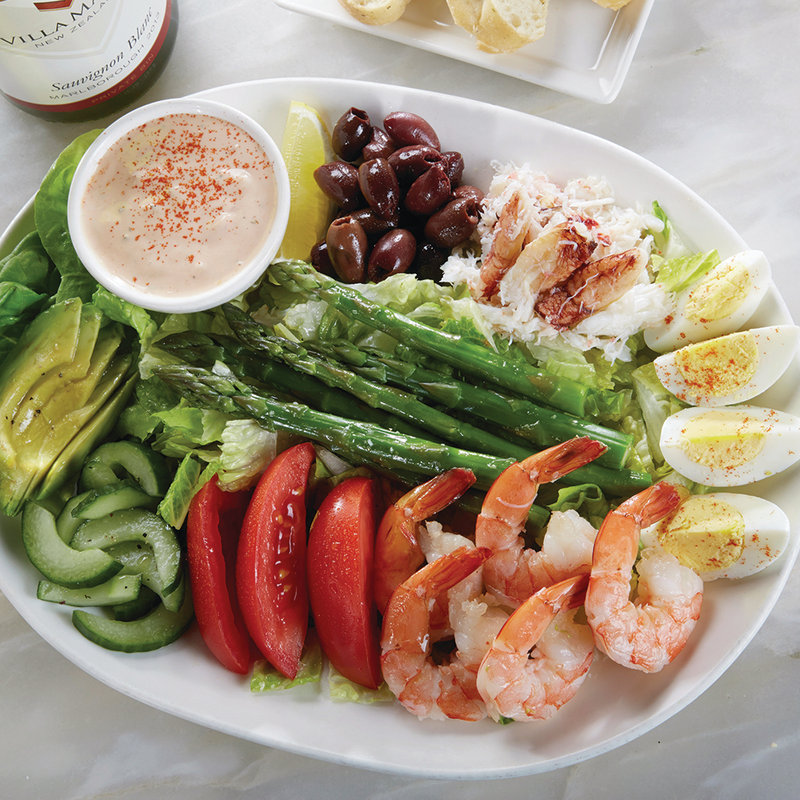 Courtesy of Palomino Restaurant
Come dinnertime, there are plenty of places to eat downtown. Dine on delicious seafood at Water Grill , or enjoy some elegant Italian dishes at Vespaio Restaurant about a block and a half from Walt Disney Concert Hall . End the evening with a stroll through the hall's elevated urban garden, or head over to The Westin Bonaventure Hotel & Suites , 404 S. Figueroa St., where you can choose between the Bonaventure Brewing Company and the rotating Bona Vista Lounge atop the hotel.
Day 2: MorningToday's agenda takes you on a trip to the Pasadena area. If you know this charming former boomtown only from its annual Tournament of Roses Parade , you'll find an embarrassment of riches in store (keep in mind that many attractions are open only in the afternoon). While an automobile would come in handy, the Metro Gold Line can take you to within a mile or two of almost any desired destination.
You can easily take in the essence of the Pacific Asia Museum in an hour or so, though you may have a hard time tearing yourself away. Then work up an appetite with a stroll down Colorado Boulevard through Old Pasadena's historic district. Keep a grip on your pocketbook (beware of antique shops and bookstores lurking in abundance).
Day 2: AfternoonFor lunch, continue the Asian theme with a pleasant sensory experience at Tibet Nepal House, or go Italian with Mi Piace. Its salads, grilled paninos and pasta dishes will more than satisfy your appetite.
No time to dawdle, however, for the wonders of The Gamble House await you. This gorgeous Craftsman-style mansion features stained-glass windows, custom furniture and sculpted woodwork.
Afterward, there's still time to take in the Norton Simon Museum. If the work of Old Masters and Impressionists—the likes of Rubens, Van Gogh, Degas, Picasso—stirs the soul, there are few places better to view and appreciate it.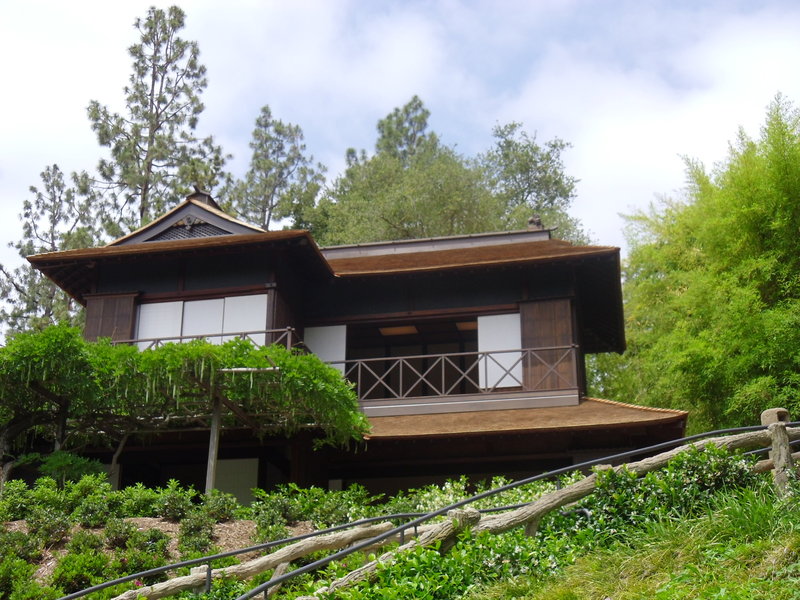 AAA/Inspector 87
An alternative plan for the day would be to visit the Huntington Library, Art Collections and Botanical Gardens in the neighboring community of San Marino. The stunning collection of rare books, manuscripts and paintings is outshone only by the gardens of railroad pioneer Henry Huntington's 207-acre estate. A visit to the Huntington is truly one of the best things to do in Southern California, but it would require the better part of your day. (Depending on the date and time of your visit, it might be possible to squeeze in one of the museums afterwards).
Day 2: EveningTreat yourself to a memorable dining experience at The Raymond 1886, a 1901 Craftsman cottage that serves up dishes as distinguished as its surroundings.
Or enjoy a down-to-earth meal at Kathleen's Restaurant, a local favorite that's also popular for Sunday brunch. Then head over to the famed Pasadena Playhouse for an evening of theater, or perhaps the city's renowned comedy club, The Ice House.
Day 3: MorningOf the region's many beach cities and towns, Santa Monica is perhaps the best choice for the first-time visitor. Having your own wheels to reach the beach would be optimum. However public transportation is doable. The Metro Expo Line will deliver you as far as downtown Santa Monica.
Your credit card company will send you love letters for kicking off the day shopping at the outdoor Third Street Promenade. Though many of the pedestrian mall's original independent stores have closed and given way to chains (think Gap, Urban Outfitters and Sephora), it's still a great spot to soak up breezy SoCal vibes and watch street performers, ranging from hip-hop dancers to singer-songwriters.
Have your own car? An alternate late-morning destination could be the world famous freak show that is the Venice Beach Ocean Front Walk, about 4 miles down the coast. Wacky street entertainers (and we do mean wacky), offbeat vendors and artists, funky shops, casual eateries, bars and bikini-clad Rollerbladers populate a roughly 2-1/2-mile-long, palm-lined boardwalk with a carnival-like atmosphere.
Day 3: AfternoonWith a patio overlooking Santa Monica's Third Street Promenade, Locanda Del Lago fills the lunchtime bill if you're craving Italian (try the pizza topped with spicy salami).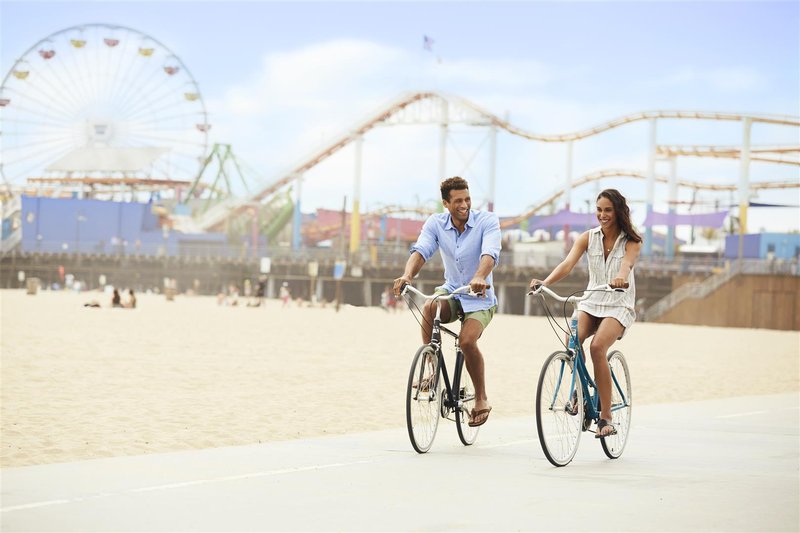 Lowes Santa Monica Beach Hotel
Satiated, stroll the pier, home to the old-school, fun-in-the-sun amusement rides of Pacific Park. Go for a spin on the solar-powered Ferris wheel. Take in ocean views from the pier-top roller coaster. Try your luck at the midway games and curse the ring-toss booth. Then poke at sea anemones and urchins in the small yet nifty Heal the Bay Aquarium.
As the sun sinks into the Pacific, behold the gorgeous, pink-streaked sky from the bluff-top park backing Santa Monica State Beach.
Day 3: Evening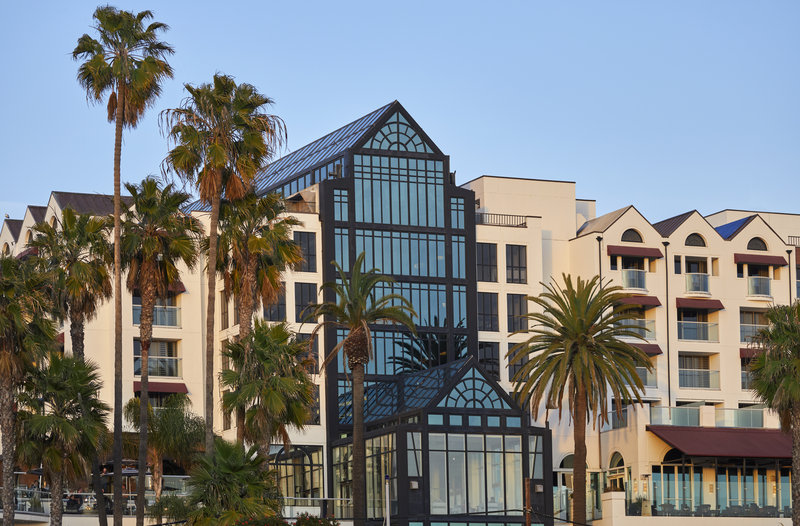 Lowes Santa Monica Beach Hotel
It's your last night in L.A., so splurge on dinner at one of two nearby restaurants located south of the Santa Monica Pier. Ocean and Vine (in the Lowes Santa Monica Beach Hotel) is sure to dazzle with its wonderful views and excellent surf-and-turf menu. Meanwhile, brace yourself for astronomical prices if instead you opt for Capo, a cozy Italian restaurant where Tuscan villa-style decor sets a romantic scene for mains like veal scaloppini and steak Fiorentina.
Too rich for your blood? Head for Santa Monica's Main Street. Along several city blocks (roughly between Ocean Park Blvd. and Rose Ave.), you'll find plenty of casual, wallet-friendly eateries as well as bars and independent shops.
Ready to shake, rattle and roll after dinner? Hop into historic Harvelle's club (opened in 1931) for a nightcap of live blues, soul, jazz or reggae.