Los Angeles Nightlife
Bars and Cocktail LoungesBefore we delve into L.A.'s bar and cocktail lounge scene, without question one of the world's finest, a few words about drunken driving: Don't do it. The LAPD means business. Pick your poison. Indulge. But call a taxi cab, please.
All nightlife venues have a Los Angeles address unless noted otherwise.
Musso & Frank Grill
Many Hollywood stars and screenwriters have frequented Musso & Frank Grill (6667 Hollywood Blvd., Hollywood), which over the years (since 1919) has seen major league drinkers like Humphrey Bogart, Raymond Chandler and F. Scott Fitzgerald belly up to the dimly lit bar. The scene is pure film noir and worth the trip alone: wood paneling, ancient wallpaper, red leather booths and bow-tied bartenders who've been shaking Musso's flawless martinis since the Eisenhower administration. If you visit only one historic Tinseltown bar, this is it. Phone (323) 467-7788.
Pig 'n Whistle
The Pig 'n Whistle (6714 Hollywood Blvd.), served milkshakes to Shirley Temple during its previous duty as a soda fountain and candy counter for Grauman's Egyptian Theater next door. These days the beautifully restored 1927-vintage building is home to a clubby bar and restaurant that mainly attracts boulevard-wandering tourists. Phone (323) 463-0000.
Pantages
At the southern end of Hollywood Boulevard, Pantages Theater pre-show crowds pack the Frolic Room (6245 Hollywood Blvd.), a classic, no-nonsense dive next door. Artisan cocktail hounds hop across the street to Wood & Vine (6280 Hollywood Blvd.), a bar/restaurant inside the historic Taft Building. The vibe is classy, yet unpretentious. Although the drinks are excellent, avoid the food. We suggest dinner beforehand at one of the many nearby restaurants. Phone (323) 462-5890 for Frolic Room or (323) 334-3360 for Wood & Vine.
Tiki-Ti
Tropical cocktail aficionados regularly rank Tiki-Ti (4427 Sunset Blvd.), the top tiki bar in the country (Hawaii included). Take one sip of the rum-loaded, knock-out punch known as "Ray's Mistake," and you too will sing Tiki's praises—that is if you're still standing. Decked out with all manner of Polynesian kitsch (tiki idols, dashboard hula dolls, Hawaiian license plates), the bar is the size of a shoe box, and you may have to wait in a short line on weekend nights. Mai Tai-loving Los Angeles doesn't mind, nor will you. (No beer or wine. Cash only.) Phone (323) 669-9381. Note: Always phone ahead. The Tiki is owner-operated, and these boys tend to take fishing trips on short notice.
Barney's Beanery
Janis Joplin once smashed a bottle of Southern Comfort over Jim Morrison's head at Barney's Beanery (8447 Santa Monica Blvd., West Hollywood), the granddaddy of West Hollywood dive bars. Director Quentin Tarantino wrote much of his "Pulp Fiction" script in Barney's well-worn Naugahyde booths. Nowadays, everyone—from frat boys to hipsters to hard luck neighborhood barflies—comes to shoot pool, watch sports on TV and rock the jukebox. Phone (323) 654-2287.
Polo Lounge
Brace yourself for a heart-stopping bar tab should you decide to rub elbows with the rich and famous at what is perhaps the most famous L.A. cocktail lounge of all, the Polo Lounge (9641 Sunset Blvd., Beverly Hills), at the Beverly Hills Hotel. Dress sharp. The only customers allowed to look scruffy are movie stars—and you will see them here. Phone (310) 887-2777.
The Standard Downtown LA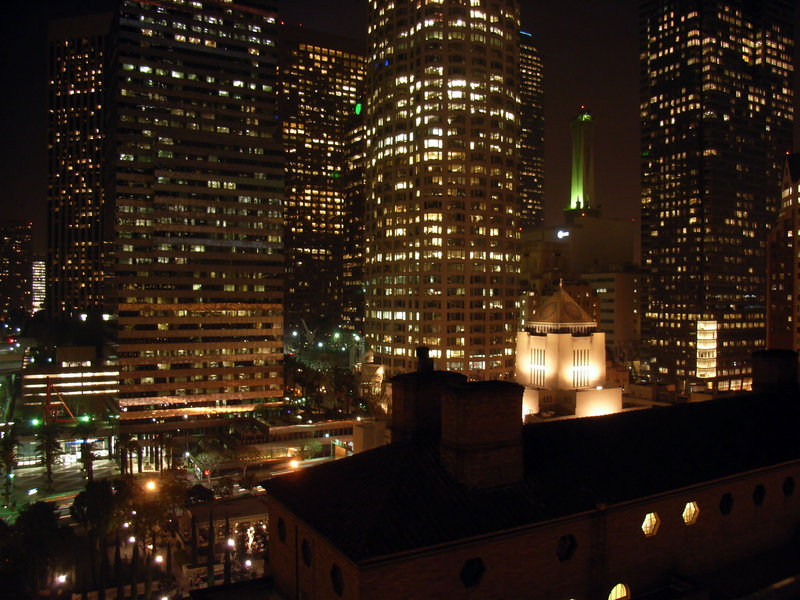 flickr / CC BY SA/Payton Chung
In the recent past, the downtown bar scene was the exclusive domain of Skid Row drunks and Charles Bukowski wannabes. That has all changed, dramatically so, with gentrification and an influx of artists' loft dwellers who demand craft cocktails, premium draft beer, praise-worthy bar snacks and Arcade Fire CDs on the jukebox. Keeping up with the ever-growing list of hipster haunts is a daunting task. Instead, here are a few spots that've stood the test of time: the open-air rooftop bar at The Standard Downtown LA (550 S. Flower St.), should crown your list. Sparkling downtown skyscraper views are the main attraction. Bring your camera. Drinks are pricey. Phone (213) 892-8080.
Gallery Bar and Cognac Room
Far less hip but a better choice for a classy milieu, the Gallery Bar and Cognac Room (506 S. Grand Ave.) is an elegant, oak-paneled cocktail lounge inside the grand old Millennium Biltmore Hotel. Potent libations come at steep prices, but remember you're paying for the ambience. Live jazz on Friday and Saturday nights. Phone (213) 624-1011.
Library Bar
Near the hotel is Library Bar (630 W. 6th St., Suite 116-A), a cozy, book-lined watering hole that looks like a Harvard professor's private study—that is if the prof were a downtown L.A. hipster. Excellent selection of beers on tap. The atmosphere is a bit trendy, but not obnoxiously so. Phone (213) 614-0053.
Lucky Strike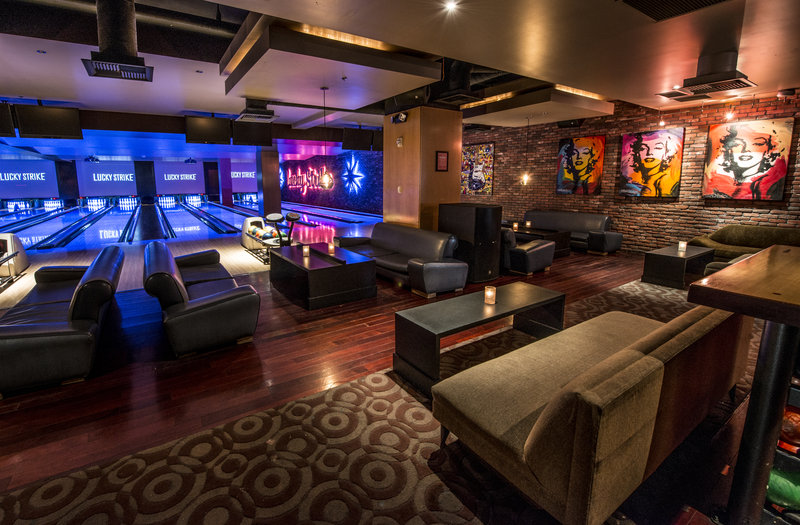 Courtesy of Lucky Strike
If you're catching a concert or a basketball game at Crypto.com Arena, cross the street to the L.A. Live dining/entertainment complex. Bowl a few frames at Lucky Strike (800 W. Olympic Blvd.), or go for craft cocktails at The Mixing Room (900 W. Olympic Blvd.) bar in the JW Marriott Los Angeles L.A. LIVE . Phone (213) 542-4880 for Lucky Strike or (213) 765-8600 for the Mixing Room.
Chez Jay
L.A.'s beach cities are home to some classic spots for an evening of imbibing. Drink like a sailor at Chez Jay (1657 Ocean Ave., Santa Monica), a nautical-themed hole-in-the-wall that's been saucing locals, tourists and celebs alike for more than 50 years. Phone (310) 395-1741.
Ye Olde King's Head
A haven for expats, Ye Olde King's Head (116 Santa Monica Blvd., Santa Monica), has everything you'd expect from a well-worn British pub: ales, dartboards, bangers and mash, and soccer matches on the telly. Phone (310) 451-1402.
Terrazza
If it's a refined cocktail and a more mature crowd you seek, try Terrazza (1910 Ocean Ave., Santa Monica), in the lobby of the Casa Del Mar Hotel. Order a martini, ease back, listen to live jazz and gaze out the two-story-high windows at the palms swaying on the beach. Phone (310) 581-5533 for Terrazza
The Living Room
In the same vein is The Living Room (1 Pico Blvd., Santa Monica), a cocktail lounge inside the Cape Cod-style hotel, Shutters on the Beach. The ocean views here are even better. Phone (310) 458-0030 for The Living Room.
Bodega Wine Bar
Old Pasadena's Colorado Boulevard has a handful of fun bars that mostly cater to the beer and TV sports crowd. Looking for things for couples to do? Bodega Wine Bar (300 E. Colorado Blvd., Santa Monica, in the Paseo Colorado shopping complex) pours surprisingly well-priced wines from around the world, including their house label from California's Central Coast. The décor is sleek and thoroughly modern. There's a good tapas menu should you require something to nibble. Phone (626) 793-4300.
The Normandie Club
Fairly new to the scene, The Normandie Club (3612 W. 6th St.) opened in Koreatown in early 2015 in a renovated 1920s building. The white-brick wall and the dark bar is a classy combo. This establishment in The Hotel Normandie offers a small beer, wine and cocktail menu, but the bartenders will gladly make other classic concoctions based on your tastes. Want to feel even more exclusive? Make reservations at The Normandie Club. It seats just over two dozen. A few walk-ins may be accommodated, but you'll have to check with the host by pushing the button next to the nondescript secretive entrance. Phone (213) 263-2709.
EightyTwo
If you or friends of yours have a nostalgic streak, check out EightyTwo (in the downtown Arts District at 707 E. 4th Pl.), a bar stocked with 40 1970s-'90s pinball and arcade video games. Bring coins (or wait for the change machine) and patience because you'll often have to wait to play your classic game of choice. The outdoor patio is nice for a change of pace. Phone (213) 626-8200.
Fun Places to Go for Rock, Blues and JazzThe city's music clubs have helped launch a host of careers into superstardom. For size, try on this partial list: the Beach Boys, the Black Eyed Peas, the Doors, the Eagles, the Go-Go's, Guns N' Roses, Jane's Addiction, Red Hot Chili Peppers, Van Halen, Frank Zappa and enough punk rock and hair metal bands to fill the next two pages. Check the event listings to see all the fun things to do this weekend.
Whisky a Go Go
Though it's no longer a hotbed of up-and-coming talent, we'd be remiss not to lead off with Whisky a Go Go (8901 W. Sunset Blvd., West Hollywood), the famed Sunset Strip club where bands like the Doors, The Byrds, Buffalo Springfield and X got their start. These days rock cover bands and local metal outfits fill the calendar. But if you want to see the club where all the 1960s and '70s magic happened, drop in. And who knows, you might catch a quality band. Phone (310) 652-4202.
The Roxy and The Viper Room
Other wilder—think metal, punk, indie rock and rap—Sunset Strip clubs include The Roxy Theatre, 9009 W. Sunset Blvd., which opened in 1973 and has seen everyone from Bob Marley to Bruce Springsteen play its 500-person-capacity confines. Nearby is The Viper Room (8852 W. Sunset Blvd., West Hollywood), a tiny club with an infamous rep (actor River Phoenix died of a drug overdose here in 1993). Phone (310) 278-9457 for The Roxy or (310) 358-1881 for The Viper Room.
Troubadour
Since opening in 1957, the intimate Troubadour (9081 Santa Monica Blvd., West Hollywood), has seen its share of rock and folk history. Joni Mitchell made her L.A. debut at "The Troub." So did Elton John. Tom Waits was discovered here, as were Cheech & Chong. The club still books high-quality bands, mostly from the indie rock world. Phone (310) 276-1158.
Catalina Bar & Grill
The Hollywood be-bop crowd knows the place for live jazz is Catalina Bar & Grill (6725 W. Sunset Blvd.). The club has all the charm of a hotel conference room, but you're not here for the décor. You've come to see top-rate talent along the lines of Kenny Burrell and Chick Corea. Phone (323) 466-2210.
Echo & Echoplex
In the Echo Park neighborhood, between downtown and Hollywood, the Echo & Echoplex (1822 Sunset Blvd.) are two intimate live music clubs rolled into one building. Up-and-coming indie rock bands and DJ dance nights fill the event calendar. The lower-level Echoplex is the larger of the two venues and has seen some major acts grace its stage. The Rolling Stones launched their 2013 North American tour at the club; phone (213) 413-8200.
El Rey Theatre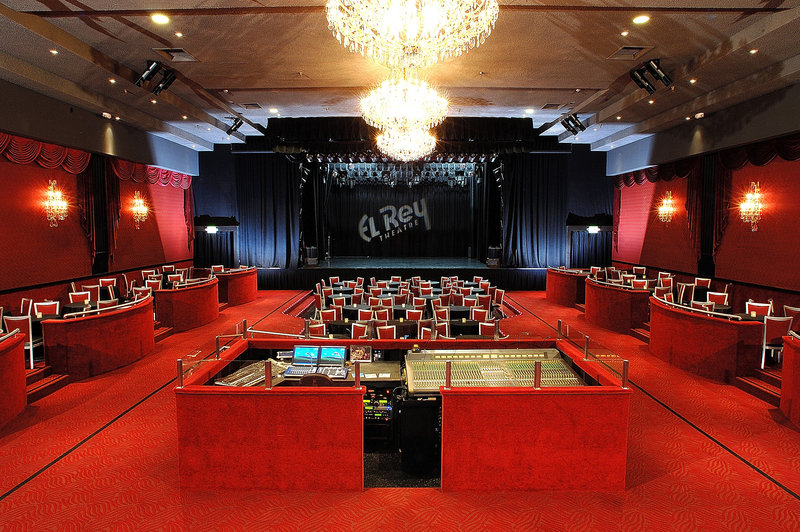 Courtesy of El Rey Theatre
In the "Miracle Mile" area, the cozy El Rey Theatre (5515 Wilshire Blvd.), hosts several concerts per month amid its 1936 Art Deco splendor. Music styles range from indie rock to alt-country to psych pop. Phone (323) 936-6400.
Harvelle's
Live blues, R&B and soul are served up loud at Harvelle's (1432 4th St., Santa Monica), one of the city's best kept secrets. Opened in 1931, this dimly-lit viper's den is no sanitized blues club. Order a stiff drink, then bust your best James Brown moves on the black-and-white checkerboard dance floor in front of the stage. A crowd that lives to boogie ensures you won't be alone. Phone (310) 395-1676.
The Hottest Dance ClubsPlayhouse Nightclub
Unless you're rolling with the crew from "Entourage" or rocking a mini skirt you wouldn't want your mother to see you wearing, it'll be a chore getting past some of Hollywood's snobbier velvet ropes. We're talking clubs like Playhouse Nightclub (6506 Hollywood Blvd.), if you don't mind waiting in line. Phone (323) 656-4600.
Boulevard3
A big beautiful club with an outdoor patio and spacious dance floor, Boulevard3 (6523 W. Sunset Blvd.), draws a diverse bump-n-grind crowd. DJs mostly spin hip-hop and top 40 tunes. Make reservations through the club's website to avoid a wait. Phone (323) 466-2144.
Hollywood Club Crawl
Looking for fun things to do with friends, but don't want to hassle with parking, guest lists and doormen with hearts of ice? Send a text to the folks at Hollywood Club Crawl , (323) 667-6282. Friday and Saturday nights, they lead groups on 4-hour walking tours to four Hollywood clubs. The crawl departs St. Felix (1602 N. Cahuenga Blvd., Hollywood), at 10 p.m., and the cost is $30 ($25 in advance). All club cover charges are included. Drinks? You're on your own. Phone (323) 469-5001 for St. Felix.