About New York City
When visiting New York City, it's just not enough to see what's right in front of you. Look up at the magnificent skyscrapers, serving as cavernous monoliths holding all that pulsating energy within. Wander over to Times Square and be mesmerized by the blinking, flashing, glittering billboards as they command your eyes upward to take notice.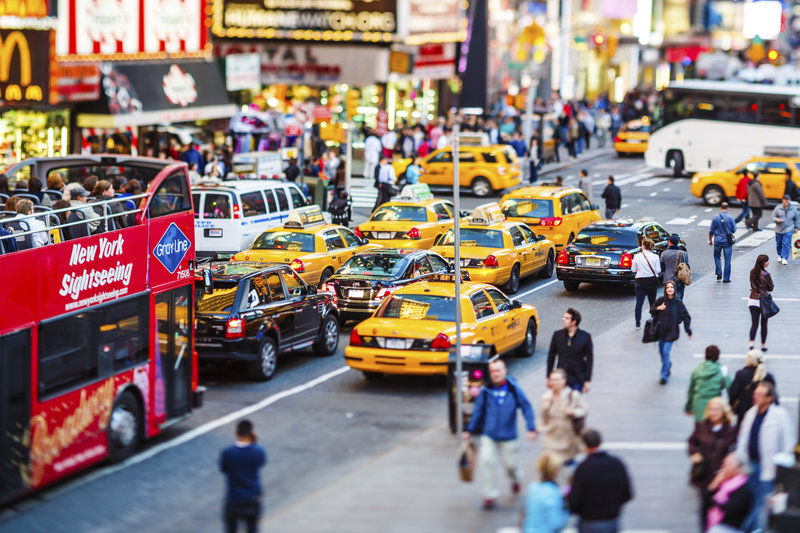 mbbirdy/iStockphoto.com

Look down from the heights of the Empire State Building to gain a true sense of how the Big Apple's slices meld together — gaze toward Lower Manhattan, home of colorful Little Italy, bustling Chinatown and funky SoHo; turn around and glance toward Upper Manhattan, where Harlem's 1920s musical renaissance electrified the country; and in the center of it all, glimpse the rectangular forest of Central Park, playground for all cultures.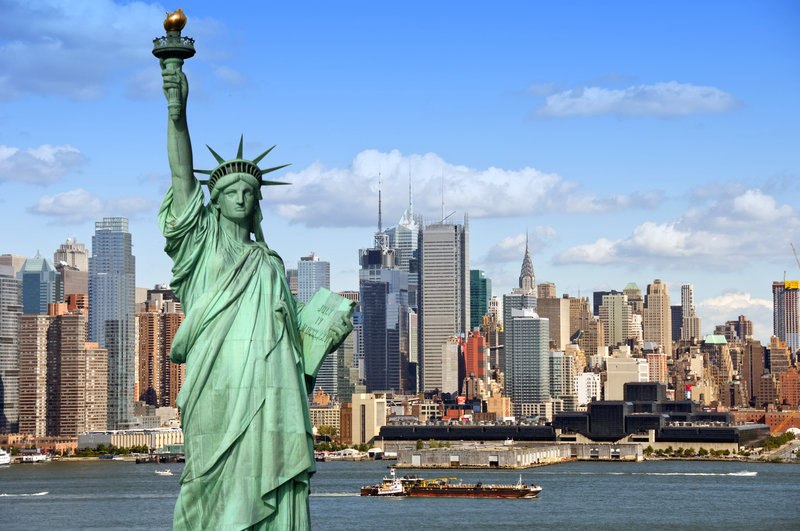 Shutterstock
Look at the city from the outside in by taking a sightseeing boat tour. Observe New Yorkers at labor and leisure milling about Chelsea Pier, and experience from afar the quiet majesty of Wall Street's stone-and-steel towers. Surround yourself with a panorama like no other as you cruise slowly past Ellis Island, with the glimmering Manhattan skyline as a backdrop, to receive the ultimate reward: an awesome, up-close encounter with Liberty Island's graceful statue of the Lady herself.
Getting There
By Car Entering the city from the north, the New York Thruway (I-87) connects with the Major Deegan Expressway, following the east side of the Harlem River through the Bronx and connecting with the Bruckner Expressway (I-278) at the Robert F. Kennedy (Triborough) Bridge. This route allows easy access to Manhattan, Brooklyn, Queens and other points on Long Island.
Also from the north, the New England Thruway (I-95) leads through the eastern part of the Bronx to either the Bronx-Whitestone Bridge or to the Throgs Neck Bridge, again bypassing Manhattan and allowing easy access to Long Island. Both routes also connect with various points in Manhattan, including the Cross Bronx Expressway (I-95), heading east-west, which leads to the Henry Hudson Parkway (SR 9A), running north-south along the Hudson River.
I-80 from the west in New Jersey runs congruently with I-95 as it approaches the George Washington Bridge. Once across the bridge it continues east to connect with roads leading to Long Island or swings south on Henry Hudson Parkway or Harlem River Drive to Franklin D. Roosevelt Drive (East River Drive) and downtown Manhattan.
The New Jersey Turnpike (I-95) is the major southern access road to the city. Motorists traveling to Brooklyn and points east should take New Jersey Turnpike exit 10 to SR 440E (the West Shore Expressway on Staten Island) to I-278E, which crosses Staten Island. Then use the Verrazano-Narrows Bridge to Brooklyn and Long Island.
Lower Manhattan is best approached from the New Jersey Turnpike via the Holland Tunnel. Motorists heading for mid-Manhattan should continue on the turnpike to exit 16E and the Lincoln Tunnel approach.
Air Travel

John F. Kennedy International Airport, the area's largest, is located in Queens off the Van Wyck Expressway (I-678) about 15 miles east of Manhattan.
From JFK to Manhattan, take the Van Wyck Expressway to Grand Central Parkway, then head west on the Long Island Expressway. To reach Lower Manhattan, take the Brooklyn Queens Expressway and access either the Brooklyn, Manhattan or Williamsburg bridges leading into the city. To reach Midtown Manhattan, stay on the Long Island Expressway, which feeds directly into the Queens Midtown Tunnel. Drive time is about 1 hour.
Or take the subway: Take the A train directly from the Howard Beach JFK Airport station. The Q10 bus also connects JFK airport to Union Turnpike (E or F train), 121st Street (J or Z train) and Lefferts Boulevard (A train) stations; phone 511 or (718) 330-1234 for schedules.
AirTrain, the Port Authority of New York and New Jersey's airport rail system, ushers airline passengers from the airport to the Howard Beach terminal for subway connections to Manhattan or to Jamaica Station to catch a subway or the Long Island Rail Road. For AirTrain schedules and information about connections and transfers, phone (877) 535-2478.
Just 8 miles east of Midtown in northwest Queens, LaGuardia Airport handles many domestic and international air flights. The airport was named after the city's former mayor, Fiorello LaGuardia (1934-45), who is credited with helping develop the metropolitan area's accessibility for the aviation age.
Upon leaving LaGuardia Airport, take Grand Central Parkway west to the Robert F. Kennedy (Triborough) Bridge, then to Franklin D. Roosevelt Drive. Going north on FDR Drive takes you into Harlem; traveling south on FDR Drive takes you to Midtown Manhattan. Drive time is about 40 minutes.
New York Airport Service provides bus service from LaGuardia and JFK airports to Manhattan. The bus stops in Manhattan at Park Avenue and 41st Street and at most Midtown hotels. Fares are: from LaGuardia to Manhattan $21; from JFK to Manhattan $25. Buses run frequently; for schedules and other information phone New York Airport Service at (718) 560-3915.
Go Airlink provides transportation via 10-passenger share-ride vans between JFK, LaGuardia and Newark airports and Manhattan hotels, offices and residences. One-way fares range $20-$30; phone (212) 812-9000 or (877) 599-8200 for reservations.
The Q48 bus provides service from LaGuardia to the 111th Street or Main Street stations (both via the 7 train). On the subway, take the Q33 bus from LaGuardia to Roosevelt Avenue station (via the E, F, M or R train) or the 74th Street/Broadway station (via the 7 train). For additional information, phone MTA, 511 or (718) 330-1234.
New Jersey's Newark Liberty International Airport handles domestic and international flights. Located on Newark Bay about 16 miles southwest of Manhattan, Newark is an ideal fly-in point for those proceeding to Lower Manhattan or points along the borough's western side. Take the New Jersey Turnpike to the Holland Tunnel for access to Lower Manhattan, and follow the signs to the Lincoln Tunnel if you are headed for Midtown Manhattan. It will take you about 40 minutes to reach the city.
Express buses from Newark Liberty stop at the Port Authority Bus Terminal at W. 42nd Street and Eighth Avenue in Midtown Manhattan, Bryant Park on 5th Avenue and 42nd Street, and Grand Central Station; Coach USA/Olympia Trails Bus Service buses depart every 15 minutes from 6:45 a.m. to 11:15 p.m. and every 30 minutes from 4 a.m. to 6:45 a.m. and 11:15 p.m. to 1 a.m. One-way fare is $16; phone (908) 354-3330.
New Jersey Transit bus #62 runs between Newark Liberty and selected points in Newark, including Newark's Penn Station, where PATH subways depart for Broadway at 33rd Street. Buses run daily 24 hours and the fare is $1.60-$3.80. PATH trains operate daily 24 hours and the fare is $2.50.
AirTrain's rail system links Newark Liberty International Airport with Newark Liberty International Airport Station, where passengers can transfer to Amtrak or New Jersey Transit trains to continue on to New York City; phone (888) 397-4636.
Taxis are plentiful at all airports. A taxi ride from Kennedy to Midtown Manhattan costs $52 ($56.50 Mon.-Fri. 4-8 p.m.) plus tolls and tip; from LaGuardia to Midtown Manhattan costs $25-$37 plus tolls and tip; and from Newark Liberty to Midtown Manhattan costs $55-$60 plus tolls and tip.
Rail Service

If you enter the city by rail, you will arrive at either Grand Central Terminal or Pennsylvania Station, both in the heart of Manhattan. Built in 1913, Grand Central, at Park Avenue and E. 42nd to 44th streets, is an architectural delight. It supports Metro-North commuter trains, including the New Haven, Harlem and Hudson lines traveling to the northern suburbs and suburban Connecticut. This commuter railroad serves Westchester, Putnam, Rockland and Dutchess counties in New York as well as Fairfield and New Haven counties in Connecticut. For information phone (212) 532-4900.
Amtrak departs from Sixth Avenue and 33rd Street. Penn Station supports Long Island Rail Road trains and New Jersey Transit trains. For schedules, fares and reservations phone (800) 872-7245.
PATH trains, also originating from Penn Station, run 24 hours a day to stops in Lower and Midtown Manhattan. The fare is $2.75. For more information phone (800) 234-7284.
The Staten Island Railway limits its service to Staten Island, from the St. George terminal to the Tottenville terminal. The fare is $2.75. Phone 511 or 718-330-1234 for information or schedules.
Getting Around
Street SystemManhattan streets were laid out in an easy-to-follow grid pattern back in the early 1800s. Unfortunately, maneuvering within the city is not as simple nowadays. For those unfamiliar with Manhattan traffic, the best driving advice is: DON'T. If you absolutely must drive, timing doesn't really mean much. Although rush hours are 7-9:30 a.m. and 4:30-6:30 p.m., city streets are always busy.
Be alert at all times. The traffic density of streets in Manhattan is probably the highest in the country. A good street map is helpful. When driving in the other boroughs a street index and map are necessities. Note: Drivers should keep car doors locked at all times.
In Manhattan consecutively numbered streets run east/west, and avenues cross north/south. Fifth Avenue is the dividing line between east and west streets. Most avenues are one-way and are alternately northbound and southbound. In general, even-numbered streets are eastbound and odd-numbered streets are westbound. Most downtown streets are one-way. Exceptions are Canal, Houston, 14th, 23rd, 34th, 42nd, 57th and 125th streets, which run both east and west.
As you make your way into Lower Manhattan, the city's efficient grid pattern system falls apart in the Greenwich Village and SoHo areas. From Houston Street south, both the numbered streets and Fifth Avenue come to an abrupt end.
Crosstown traffic usually moves faster on 14th, 23rd, 34th, 42nd and 57th streets, because these streets are wide. Northbound and southbound traffic moves faster, at least during non-rush hours, on one-way avenues: These northbound avenues are First, Third, Madison, Avenue of the Americas (Sixth Avenue) and Eighth, while the southbound avenues include Second, Lexington, Fifth, Seventh and Ninth. Gridlock is a particular hazard of driving in the city; it is illegal to stand or stop in the middle of an intersection or to make left turns, except where otherwise indicated.
For those who do not wish to use surface streets to travel, Franklin D. Roosevelt East River Drive and West Side Highway provide controlled-access roads around the city. Note: Avoid the parkways and expressways during rush hours.
The speed limit on downtown streets is 25 mph, or as posted. No one under 17 is allowed to drive in New York City, even with a valid driver's license from another state.
Parking Finding a parking space may be the most difficult aspect of your trip to New York City. Parking is prohibited on most downtown Manhattan streets and is next to impossible in entertainment districts. If you do find a space, read the curbside signs to avoid having the car towed and paying a $185 towing fee plus a fine and storage fee.
Very few accommodations have free parking, and Midtown Manhattan parking lots and garages average about $25 an hour. Guests staying at a hotel with parking facilities often find it is easiest to leave the car in the lot or garage and use public transportation or taxis.
Commuters and visitors from New Jersey have the option to park at NY Waterway's Weehawken, Hoboken and Jersey City terminals and ride a ferry to Lower or Midtown Manhattan. Connecting bus transportation from the Manhattan ferry terminals into the city is available. For schedules, fares and parking fees phone (800) 533-3779. The New York Water Taxi also operates ferries from Downtown and Midtown Manhattan, Brooklyn and Randall's Island. For schedules and fares phone (212) 742-1969.
Taxis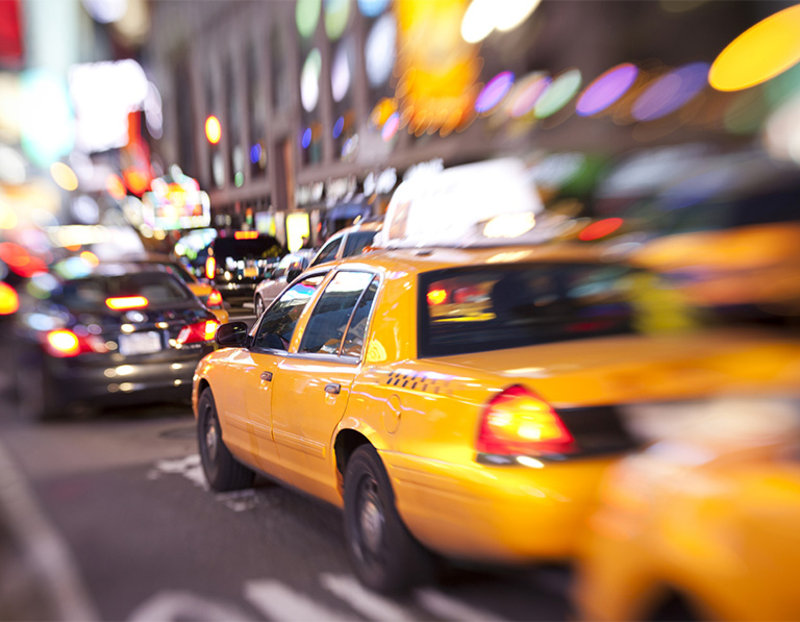 Rouzes/iStockphoto.com
With more than 12,000 licensed yellow medallion cabs roaming the streets, the taxi is one of the most frequently used modes of transportation by visitors. Yellow medallion taxis are the only vehicles authorized to pick up street hails. To avoid being "taken for a ride" and paying more than you should, always give the driver the intersection nearest to your destination as well as the full street address.
Once the meter starts, it continues running. Even at a standstill in traffic, you pay. Taxi fares begin at $2.50, then increase 50c each additional fifth of a mile, or 50c for each 60 seconds waiting in traffic. A 10 to 20 percent tip is customary. A 50c per fare surcharge applies daily between 8 p.m. and 6 a.m., and a peak hour surcharge of $1 applies Monday through Friday between 4 p.m. and 8 p.m., plus any bridge and tunnel tolls. There is a New York state tax surcharge of 50c per ride. One fare generally covers all passengers—taxis can carry four people maximum (three in the back seat, and one in the front).
Complaints or lost articles can be reported to the Taxi and Limousine Commission; phone 311. When calling, passengers must provide the taxicab identification number.
Public TransportationCompared to some cities, public transportation in New York is a good bargain. In Manhattan subways traverse the length of Avenue of the Americas (Sixth Avenue), Broadway, Seventh and Eighth avenues and several portions of both Lexington and Park avenues.
Crosstown subways operate on 14th, 42nd, 53rd and 60th streets. In addition there is a shuttle train from Grand Central Terminal to Times Square (intersection of Seventh Avenue and Broadway from 42nd to 43rd streets), where passengers can transfer free of charge to other lines.
Subways also are fast. The New York City subway system accommodates some 1.7 billion riders annually because it is fast, efficient and one of the cheapest ways of getting around. Although New York City subways can be intimidating, directional signs and maps are posted at each station.
Using them is a snap if you heed these four pearls of wisdom: Avoid using the system during weekday rush hours (usually 8-9:30 a.m. and 5-6:30 p.m.) and late at night; ride in the conductor's car if possible (located in the middle of the train); try to avoid using the subway restrooms; and avoid the express and take the local trains (although not as fast as the express, the local trains stop at each station, so missing the correct stop is less likely).
MetroCard, a thin plastic fare card, is used for subway admission. You can purchase individual cards at subway station vending machines, neighborhood merchants and tourist information centers. A single-ride ticket is $2.75; if you purchase a Pay-Per-Ride MetroCard for at least $5.50, you will receive a 5 percent bonus, and the cards are available for $5.50-$80. Unlimited ride cards for 7 or 30 days range from $32-$121. The card can be used on all local New York City buses and at all subway stations; a $1 fee is charged for each new MetroCard purchased at a MetroCard Vending Machine, station booth or commuter rail station.
Maps for both subway and bus routes are available at the Grand Central, Pennsylvania and Columbus Circle stations and the New York Convention and Visitors Bureau.
Riding the aboveground rails is another option. The Metro-North Railroad serves Westchester, Putnam and Dutchess counties. For schedules phone (212) 532-4900. The Long Island Rail Road serves Nassau and Suffolk counties; for schedule information phone (718) 217-5477.
More than 200 bus routes serve New York City. Buses run uptown on Tenth, Eighth, Sixth, Madison, Third and First avenues and downtown on Ninth, Seventh, Fifth and Second avenues. Some of the major east-west crosstown bus routes are 14th, 23rd, 34th, 42nd, 57th, 65th and 79th streets. Upon boarding, ask the bus driver for a free transfer from an uptown or downtown bus to a crosstown bus, or vice versa.
Most bus stops have Guide-A-Ride signs, showing bus stops and transfer points along that route. For information concerning the subway and city-operated buses phone the New York Transit Authority at 511 or (718) 330-1234.