Best Attractions in New York City
In a city with dozens of attractions, you may have trouble deciding where to spend your time. Here are the highlights for this destination, as chosen by AAA editors. GEMs are "Great Experiences for Members."
By Suzanne Lemon
To orient yourself to New York City, a metropolis of dueling skyscrapers, it's best to go vertical—take an uplifting trip to the 102nd floor of the Empire State Building . Kids love the thrill of riding the elevators to the Art Deco building's observation tower, where the 360-degree panorama of Manhattan and beyond never fails to impress. Frolicking penguins capture a child's imagination at the zoo in Central Park, an urban oasis that delights people of all ages who are looking for fun things to do. Wollman Skating Rink, the Egyptian obelisk, Belvedere Castle, Shakespeare Garden and the carousel are other fun places to go that frequently show up on "to-do" lists. If you're too tired to trudge across the expansive parklands on foot, you can see it all by buggy ride or horse-drawn cab. The ferry ride to Statue of Liberty National Monument also entices children, as does the awe-inspiring sight of Lady Liberty, the tallest statue of modern times. Poke around the grounds and pedestal, then hop back on the boat and travel to Ellis Island , where millions of hopeful immigrants entered the country to begin a new life.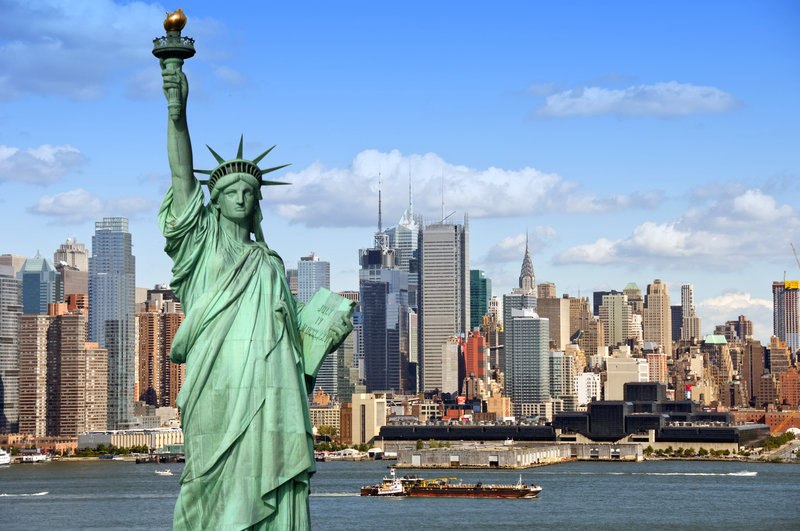 Shutterstock

A Trip Around the World that Requires No Airfare
Part of the fun in visiting the Big Apple is to experience all the slices of ethnic and cultural diversity through art, shopping and places to eat. Immerse yourself in the hustle and bustle of exotic Chinatown, with its dazzling assortment of shops stocked with everything Oriental—brocade fabrics, beadwork, carved ivory, herbs and teas, colorful paper parasols and all sorts of wonderful bric-a-brac. Stop in at one of the many local restaurants for mouth-watering Asian delicacies. While you're in Lower Manhattan, pay tribute at The National September 11 Memorial . Memorial Plaza has twin reflecting pools bordered by bronze panels inscribed with the names of the individuals who perished during the terrorist attacks of September 2001 and the World Trade Center bombing of February 1993.
You can learn more about how events unfolded through personal accounts, exhibits and photographs at the National September 11 Memorial Museum . While in the area, you can also set time aside for a leisurely stroll through Greenwich Village, New York's Bohemia. Streets twist past stylish boutiques, funky art galleries and handsome brownstones. Indulge in some ice cream or join a chess game in Washington Square and be amused by jovial street performers and the antics of NYU students. Bleecker Street, the West Village's main drag, is a great place to shop or grab some lunch.
SoHo (south of Houston Street) is another alluring neighborhood, home to all that is trendy and fashionable. Intriguing shops beckon passersby on the hunt for eclectic conversation pieces, while a tempting selection of coffeehouses and outdoor cafes serves as culinary havens for people-watchers. Where the Upper West Side and Harlem meet, the Gothic tower of Riverside Church serves as a welcoming beacon to all races and religions. You can join a guided tour on Sunday, or meander about the impressive house of worship on your own—assassinated Civil Rights leader Martin Luther King Jr. made his impassioned anti-Vietnam War sermon from Riverside's pulpit.
The Center of Music and Dance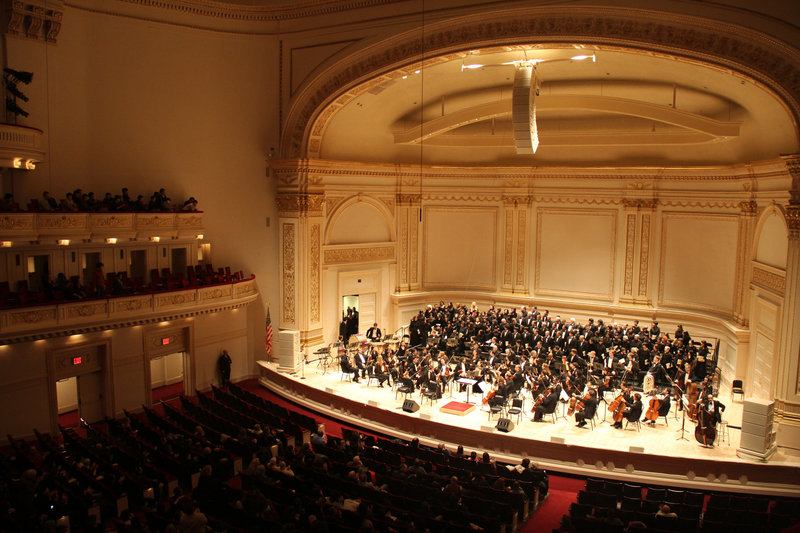 flickr / CC BY /Ching
New York City also sets the stage as a world-class performing arts venue. The 1891 Italian Renaissance-style Carnegie Hall, celebrated for its perfect acoustics and elegant architecture and décor, plays host to prominent orchestras and leading musicians; visit the onsite Rose Museum for a historical overview. While productions at the Lincoln Center for the Performing Arts are unrivaled and classic, they also are innovative—imagine upside-down musicians and massive quantities of water dumped on opera singers. In these hallowed halls, Leonard Bernstein conducted, Mikhail Baryshnikov danced and Luciano Pavarotti sang. If you're unable to attend a ballet, opera or symphony, catch a guided tour from the center concourse. Media hounds and the star struck head to Rockefeller Center, a city within a city and broadcasting base of the "Today" show and other programs. For an insider's perspective, take a tour of NBC Studios and Radio City Music Hall, home to the Rockettes and site of theatrical events and live concerts.
Explore History, Art and More

Museum aficionados grow giddy at the seemingly endless choices the city offers. If you visit only one museum, make it The Metropolitan Museum of Art . Consider embarking on a guided or audio tour to navigate the collection of more than 2 million works with everything from Chinese porcelains to 20th-century haute couture. If time is a factor during your trip, do see the Egyptian galleries, where you can venture though an authentic tomb or discover how women of the time created their exquisite make-up. Art lovers in need of solitude head to The Cloisters, a branch of the Met known for medieval art and its peaceful setting on a hill overlooking the Hudson. Five French cloisters—vaulted arcades serving as passageways—are set amid tranquil gardens, illuminated manuscripts and stained glass. There's a nice café in the covered walkway surrounding Trie, a quaint cloister whose plant arrangement is themed around the museum's Unicorn Tapestries.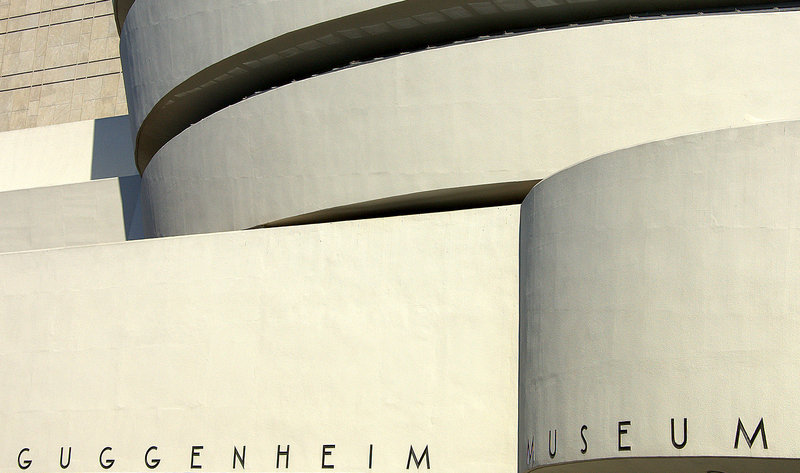 flickr / CC BY/Jim Bowen
Contemporary art fans flock to The Museum of Modern Art (MoMA) to view its sweeping exhibition of 20th-century works. You'll have more than 100,000 pieces to peruse at MoMa, but try not to miss the Andy Warhol collection, including his classic "Gold Marilyn Monroe." Frank Lloyd Wright's daring circular design for the Solomon R. Guggenheim Museum is a perfect complement for the modern art residing within, albeit a striking contrast to the more conservative structures nearby. It's kinder on the legs to ride the elevator upstairs and mosey along the spiraled walkway from the top down—the sloping walls accommodate creations from such artists as Paul Cézanne and Pablo Picasso.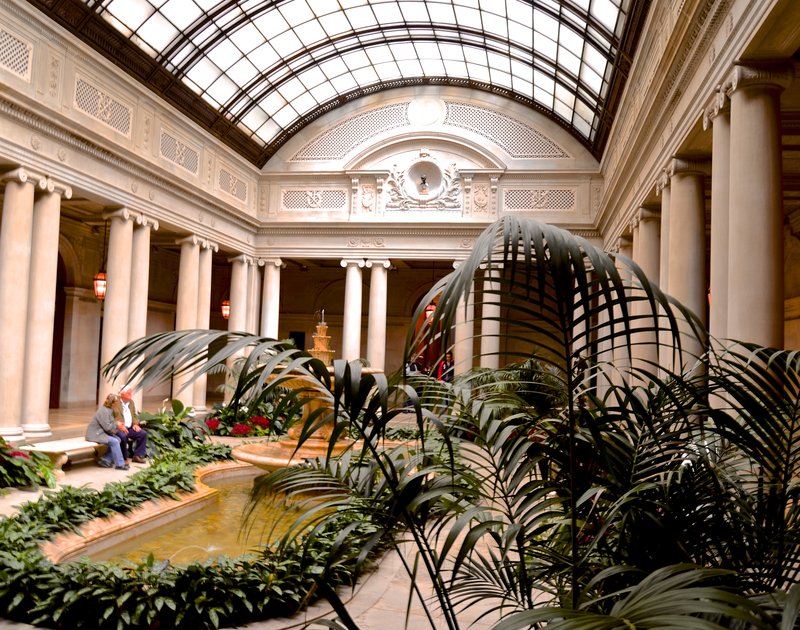 flickr / CC BY/David McSpadden
Housed in the 1913 Henry Clay Frick mansion, the The Frick Collection highlights the gilded treasure trove owned by the industrialist and philanthropist. The house alone is worth a visit. There are some extraordinary works by Dutch Masters, along with such tasteful tidbits as Limoges enamels, portraits by Goya and Whistler, Oriental rugs and French porcelains. Find alternative things to do for kids under 10, who can't gain entry because articles are unshielded by glass or other protective barriers.
If your idea of museum hopping includes experiencing the sounds and smells of a rainforest or learning about the marvels of the human body, plan a stop at the American Museum of Natural History. A freestanding dinosaur menacingly greets visitors in the rotunda; his relatives and various fossil displays are the subject matter here. Museum of Jewish Heritage — A Living Memorial to the Holocaust resides in a six-sided building symbolizing the Star of David's points and the 6 million Jews who died in the Holocaust. Artifacts, photographs and videos of personal narratives chronicle the 20th-century Jewish experience.

Those who seek international intrigue can take the hour-long tour at the United Nations Headquarters, where the world's countries meet to discuss global problems. Colorful flags of member nations mark this destination tucked aside the East River, stunning in its simplistic modern design. Our fledgling nation protested "taxation without representation" at Federal Hall National Memorial, which marks the site of the first U.S. Capitol and where George Washington took the oath of office in 1789. Exhibits focus on the inauguration, the Bill of Rights and old Federal Hall.
If you have extra time for sightseeing, consider visiting AAA attractions in The Bronx, Brooklyn, Queens and Staten Island.
See all the AAA recommended attractions for this destination.