New York City Sports & Rec No one takes sports quite as seriously as New Yorkers. Eight professional sports teams dominate the sports scene, including two football, baseball, basketball and ice hockey teams. Being a fan here involves unfeigned loyalty: Just ask Yankees and Mets fans what happens when they share a baseball stadium, or how Dodgers fans felt when their team moved to Los Angeles.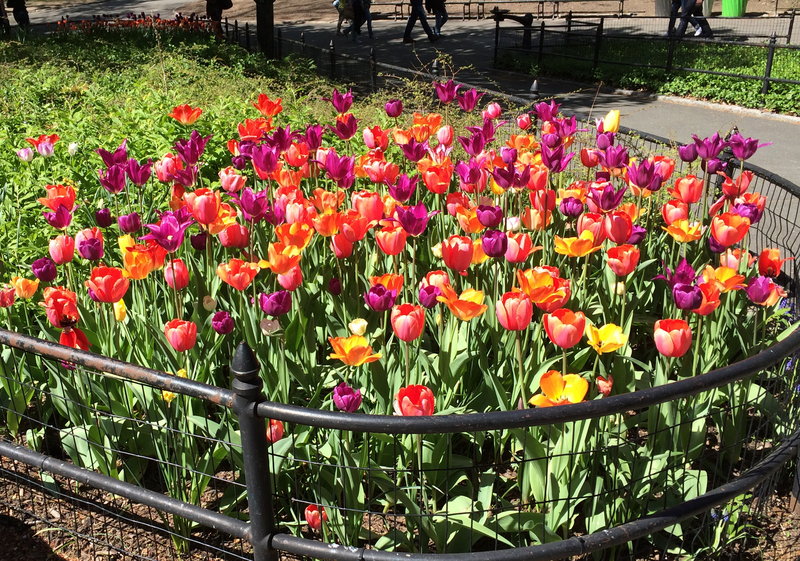 AAA/Inspector 514
When the hustle and bustle of the city streets is too much to handle, shift into a slower gear. New York's parks and beaches offer peaceful respite during vacation. The lush lawns, trees, shrubs and meadows as well as lakes, fountains, sculptures and bridges make Central Park a favorite destination with visitors and New Yorkers alike.
Baseball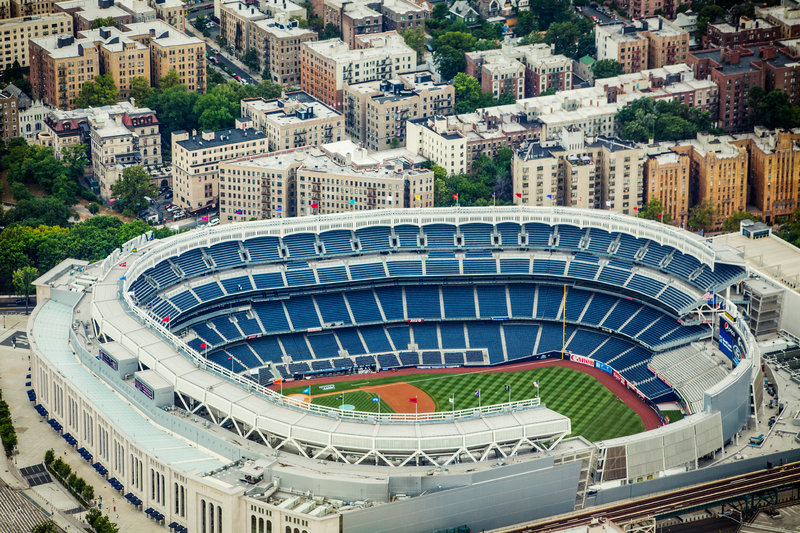 4x6/iStockphoto.com
New Yorkers are especially passionate about the national pastime. The New York Yankees, who produced such legendary "Bronx Bombers" as Joe DiMaggio, Lou Gehrig, Mickey Mantle and Babe Ruth, play at Yankee Stadium in the Bronx. This American League club won the World Series in 1996, 1998, 1999, 2000 and 2009, and has won a total of 27 World Series since its inception. The season runs from April to October; phone (718) 293-4300.
The Mets, New York City's National League team, stole the World Series from the Boston Red Sox in 1986. They play at Citi Field in Queens. The season runs from April to October; phone (718) 507-6387 or (718) 507-8499.
The majors have several Minor League baseball counterparts. The Staten Island Yankees kick off the season in June at Richmond County Bank Ballpark at St. George. For ticket information phone (718) 720-9265. The Mets-affiliated Brooklyn Cyclones play at MCU Park on Surf Avenue in Coney Island; phone (718) 449-8497. Bethpage Ballpark in Central Islip is where the Atlantic League's Long Island Ducks swing into action; phone (631) 940-3825.
BasketballWhen the New York Knicks hit the court at Madison Square Garden, fans are assured of an exciting game. The season runs from November to April; phone (212) 465-5867 for Knicks information, or (212) 465-6741 for the Garden. The Brooklyn Nets play in Barclays Center in Brooklyn; phone (718) 933-3000.
New York loves its college hoopsters, too. The beloved St. John's University Red Storm occasionally play at Carnesecca Arena and Madison Square Garden; phone (718) 990-6211 for ticket information. The Long Island University Brooklyn Blackbirds and St. Francis College Terriers both hoop it up in Brooklyn; phone (718) 488-1030 for the Blackbirds and (718) 489-5252 for the Terriers. The Fordham University Rams, (718) 817-4759, play in the Bronx, while the Wagner College Seahawks take to the court at Spiro Sports Center in Staten Island; phone (718) 420-4039.
Football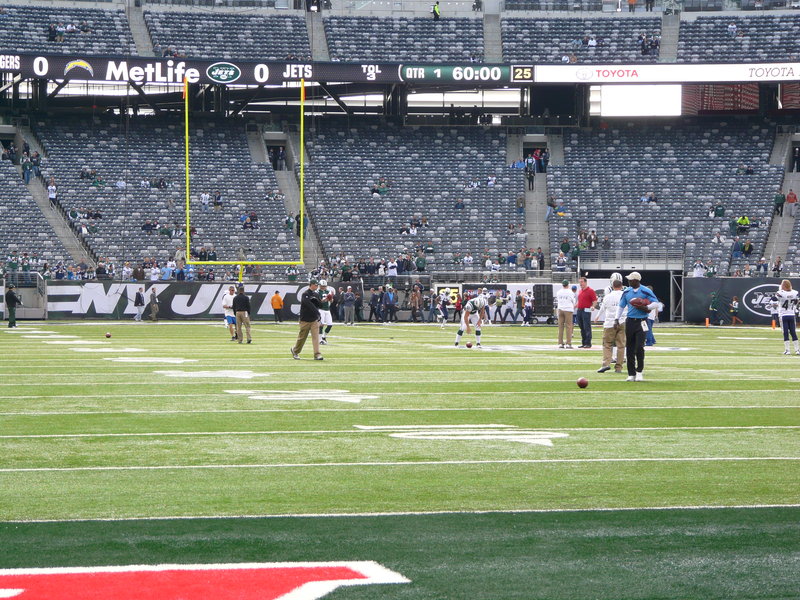 flickr / CC BY/Marianne O'Leary
From September to December, Super Bowl III winners the New York Jets play in the MetLife Stadium in East Rutherford, N.J.; phone (800) 469-5387. Four-time Super Bowl champions the New York Giants also scramble on the gridiron at MetLife Stadium; phone (201) 935-8222. Tickets are scarce, so unless you know someone with a season pass, your plans may be sidelined.
Hockey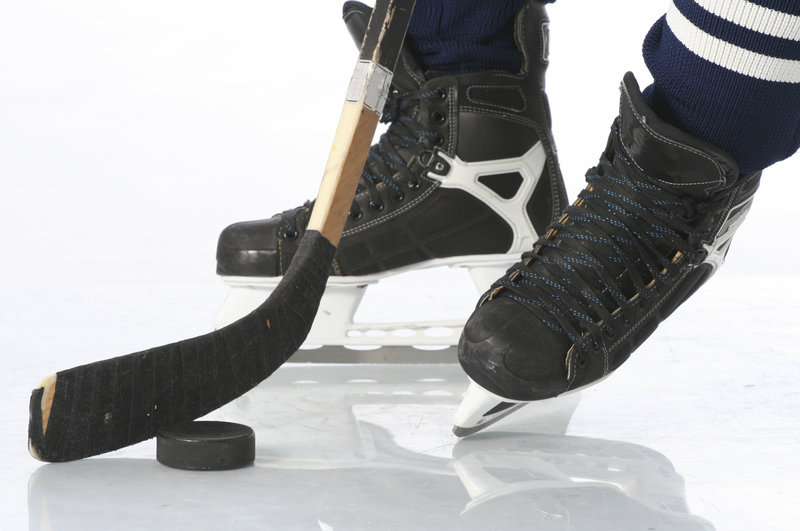 walik/iStockphoto.com
After a 54-year dry spell the New York Rangers brought home the coveted Stanley Cup in 1994 to the cheers of die-hard fans at Madison Square Garden; phone (212) 465-6741. The New York Islanders, Stanley Cup winners 1980-83, play out of Barclays Center in Brooklyn; phone (844) 334-7537.
Horse Racing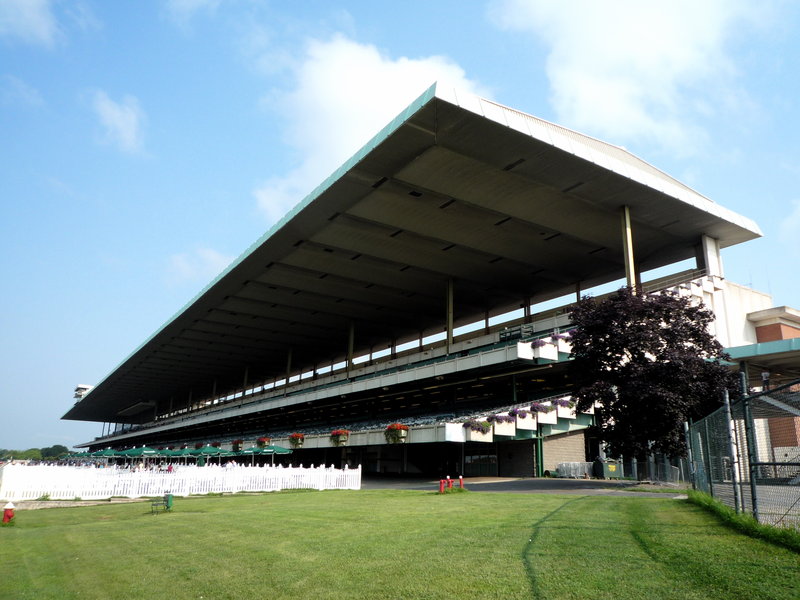 flickr / CC BY/Jason Eppink
If you enjoy the ponies, try Aqueduct Race Track in Queens, (718) 641-4700; Belmont Park Race Track on Long Island, (718) 641-4700 or (516) 488-6000; and the Meadowlands in East Rutherford, N.J., (201) 935-3900. Harness racing can be seen at Yonkers Raceway in Yonkers; phone (914) 968-4200.
Note: Policies on admitting children to pari-mutuel facilities vary. Phone for specific information.
Bicycling

Roadways in Central Park are closed to motorized traffic Monday through Friday 10-3 and 7-10, and weekends from 7 p.m. Friday to 6 a.m. Monday. However, the transverse roads are always open to traffic. Access to three bicycle routes—6.1 miles, 5.2 miles or 1.7 miles in length—is possible by following the park drives, which encircle the park. Another option is to enter at 72nd Street and Central Park West Drive and pedal south to 59th Street, east to East Drive, then north on East Drive to 72nd Street. Exit at Fifth Avenue, or continue north along East Drive until your legs are tired and it's time to find places to eat.
For a scenic ride along the Hudson River, pedal around Riverside Park , off Riverside Drive on the Upper West Side. Rent a bicycle or take a guided tour with Unlimited Biking, featuring locations such as Central Park and the Brooklyn Bridge waterfront; phone (212) 749-4444 for rates and more information.
New York's bicycle-sharing system, Citi Bike, offers three-speed two-wheelers that may be rented and returned at any of the more than 300 docking stations. You'll find them south of 110th Street and in Brooklyn, although there are plans for expansion to make it easier to get to more fun places to go in the city. All riders must first purchase a pass for access. The fee for a 24-hour pass is $12 and includes unlimited 30-minute rides. Extra fees kick in for longer rides; cyclists pay an additional $4 for each additional 15 minutes per ride. A 3-day pass is $24. Phone (855) 245-3311 for more information.
Golf
Chelsea Piers
Obviously you will not find a golf course among the travel sites in Manhattan, but the Department of Parks does operate several 18-hole public courses in the other boroughs. On weekends golfers might have to wait as long as 8 hours before they are able to tee off; to learn of the waiting times, try the weekend news broadcasts over WNYC (93.9 FM or 820 AM) and find other things to do this weekend to pass the hours until your tee time.
Most fees for residents with valid golf permits are Mon.-Fri. $42, $32 after noon, $27 for twilight golf; Sat.-Sun. and holidays $52, $40 after noon, $29 for twilight golf. There is an additional $8 fee for nonresidents. Cart fees are $37.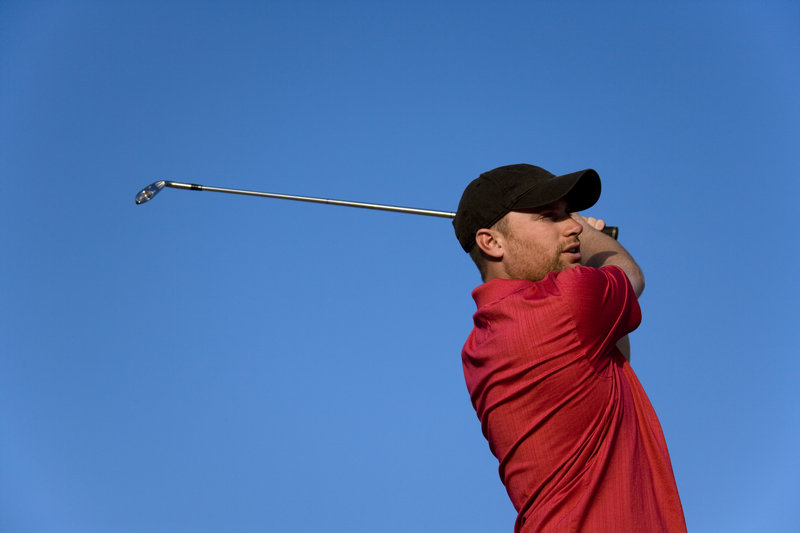 davejkahn/iStockphoto.com
Courses listed under each borough are open all year. Phone the individual courses or (718) 225-4653 for citywide reservations.
The Bronx: Mosholu Golf Course, 3545 Jerome Ave., (718) 655-9164; Pelham and Split Rock courses, 870 Shore Rd., Pelham Bay Park, (718) 885-1258; and Van Cortlandt at Park South and Bailey Avenue, (718) 543-4595.
Brooklyn: Dyker Beach, Seventh Avenue and 86th Street, (718) 836-9722; and Marine Park, 2880 Flatbush Ave. near Belt Parkway, (718) 252-4625.
Queens: Clearview Park, 202-12 Willets Point Blvd., (718) 229-2570; Douglaston Park, 6320 Marathon Pkwy., (718) 224-6566; Forest Park, 101 Forest Park Dr., (718) 296-0999; and Kissena, 164-15 Booth Memorial Ave., (718) 939-4594.
Staten Island: La Tourette, 1001 Richmond Hill Rd., (718) 351-1889; Silver Lake, 915 Victory Blvd., (718) 447-5686; and South Shore, 200 Huguenot Ave., (718) 984-0101.
Jogging and Walking

These are the sports of necessity in New York City, particularly if you want to travel from here to there in reasonable time. For those with only the sport in mind, the hottest spot is in Central Park on the 2-mile path surrounding the Reservoir. There also are designated jogger's lanes throughout the park.
Picturesque Riverside Park, between the Hudson River and Riverside Drive, also is a popular spot. Upper Manhattan's Riverbank State Park attracts joggers. Other patches of greenery include The Battery, at the tip of Lower Manhattan; and Hudson River Park on the east side.
Tennis

Nine Manhattan locations have courts: Central Park, 93rd Street and West Drive, (212) 280-0206; John V. Lindsay East River Park, at Houston Street, (212) 529-7185; Fort Washington Park, at 170th Street, (212) 304-2322; Fred Johnson Park, at W. 151st Street east of Seventh Avenue, (212) 234-9609; Inwood Hill Park, 207th Street and Seaman Avenue, (212) 304-2381; Riverside Park (two sections), at W. 96th and at W. 119th streets, (212) 978-0277; and Washington Market Park, at Chambers and West streets. Both indoor and outdoor courts are available at Randalls Island Park, (212) 427-6150. The Department of Parks issues permits; phone (212) 360-8131.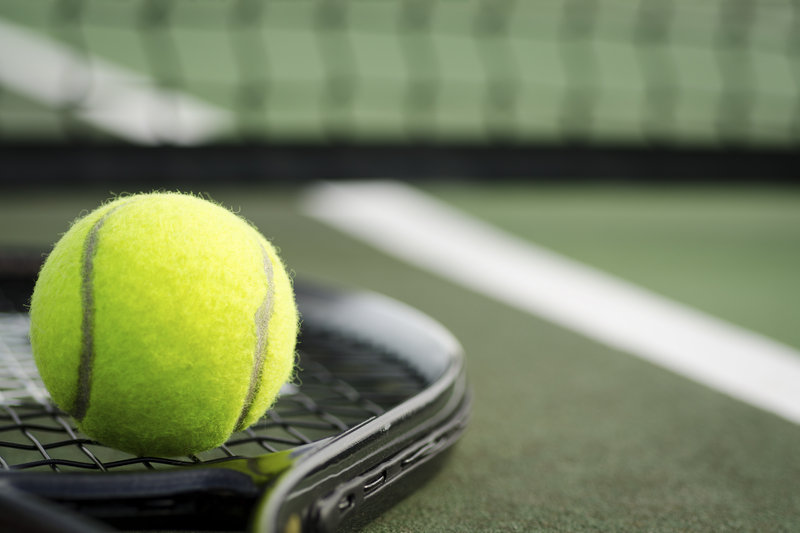 1MoreCreative/iStockphoto.com
Several courts are open to the public at the site of the U.S. Open, the U.S.T.A. National Tennis Center in Flushing Meadows, Queens. Your best bet is to phone (718) 760-6200 2 days in advance to make a reservation; the center is busy on weekends.
Water SportsSince New York City is surrounded by water, a great way to escape the summertime heat is to visit one of its many beaches. Jones Beach State Park is your best bet: With 6.5 miles of beaches, a boardwalk and a theater playing host to outdoor concerts, you'll forget all about hot blacktop. Beaches listed below can be reached by either bus or subway.
Head to Coney Island Beach and Boardwalk in Brooklyn to ride the wooden roller coaster or Ferris wheel. If you're unsure where to eat, don't pass up a famous Nathan's hot dog for lunch. Brighton Beach, just east of Coney Island Beach, and Manhattan Beach, Oriental Boulevard from Ocean Avenue to Mackenzie Street, also are in Brooklyn.
Pelham Bay Park and Orchard Beach are in the Bronx. Jacob Riis Park and Jamaica Bay, Beach 149th to Beach 169th streets, and Rockaway Beach, Beach 9th to Beach 149th streets, are in Queens.
The following beaches are in Richmond (Staten Island): Great Kills Park, Hylan Boulevard, Great Kills; Cedar Grove Beach, just south of Miller Field; Franklin D. Roosevelt Boardwalk and Beach, Fort Wadsworth to Miller Field; and Wolfe's Pond Park, Holten and Cornelia avenues, Prince's Bay.
Few people would believe you if you claimed to have gone boating in the middle of Manhattan, but it is possible. Rowboats are for rent April through November in Central Park at Loeb Boathouse, E. 72nd Street and Fifth Avenue, for $15 an hour (cash only) and a $20 deposit; phone (212) 517-2233, ext. 3. A municipal pool is Lasker Pool on the north end of Central Park. Phone the New York City Parks and Recreation Swimming Information hotline at (718) 760-6969 for the latest on pool locations and openings.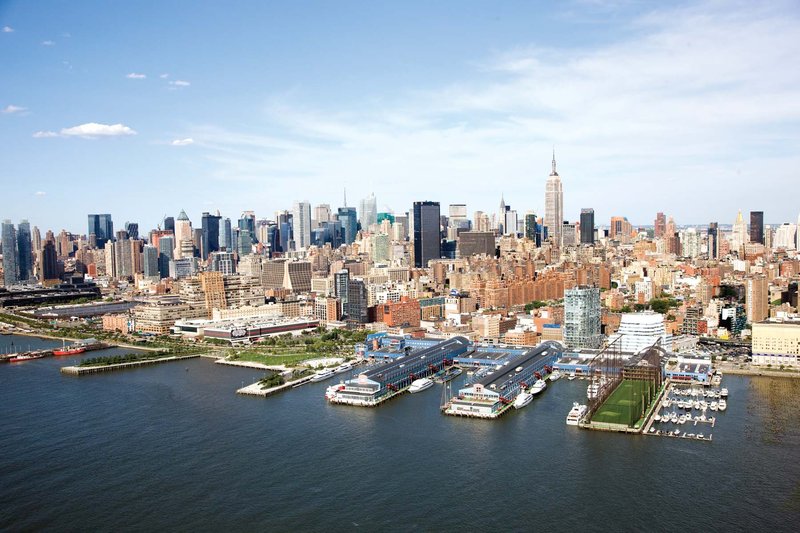 Chelsea Piers/Fred George
Looking for one-stop recreation? Visit Chelsea Piers, a 30-acre sports village along the Hudson River between 17th and 23rd streets. Highlights of the four renovated shipping piers include heated hitting stalls for golfers, a 25-yard swimming pool, an indoor running track, a hockey rink open to ice skaters and a bowling alley. Sailing, kayaking and speedboat tours of the harbor also are offered. Various shops and restaurants call the historic piers home; phone (212) 336-6666.
Winter Sports

When there is a chill in the air, New Yorkers head to the nearest ice-skating rink to participate in a living portrait by Currier and Ives. The rink at Rockefeller Center has more glitz, especially when the giant Christmas tree is lit in December. Every year thousands of skaters are enticed to take a turn on the ice beneath a fabulous golden sculpture of Prometheus.
Fast becoming another winter tradition for New Yorkers is The Pond at Bryant Park (S: 42nd Street/Times Square), the city's only free ice-skating rink. Located between 40th and 42nd streets and Fifth and Sixth avenues, it's within walking distance of both Times Square and Grand Central Terminal. Skate rentals are available. The pond is open daily 8 a.m.-10 p.m., November to early March; hours are extended during the holiday season. For more information phone (212) 661-6640.
In 1986 real-estate tycoon Donald Trump paid to have Wollman Rink in Central Park refurbished, to the delight of fellow New Yorkers. Skating is from late October to early April. Lasker Rink is a smaller venue on the north end of Central Park. The World Ice Arena (13135 Avery Ave.) in Flushing Meadows Corona Park is open all year and has rentals. Brooklynites enjoy indoor skating at Coney Island's Abe Stark Rink from early November to late March; Samuel J. and Ethel LeFrak Center at Lakeside in Prospect Park has indoor and outdoor rinks. Open year-round, the Lakeside indoor rink offers ice skating in the winter and roller skating in the summer; the outdoor rink has ice skating and ice hockey in the winter and a water park in the summer. In Staten Island, Clove Lakes Park is home to the Staten Island War Memorial Ice Skating Rink.