Shopping in New York City Given space considerations, the typical suburban shopping mall doesn't exist in Manhattan. Massive vertical monoliths jutting skyward are the norm and often include restaurants, offices and residences. The Shops at Columbus Circle , in Time Warner Center, presents an intriguing blend of luxury and specialty retailers enhanced with upscale dining options. Situated in the midst of the Fifth Avenue shopping mecca, Rockefeller Center sports a sophisticated collection of shops dotting its plazas and concourses, while high-end boutiques surround an atrium adorned by pink marble and waterfalls at Trump Tower , 725 Fifth Ave.
The Fifth Avenue sashay, especially between 49th and 58th streets, offers shoppers understated elegance with such retail delights as Saks Fifth Avenue and Bergdorf Goodman . Searching for top-dollar trinkets? Don't miss Cartier and Tiffany & Co. If you're a fan of the iconic monogramed handbags designed by Louis Vuitton , have a look in the sleek flagship store at Fifth and 57th Street. Madison Avenue, from 57th to 79th streets, is another shopping haven that oozes opulence. Even if you don't want to break the bank with a purchase at Polo Ralph Lauren , 867 Madison Ave., do stop by to appreciate the handsomely elegant flagship store. Barneys New York , 660 Madison Ave., sets the standard with the hippest of fashions—the stylish window displays alone are worth a trip. At Fifth and 49th Street, young girls can enjoy fun things to do with friends with a spree at American Girl Place , which offers personalized dolls and a doll hair salon and photo studio.
For a one-stop shop celebrating all things Italian, Eataly (200 Fifth Ave. between 23rd and 24th) is a culinary cornucopia of cheeses, wines, fresh pastas, meats, baked goods and countless other delicacies. It's one of the top fun places to go in New York City for foodies and art lovers. You can stroll through the marketplace, have a snack like a panino or gelato, or choose to dine at one of several sit-down restaurants showcasing a variety of Italian specialties.
A Big Apple shopping spree wouldn't be complete without a visit to Macy's at Herald Square, known as the world's largest department store. The cellar is a culinary haven, with treasures for the taste buds as well as every kitchen gadget imaginable. Bloomingdale's , at Lexington Avenue and E. 59th Street, reliably keeps up with the latest and greatest trends—"Bloomie's" T-shirts and tote bags make popular souvenirs.
Several New York neighborhoods are happy hunting grounds for savvy shoppers. Stop by Chelsea's mega food mall, Chelsea Market (75 Ninth Ave.), for all that is divine and delicious—this former Nabisco factory yielded the very first Oreo cookie. Art aficionados will enjoy browsing an eclectic assortment of galleries in the Chelsea Art District, extending roughly between 20 and 29th streets between Tenth and Eleventh avenues. Another haven for the budding innovator is in the Meatpacking District, just south of Chelsea. A collection of stylish boutiques hold court here along W. 14th Street between Ninth and Tenth avenues. For farmed and baked products in the heart of Manhattan, head to the outdoor Union Square Greenmarket in the Flatiron District on Monday, Wednesday, Friday and Saturday—fresh produce, tasty preserves and cut flowers are included in the seasonal bounty.
In Lower Manhattan, trend-setting Greenwich Village (sandwiched between Broadway, W. 14th and W. Houston) tantalizes with jewelry, handicrafts and current fads in boutiques tucked amid cafes, record stores, jazz clubs and regal brownstones. The Market NYC, 159 Bleecker St. between Thompson and Sullivan streets, features the work of local emerging designers Wednesday through Sunday. Avant-garde galleries, loft-type shops and places to eat line the twisting lanes of SoHo (south of Houston), between West Broadway, Houston, Lafayette and Canal. Outside, vendors set up tables brimming with colorful baubles (bargaining is expected).
New York City serves as a showplace for up-and-coming fashionistas to introduce original clothing and accessories. NoLita , an acronym for the area "North of Little Italy" downtown on Mulberry, Mott and Elizabeth streets is one place where you can find a few deals, since rents are less pricey than those in neighboring SoHo. Rows of small stores lure passersby with enticing sidewalk displays of shoes, suits, linens and all forms of bric-a-brac on Orchard Street , on the Lower East Side between Delancey and E. Houston—some shopkeepers will gladly negotiate.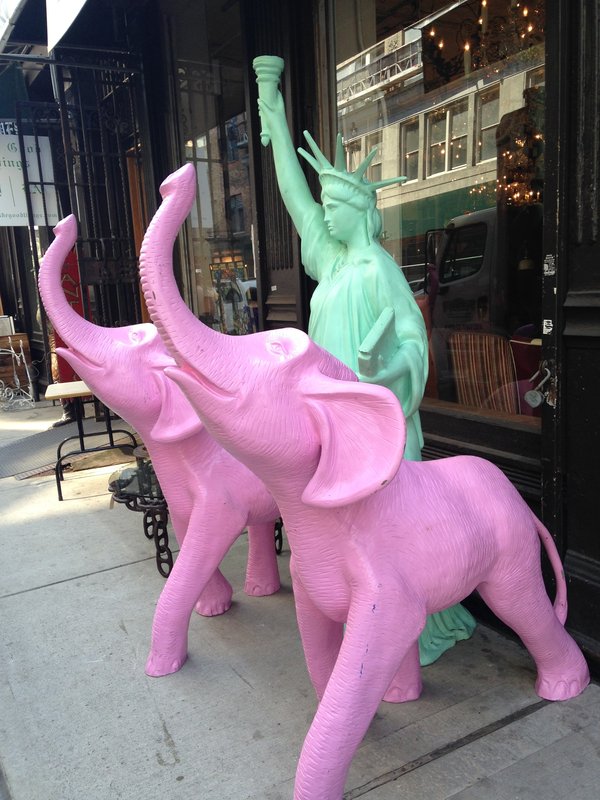 AAA/Suzanne Lemon
Antique hounds can indulge their whims at shops along Madison Avenue; on Second and Third avenues from the upper 40s to the 80s; on E. 55th Street; and on 57th Street. Manhattan Art and Antiques Center , 1050 Second Ave. in Midtown, has nearly 100 shops with furniture, glassware, jewelry, pottery and other period pieces sold by a number of vendors. If only the best will do, head to the tony shops of NoHo (north of Houston), an upscale enclave in the southwest portion of the East Village. A hodgepodge of funky boutiques and upscale fashion shops is also tucked in the East Village near St. Marks Place . Sprinkled along East 9th Street between First and Second avenues, this independently owned mix of retailers offers clothing finds varying from consignment to vintage to high-end designer pieces. Stores touting antiques and other eclectic items also beg to be explored. On the edge of the East Village, Strand Bookstore (828 Broadway at 12th Street) boasts "18 miles of books" in its logo. With a cornucopia of literary treasures running the gamut from rare volumes to kid's selections, avid readers will love browsing in this independently owned shop founded in 1927.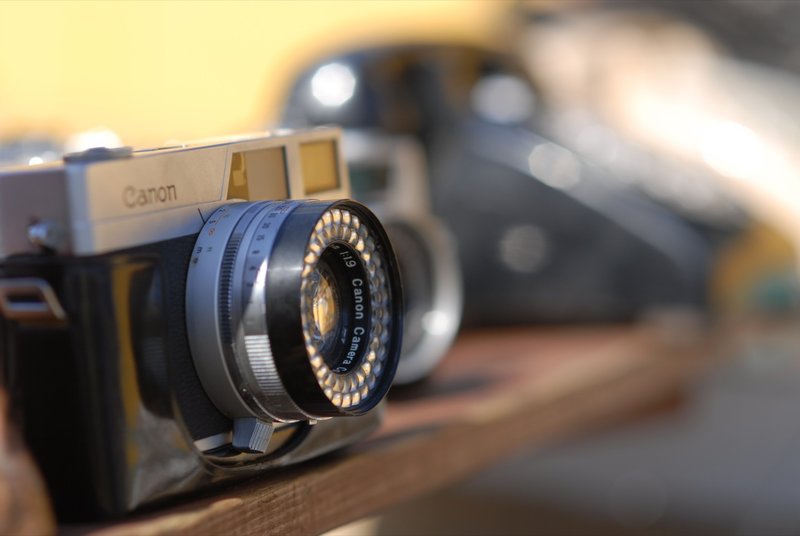 flickr / CC BY /Mo Riza
For those seeking something a bit more down to earth, flea markets set up shop almost every weekend. You may very well uncover buried treasure at the Hell's Kitchen Flea Market , 39th Street between Ninth and Tenth avenues. And if you're in the neighborhood and want to know where to eat, the industrial-styled Gotham West Market (600 Eleventh Ave.) offers food-court dining with unique choices.
In Midtown, millions of wholesale dollars change hands daily at the Diamond District , on W. 47th Street between Fifth and Sixth avenues. The glittering (and closely guarded) showrooms are open to the public for browsing. On Madison Avenue between 58th and 63rd streets, the Crystal District features the luxury boutiques of Baccarat, Daum, Lalique, Steuben and Swarovski and their sparkling collections of jewelry, figurines, vases and other artistic works.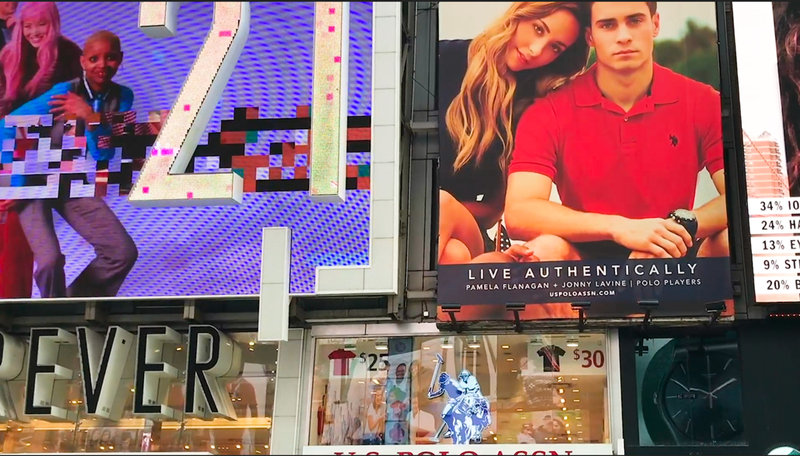 AAA/Thuyvi Gates
For those with a thinner wallet, a trip to Midtown's Times Square might be more appealing. The area is known for having more than its fair share of restaurants and theaters, and less known as a shopping destination, but family-pleasing retailers, including Disney Store, Forever 21, Levi's and Sephora, have taken up residence here. Dine and shop at Hard Rock Cafe, 1501 Broadway; pick up a Hard Rock New York T-shirt or collectible pin at their Rock Shop.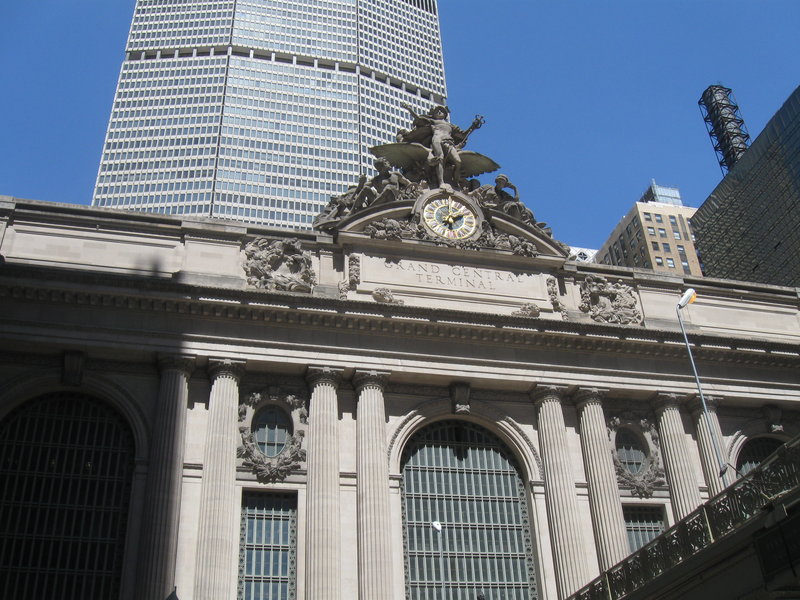 AAA/Greg Weekes
Some Manhattan stores are just as much works of art as the coveted goods they house. Situated in a 1920s post office, the Apple Store SoHo is a study in contrasts, with a sleek, new-age interior accented by a stunning glass staircase, bridge and skylight. At Prada , 575 Broadway, a curving zebrawood half-pipe connects the flagship store's two levels and serves as a stage for trend-setting fashions. Admire the ornate Beaux Arts architecture while browsing the shops at Grand Central Terminal , 42nd Street at Park Avenue.
For bargains on big-ticket logos, make a beeline for Century 21 at 22 Cortlandt St. to save up to 70 percent. While this excursion may be financially rewarding, it's not the most relaxing, so be prepared to roll up your sleeves and dig in along with the locals. Those on the prowl for cute yet kitschy knickknacks make the trek to Chinatown and haggle with vendors along West Broadway near Canal Street. If you're feeling a bit overwhelmed deciding what to do and have a penchant for off-the beaten-path discoveries, consider signing up for a shopping tour. Shop Gotham, The Elegant Tightwad and other tour companies conduct excursions including exclusive store discounts tailored to the Garment District's showrooms or the trendy boutiques of SoHo and NoLita.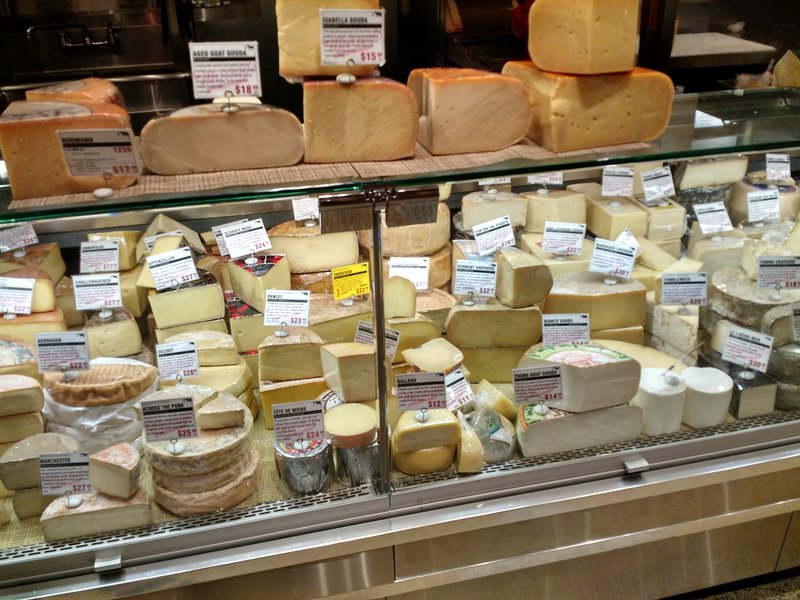 AAA/Suzanne Lemon
Foodies delight in the vast array of gourmet treats available either to purchase as souvenirs or for immediate gratification. Exotic spices, cheeses, farm-to-table goodies and just about anything else to satisfy a gastronome's palate can be discovered at Grand Central Market . Travelers can assemble a tasty take-away feast as they wait for their train. On the concourse level of the Plaza Hotel, the European-style Plaza Food Hall is also a splendid place to shop for a variety of culinary creations while you grab a snack in one of the eateries. Delectable desserts are presented by some of the city's most celebrated confectioners. Zabar's is also a prime stop for gourmet delicacies, while the fine wines at Sherry-Lehmann entice oenophiles.