Top Picks for Kids
Under 13 Imaginative minds will discover all sorts of fun things to do at The Children's Museum of Memphis (2525 Central Ave.) as they play in an indoor tree house, shop for groceries in a pint-sized store, watch honeybees in action and drive a sheriff's car—virtually, of course.
Located in a historic firehouse, the Fire Museum of Memphis (118 Adams Ave.) encourages children to climb on and through fire trucks and slide down a brass fireman's pole. High-tech exhibits like a fire simulation room and an animatronic firehouse horse teach fire safety.
Kids can run, slide and climb their way around Woodland Discovery Playground, an innovative play space within Shelby Farms Park (7171 Mullins Station Rd.) in East Memphis. The space includes sand play areas, a grassy lawn, giant slides and rope nets. The park also offers miles of trails, a zipline course and even a buffalo range to explore.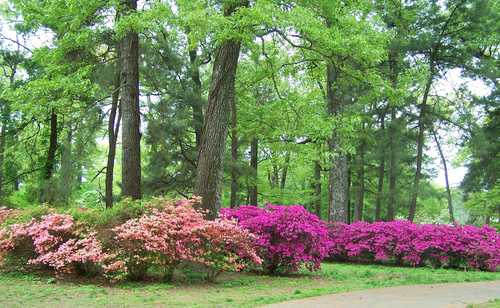 Memphis Botanical Garden/Memphis Botanical Garden
Memphis Botanic Garden (750 Cherry Rd.) features a kid-friendly zone called My Big Backyard with more than 15 themed play areas and educational activities. From tunnels and rope bridges to puppet shows and whimsical playhouses, kids and families will love playing together at this garden.
Teens The Slave Haven Underground Railroad Museum (826 N. Second St.) is a fascinating experience for teens interested in history. A narrated tour takes visitors through the antebellum home of Jacob Burkle, an immigrant who provided refuge to runaway slaves. A hidden cellar, trap doors and an escape route reveal the home's remarkable past.
The Stax Museum of American Soul Music (926 E. McLemore Ave.) is a must-see for music fans, with more than 17,000 feet of exhibits and memorabilia celebrating the history of American soul music. Exhibits include a reconstructed Mississippi Delta church to show soul music's gospel roots; period recording equipment and instruments; and Isaac Hayes' gold-trimmed 1972 Cadillac. Interactive computer exhibits and listening stations add to the experience, and visitors can even hit the dance floor alongside vintage episodes of "Soul Train."
Spend a few hours immersed in history at The National Civil Rights Museum (450 Mulberry St.), housed in the Lorraine Hotel where Dr. Martin Luther King, Jr. was assassinated in 1968. The museum includes interactive exhibits and a film that tells the story of the African American experience from slavery through the Civil Rights Movement. Emotional—and sometimes graphic—displays bring history to life and encourage discussion.
The summer music concert series at Overton Park (1914 Poplar Ave.) is well-loved by both Memphis residents and visitors. Beginning in late May, free outdoor concerts are offered Thursday through Sunday at the band shell, with shaved ice vendors and food trucks providing snacks and sweet treats. Be sure to bring a blanket and arrive early for a good seat on the lawn.
What to Do for All Ages The Memphis Zoo (2000 Prentiss Pl.) entertains visitors of all ages with animal shows and more than 3,500 animal residents. Hands-on opportunities include a stingray touch tank, giraffe feedings and camel rides. Be sure to visit the giant panda exhibit where "YaYa" and "Le Le" live among authentic Chinese gardens and architecture.
No trip to Beale Street is complete without a stop at A. Schwab Dry Goods Store (163 Beale St.). Part general store, part soda fountain, the shop has been a Memphis institution since 1876. Tables are filled with voodoo potions, knickknacks, T-shirts and Moon Pies; an old-fashioned soda fountain serves milk shakes, sundaes and made-to-order sodas.
If you're looking for fun places to eat, a good time is guaranteed at Huey's Downtown (77 S. Second St.), where patrons are allowed (and encouraged!) to blow frilled toothpicks through a straw into the ceiling. Ask your server to demonstrate their best toothpick-shootin' technique, then nosh on tasty burgers, onion rings, fried pickles and other favorites.