About Mesa Verde National Park In southwestern Colorado, 9 miles east of Cortez, Mesa Verde National Park is one of the nation's major archeological preserves. The park consists of nearly 5,000 archeological sites, which include 600 cliff dwellings that were the homes of ancestral Pueblo people. Mesa Verde, Spanish for "green table," is so called because of its comparatively level top, forested with juniper and pinyon trees. The national park encompasses 81 square miles, rises 1,800 to 2,000 feet above the valley along the north side and slopes gradually down to the cliffs bordering the Mancos River Canyon.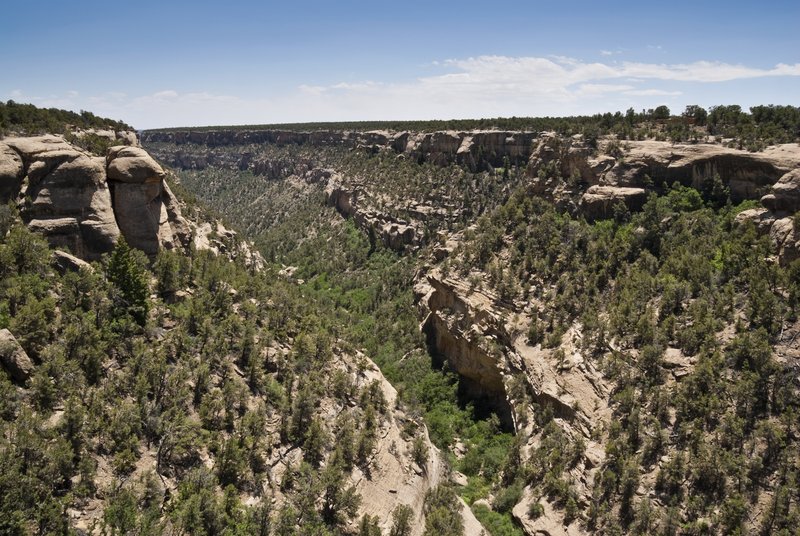 Jeff Goulden/iStockphoto.com
A score of large canyons seam the mesa, and in the shelter of the hundreds of alcoves eroded in the cliffs are some of the world's largest and best preserved cliff dwellings. Archeologists have stabilized only a few of the sites; asphalt roads lead to overlooks above the main ones.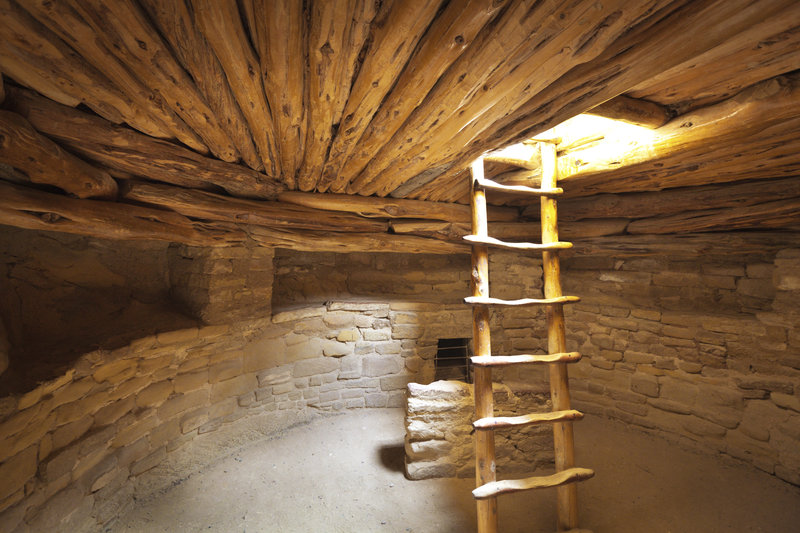 YinYang/iStockphoto.com
The earliest known inhabitants of Mesa Verde were the Ancestral Pueblo people, ancestors of today's modern pueblo tribes. They built subterranean pit houses from about A.D. 500-750, and from A.D. 750 to 1100 they created their living quarters, kivas (ceremonial rooms) and masonry houses around open courts (pueblos).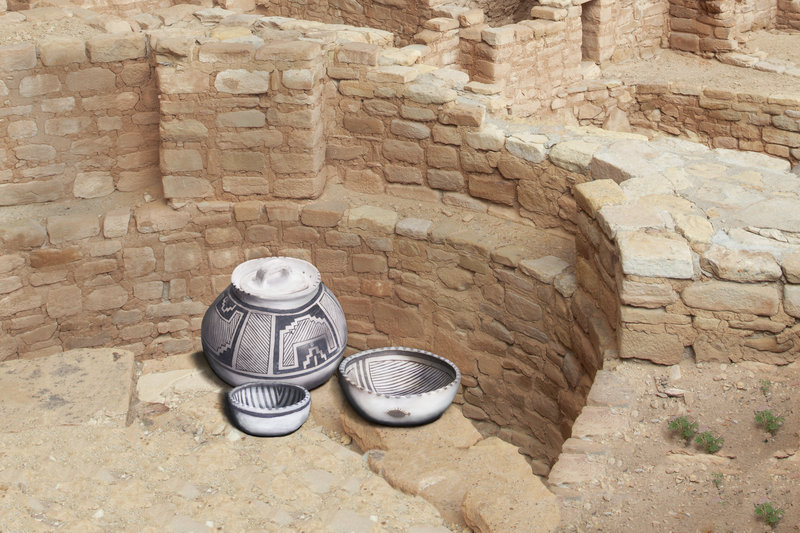 SteveColorado/iStockphoto.com
From A.D. 1100 to 1200 architecture, arts and crafts reached their peak; pottery and cloth were often elaborately decorated. Around 1200 they moved south into the alcoves for reasons that remain unknown and built cliff dwellings. Sometime about 1276 a drought struck and lasted 24 years. The resulting crop failures, depletion of resources, other environmental problems and possible conflict may have driven the people from Mesa Verde in search of a more reliable water supply and improved living conditions.
Today, some of the Pueblo people living in the Rio Grande pueblos in northwestern New Mexico, Texas and on the Hopi mesas in northern Arizona are descendants of the former occupants of Mesa Verde.
General InformationMesa Verde National Park is open all year but some sites are closed in winter. Interpretive activities are held throughout the year (weather permitting). The Chapin Mesa Archeological Museum , with exhibits, artifacts of the Ancestral Puebloans, tour information and ranger program schedules, is open daily 8-6:30, Apr. 1 to mid-Oct.; hours vary rest of the year. A free 25-minute park video can also be viewed; phone (970) 529-4465. The Mesa Verde Visitor and Research Center is open daily 7:30 a.m.-7 p.m., Memorial Day-Labor Day; hours vary rest of the year. Museum and visitor center are closed Jan. 1, Thanksgiving and Christmas.
Half-day ranger-guided tours are available for a fee April through October. Tickets can be purchased at the visitor and research center; phone (800) 449-2288. During summer and fall special events, Hopi dances, cultural demonstrations and lectures are presented. Visitors arriving at other times can inspect the museum, visit mesa-top sites, take a ranger-guided tour of a cliff dwelling and drive along some of the park's scenic routes.
From Memorial Day through Labor Day visitors can drive along a 12-mile access road to Wetherill Mesa, where two cliff dwellings date from the 12th and 13th centuries and four mesa-top villages date from the seventh through 12th centuries.
Phone (970) 529-4465 for the latest information about schedules, weather and road conditions.
ADMISSIONADMISSION to the park May-Oct. is $30 per private vehicle; $25 per motorcycle; $15 per person arriving by other means. Rest of year $20 per private vehicle; $15 per motorcycle; $10 per person arriving by other means.
PETSPETS are permitted in the park only if they are on a leash, crated or otherwise physically restricted at all times. They are not permitted on trails, in public buildings or in the archeological sites.
LODGINGLODGING is available from mid-April to mid-October at Far View Lodge. For reservations phone (602) 331-5210 or (800) 449-2288.
ADDRESSADDRESS inquiries to the Superintendent, Mesa Verde National Park, P.O. Box 8, Mesa Verde National Park, CO 81330; phone (970) 529-4465.
Points of Interest
Attractions Balcony House