Nashville Nightlife They don't call the Tennessee capital NashVegas for nothin'. Serving as kitschy homing beacons for party-going natives, neon signs illuminate Broadway, otherwise known as the "Honky Tonk Highway." Though smaller and more countrified than Nevada's famous strip, Music City's main drag offers everything from country to rockabilly to bluegrass at down-home bars such as The Stage on Broadway (412 Broadway), Layla's (418 Broadway) and Legends Corner (428 Broadway); as street performers continue the harmonies outside. Phone (615) 726-0504 for The Stage, (615) 726-2799 for Layla's or (615) 248-6334 for Legends Corner.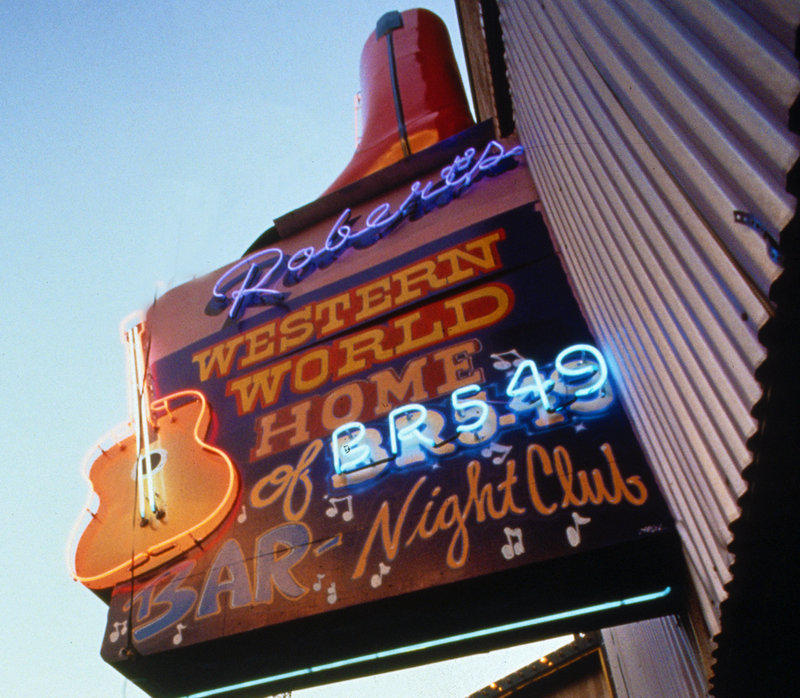 Courtesy of Nashville Convention & Visitors Corporation
While exploring Broadway (where the action is centered between the Cumberland River and Rep. John Lewis Way), experience the winning combination of Pabst Blue Ribbon, fried bologna sandwiches and live music at Robert's Western World (416B Broadway), a former apparel store that's often heralded as one of the city's best honky-tonks; phone (615) 244-9552. Afterward, sidle up to one of three bars at Tootsie's Orchid Lounge (422 Broadway)—long the watering hole of choice for Nashville hit makers, Grand Ole Opry icons and up-and-coming talents. With multiple floors and multiple bands playing each night, you're sure to stumble onto something good; phone (615) 726-0463.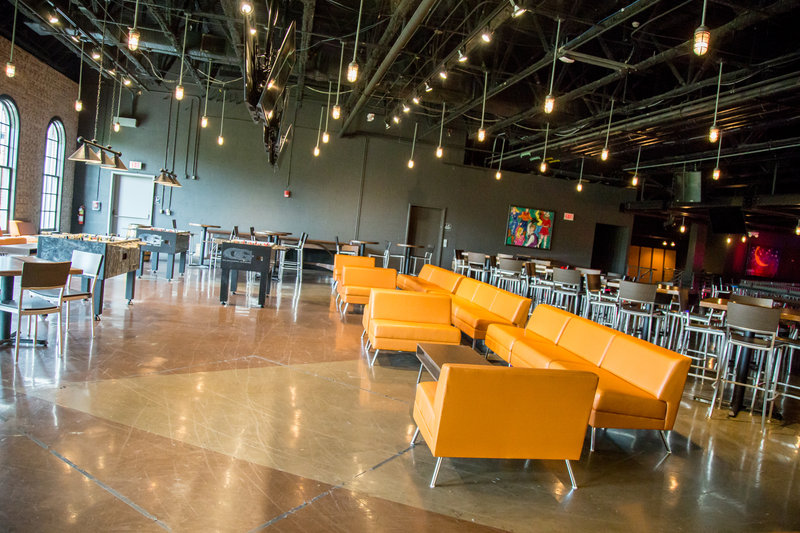 Wildhorse Saloon/Chad Lee
If you're looking for fun things to do with friends, techno-blaring dance clubs and themed bars lure raucous twentysomethings along 2nd Avenue (between Union Street and Broadway). Hit the dance floor at B.B. King's Blues Club (152 2nd Ave. N.), or pick up a few new moves at the Wildhorse Saloon (120 2nd Ave. N.), which offers line dancing lessons most nights. Acme Feed & Seed (101 Broadway) offers three floors of dining and entertainment, including a first floor honky-tonk, a second floor hipster-chic lounge, and a rooftop bar overlooking the city. Phone (615) 256-2727 for B.B. King's, (615) 902-8200 for the Wildhorse Saloon or (615) 915-0888 for Acme Feed & Seed.
Vestiges of a naughty past linger in Printers Alley. Long the hub of Nashville's printing industry, the alley also became home to speakeasies, gambling halls and other underground establishments around the turn of the 20th century. Though raids by billy club-bearing police officers have slowed since Prohibition ended, late-night debauchery endures in this historic quarter. (Needless to say, infamous Printers Alley isn't for everyone.) Located between 3rd and 4th avenues and Union and Church streets, the alley includes nightspots like the Bourbon Street Blues and Boogie Bar (220 Printers Alley)—where artists such as James Brown, Matt "Guitar" Murphy and Magic Slim have jammed; phone (615) 242-5837.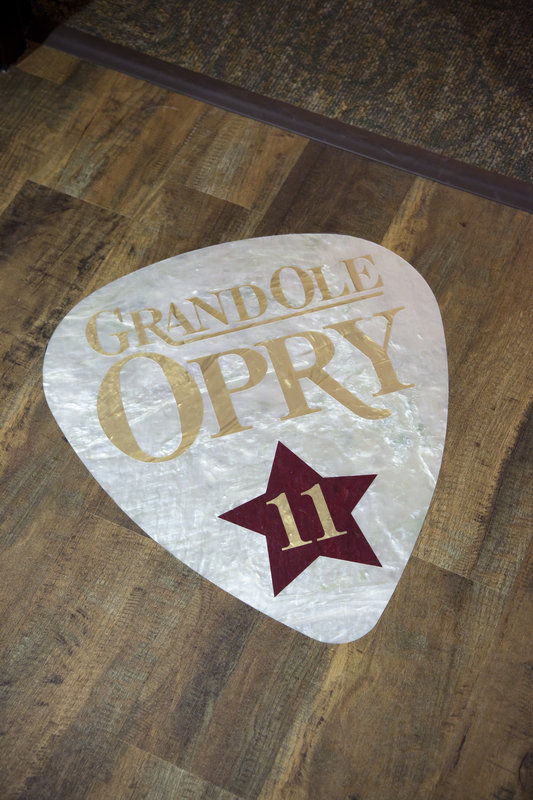 Grand Ole Opry/Chris Hollo
If you've had your fill of Lower Broadway nightlife, choose from the selection of restaurants and saloons at the Gaylord Opryland Resort & Convention Center , less than 20 minutes northeast of downtown Nashville. After dinner and drinks at the stunning hotel, mosey next door for the show that helped define American country music: the Grand Ole Opry (2804 Opryland Dr.). The live radio broadcast has enchanted audiences since Nov. 28, 1925 with an ever-changing lineup of stars such as Dolly Parton, Alan Jackson and Martina McBride.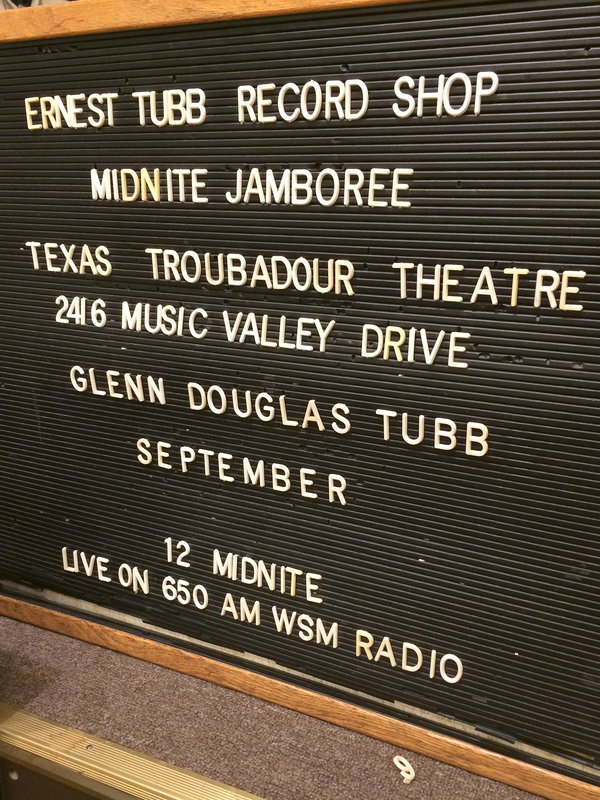 AAA/Katie Broome
Stay up late on your vacation and be part of the live audience at the "Ernest Tubb Midnite Jamboree" at the Texas Troubadour Theatre (2416 Music Valley Dr.) Airing every Saturday at midnight following the Grand Ole Opry, the country's second-longest running live radio show won't cost you a dime. Phone (615) 585-9301.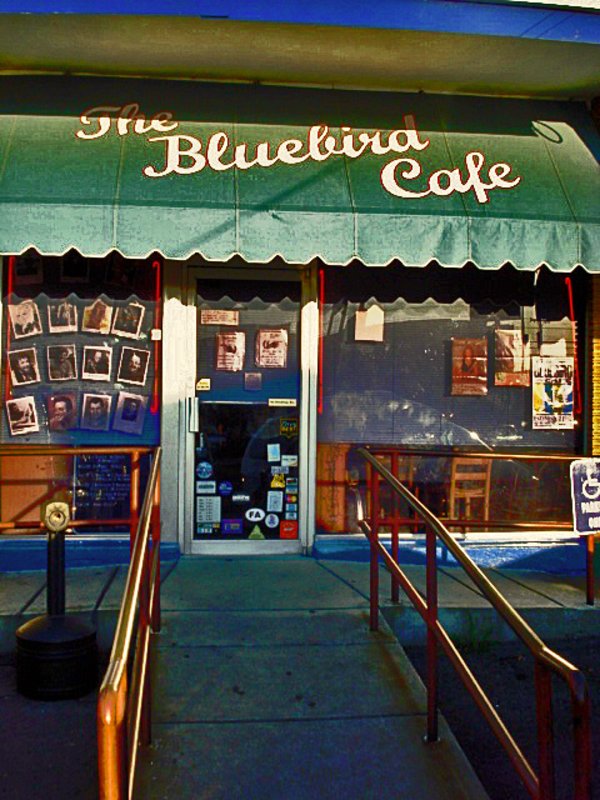 AAA/Photo submitted by Maria White
Also free is Writers' Night, held every Sunday at 8 p.m. at The Bluebird Cafe (4104 Hillsboro Pike). The show features between eight and 10 up-and-comers—who each play three original songs—as well as a guest performance by an experienced Nashville hit maker. Just keep in mind, mum's the word during the gig (The Bluebird's unofficial slogan is "Shhh!"). Also, since seating is first-come, first-served, you'll need to arrive early to snag a spot. If you can't get in on a Sunday, see amateurs take the stage during Monday's open mike night. In addition, reservations are generally accepted for a small fee on Tuesdays through Saturdays, when established musicians perform at the intimate venue; phone (615) 383-1461.
In Nashville's Gulch district, an old-school sign outside The Station Inn (402 12th Ave. S.), (615) 255-3307, says all you need to know about this local institution, a mecca for bluegrass fans:
Live Acoustic Music
Open at 7 p.m. – Music at 9 p.m.
Pizza/Beer/Snacks
On the opposite end of the nightlife spectrum is Sambuca (601 12th Ave. S.) where stylish patrons sip martinis as musicians ranging from jazz crooners to classic rock 'n' rollers take the stage. Enjoy lobster enchiladas or a flat-iron steak served with a side of quesadillas, then head up to Sambuca's posh rooftop patio for after-dinner cocktails and impressive views of Nashville's twinkling skyline; phone (615) 248-2888.
Mercy Lounge (One Cannery Row) is a former food-canning factory where '80s and '90s crowds cheered on acts such as Iggy Pop, Lenny Kravitz and Jane's Addiction. These days, the intimate second-floor venue packs 'em in with local and nationally touring acts and regular events such as 8 off 8th, a showcase for fledgling artists. On the ground floor is the Cannery Ballroom, which hosts larger concerts. Phone (615) 251-3020.
If you find yourself standing in a long line outside the Exit/In (2208 Elliston Pl.), scan the wall of fame by the entrance. Odds are you'll recognize more than just a few of the names scribbled haphazardly on the side of the building. Since the club's opening in 1971, R.E.M., Johnny Cash, Kings of Leon, Willie Nelson and Bon Iver are just a few who've brought down the house in this dark, standing-room-only dive; phone (615) 891-1781.
With Vanderbilt University as a neighbor, it's no wonder Elliston Place (a.k.a. the "Rock Block") and the surrounding area are home to a number of quirky taverns and restaurants including Broadway Brewhouse (1900 Broadway). Phone (615) 340-0089.